Don't Bogart that joint, my friend! There's enough weed for everyone these days, now that the state of Arizona has officially legalized recreational marijuana. Three months after Proposition 207 passed on Nov. 3, the Arizona Department of Health Services has begun to greenlight recreational marijuana licenses for existing dispensaries across the state. 
Since there are only four options in Tucson right now, expect a substantial wait time of at least an hour from start to finish. Although, the line at Earth's Health North this week was actually very minimal. But this may be because they're only accepting online orders, no walk-ins. Before you go, remember to bring a valid ID showing proof of 21 years of age. The ID does not have to be from Arizona. 
It's also important to bring cash, although all of the dispensaries on this list will have ATMs onsite. Since federal laws still prohibit the use of marijuana, big banks across the country typically do not allow deposits from marijuana sales, forcing weed sellers to conduct their businesses in cash. While in the long line at Bloom a couple weeks ago, we were warned that the shop's ATM might have run out of money, which led to several patrons leaving. But thankfully, the machine ended up working.   
Once in, you'll be able to choose from various strands of indicas, sativas and hybrids grown right here in the state of Arizona. And in some cases, onsite ... Each dispensary has their own house brand of smokable bud, also called "flower," as well as vaping oils and tinctures to put in your tea (or coffee if you're realllly cool). In addition, these businesses also sell a wide variety of edibles, from chocolates and gummies to tea cakes and cookies, suckers, syrups, sour bears and more. 
And depending on the dispensary, they may also offer cannabis bath salts, or cannabis-infused topicals like lotions and oils that you can rub on your body to help with pain or inflammation. If all this intimidates you, there's also the glorious pre-roll, an already-packaged joint that you can purchase and easily take home and smoke. Keep in mind, the recreational and medicinal customers will have different options as these dispensaries work out how to deal with the increased demand. 
As dictated by the law, these businesses will sell you up to an ounce of marijuana flower per day, which means you can go back the next day and get more if you'd like. But be careful, because possession of more than one ounce remains illegal. Anything up to 2½ ounces could result in a misdemeanor, subject to a fine. When you purchase your product, it will be placed in a sealed bag that should be taken home before used. In Arizona, it's still illegal to smoke in public. And of course, you'll be taxed a whopping 16 percent on recreational purchases. So keep your head on straight! 
To help you along this marijuana-fueled journey, here's some info about each of the four Tucson dispensaries selling to recreational customers right now. We hope to expand this list as more businesses open up. 
Earth's Healing North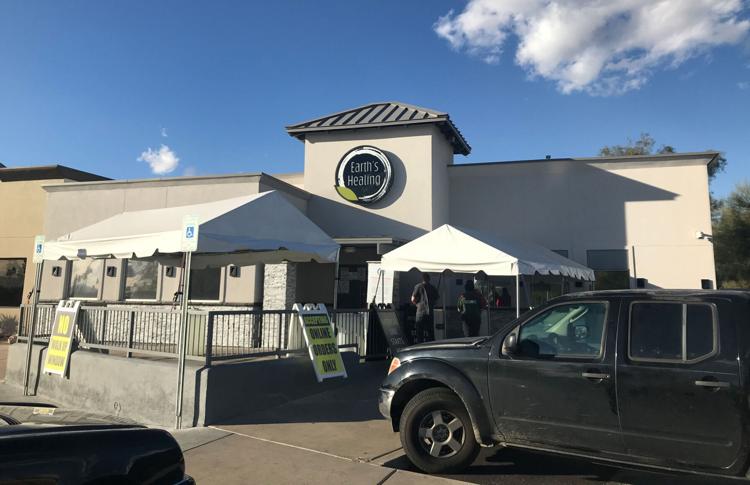 This local dispensary has two locations including another spot at 2075 E. Benson Highway, but the one on River Road is the only one licensed to sell to recreational customers. When I arrived this week there was no line, but that's because Earth's Healing is only taking online and phone orders, which can be placed the same day. (They would not let me into the building without one.) Their website shows that they sell about 10 different brands of marijuana flower, from companies like Tru Infusion, Huxton, Mohave Cannabis Co. and more. They also carry a line of tinctures, pre-rolls, concentrates, edibles and more. 
When you order, you can also use a digital payment app called Alt Thirty Six, which allows you to withdraw money from your bank account rather than paying with straight cash. The website advertises a $10 credit for new customers. 
Hours: Monday-Saturday, 9 a.m. to 9 p.m.; Sunday, 10 a.m. to 9 p.m. 
Bloom Dispensary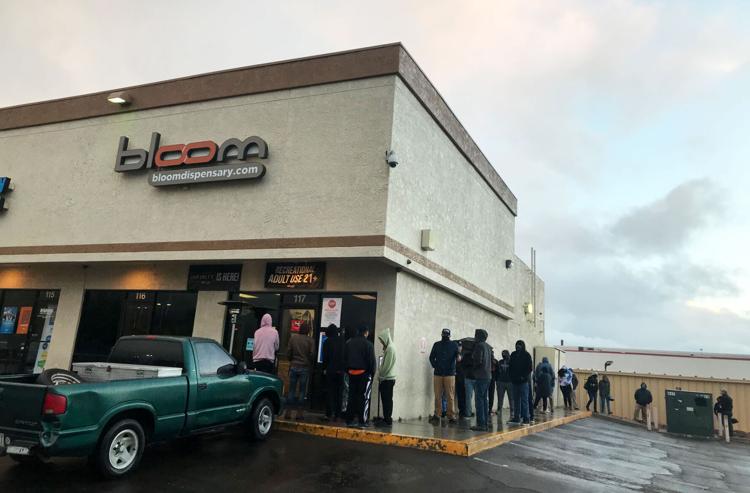 This Arizona-based company has four locations in Phoenix, Peoria, Sedona and Tucson. Bloom carries its own marijuana line called Infinity, that it grows in the Phoenix area, they told me. Some of the more interesting strains from the website include Alien Cookie OG, Frosted Apricot, Gluelato, Cornbread and Royal Highness X Koolato, a 50/50 hybrid of indica and sativa. (Keep in mind that they only offer about a dozen of these at a time, depending on what they have.) 
I visited this dispensary on a Monday night when they first opened to recreational customers, and waited in line for about an hour and 45 minutes before being admitted into the lobby where a couple of marijuana consultants sat behind panels of plexiglass. As of now, Bloom is not letting recreational patients into the showroom where the product is, so you're forced to make your selections by looking at a menu in a binder. Luckily, the employee was knowledgeable about the different strains they offer, and was able to help me purchase the correct product for my party lifestyle. (JK, she recommended an "in-da-couch," AKA indica called Purple Punch.) 
Bloom also carries a wide range of pre-rolled joints, vaping products, concentrates, lotions and essential oils, CBD products and edibles from Phoenix-based companies Newton's and Haze & Main. These include various gummies and chocolates, but also a line of Happy Hour energy drinks with THC and CBD, as well as caffeine. 
Hours: 9 a.m. to 10 p.m. daily 
Harvest: House of Cannabis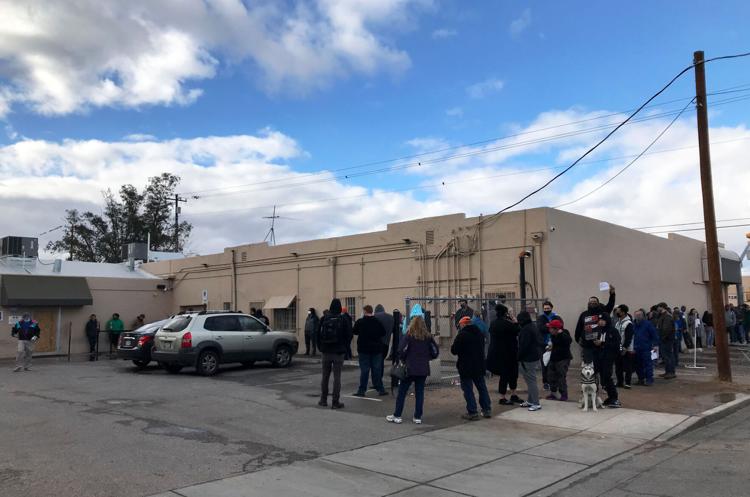 The Tempe-based company is Arizona's largest dispensary operation, with 15 locations across the state, as well as a handful of stores in California, Florida, Maryland and Pennsylvania. Harvest was also the first place to sell recreational in Tucson, and has the most name recognition (which you can tell from the line). Although there were significantly more people waiting than the other establishments I visited, the lined seemed to go quicker, as groups of three or four were admitted into the building at a time. 
Unlike the other operations that grow most or all of their own, Harvest sells marijuana flower from about 10 different brands, according to its website. The names of the strains aren't as creative as the ones at Bloom, but I did enjoy reading about a hybrid called Cookies / Cheetah Piss, which is said to be calming. The shop also carries a large variety of pre-rolls, vaporizers, resins, CBD products and edibles from more than a dozen brands. 
Hours: 7 a.m. to 10 p.m. daily 
Desert Bloom ReLeaf Center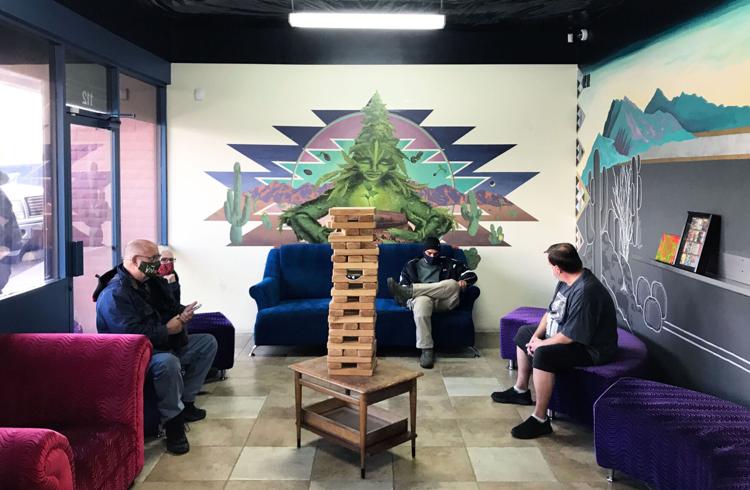 This east-side dispensary felt more like a local business than the others I visited, and had a lot of Tucson character, including a cool mural of a weed goddess in front of some saguaros. The business is in fact owned by Tucsonan Aari Ruben, who studied pharmacology at the University of Arizona before opening his own dispensary in 2013. Desert Bloom carries its own brand of marijuana flower called Re Leaf, which it grows at a cultivation site south of downtown Tucson. The shop also has an onsite growing operation and a window called the Show Grow, where you can see the cannabis plants in action. 
Desert Bloom rotates through a total of about 80 different strains, which are all grown in soil with organic nutrients, Ruben said. During my Tuesday afternoon visit, I spotted some fun names like Animal Face, Sweet Cheese, Tony Montana and something called Purple Chem Dawg. Unlike some other operations, Desert Bloom will sell you as little as a gram of marijuana (priced between $7 and $15) rather than an eighth or more of an ounce. This is great for casual users who don't want to spend a lot of money at one time. In addition to the standard selection of edibles, concentrates, pre-rolls and topicals, Desert Bloom also makes its own THC lip balm, massage butter and even bath salts.  
Hours: 7 a.m. to 10 p.m. daily