After losing its home of 28 years, The Chocolate Iguana has reopened on Fourth Avenue, less than a block from its original spot. With its crisp new paint job and colorful candy jars, it's hard to believe the space used to serve three-pound hamburgers. 
A partnership with Lindy's on Fourth owner Shannon Cronin saved the Fourth Avenue candy shop about a week before they were forced out by their landlord, said chocolate Iguana co-owner Alexya Simpson. After vacating March 31, the candy shop reopened inside the original Lindy's location at 431 N. Fourth Ave. last Wednesday. 
The space is a bit smaller than the original location at 500 N. Fourth Ave., but there's still the same selection of novelty candies, chocolates and gummies. (They have ditched the gift area though.)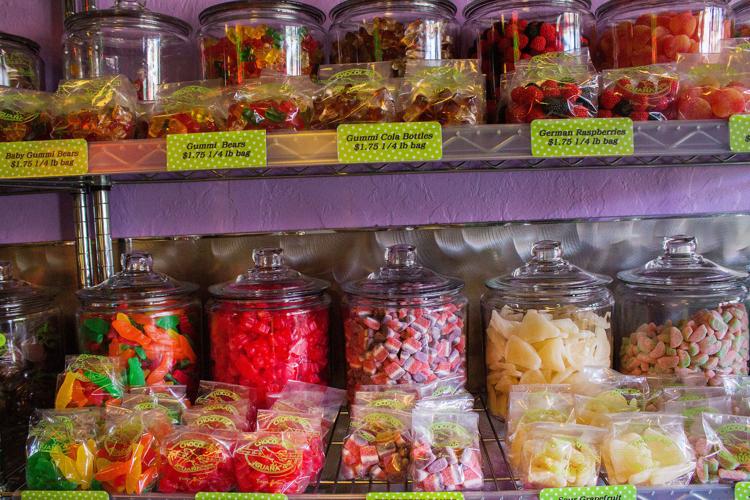 The cafe menu remains the same as well: You can still get your Italian sodas or your Frozen Explosion with blended mocha, $4. The shop also has ice cream, housemade muffins and cakes, bagels and more.  
"It's actually much more space for us," Simpson said. The kitchen itself is substantially bigger, which will allow the team to bump up their pastry selection.  
The new space sports that familiar "Precocious Purple" and "Lime Freckle" color scheme, but the exposed brick walls give it a more contemporary vibe. The 25-year-old neon sign with the Chocolate Iguana logo has been brought inside, so the shop's employees can enjoy looking at it too, Simpson said. 
Right now Simpson is working on expanding the shop's customer base beyond the regulars that were "pulling on the door" on the first day. 
"We just feel really grateful that this has happened for us," she said. "Tucson will support us. It's a tradition for them." 
The Chocolate Iguana is 431 N. Fourth Ave. Phone: 520-798-1211. Hours: 7 a.m. to 6 p.m. Mondays through Thursdays, 7 a.m. to 10 p.m. Fridays, 8 a.m. to 10 p.m. Saturdays, closed on Sundays for the time being