Editor's note: We updated this story when Tohono Chul gave bloom night a concrete date. 
It looks like the Queen will grace us with her presence tonight, Saturday, July 13. 
Every summer, the native night-blooming cereus wows us with a mass bloom night — and Tohono Chul is saying tonight's the night, according to Bloom Watch updates. 
The night-blooming cereus (or Peniocereus greggii) begins to bud with the summer heat, eventually unveiling fragrant, white flowers that last for just one night. Because the cactus looks like a gray stick the rest of the year, Tucson just about loses its mind when the Queen blooms. 
With more than 400 night-blooming cereus cacti, Tohono Chul at 7366 N. Paseo Del Norte has the largest private collection in the world, Michelle Armstrong, the gardens' marketing and communications director, told us.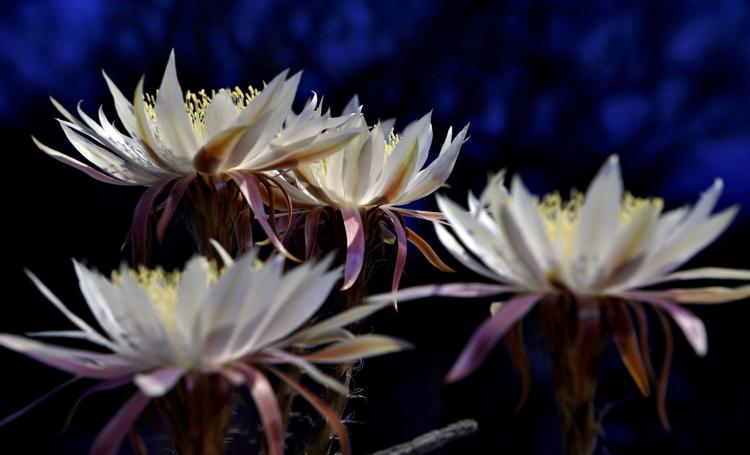 Because the cactus doesn't self-pollinate, blooming all at once promotes a more successful pollination. On Friday, a majority of the buds appeared close to blooming, according to the gardens. 
"We've been studying the night-blooming cereus for over 20 years and we still don't know what triggers the bloom," said Lee Mason, Tohono Chul's director of general services, in the press release. "The best we can figure is there is some type of chemical communication amongst the cacti." 
On bloom night, illuminated trails lead to each plant and guests can grab food at the Garden Bistro, pop in on lectures or win or purchase a Queen of the Night. 
Make sure to wear close-toed walking shoes, bring a flashlight and camera with flash, and stay hydrated. 
To fuel your obsession with these mysterious Queens, check out our FAQ about the cacti or a story we wrote about Pima Prickly Park, a new spot to see 105 night-bloomers. (Side note: Jessie Byrd, the Native Plant Nursery manager for Pima County Natural Resources, Parks and Recreation, says some of those Queens may bloom Saturday night, with more to follow on Sunday night. If you're interested in bloom night at Pima Prickly Park, you should sign up for those separate alerts by emailing Valerie Samoy at Valerie.Samoy@pima.gov. You can also follow the Pima County Natural Resources, Parks and Recreation Facebook page.)
---
If you go
What: Tohono Chul's annual Bloom Night 
When: Saturday, July 13, 6 p.m. to midnight; members can see the final hours of the blooms on Sunday, July 14, 6:30-8 a.m. 
Cost: $5 for non-members; free for members and children under 12