Spring in Tucson is something to behold. 
One day, you're driving along and the side of the road is bare, just dirt and weeds. The next day, you're noticing pops of yellow, blue and pink. 
Spring in Tucson means the desert blossoms, reminding us that you really can bloom where you're planted. Thank you, gold poppies, for that important life lesson. 
Even though this year's flower forecast wasn't great — autumn rains are important for a colorful spring, and last fall was a dry one — those gold poppies and blue lupines are making a go of it. 
John Wiens, a nursery horticulturalist at the Arizona-Sonora Desert Museum, said the dry fall means annuals such as lupines, poppies and primrose that need to germinate in fall or early winter can't bloom come spring. What we're seeing now are roadside bursts of color that benefited from water running off the roads or perennials such as brittlebush, fairy dusters and desert globe mallow that can make it through a dry winter. 
Adam Farrell-Wortman, a horticulturalist at the Tucson Botanical Gardens, told us that the warmer winter, at least, meant blossoms came early.
As it heats up (we know, we're crying inside, too), we'll see the annuals and perennials disappear. Then, cacti and trees steal the show. A dry winter isn't going to stop a mighty saguaro from showing off its splendor. 
'Tis the season for bright colors, new life and glorious temperatures, so make some time to get outside — before the flowers wither and even the shade makes you sweat.
Here are seven places where you can find Insta-worthy blooms. 
1. Catalina State Park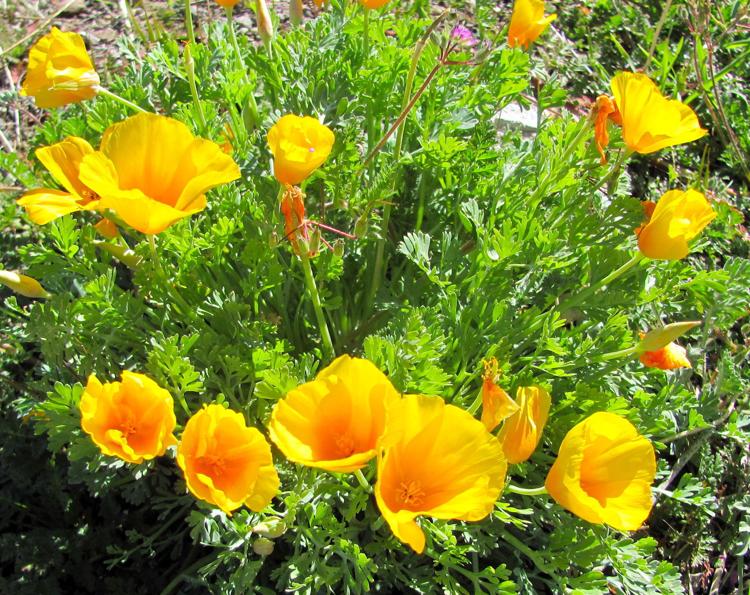 You'll find a few fields of gold up here — while getting in a workout. 
Take Oracle Road north into Oro Valley to get to Catalina State Park. Bonus: The palo verde trees should be blooming soon, meaning on your drive (or hike) you'll catch vistas of the town awash in gold palo verde blossoms. 
The park entrance cost is $7 for a vehicle with 1-4 adults and $3 for individuals entering by bike or on foot. The park is open from 5 a.m. to 10 p.m. daily. For more information, visit azstateparks.com/catalina.
2. Arizona-Sonora Desert Museum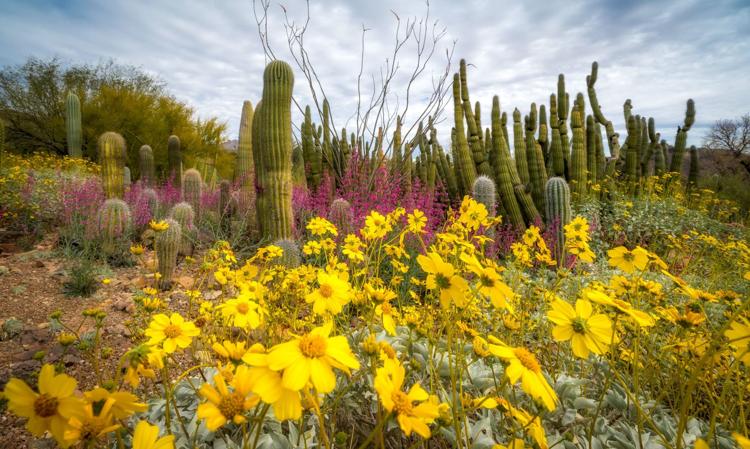 We have been drooling over the desert museum's social media lately. Pink flowers crown prickly cacti and wildflowers line dirt pathways. Dreamy. 
The museum, 2021 N. Kinney Road, is open 7:30 a.m. to 5 p.m. March-September. General admission for Arizona residents is $18.95. Bring your driver's license as proof of ID. Kids ages 3-12 are $10.95. Younger kids are free. For more information, visit desertmuseum.org.
3. University of Arizona
Take a stroll on the University of Arizona campus (we suggest Saturday or Sunday morning when the students are still asleep and it's all quiet). Start on University Boulevard and wander east toward Old Main. Obviously, this is not a hunt for flowers in the wild, but the UA is beautiful this time of year. You'll find pockets of color specifically at the Women's Plaza of Honor and at the fountain in front of Old Main. It's really lovely. 
4. Tucson Botanical Gardens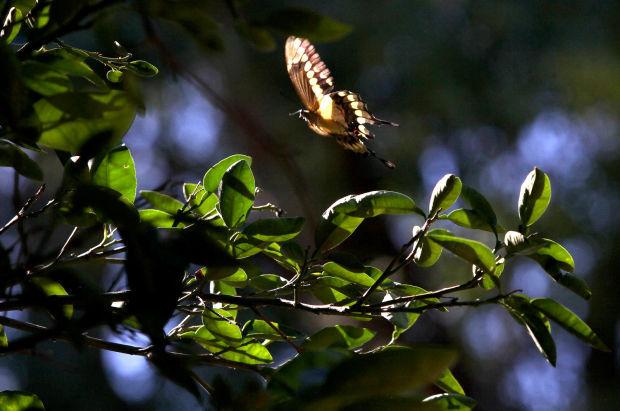 The botanical gardens, 2150 N. Alvernon Way, are beautiful all year, but this is prime time. Farrell-Wortman sent us a list of dozens of perennials in full bloom at the gardens. A few that you'll find all over the grounds: Wildflowers (obviously), citrus, jasmine and fairy dusters (the list is so long/amazing!). Plus the Iris Garden is blooming. Really, just go. 
You're getting lots of blooms for your buck.
Admission is $15 for adults, $13 for students, seniors and military, $8 for kids 4 to 17, and free for members and kids 3 and younger. 
The garden is open 8:30 a.m. to 4:30 p.m. daily, with hours extended until 8 p.m. Thursdays and Fridays. Visit tucsonbotanical.org for more information.
5. Tohono Chul Park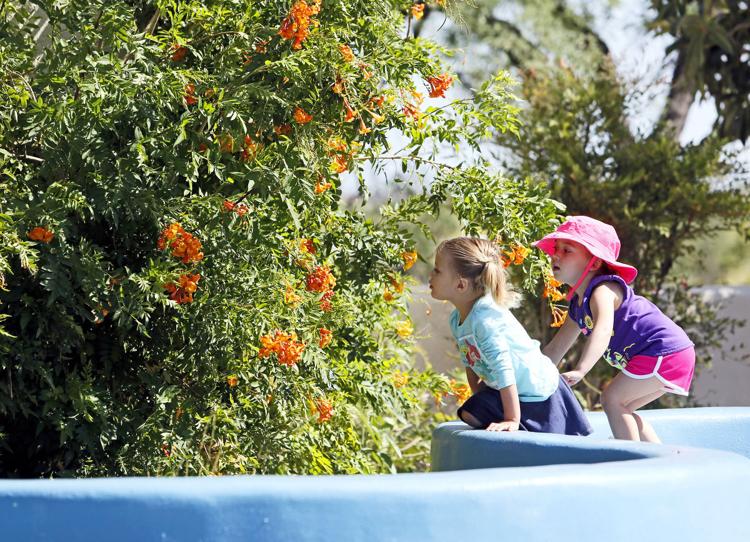 You would never know you're basically at the corner of West Ina and North Oracle roads when you're wandering the desert paths of Tohono Chul Park, 7366 N Paseo Del Norte. It's open 8 a.m. to 5 p.m. daily and costs $13 for adults and $3 for kids ages 5 to 12. Students with ID, seniors and active military get in for $10 and young children get in free. Even the entrance is bursting with color right now. Worth it. For more information, visit tohonochulpark.org. 
6. Saguaro National Park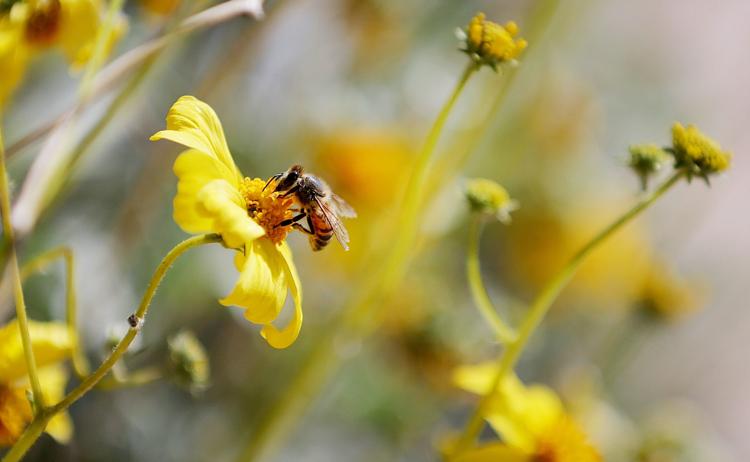 Arizona Daily Star reporter Doug Kreutz discovered a lovely patch of wildflowers in the northeastern part of Saguaro National Park near Picture Rocks Road not long ago. Hopefully, they're still in bloom. 
"On Ina Road west of Interstate 10, drive west to Wade Road. Turn south on Wade and follow it as it turns into Picture Rocks Road and continues to the park. Watch for a large parking pullout on the right at the bottom of a hill less than a mile into the park. Carefully cross the road and find some blooms along the road and in a flat expanse of desert south of the road." 
It costs $15 for a vehicle to enter the park, or $5 for someone on bike or by foot. This is also a great place to catch the saguaros blooming a bit later in the year. 
7. The Loop
Beauty abounds, even if not in huge patches. We walked about four miles of the 131-mile trail a few weeks ago with thru-hiker Sirena Dufault and noticed plenty of trailside flowers. Get some exercise and savor spring. Also: The Loop is totally free.  
Where's your favorite Tucson place to find flowers?