If you're not looking closely you might miss downtown Tucson's newest cocktail bar. Series 19 is tucked into the former Perri Jewelers storefront at 13 N. Stone Ave. near the Nestle Toll House cookie store.
The little nook officially opened this Friday afternoon, pouring locally-distilled spirits from across Arizona. The bar is owned by Matthew Montgomery and Christopher Dudding of Three Wells Distilling Company, which produces prickly pear spirits and more from a warehouse on Tucson's south side. 
The cocktail menu showcases the Three Wells line, which now includes two gins, agave spirits, vodka and even bourbon. We got to check out an abridged menu during a soft opening last night; It was made up of familiar drinks like sidecars, margaritas, a fluffy Ramos gin fizz and an old fashioned with a big spherical ice ball.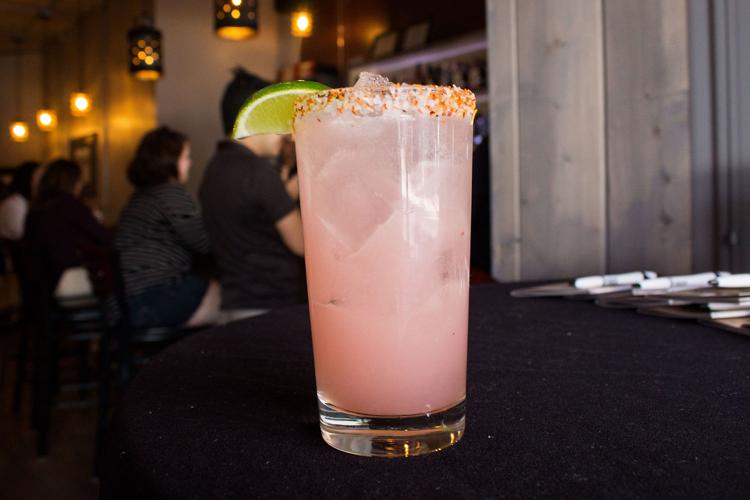 I got to sip The Sonoran Margarita last night; It subs out Tequila for Three Wells' clear prickly pear spirit Sonora Silver. The fruitiness of the base spirit made for an easy drinking cocktail, with a little punch of chiltepin pepper at the end.  
Tyler Dunn, who is heading up the bar program, says the final menu will have about 20 cocktails, most of which are classics and drinks you'll find at the Three Wells tasting room at 3780 E. 44th Street. The soft opening menu also had flights of Three Wells spirits, which ranged from $12 to $20 with 3/4 ounce shots of four different liquors. 
The backlit shelves of the bar were filled with about 50 bottles of glowing liquors, including selections from Whiskey del Bac, Thunder Canyon Brewstillery, O.H.S.O. distillery in Scottsdale, Grand Canyon Brewing and more. Shareable bites will be provided by nearby Johnny Gibson's Market, which will deliver straight to the bar. 
Series 19 is open 4 to 11 p.m. Mondays through Thursdays, 3 p.m. to midnight Fridays, 2 p.m. to midnight Saturdays, and 1 to 8 p.m. Sundays. Phone: 520-303-1199