Tucson has lots of burgers — Fat burgers, fast burgers, gourmet burgers and crazy burgers — but are any of them truly divine? 
That's the promise of this new east-side spot, Divine Bovine, which takes a lot of pride in the meat it puts on the table. The patties here are made with "ridiculously high-end ingredients" like a burger blend that includes short rib. 
If that's not enough, you can substitute farm-raised Arizona bison, or pork belly if you're feeling funky. Even the pickles are homemade, and owner Ben Rine spent a month and a half perfecting his triple-fried fries. (You can tell.)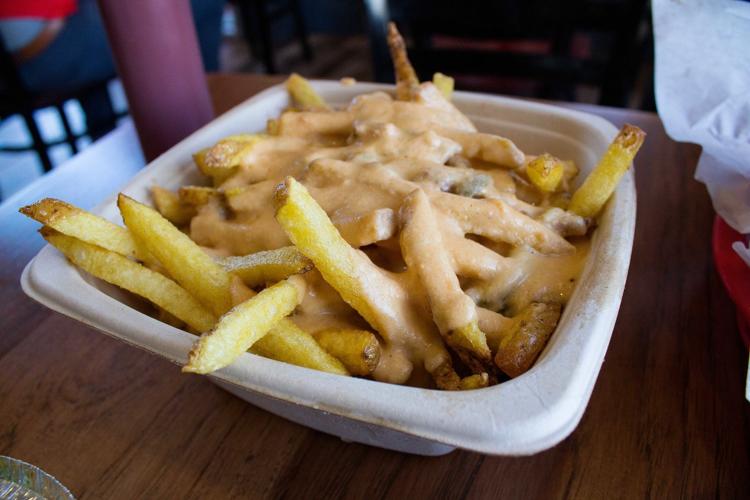 It sounds pretty fancy, but this is actually an order-at-the-counter kinda spot. Divine Bovine is casual in all the right ways; a smart business move from a former owner of the popular BrushFire BBQ. You can tell this guy knows what he's doing. The former La Salsa space was packed on a recent lunch visit and had a contemporary clean look that feels accessible.  
The menu is a little bit like Lindy's 2.0 (without the adult references). You can get a basic burger, or you can get a silly one like the Poutine Burger or the "Mac and What?" In this case, the "what" appears to be candied bacon and tomato jam. And the "mac" is of course, mac and cheese. 
In a new twist, Divine Bovine lets you customize your burger by choosing whether you wanna put it between their beautiful brioche buns, on top of French fries, mac and cheese or even a salad. We stuck with the buns on recent lunch visit, because why mess with a good thing? Based on our first impression, I think it's best to stick with the classics here.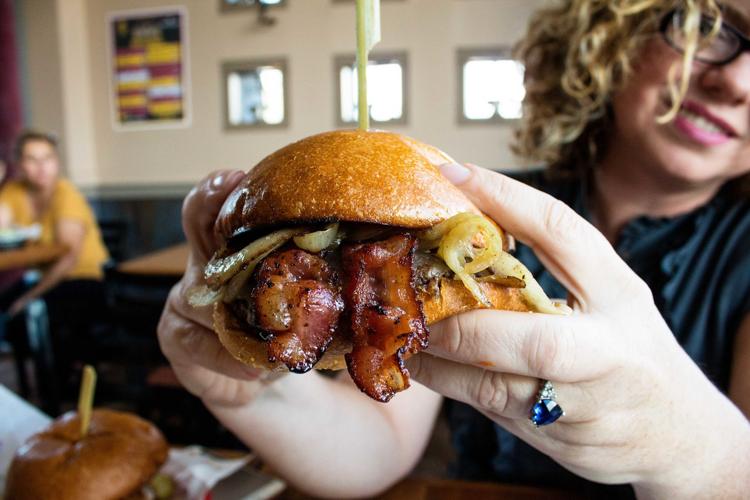 A great burger has to have flow, and their signature Divine Bovine burger hit it out of the park. All of the elements played well together: tomato jam for sweetness, pickles for a clean crunch, sherry buttered onions and bacon for a savory kick. The meat patty was incredibly flavorful and cooked to order, and was just the right size for all of the ingredients and the brioche bun.
The poutine burger however, was a little sloppy and fell apart while we were eating it. And the fries tucked inside this burger weren't nearly as good as the ones we ordered on the side.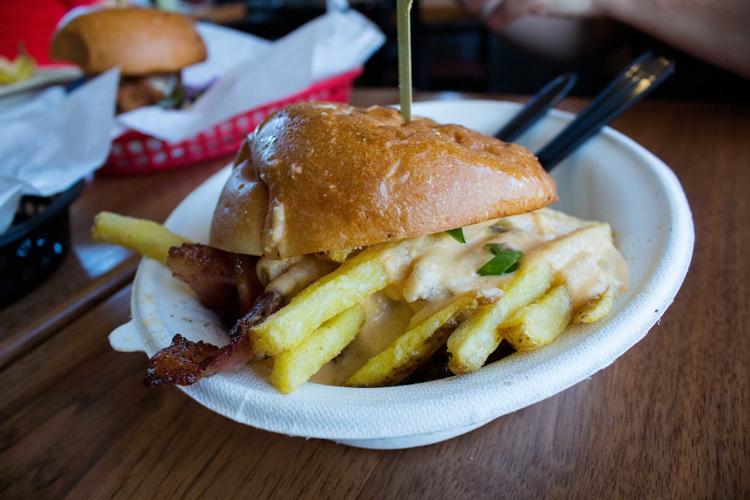 Almost forgot to mention, Divine Bovine also lets you substitute a buttermilk fried chicken breast for any of the burger combinations on the menu. The Flying Buffalo was screaming out to us; it had Swiss cheese, buffalo sauce, ranch and hot pickles.
I've recently been eating hot chicken sandwiches around town for a separate story, and this was definitely one of the best I've had. The breast wasn't quite as fatty as the thighs at Pops Hot Chicken, but it was still perfectly cooked and quite delicious.    
With so many combinations, I feel like I just scratched the surface here. But I can already tell that Divine Bovine is a winning concept. I hope they go the way of Brushfire and open multiple locations, preferably closer to my house! 
Divine Bovine is at 1021 N. Wilmot Road. Phone: 520-203-8884. It's open Monday-Thursday 11 a.m. to 9 p.m.; Friday-Saturday 11 a.m. to 10 p.m.; closed Sunday.