Inflation is this crazy thing; it doesn't change the way the leaves outside my window shine pale green in the sun or how the mountains sit, perfectly framed, by my aunt's porch in Tubac. But it might affect how many trucks flow up and down the Interstate 19, like a string of jewels flashing in the night.
Inflation can affect how I see these things, with my line of sight tightened by the daily stress of making ends meet: you're reminded when you pick up a latte that you aren't building savings to buy real estate; the news is making a big deal about the price of eggs but it seems like everything else is expensive, too. Things that you used to take for granted are luxuries now; scarcity is bleeding into every decision we make.
For me, buying food has always been hard when finances are tough. I try to spend as little as I can, which can mean going hungry. I look for the cheapest recipes and when I go to the store I buy the cheapest ingredients; I go home and cook the thing I'll be eating every day for the rest of the week.
The prospect of dining out is both a sweet relief and a source of even more stress. I need a treat, a break from thinking about money all the time — but where can I afford to eat?
Let me do the work for you. Here are eight meals you can enjoy for under $9.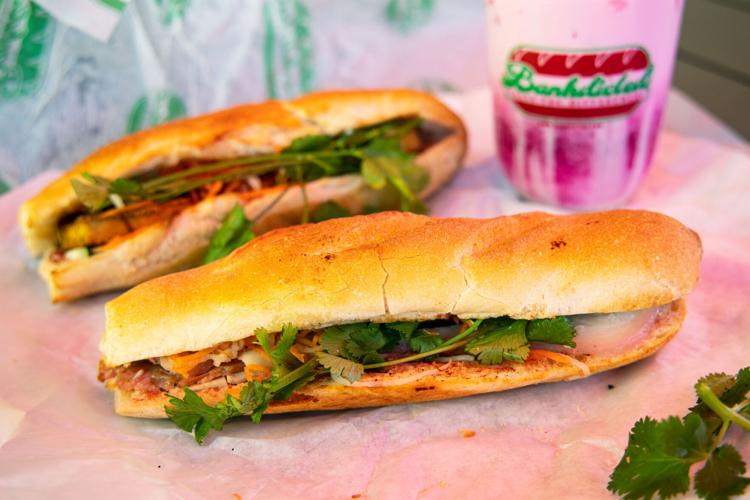 Banhdicted's $9 lemongrass beef bánh mì
Banhdicted is a sandwich counter in Oro Valley — and a food truck at Comida Park — specializing in the Vietnamese bánh mì sandwich. Owners will call their sandwiches interpretations of the classic, because they spin off the format of French bread, protein, pate, pickle, cilantro and jalapeño with unconventional variations.
All of Banhdicted's sandwiches cost either $7.95 or $8.95, but my colleague Elvia's favorite is their lemongrass beef ($8.95). There's something essential in the liver pate they spread on each bun.
Locations: 1980 W. Orange Grove Rd; and Comida Park, 4100 S. Palo Verde Road.
For more information, check out their website.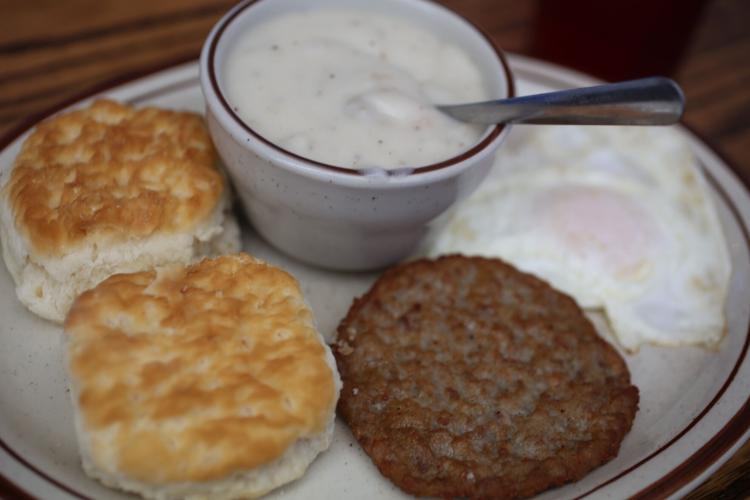 Biscuits Country Cafe' $5 biscuits and gravy
There's a reason the restaurant is called Biscuits: the buttery, filling treat is ubiquitous across the cafe's remarkably affordable menu. Their chili is $4.25 for a cup and $5.25 for a bowl: it comes with onions, cheese and a biscuit. Their early bird special is $5.50: the two eggs and two pieces of bacon or sausage are served with a biscuit. The Irish benny ($13.50) serves corned beef hash under poached eggs and hollandaise — all on a biscuit.
The only thing bigger than biscuits at Biscuits is Americana: every wall and shelf is covered in red, white and blue decor and military memorabilia. The bathroom is wallpapered with Elvis arcana.
The classic biscuits and gravy is the center of the menu and can be modified with a la carte additions of eggs, bacon or sausage and still remain under the $9 mark. Two biscuits ($5) was more than enough for me, and I asked for one egg and one sausage patty on the side for a grand total of $8.
Their waffle combo, where you get a waffle with two eggs and two pieces of bacon or sausage costs $8.50. But in order to keep your grand total below budget, make sure to bring cash — paying with a card causes an extra 4% charge.
Location: 7026 E. Broadway
For more information, check out their website.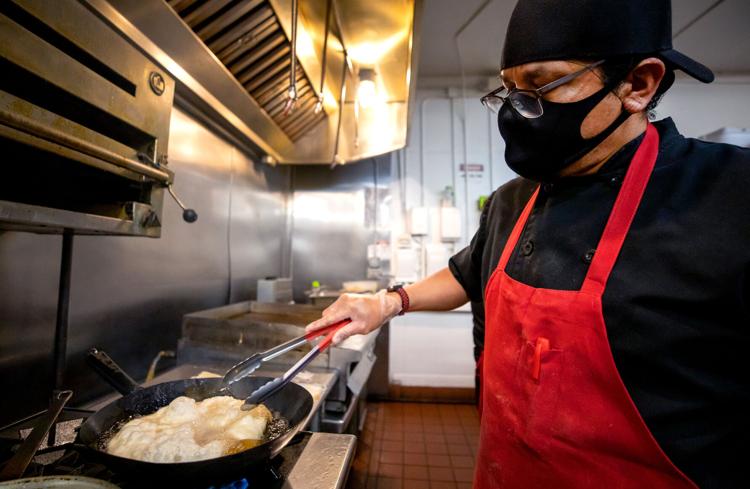 Cafe Santa Rosa's $9 bean and cheese popover
Popovers are a staple at Cafe Santa Rosa's Tohono O'odham inflected menu. You can choose between a tortilla and a popover for any of their combination plates, and some of their most elaborate menu items involve red or green chile beef piled on top of a popover.
To keep your visit under $9, though, your best bet would be the bean and cheese popover ($8.99) or their breakfast special ($7.99) of two eggs, beans, potatoes and a tortilla, or a popover served between 7-9 a.m. Tuesday-Thursday.
While I personally find savory popvers to be more filling, you can also get sweet popovers topped with honey, powdered sugar, flavored syrups or cinnamon and sugar for $6.50-$6.99.
Location: 2615 S. Sixth Ave.
For more information, check out their website.
Caravan Market's $9 chicken shawarma sandwich
I haven't had a dürüm since I was living in Germany, when I spent lots of time in Turkish, Syrian and other Arabic neighborhoods and practically lived off of dürüm and döner kebap.
Dürüm is made with the same style of meat used in a döner kebap — the kind that is stacked onto a spit that's rotated around a vertical grill. Döner is the Turkish word for a trompo, or the spinning grill instrument used in making excellent gyro, döner and tacos al pastor. But instead of using the puffier Fladenbrot that you'll find in a döner, dürüm uses a thin, nearly tortilla-like flatbread called lavash.
You'll find a trompo at Caravan Grill, and dürüm, too. For $9 and under you can try their chicken shawarma ($8.99) and falafel ($6.99) sandwiches. Standout condiments accompany the protein: bright, Persian-style pickle slices, fresh tomato, onion and lettuce (plus a garlicky sauce).
Another bonus: Caravan has extended hours during Ramadan, so those observing the fast can go to Caravan for iftar — and those not observing the fast can enjoy dinner outside Caravan's typical lunch hours.
Location: 2825 N. Country Club Road
For more information, check out their website.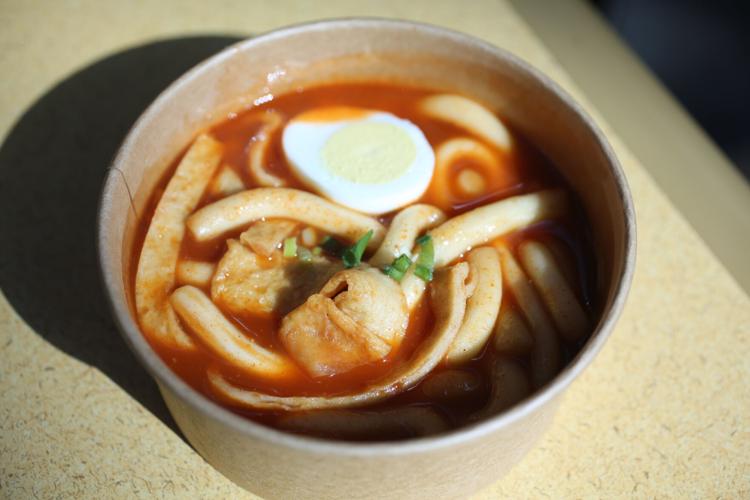 Oh My Chicken's $6 tteokbokki
Though it's hard to resist the temptation of Oh My Chicken's heavenly Korean-style fried chicken tenders, the "entrees" portion of their menu is where you can find the most budget-friendly options.
While we're highlighting their $6 tteokbokki — a thick rice noodle dish made with a spicy sauce, fish cakes and half a hard-boiled egg — it's worth noting that the fried chicken sandwiches and rice bowls also clock in under $9.
Location: Park Place Mall, 5870 E. Broadway
For more information, check out their Instagram.
Pupuseria Rosita's $6 pupusa
Each kind of pupusa (a stuffed, Salvadorian corn griddle cake) at Rosita's costs only $6. I'd start with the revueltas — not only because it is the best bang for your buck, with pork chicharrones, beans and cheese, but so you can figure out which filling you like the most.
Location: Comida Park, 4100 S. Palo Verde Road
For more information, check out their Facebook.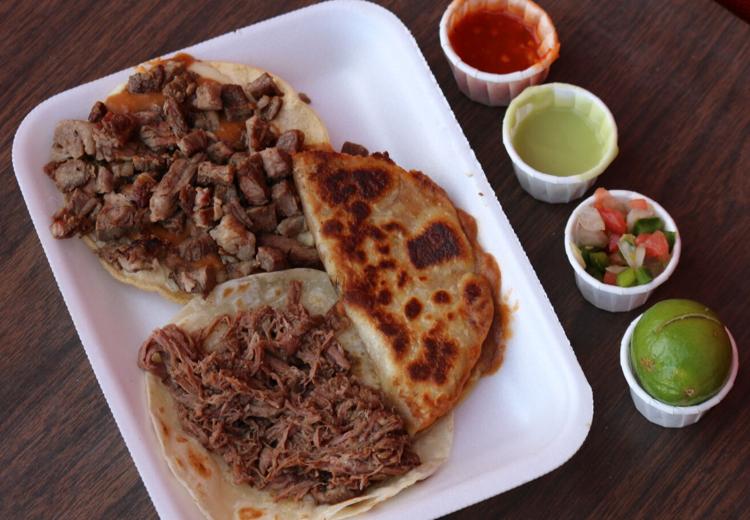 Tacos Apson's $1 taco chino
Not only is this item less than $9; you can buy it with the change that is in your cupholder. One taco chino, which is only beans, comes with access to their salsa bar for only $1. The taco chino is my editor's favorite taco at Tacos Apson, and she is full after just three. For $9 you can feed a family.
Locations: 3501 S. 12th Ave. and 6741 N. Thornydale Road
For more information, check out their website.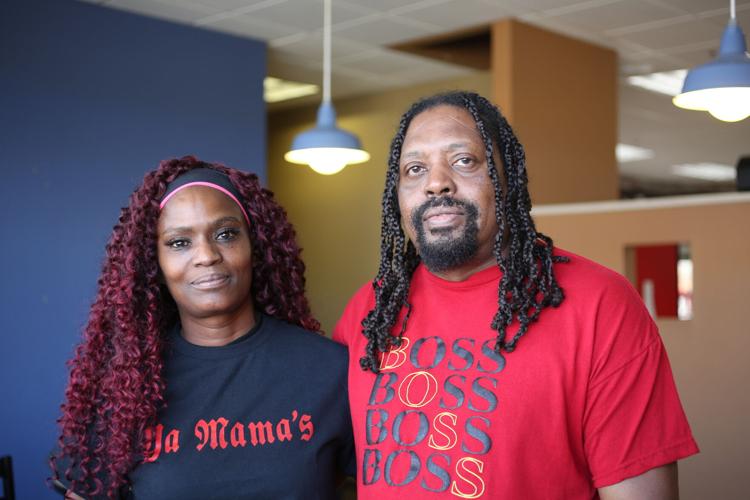 YaMama's $2.50 chicken sandwich
When I first checked out YaMama's, my jaw literally dropped when I saw the price of their fried chicken sandwich — just $2.50. For the nearly two years I've worked as a food writer, I've never seen a sandwich so cheap.
Their barbecue meals are also cost-effective when you share them with your family; one serving of barbecue and two sides comes in at $10.99 and is more than enough to split.
Location: Quik Mart, 10265 E. Irvington Road
For more information, check out their Facebook or our story.
---
Our Eat + Drink coverage is supported by: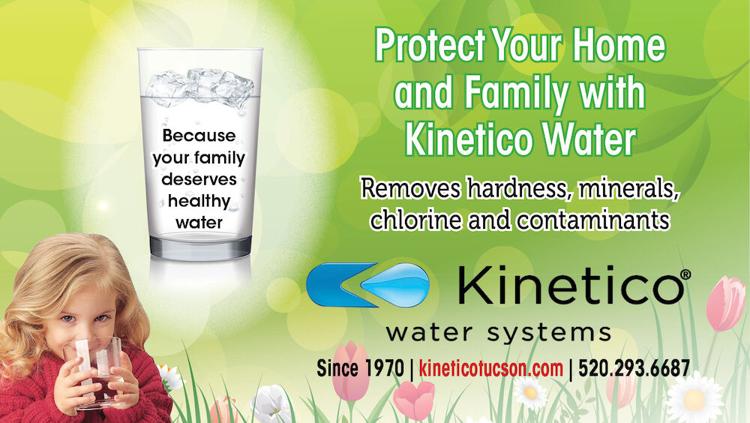 Great food and drinks start with great water
Restaurants, breweries and coffee shops know that clean, pure water is crucial. You can get that at home too with Kinetico Quality Water. Kinetico removes more contaminants than any other system. Get up to $500 off a non-electric, high efficiency patented Kinetico system (restrictions apply). Visit KineticoTucson.com.
---
What does "supported by" mean? Click here to learn more.