The noodle pull was more than I bargained for. My chopsticks rose higher and higher into the air, lifting that spicy chile ribbon until my arm was fully extended. But there was more noodle there still in the bowl, waiting for its moment in the artificial light. "Next time I'll bring someone taller," I thought ... 
Rewind back a few days to when my neighbor casually mentioned that Impress Hot Pot on First Avenue had closed, and now it's a place called Fatman Kitchen. (Thanks Rachel!) I immediately pounced on it, but was unable to find anything online: no Facebook page, no menu, no nada.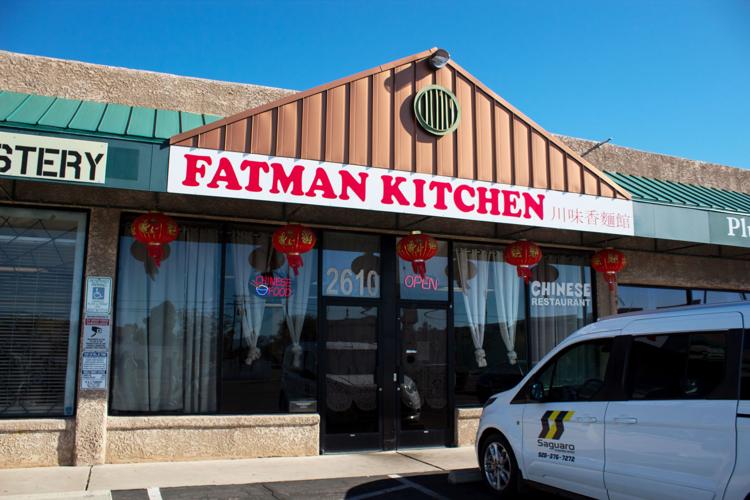 The signs were all there indicating great Chinese Food. In midtown? Check. Asian Karaoke next door? Check. My dreams came true when we arrived and sat down, and the owner said the golden words, "We make our own noodles." 
The face of the restaurant is Rosey He, who came here from Huntington Beach, California, and also works part time at the hair MVP hair salon two doors down to make ends meet. She opened the restaurant with two friends from California: one chef is originally from the Sichuan, and another who's from the Shanxi province of Northeastern China. 
The left side of the menu is made up of soup and stir-fried noodle dishes from this area, which is known for wheat flour noodles and bread. You'd be hard-pressed to find some of these around Tucson: Qishan mixed vegetable and meat soup, Chongqing noodles and the star of the show, Xian Oil splashing noodle.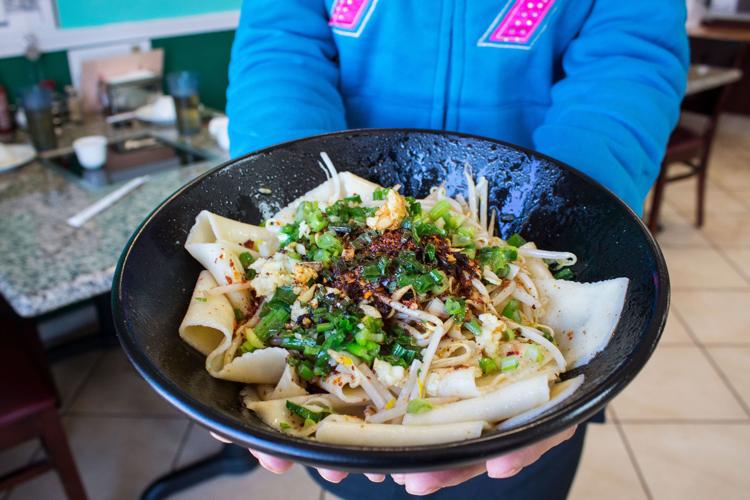 More commonly known as biang biang noodles, these belts of hand-pulled wheat are a beautiful thing. They're hearty and thick and taste like Chinese lasagna. The chef layers the giant noodles into a bowl and adorns them with a small plop of dried chiles, bean sprouts and scallions, and then pours sizzling hot oil on top before he sends it to the table.
They're not as saucy as you might expect, but the lack of sauce lets you focus on how great these noodles really are. If you need a little kick, check out that dried chile oil in the condiments bin. There's some big fat peppers in there. 🔥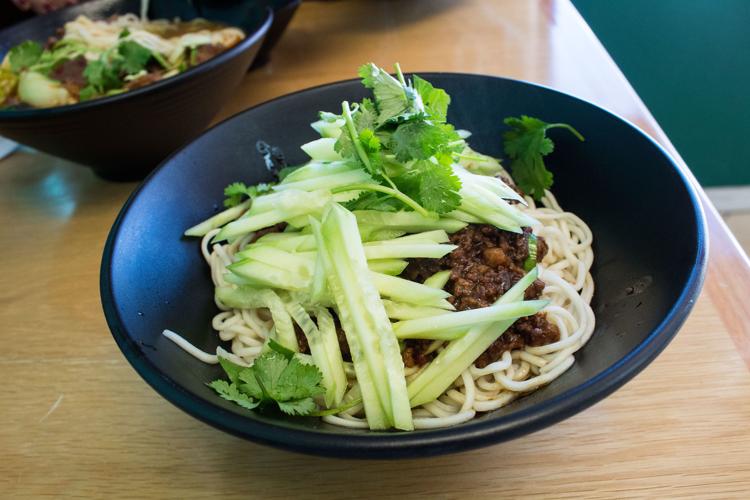 Many of the dishes here land on the other side of the noodle spectrum, with round spaghetti-like noodles also made from wheat flour. These bouncy strings are just as long if not longer than the belt noodles, and they were so light that they almost fooled me into thinking they were rice noodles.
For a dry version, get the soybean paste noodles (Zha jiang mian if you've had it before) topped with cucumbers and brown meat sauce that you stir all the way through. After seeing us struggle to get the noodles out of the bowl, Rosey brought over a knife so we could cut them into smaller pieces. FYI: These were Samantha's favorite, and also wowed her friend Sarah on a different occasion.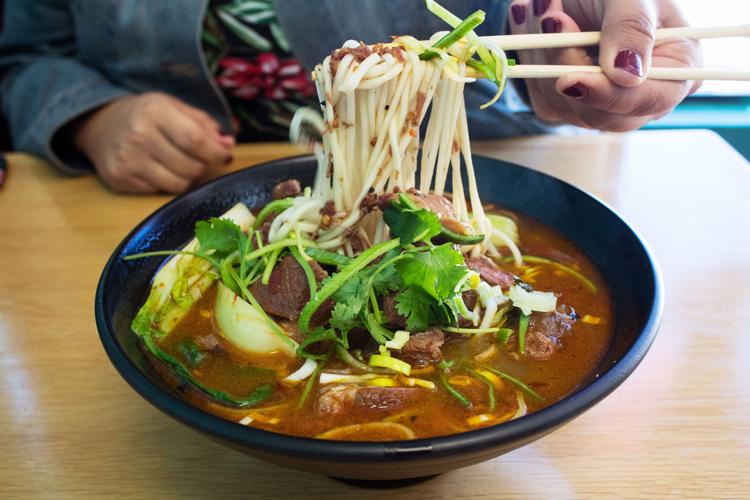 On both of my visits, my different lunch partners insisted on getting the braised beef brisket noodle soup, because duh ... This spicy noodle soup reminded me of the Taiwan beef soup at Noodleholics, except the broth was a bit thicker and the meat was more tender, yet a little fatty for some people's tastes.
Also on both occasions, my lunch partners let me have the leftovers. So I have been eating this soup almost continuously all week. 😀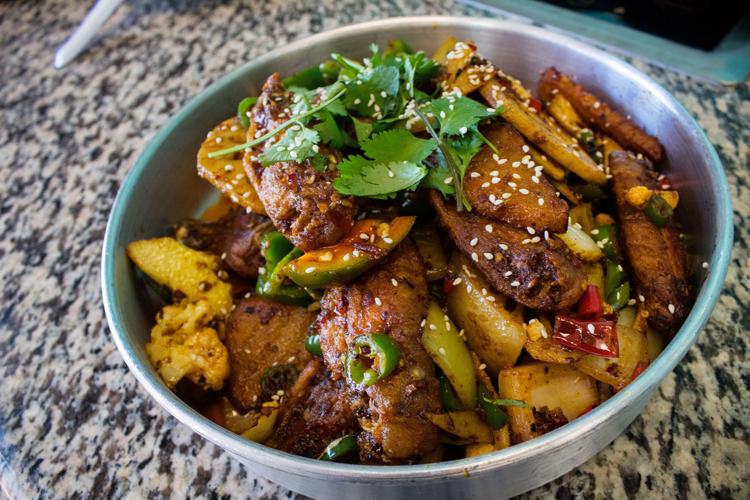 The other side of the menu is a hodgepodge of Chinese restaurant staples like Kung Pao chicken and Mongolian beef, as well as obscure dishes from the Sichuan chef. Rosey told us we needed to get the griddle cooked chicken wings, and she was right.
The wings come out in a big silver dish with various veggies like lotus root, cauliflower and quartered onions, similar to a dry hot pot without the little flame underneath. These were Janelle's favorite; crunchy and peppery with a sour Sichuan punch. The next day she ate them for breakfast, and raved about them to me in the office.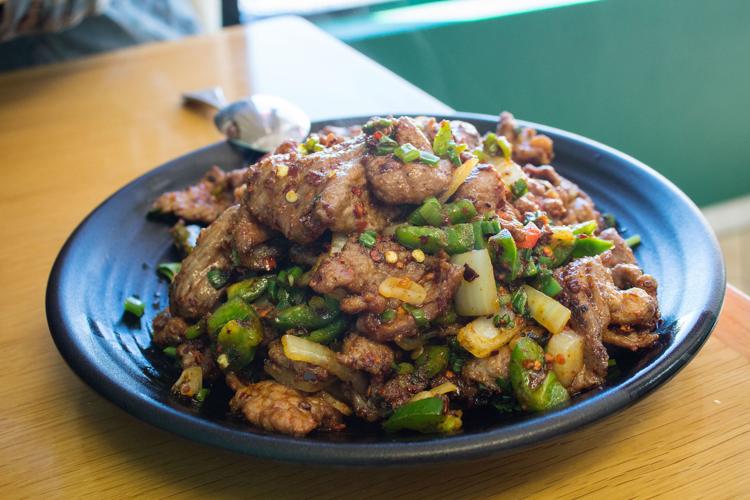 I also had the cumin lamb, one of my favorite Sichuan dishes that's actually kind of hard to find around Tucson. Fatman's version was freakishly delicious. The lamb slices were so incredibly tender, and came out steaming with little crunchy bits that melted into the onions, garlic and peppers. 
I am still thinking about this lamb, but that may be because I walked all the way home so I could stir-fry the rest for lunch today. (The office microwave is no place for cumin lamb.) 
Looks like I'm finally out of leftovers. Time to go back!!! 
Fatman Kitchen is at 2610 N. First Ave. Phone: 520-882-3059. It's open Monday through Thursday 11 a.m. to 9:30 p.m., and Friday through Sunday 11 a.m. to 10 p.m.