Fresh bundles of spinach pasta bathed in butter and tossed with salty Italian cheese ... Each bite is a blissful, wild experience worthy of the finest gourmand. (Or anyone with tastebuds, really.) 
But wow, does it look like a doozy to make ...
Fortunately, Kevin Handt is here to help us through the process, step by step. The executive chef at North Italia, Handt is a master of pasta technique, and a great educator too. Before he worked the open kitchen at North, he seasoned his chops over at the renowned Primo Italian restaurant in the JW Marriott Tucson Starr Pass resort. 
His secret? Once you think the pasta is stretched enough, give it one more run under the pasta machine to give it some extra elasticity. And also, give yourself lots of time. Just trust me, I've eaten it. And it is definitely worth it ...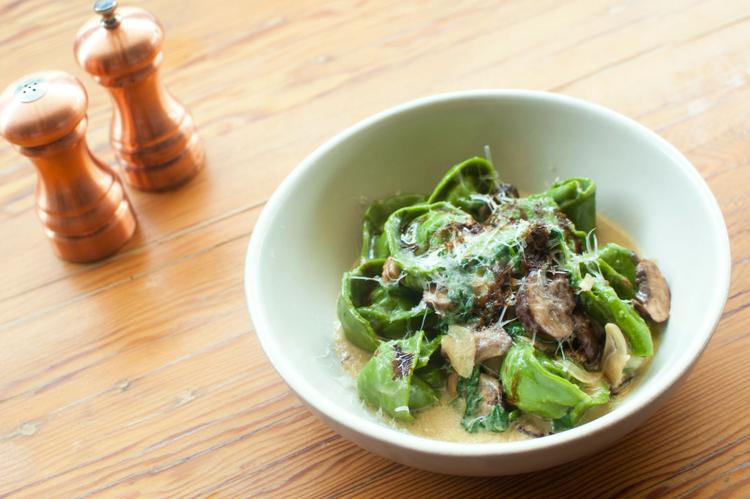 North's recipe for fresh spinach pasta
2 cups fresh spinach
2 large egg yolks
3 cups "00" flour
Using a large pot, bring water to a rolling boil. Have an ice bath ready. Working in small batches, place spinach into boiling water, cook spinach to a point where it will just start to come apart between your fingers. Place in ice bath to cool. 
Drain spinach and place in table napkin or cloth, then wring out all the water from the spinach like you would a towel. Chop spinach and place in a blender. Puree spinach with egg yolks until completely smooth.
With flour in a pile, make a pool in the middle. Add spinach mixture and start mixing with finger tips, incorporating more flour as stirring. Continue to mix until dough forms and you can bring the flour together.
Kneed the dough for five minutes by hand. Wrap with plastic and let dough rest before forming into pasta. 
Assembling the spinach tortelloni at North Italia
10 pieces spinach tortelloni
1 tablespoon minced garlic
¼ cup spinach
½ cup mushrooms, roasted
2 oz. burro fusso rendered butter* (If you want to use regular butter, see directions below.)
1 teaspoon salt
2 teaspoons Grana Padano or parmesan cheese
1 teaspoon saba grape must (Similar to balsamic vinegar. Available at Whole Foods Market on River Road, $11.99 for 8.5 ounces)
Drop tortelloni into water and cook until tender or about 5 minutes.
Saute garlic, spinach, and mushrooms until slightly wilted.
In a bowl, toss cooked pasta with vegetables, burro fusso, salt and 1 teaspoon of cheese. *If using regular butter, place tortelloni and vegetables back in warm pan and add butter until just melted. Then add salt and cheese. 
Plate in bowl, garnish with additional teaspoon of cheese and saba.