I've been flirting with Phoenix lately, but I promise you this is our last hurrah ...
A few weeks ago, we were talking around the office about what this mega city has to offer. The usual Phoenix complaints began to surface — it's all strip malls and fake lakes, what's with that weird castle off the highway, and why does anyone go to Glendale? — which led me to think, this is an interesting topic.
Is there anything in the Phoenix metro area that Tucsonans can actually like? (Besides Castles 'n Coasters of course. That's a given.) Who knows! But if there's anyone qualified to find out, it should probably be me.
It pains me to admit, but before I moved here I spent 18 years in the Chili's and Elephant Bars of Chandler, Arizona. I ate honey mustard chicken sandwiches and microwaved spinach artichoke dip. It really wasn't a cool scene, but these days everyone's talking about it ... the sleek gourmet places in historic downtown, the awesome Chinese and Peruvian restaurants! All the experts are saying the same thing: Phoenix is cool now.
So the Star's video team and I went up for a couple days to check it out. We ate a ridiculous amount of Mexican food, cracked some crabs, drank a beer in a bookstore and had one of the best Chinese meals I've ever had in my life. Am I gonna move back there now? No. But it's definitely worth a day trip. And if you're really ambitious, maybe even a weekend!              
Spots we visited in the video 
Angry Crab Shack
Coming soon to Tucson! This Cajun crab boil restaurant sells seafood by the pound, steamed in plastic bags that you rip open at the table. Don't be afraid to amp up the spice on your crawfish to Scorching Scorpion level. It really wasn't that bad. And please, add the sausage it's delicious!
Several locations, but we visited the one at 2740 S. Alma School Road, Mesa. 480-730-2722. angrycrabshack.com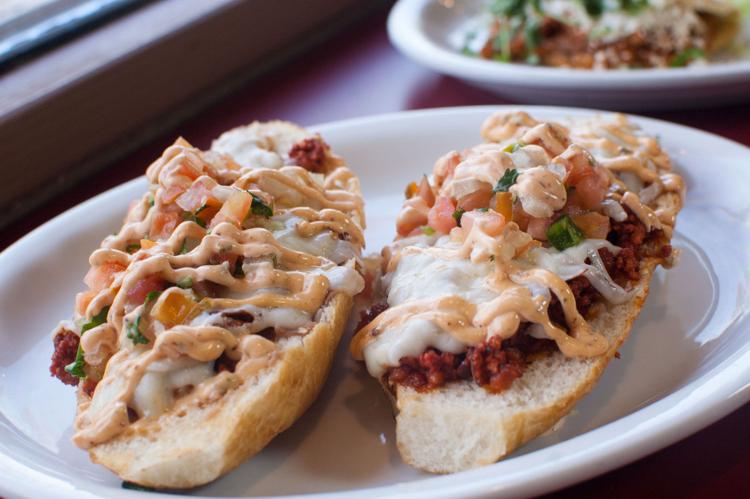 Los Reyes de la Torta
This Mexico City joint does a super-sized torta they call the Del Rey, with pork sirloin, breaded milanesa beef, ham, hot dogs, an entire omelet, tomatoes, avocado, beans and more. If your sandwich preferences are a little less brash, get the open-faced mollete with crustry bread and spicy chorizo. 
The Tempe location at 1528 E. Southern Ave. makes great use of a former JB's buffet. 480-491-1314. losreyesdelatortaphx.com 
First Draft Book Bar
A full-fledged bar inside the Changing Hands bookstore, First Draft is a great space to get some reading done. I got to take my pint of salty gose from Arizona Wilderness Brewery out into the store, and then they let me bring my books back to read in the chic bar area. Beat that Barnes & Noble! 
House of Egg Roll
You've already had Szechwan, but have you tried Shaanxi? This exciting style of northwestern Chinese cooking is gonna be the next big thing, and it's worth the trip alone just to try it. The menu is big but you've gotta try the Shaanxi sandwiches, with fragrant cumin lamb stuffed into homemade pita breads. P.S.: There's often a wait during dinner time, so make sure to plan ahead ...
961 W. Ray Road, Chandler. 480-899-9331.