In a nondescript parking lot off the Aviation highway, there's a gaggle of journalists huddled around a white tub. Everyone's waiting to smell the tree parts inside: frosty green stems picked from an old alligator juniper on Mount Lemmon. 
Much like the Dutch did 400 years ago, Matt Montgomery uses the juniper berries to flavor his newest spirit, a small-batch gin made with ingredients foraged around Southern Arizona. In addition to being the first gin in town, Three Wells Mount Lemmon Gin is a pure expression of Tucson's boozy terroir.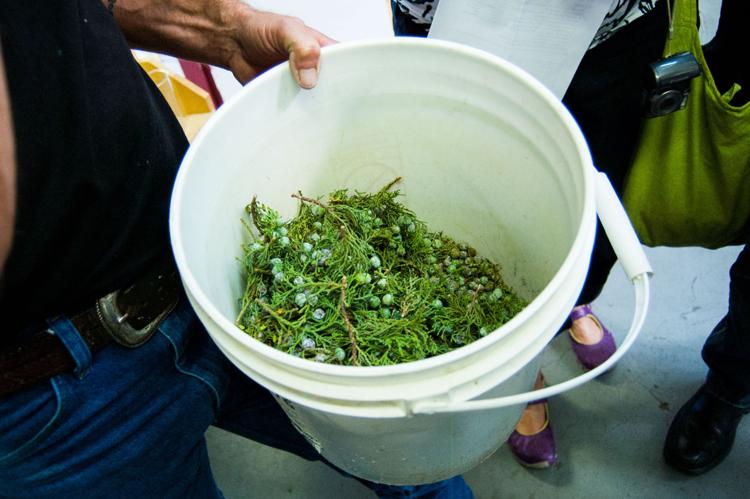 Montgomery and his chemist partner Chris Dudding distill the gin in handmade copper stills at their warehouse at 3780 E. 44th St., flavoring it with five local botanicals: juniper berries and tips, lemon peel, chiltepin chiles and foraged creosote, which give it the smell of Tucson rain.
Rather than buying Grain Neutral Spirits from a supplier, the two also ferment their own mash base. It gets distilled at least twice, and then cut with water to lower the alcohol content to 40 percent ABV.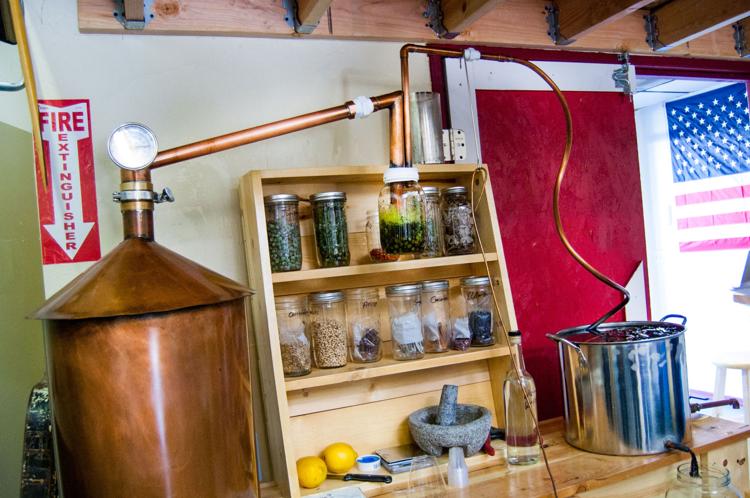 By itself, the unaged Mount Lemmon Gin is intensely piney and herbal, like sipping the hot rainwater flowing through a summer wash. But it really opens up when you put it in a simple cocktail like a gin and tonic with agave nectar, adding a faint grassy undertone to that sweet lime juice.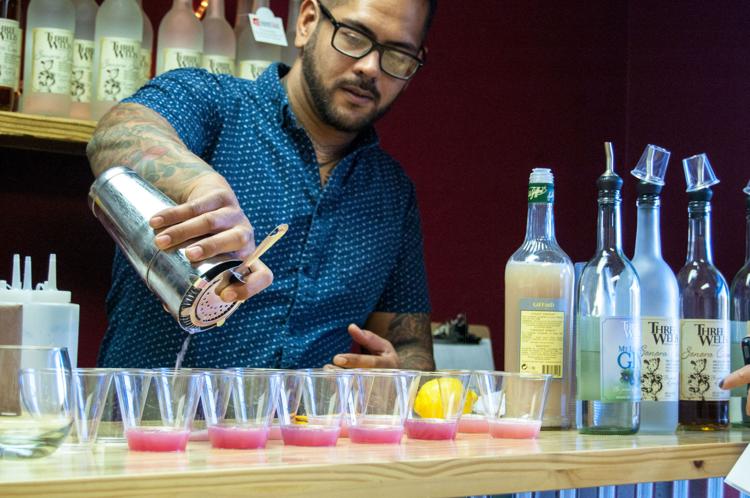 Bartender Tafao Faumuina is working the Mount Lemmon Gin into his new cocktail menu at Proper, 300 E. Congress St. At the distillery event, he whipped up a bright pink sipper inspired by a Hemingway Daiquiri, with gin, citrus juices and triple sec, creamy orgeat and Luxardo Maraschino Liqueur. 
For home bartenders, he says the gin would also be great in a Campari negroni or a dry gin martini. 
You can find Mount Lemmon Gin at both Plaza Liquors, 2642 N. Campbell Ave. and The Rumrunner, 3131 E. First St., starting this Friday.