We like to think of Phoenix as a big fat chimichanga, stuffed with filler then wrapped in freeways and fried to a crisp.
But if you dig a little deeper, this city of four million people has a sizable immigrant community with restaurants from every region of Mexico. Unlike Tucson with its palpable Sonoran vibe, the metropolitan center attracts people from the bustling streets of Mexico City as well as Mexico's culinary capital of Oaxaca.
After a little research, I was able to find two major neighborhoods* for great Mexican food. The highest concentration of restaurants is northwest of downtown Phoenix in an area called the 16th Street Corridor. Here you'll find everything from 24-hour fast food joints to the gourmet Barrio Cafe. (And strangely one of the city's best Chinese places, Gourmet House of Hong Kong.) You can even walk most of it, heading north from 16th Street and McDowell Road. 
If you continue north for several miles, you'll hit the Sunnyslope neighborhood straddling the base of North Mountain. In "Little Oaxaca," we found tlayudas and black moles from the central Mexican state as well as the tortas and huaraches of Mexico City.
*Over in the East Valley, you can also head to the Pascua Yaqui community of Guadalupe for Sonoran tacos and Baja seafood. But for this feature, we decided to focus on central and southern Mexican dishes that you can't get in Tucson ... 
TLAYUDAS (Origin: Oaxaca)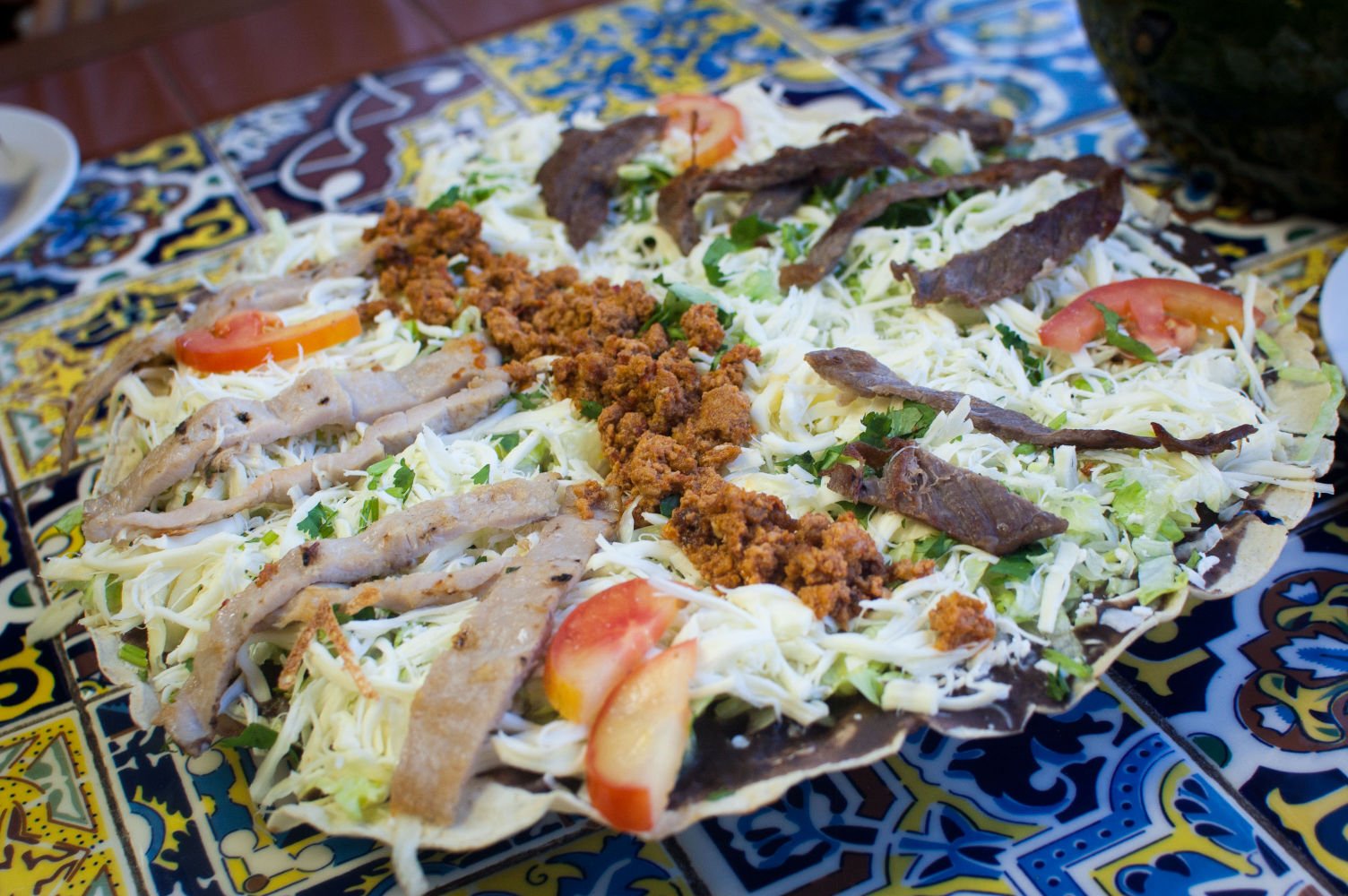 The Tlayuda combinada, $12, at La 15 y Salsas in northern Phoenix
These colorful Mexican pizzas are a staple item at Elizabeth Hernandez's sunny Oaxacan restaurant La 15 y Salsas, 1507 W. Hatcher Road. (Named that because the cross street is 15th Avenue.) The disks are actually much lighter than their Sonoran cheese crisp counterpart, with stringy white Oaxacan cheese rather than the melted yellow variety. The richness here actually comes from the black beans and the asiento pork lard that Hernandez slathers across the base. The name tlayuda refers to the tortilla itself, a crackly baked corn disk that she imports from her hometown of Oaxaca de Juárez. She'll make one up for you there, or you can purchase a bag at the little Oaxacan shop in the front. 
CHAPULINES (Origin: Oaxaca)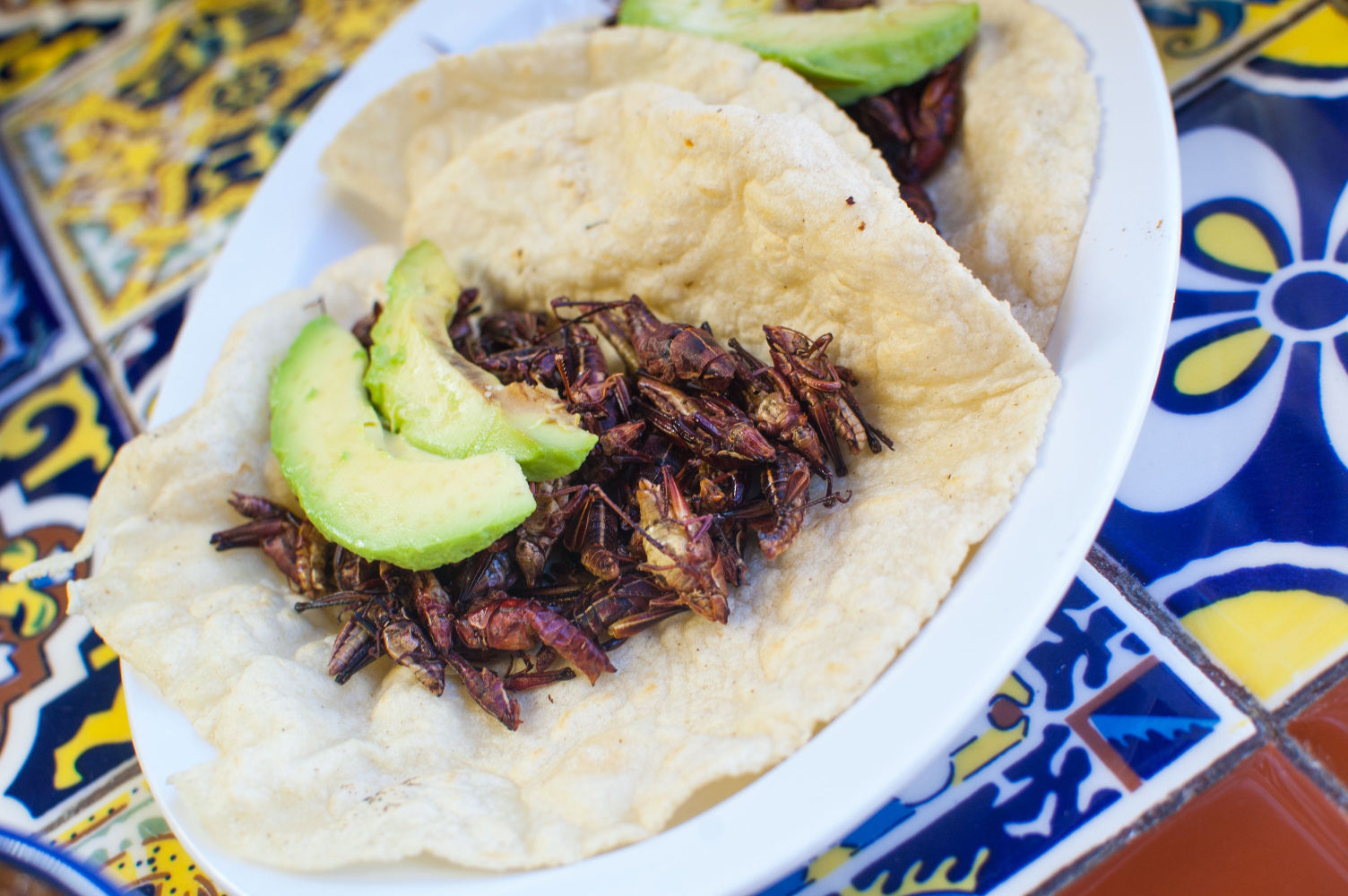 Chapulines tacos, $3 apiece, at La 15 y Salsas in northern Phoenix
Toasted grasshoppers are a common snack in southern Mexico, and here at La 15 y Salsas you can buy by them by the bagful. Some people spice them up with chile, but Hernandez does them up simply on the comal with some salt and a squeeze of lime. (The citrus tones down the dirt flavor a little bit.) But it's the texture rather than the taste that gets you: snappy and spindly, with threats of sharp extremities about to poke the crap out of your tongue. In other words, fun! Find these Oaxacan beauties on the botana appetizer platter or munch on some grasshopper tacos with handmade corn tortillas, topped with her vibrant salsas.       
HUARACHES (Origin: Mexico City)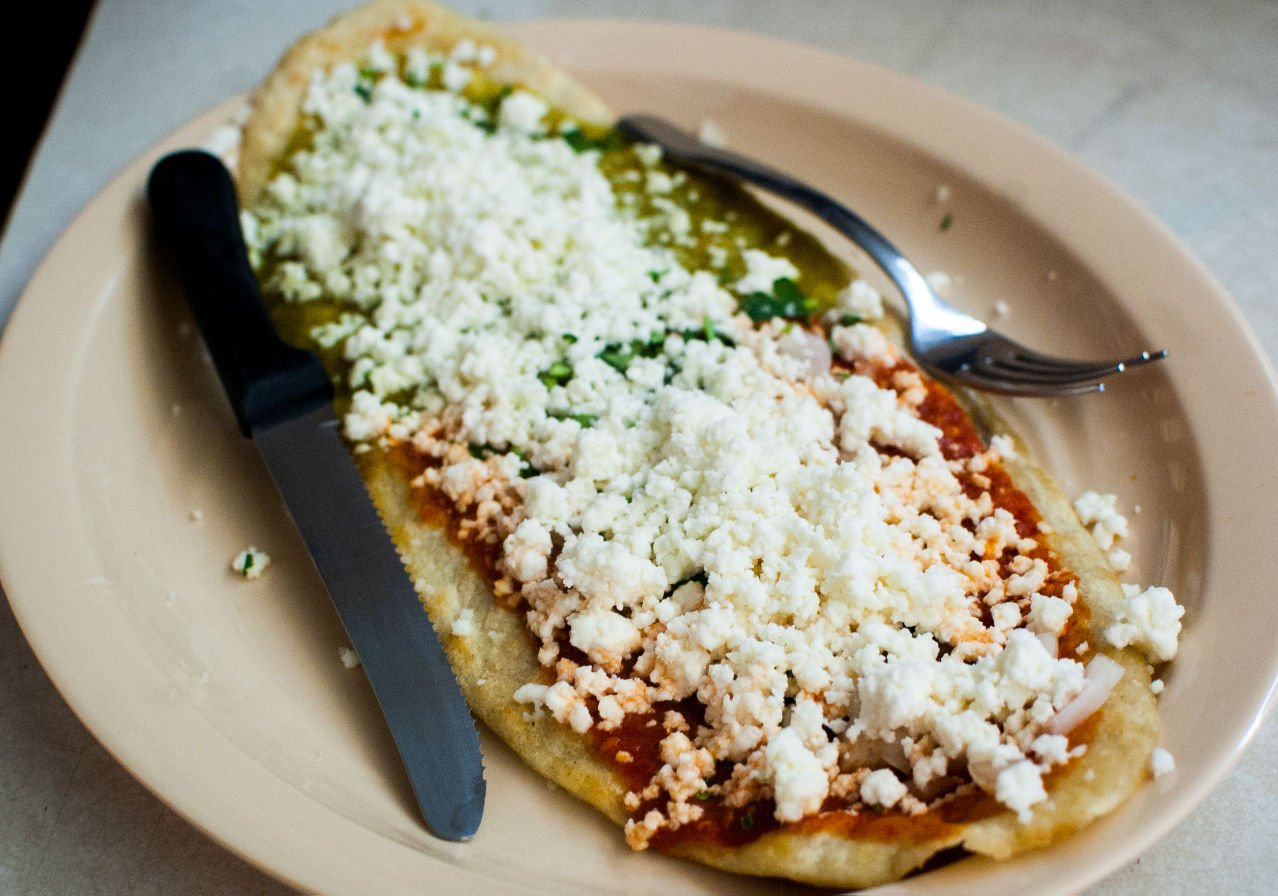 The Huarache Sencillo, $6.60, at El Rinconcito del D.F. in northern Phoenix
There's a million ways to smash corn in Mexico City, and this is one of the most interesting: The huarache is a street food made from masa that's been pressed down on an oblong paddle in the shape of a giant pill. It's then fried up crisp and topped with various meats and cheeses like spongy queso fresco. (A meatless version is pictured above.) At El Rinconcito del D.F. at 8901 N. Twelfth Street, they stuff the huaraches with black beans for a savory boost, then top them with anything from the tart red chile chicken tinga to a fat glistening slab of bistek beef.
GELATINAS (Origin: Outer space)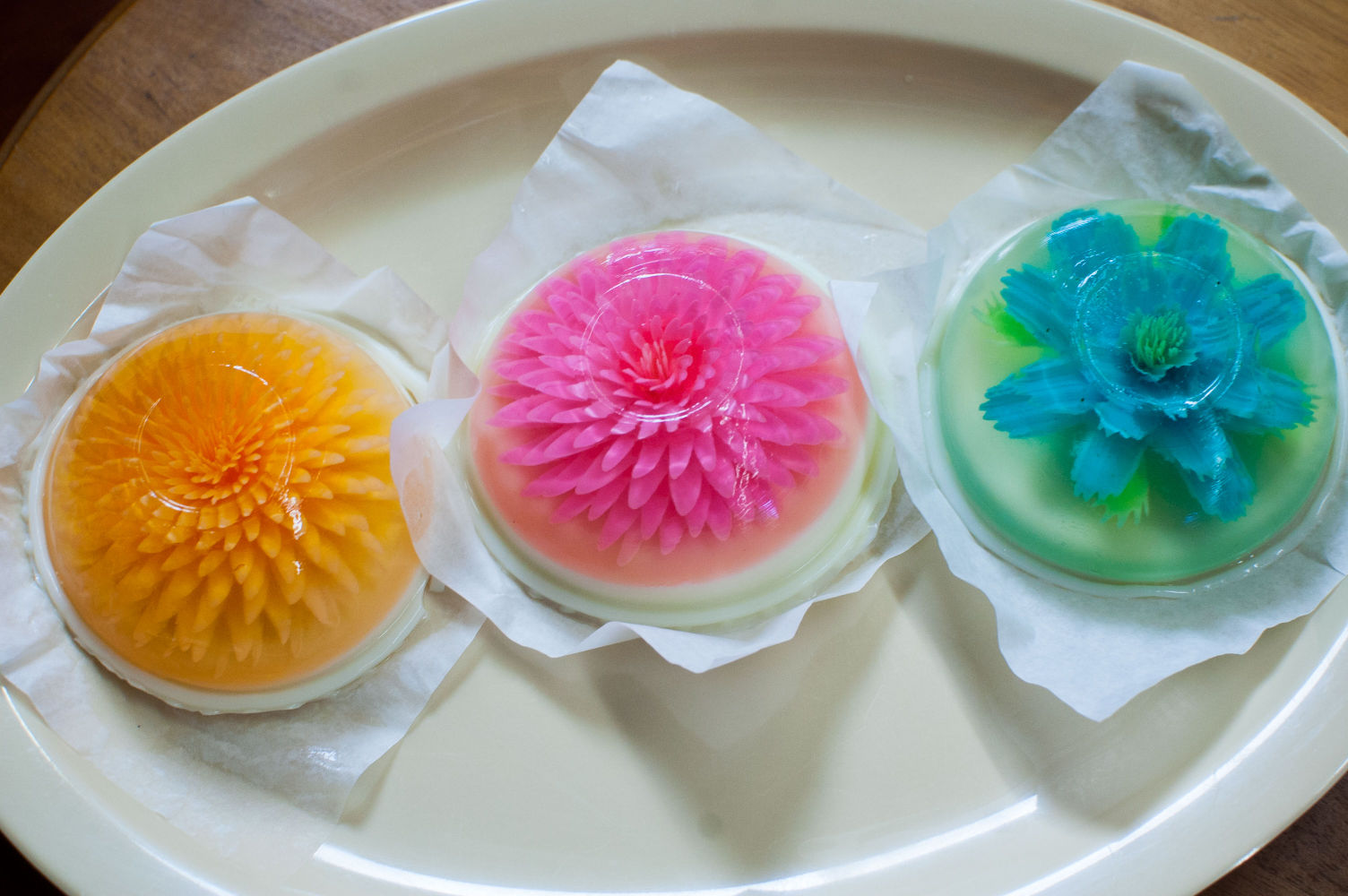 Gelatinas artisticas, $2.50 apiece at El Rinconcito del D.F.
El Rinconcito del D.F. also makes these edible works of art they call Gelatinas Artisticas, or artistic jellies. They look like delicate flower blossoms hovering in translucent snow globes, but they're actually 100 percent jello. To make them, you insert a syringe-like object into a jello mold and very carefully squeeze out different colors to make the flower petals. To be honest they taste rather ordinary, "like watered down Orange Kool-Aid" according to my dining companion. But they look so pretty!  
MOLLETES (Origin: Spain)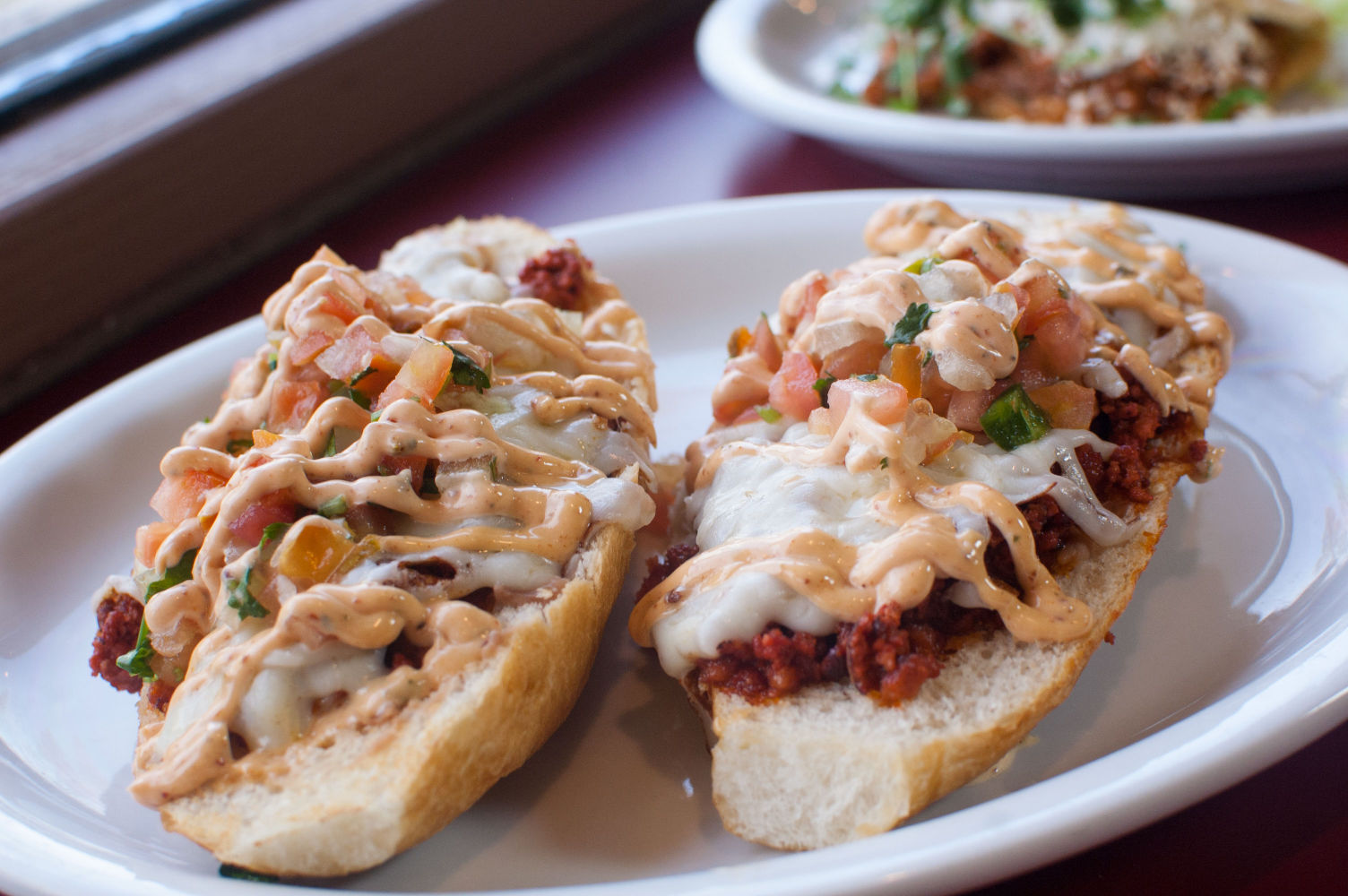 Molletes, $5.99, at Los Reyes de la Torta's Tempe location
"There's no tortillas, there's only bread!" But thankfully it's the addicting crusty kind you might find in one of Europe's great cities. The mollete appetizer at Los Reyes de la Torta could be considered Spain's greatest contribution to the New World (aside from Rocío Dúrcal) because it is simple and lovely, so effortless I was scratching my head as to why I've never seen it before. Slathered with beans, spicy chorizo and melted cheese, it tasted like a torta mated with a Sloppy Joe and made a beautiful bubbly baby. 
INSANE TORTAS (Origin: Mexico City)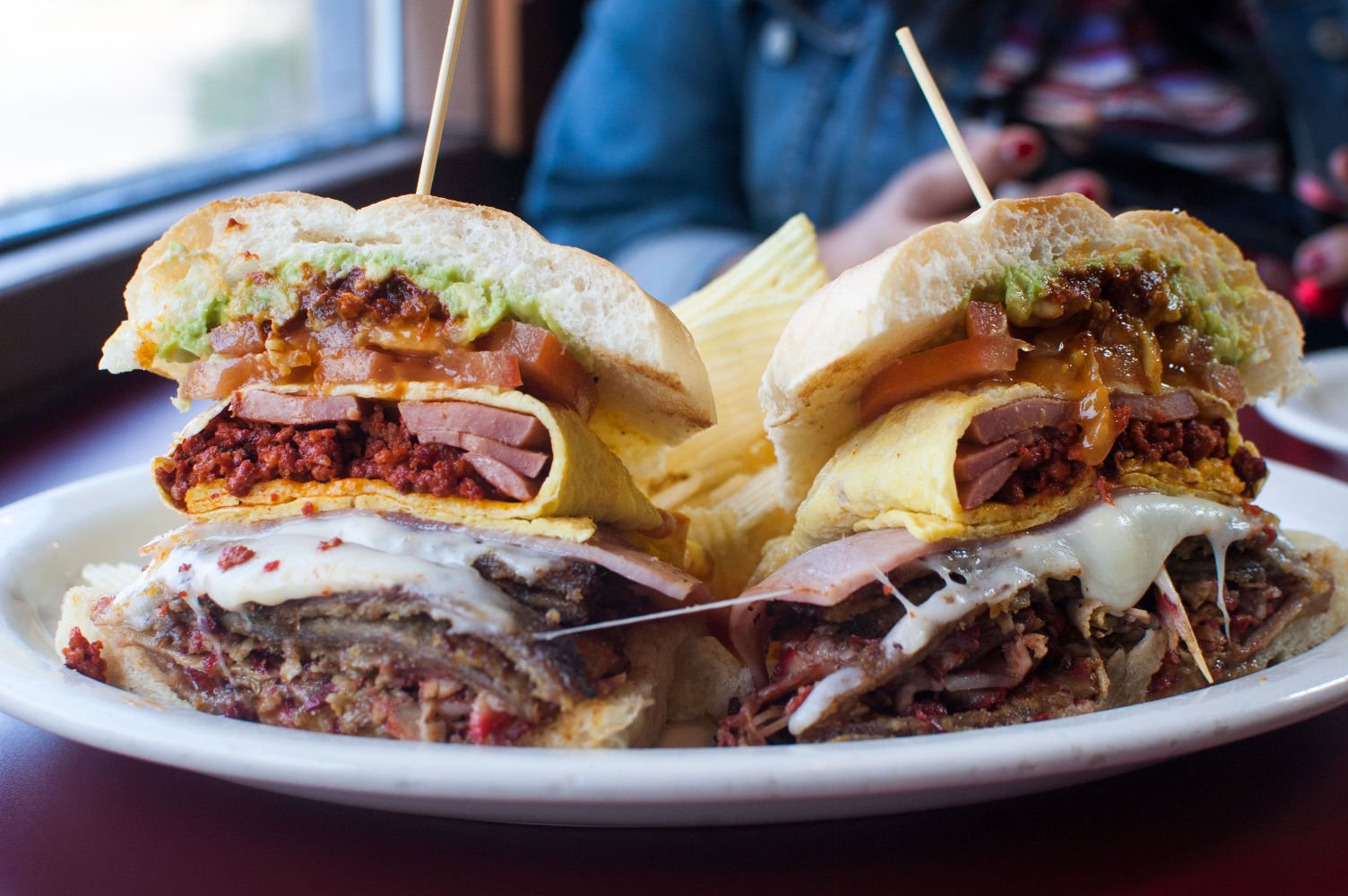 The Torta del Rey, $10.25, at Los Reyes de la Torta in Tempe
Yeah we have tortas in Tucson, but this is a little different. Let me count the ways: pork sirloin, breaded milanesa beef, ham, hot dogs, an entire omelet, tomatoes, avocado, beans and more. The Del Rey Torta is actually the tamer sandwich on Los Reyes de la Torta's menu. (The restaurant has several locations, but we hit up the one at 1528 E. Southern Ave. in Tempe.) The other sandwich, King Carlos V, clocks in at five pounds and has its own Adam Richman approved food challenge. But this kind of thing is actually pretty normal in Mexico City joints. Maybe it's a masochistic thing, how they deal with the stress and smog all the time? Who knows! City people do some freaky stuff ...