Museums throughout Arizona, including three in Tucson, will take part in Smithsonian Magazine's Museum Day on Sept. 18, 2021. 
Visitors can download one ticket per email address that will give two people free general admission to one of more than 1,000 participating museums, zoos and cultural institutions across the country. 
Whether you want to stay in Tucson or take a day trip, here are 10 places to go to celebrate Museum Day this year:
Arizona History Museum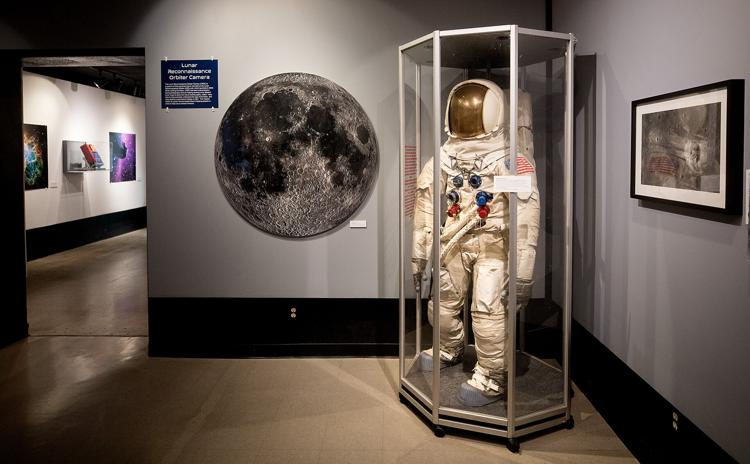 Arizona History Museum's newest exhibit is "Ready to Launch: Arizona's Place in Space," which is open until Nov. 30, 2021. 
Visitors can also check out several other exhibits, including ones focused on the life and accomplishments of Barry Goldwater, the resilience of the Tucson community in the wake of tragedy and the evolution of transportation in Arizona.
Tucson Desert Art Museum 
The Tucson Desert Art Museum is a non-profit museum that opened in 2013 known for its "The Weavings of the Diné" collection that features pre-1940s Navajo textiles. 
Some of the Desert Art Museum's other exhibits include "Desert Hollywood," which highlights iconic places in Arizona used for filming movies and television shows, and one that combines the stories of pioneer women with the history of undergarments worn during Arizona's early days, called "Arizona Women Uncovered."
DeGrazia Gallery in the Sun Museum
The DeGrazia Gallery in the Sun was established in the early 1950s by Tucson artist Ettore "Ted" DeGrazia, who is best known for his art depicting the southwestern United States and the indigenous cultures of the region. 
DeGrazia's works are displayed in six permanent collections at the museum, along with smaller rotating collections such as "DeGrazia's Superstition Mountain Collection," which is open now through January 2022.
Bisbee Mining and Historical Museum
A roughly two-hour drive southeast of Tucson will get you to this Bisbee museum that tells the story of the eccentric old mining town.
One exhibit, "Bisbee: Urban Outpost on the Frontier," highlights how miners and settlers came to build the once-booming town from the ground up and the "Digging In: Bisbee's Mineral Heritage" exhibit takes visitors into an actual mine to get a closer look at what miners did for a living. 
Tubac Presidio State Historic Park and Museum
Tubac Presidio State Historic Park and Museum, about 45 miles south of Tucson, highlights 2,000 years of Southwest history and culture.
Dedicated in 1958, Tubac Presidio is Arizona's first state park and houses Arizona's first printing press, along with centuries-old Southwest artifacts.
The Museum of Casa Grande
The Museum of Casa Grande's participation in Museum Day on Sept. 18 will also begin its regular session for this year.
This small museum, roughly 65 miles northwest of Tucson, offers indoor and outdoor exhibits that explore Native American cultures, early settlers of the Southwest and the evolution of mining and railroads in the area.
The Museum of Casa Grande will also feature Philip "Wildman Phil" Rakoci on Museum Day as he puts on an educational reptile show.
Tempe History Museum
The Tempe History Museum's main exhibition area showcases the city's history and covers four themes: "College Town," "Building Our Community," "Living Together" and "Surviving in the Desert."
There are also two rotating exhibit areas at the museum, where "Video Invaders" and "Two Players, Two Quarters" are currently featured. The two exhibits focus on the influence video and arcade games have had on popular culture.
Arizona Heritage Center at Papago Park (Tempe)
Arizona Heritage Center's exhibits include "Still Marching: From Suffrage to #MeToo" and "Unframed: A Photo Journey through Navajo and Hopi Nations 1977-1978."
Visitors can also learn about how Phoenix grew to be one of the largest cities in the U.S. and how Arizona's "5 Cs" (copper, citrus, cattle, cotton and climate) impacted that growth and the state's economy. 
This museum is roughly an hour and a half drive northwest of Tucson.
Mesa Historical Museum
This museum, just under two hours north of Tucson, highlights the history of the city of Mesa, which was settled in the 1870s. 
Mesa Historical Museum houses six year-round exhibits, including "Founding Families" and "Play Ball: The Arizona Spring Training Experience," in addition to special rotating exhibits, such as the "Diversity of Mesa" one that opens Aug. 28, just in time for Museum Day.
Visitors can also learn about pottery making, basket weaving and quilting as part of the live demonstrations the museum hosts. 
Cave Creek Museum
Cave Creek Museum offers a look at the long history of indigenous cultures in the area and Cave Creek's past as a mining, military and ranching community. 
In addition to archeological artifacts and art, the museum features outdoor exhibits and gardens filled with classic desert plant life. 
Cave Creek is just over two hours northwest of Tucson.