The worlds of science, technology, engineering and mathematics aren't just for boys. 
But, according to new research conducted for Junior Achievement, a national non-profit that teaches students about financial literacy, work readiness and entrepreneurship, only 11 percent of teen girls ages 13-17 are drawn to non-medical STEM careers versus 36 percent of boys. 
Various factors contribute to this, including lack of exposure to female role models, girls' cultural expectation to nurture, societal norms and marketing to name a few.
Local experts working to close the gap say it's important to draw more diversity into the STEM industries.
"We should care because the solutions to deal with water and energy issues — some of the most important issues of our time — are locked in the students we are not currently drawing into the STEM fields," said DaNel Hogan, director of the STEMAZing Project, a local program dedicated to empowering pre-K to 12th grade educators to enhance and improve their STEM curriculums. "It is only with diverse teams of scientists and engineers that the creative innovations required for a sustainable future will be unlocked."
How is this still a problem?
Girls that are interested in STEM tend to be interested in the medical and dental fields rather than engineering or technology. 
"Research has shown that because of cultural beliefs and expectations, girls tend to be drawn to fields and careers where there is a clear link to helping people or making the world a better place," said Jill Williams, director of Women in Science and Engineering at the University of Arizona. "This helps explain why medical-related STEM careers have greater female participation. In these fields, the link between science, math and technology and helping people is more obvious than in non-medical fields."
But, STEM careers, not just the medical ones, have a huge impact on society and that needs to be conveyed to girls — and all people — to appeal to their desire to help, said Chuck Zaepfel, director of the Southern Arizona District of Junior Achievement. 
"It's not a back in the back room with beakers," Zaepfel said. "You're actually making a difference to save lives like in medical research and if you're a scientist working with NASA, the research our space program has brought to every day lives is tremendous."
The way STEM is often marketed, it's hard to see all of the ways it can benefit people.
"Many times it is the 'let's blow something up or destroy something' selling point used to spark interest in STEM fields," Hogan said. "We know from research highlighting the way STEM careers can make people's lives easier and make the world a better place are enticing reasons girls would pursue a STEM career."
In that marketing, boys are encouraged to be interested in math and science-based activities to a greater degree than girls, Williams said. 
"You only need to take a walk down the toy aisle at your local toy store to see how different types of toys and activities are marketed toward boys and girls," Williams said. "As children proceed through the educational system, we also know that boys are encouraged to pursue STEM fields to a greater degree than girls are. This is most often not intentional on the part of educators, but rather patterns that are adopted unconsciously over time."
Lack of exposure to STEM and what careers are out there at an early age is also a contributing factor, says Czarina Salido, program director of Taking Up Space.
"A lot of people get stuck in their box thinking that STEM is for geeky kids stuck in front of a computer or in a lab but there are all kinds of jobs, even working for automotive shops," Salido said. "There are tons of different aspects. It has to do with exposure, just not being aware of the type of things that are out there or the opportunities."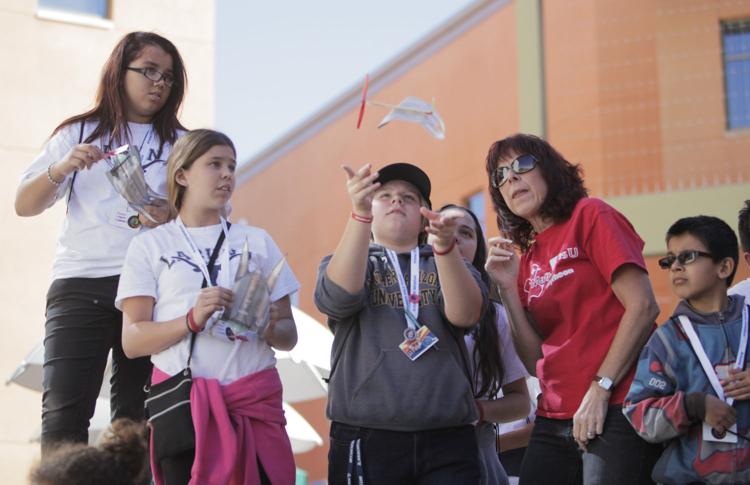 How to change it
Mabel Rivera, a teacher at Innovation Academy, a K-5 STEM school in the Amphitheater School District says, in some ways, it's starting to turn around.
"You're starting to see more women in STEM fields, but the fact that we still have to make videos or say 'look at these women in STEM' means we still have a long ways to go," Rivera said. "Otherwise, if it was normal or common we wouldn't feel the need to do that...I think it's good that it's happening, but I hope one day we don't have to make these videos. That there are enough women in the STEM fields that it's common practice and that women can do anything."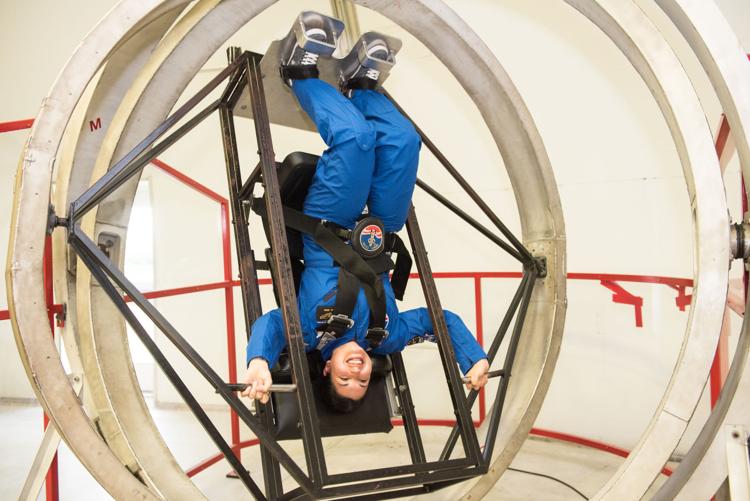 Rivera, who will be teaching second grade next school year, was one of the teachers selected to go to space camp in Huntsville, Alabama through the Honeywell Educators at Space Academy with the mission to learn new ways to bring science, technology, engineering and math to the classroom next fall. 
Since many children don't have exposure to a female role models in a STEM career, Mabel hopes to bring professionals to her classroom to talk about their careers and the difficulties they had in getting there.
"Because it's like you wanna give up because it's hard, but if you want to get there you have to push beyond that," Rivera said.
Zaepfel from Junior Achievement  says children are influenced the most from parents, social and general media, teachers and classroom. 
So, Junior Achievement works to influence students by bringing mentors, many of them women in STEM fields, to the classroom. 
Though it doesn't specifically target girls, the organization approaches the subject of careers in a gender neutral way, starting with second graders. 
"We don't have flash cards with nurses being automatically women," Zaepfel said. "It's exploring that 'you're a child thinking about things you want to do in your life'...We're really trying to open kids' minds to the less traditional because many are STEM focused. Forensic scientist, meteorologists, medical research...They're careers for people."
Since children begin forming their STEM identities early on, Hogan says they need exposure to STEM early and often.
"This means STEM experiences for all of our students, too," Hogan said. "Far too many STEM opportunities are given and available to only our students who come from mid- to high-socioeconomic households. We need all of our students, including girls and under-represented minorities to be engaged in STEM learning."
Most of the work Hogan does with STEMAZing is focused on helping early childhood and elementary school educators do a "better job engaging students with STEM lessons and activities."
"Recent research shows that by age 6, girls are 20 to 30 percent less likely than boys to see their own gender as 'really really smart' and this self-perception leads to girls disengaging from activities that they associate with high inherent intelligence, such as math and science," Williams said. "Picture books, films and other activities that feature strong female characters, who show the ability to persevere through challenges, and pursue STEM fields and careers can go a long way in breaking down gender stereotypes."
Williams recommends "Ada Twist Scientist" to share with children and the recent film "Hidden Figures" for older children because it points out the way in which racism is also a factor that shapes career paths and possibilities.
Tucson business, Girls Can! Crate is another option. It's a monthly subscription box that is geared toward girls and features women in history who have done amazing things in STEM and other career fields.
"We have to come up with creative ways to show kids that there are other opportunities and other jobs they can do," Salido said. "Everybody needs to know there are opportunities that are not just stuck in a lab with bottle-thick glasses. You can like fashion and you can like science at the same time."
There are a few STEM programs that reach out to middle and high school girls, but Salido, who recently took three Pascua Yaqui girls to space camp and teaches them weekly STEM lessons through Taking Up Space, thinks it needs to start earlier. 
"It's harder to reach those girls than if you reach them a little bit younger so you can start teaching them so they're not intimidated by STEM," Salido said. 
Tucson programs making changes 
WISE (Women In Science and Engineering) at the University of Arizona facilitates this national non-profit dedicated to closing the gender gap in technology. Girls in grades 8 through 12 learn the Core4 computer science concepts that form the basis for all computer programming languages.
The WISE program hosts a mentoring program for high school girls interested in STEM careers by pairing students with professional women and college students.
Girl Scouts in grades K-12 are introduced to different aspects of STEM each year, whether it's how a car's engine runs, learning to manage finances, how to clean an oil spill or caring for animals. 
This project of the Office of the Pima County School Superintendent provides professional development and resources to pre-K through 12th-grade educators to enhance and improve their STEM curriculum.
There's even a page on its website dedicated to Elementary Girls in STEM. It provides links to stories and web pages to inspire girls to learn about STEM, including a video series that introduces students to women role models in different science fields. 
SARSEF (Southern Arizona Research, Science and Engineering Foundation) hosts ACES (Applied Career Exploration in Science) Camp for 40 middle school girls to learn about STEM careers through teamwork, use of technology and hands-on learning.
Created by an Amphitheater Middle School engineering, coding, video production and robotics teacher, program pairs girls with mentors at events with the hopes of exposing them to STEM professions. All activities take place during school hours and costs nothing to the girls.