Dozens of people wearing red shirts gather on the back patio of Rocco's Little Chicago Pizza on Broadway Tuesday afternoon, each one with a packet of petitions to have notarized and turned in. 
The energy is high as they talk about their experiences gathering petition signatures for the #InvestInEd initiative. 
For the past two months, they, along with other teachers, parents and supporters, have canvased Tucson and Pima County collecting signatures with the hopes of seeing the measure they're so passionate about on the November ballot.
Statewide, at least 150,642 valid signatures are needed to see that happen. Thursday morning, supporters from Tucson and all over Arizona showed up at the Arizona Secretary of State's office in Phoenix to deliver the fruits of their hard work, turning in about 270,000 signatures.
If enough of the signatures are valid, voters will decide whether Arizona's richest one percent will pay more state income taxes. About 20,000 taxpayers out of nearly 2.8 million who file tax returns would see an increase in state income tax rates, which would raise $690 million for public education in the state.
The measure would raise income tax rates on Arizonans who earn more than $250,000 or households that earn more than $500,000 by 3.46 percentage points; the increase would be 4.46 percentage points for individuals earning more than $500,000 or households earning more than $1 million.
Backers say the funds will not only be used for pay increases for education support staff such as food service staff, nurses, counselors and librarians and teachers, but will be used for supplies, repairs and operations. It will also help support full day kindergarten and dropout prevention. 
We chatted with first-time petition gatherers about their experiences gathering signatures, why they chose to get involved and advice for anyone thinking about jumping in to civic engagement:
Kate VanRoekel, English as a Second Language teacher
Why: I felt hopeless about the state of education funding in Arizona for such a long time I thought this is finally the moment. 
What it's like: I was really nervous about it at first. At first I just walked around my office. It's an education nonprofit, so I knew everybody would sign. And then I would bring it to parties and I'd set it up with a little sign that said "please sign me" because I was afraid to ask even my friends. And then I just got braver and started to go to the library and my goal would be to just stay an hour even though it was super scary and I hated it I would be like, "OK, I'll stay for an hour" and that turned into "I'll stay till I get a page" and that turned into going out every weekend and talking to thousands of strangers and getting signatures. 
It's really really hard. It's a lot of rejection. People are busy and on their way. But, it was worth it because of knowing about the end goal. I'd remind myself I'm doing this for my kids and the future of the Arizona education system.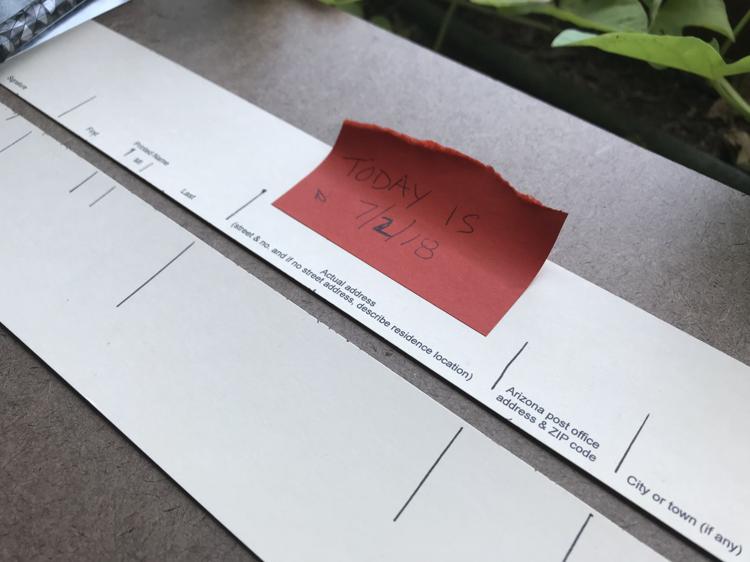 What's next: We've all gotten so organized and mobilized and I'm looking forward to whatever is next. Once this is on the ballot, we're going to be a force to be reckoned with. 
It's going to be a two-prong thing of educating folks that this is a yes vote and making sure that we put pro-education candidates in the office, so I think it's gonna be a lot of canvasing and stuff like that which I think we are ready for.
Advice on getting involved: Give yourself baby steps. Like I said, it was a gradual process of bigger and bigger steps. Start out with committing to an hour or talking to your neighbors and see where that takes you.
Amber Hodges, elementary school life-skills teacher
Why: I'm a relatively new teacher. I grew up going to school here and have known a lot of teachers. I think part of being a teacher you always want to learn and this brought up things I didn't know about. You get to learn more. And the more you learn, the more you realize how far back Arizona is compared to the rest of the country. I was born and raised here. I started working here and I have a daughter here. I have a huge vested interest in public education. Kids are important. 
What it's like: It's been touch and go. All the people I know and have in my circles either already signed it or had no problem signing it. I tried to go around my neighborhood. Some people just didn't answer their door. They probably saw me holding a clipboard. I don't blame them for that. I only came across one person who said they didn't want to. People have been super supportive, thankful and really awesome.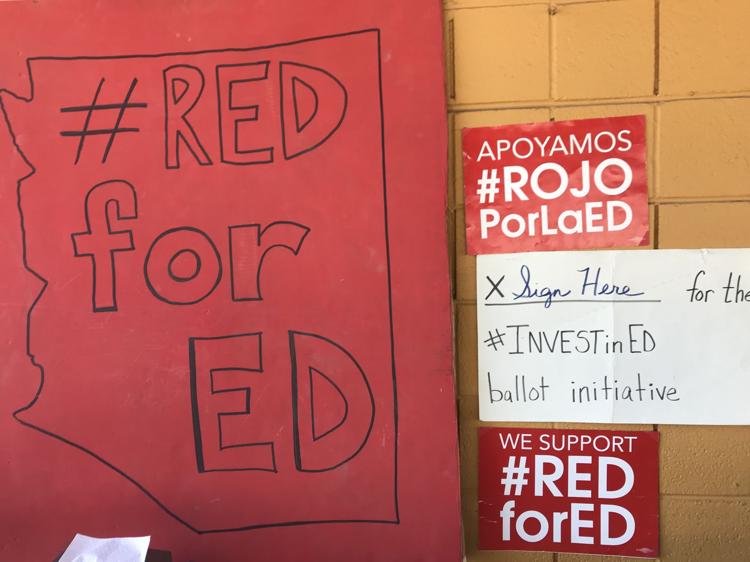 Advice: The biggest thing is to educate yourself because if you know everything there is to know about it it's hard to deny. That'll make your decision. You'll either find things out where you say no or you'll find things out and say there's no way I can sit back. 
Zoe Catalanotte Reeves, fifth-grade teacher
Why: Before the #RedforEd movement I definitely talked to people with petitions but I didn't understand how much work it was or how impactful it can be to gather petition signatures. 
I was really inspired by the #RedforEd movement. I was at the capitol for five days (during the walkout) and there was a 48-hour period where my boyfriend and I got a two-hour nap and would go back out and what I was seeing was I was inspired by the people who were fighting for my kids. But, I was also spurred to action by people who were saying negative things about teachers and our school system...And to be in a classroom with my kids and to be talking to them about how much I care there was no way I couldn't fight as hard as I did and as hard as we all did. It was just not possible to give up. 
What it was like: It was incredibly hard. It's only in the last week I sort of got my groove and now they're all due. Once I began talking to people, overwhelmingly people were very kind and very gracious and very supportive, but it's still you're going up and talking to strangers and not everybody supported us and some people were not kind to us. It's almost like you feel like you're being a salesman, but you're being a salesman for something important. I was out with my mom. She was honestly working harder than me. She was really all about it ... I think my my mom and I were lucky we didn't get a lot of unkindness. But, we heard a lot of misconceptions ... A few people who thought that I was doing this for myself to get more money, for example ... Even the salary is not about me making more money. It's about me being able to stay in this profession and being able to support myself and support my students, so it was hard when people were not willing to listen or thought that we were being selfish. That's not what it's about. 
Advice: Make a network of people. I would not have been able to do this without us encouraging each other. Keep reminding yourself why you're doing it. My constant inspiration is my students.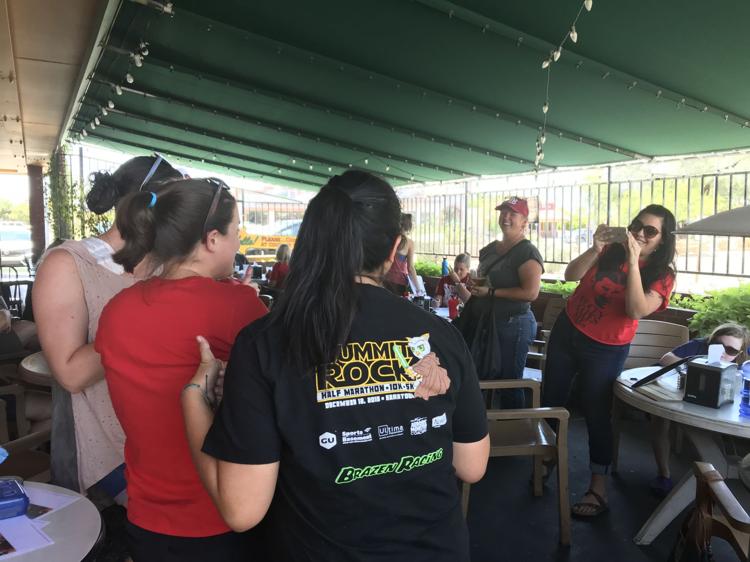 Stephanie Pederson, pre-K through fifth-grade outdoor learning teacher
Why: This is a natural flow I felt like because the walkout was over, but there wasn't any action at that moment. There was no solution. There was a partial solution so this was a way for me to become civically engaged and for me to feel like I was doing something and advocating for education for my students and for myself. 
What it's like: It's still a huge challenge for me. I feel more vulnerable than I've ever felt before when I'm out collecting signatures. I couldn't do it if I didn't feel passionate about it. I still have to talk myself into doing it every time. I'm not naturally outgoing in this way. I don't want to go sit and talk with strangers so it had to be something that was meaningful. I have enjoyed re-educating the public about what really did happen. I felt that was some of the best opportunities in conversation.
The hardest part for me was dealing with people that are not registered to vote. You'd come across people giving you the shame-on-you look. That was hard for me. The other hard part was dealing with populations who have had their rights stripped or don't have the right to vote like felons or because of immigration reasons and still thinking they deserve to. They've done their time and deserve the chance to participate in society again. I'd like to figure out a way to help people get their rights back because they matter. All people matter.
What's unconstitutional in my belief is how the signatures are being vetted. That law seems to be not only a voter rights issue but to me it seems to be a discriminatory issue ... We were at a south-side grocery store and this man just couldn't see. He couldn't see the gray lines so the idea of how stringent these laws are seem to be intentional to suppress our rights as voters to participate in democracy. That's an issue I think needs to be dealt with. 
What's next: I have decided to work canvasing for a candidate for governor.
Chelsea Acree, choir teacher
Why: We (Chelsea and her sister Janet) were both liaisons during the #RedforEd walkout. My sister works at a charter school and there was really nobody stepping up to do it. I just wanted to be there.  
What it's been like: It's been tough because we're both kinda introverted and talking to strangers is not our thing, but I feel like each time it got easier. It got to the point where we'd set up a whole table. 
One of the best things about going out for signatures is the conversations you have with people. People you'd never talk to. We were able to clear up a lot of misconceptions. 
What's next: I definitely will stay with the #RedforEd movement and whatever they need. I know if we get on the ballot then we're gonna have to canvas and have events closer to the November election to get people to vote yes. The signatures is probably the hardest political engagement for me but I would probably do it for another issue as well. 
Advice: It's serious work but if you can, find a few people who want to do it with you and just make a fun meetup together and hang out and gather signatures. Just try it and do it once.