Three high school students in denim shirts and wide brimmed hats make rounds on a hot summer day, checking gauges and pumps and testing water samples to make sure everything is working properly at Pima County's Wastewater Reclamation Facility on the far west side.
All of Tucson's solid waste and about 70 percent of its liquid waste comes here to be treated. 
These students are part of Pima County's Bio-Science Academy, a month-long paid internship that helps high school students and recent graduates gain work experience in STEM (science, technology, engineering and math) fields while also earning college credits.
Bio-Science Academy is part of a program called Youth Career Connect which was funded by a four-year $5.4 million Department of Labor grant under Regional Partnership of Innovation Frontier Southwest. The regional partnership in this project includes Yuma, Santa Cruz, Cochise and Pima counties.
Pima County focuses on four career pathways — biotechnology, industrial technology, health information technology and aviation.
The biotechnology pathway signs kids up from Pueblo, Sunnyside and Tucson High Schools to participate in their junior year after recommendations from their teachers.
"We take kids in bio classes and we're giving them opportunities above and beyond what they get in school studying," said Gerry Brunson, project coordinator for Youth Care Connect and workforce development specialist with Pima County. "Opportunities include employer speakers, mentorships with employers within their career pathway, work experience and internships as available."
The Bio-Science Academy with regional wastewater provides students with six college credits at Pima College.
A total of 80 students participated in some kind of activity within the four pathways this summer, Brunson said.
The grant ends next summer, but Brunson is confident that the partnerships will continue.
"The way I look at grants in these projects is it's the seed money to start the projects and programs that will be sustained," Brunson said. "It's building a sustainable model of something and I know we've done that in Southern Arizona. For instance, the regional wastewater thing won't go away when the grant money ends. It will go on."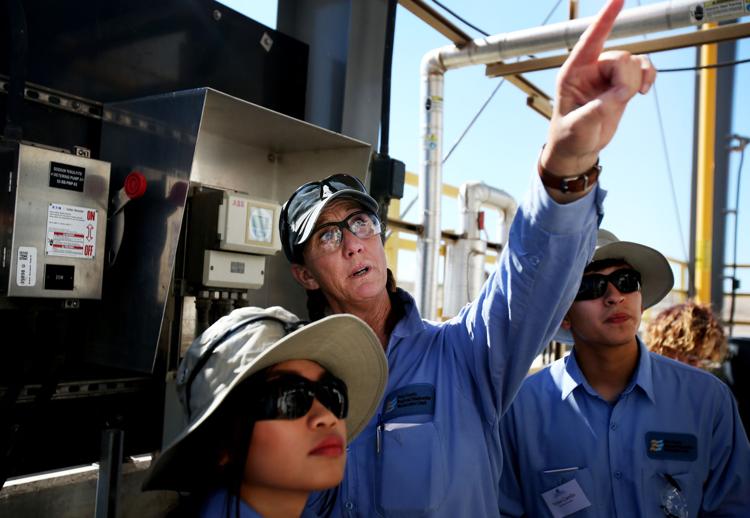 "We love being a part of YCC," said Molly Renner, Regional Wastewater Reclamation Department's (RWRD) operations instructor. "It's a great opportunity to engage the public and show them what we do. The more people know what we do to keep Pima County safe, the better."
For Victor Carrillo, a recent Tucson High graduate, the science drew him in.
"I was always interested in science," Carrillo said. "It's the perfect opportunity to see if this was something I wanted to pursue. It's really interesting and I'd love to work here some day."
Yamaika Romano, a 17-year-old going into her senior year at Pueblo High School, said she chose the RWRD for her internship because "it's a step forward" toward the career she wants as a wildlife biologist. And she loves being in a lab.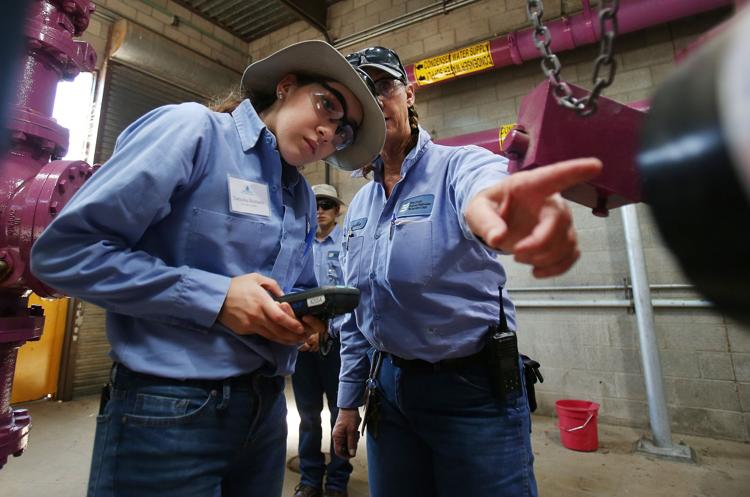 Romano reads questions from a hand-held device as she takes her turn doing rounds.
"Feel that and see if you feel it vibrate," says Jeannette Fitzpatrick, an operational and mechanic technician, as she places her hand on a piece of equipment.
Fitzpatrick then explains to the group that there's a propeller inside spinning as it disperses chlorine causing it to vibrate. 
The group visits a sample station where they fill a container with treated water to be tested. From there, they have 15 minutes to get to the lab to test chlorine levels.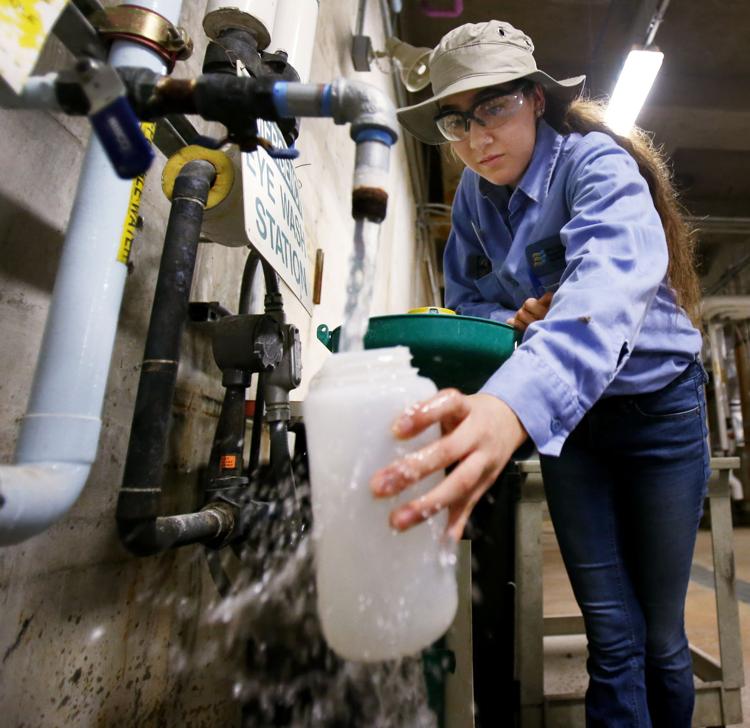 Noemi Somalinog, a 17-year-old senior at Pueblo, loves the chemistry aspect of her internship and chose it because she wanted to try new things.
"I started my career path in the medical field, but this might be my second option," Somalinog said. "It's really cool. There's a lot of chemistry going on."
Somalinog pours a sample of water into a beaker, checking to make sure she has the right amount which is then tested for chlorine levels.
The results let operators know if everything is working right, Fitzpatrick says.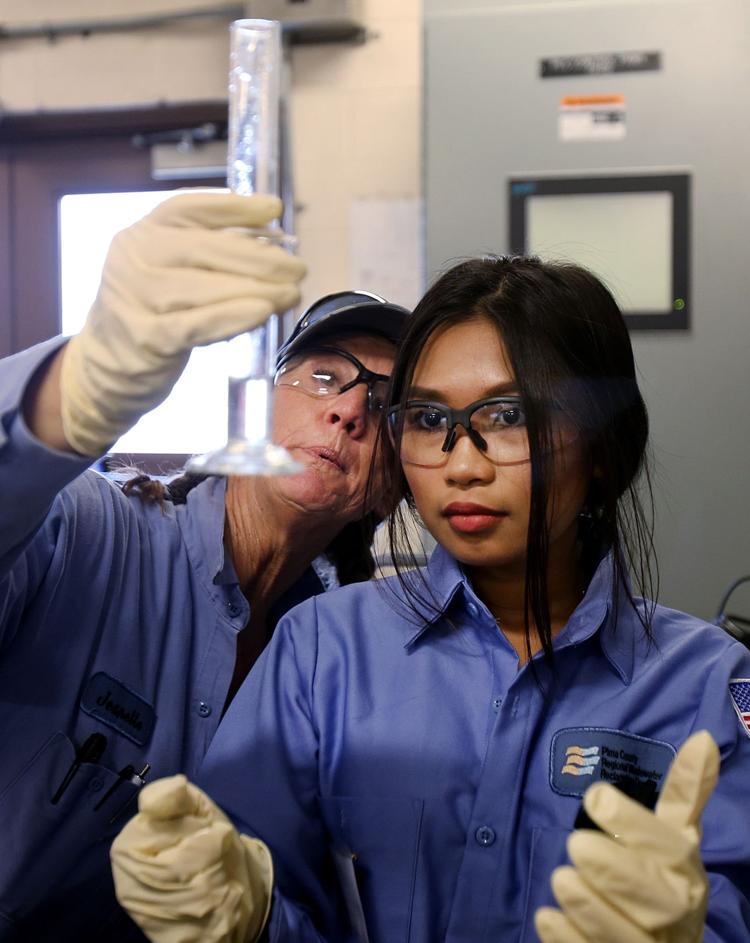 At the plant's microbiology unit a few miles down the road, the other half of their group dons lab coats, safety glasses and rubber gloves to do some lab work. 
The lab, which employs 33 people, analyzes wastewater, ground water and lead filters for RWRD.
"We always look forward to the groups of kids," said Jenelle Chraft, lab manager. "We hope they'll be interested in science careers and possibly come work for us."
Today, the students are testing samples of effluent for total suspended solids (number of particles that can be caught in a filter) to find out how clean the samples are.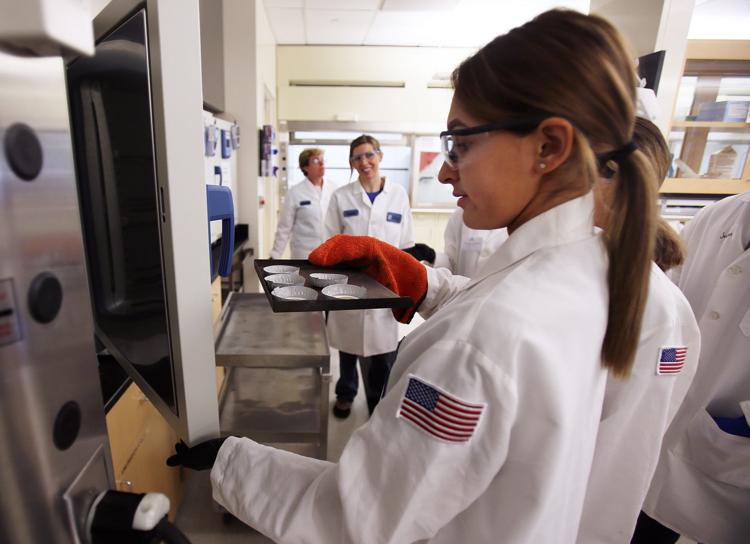 Samples were put in an oven to bake the water out of them, then weighed. The weight should decrease as the effluent gets further into the treatment process. 
"These samples were pretty dirty effluent, so they could see a range," said Sarah Russell, wastewater laboratory technician. "It's very important to know what our wastewater quality is."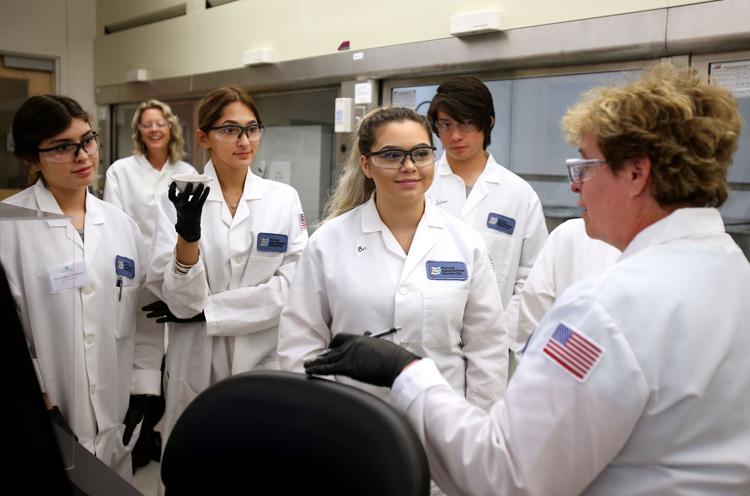 That's what drew Bri McElroy, an incoming UA freshman, to this internship.
"I'm interested in the water cycle and how they clean it," McElroy said. 
For Alondra Cordova, a 17-year-old senior at Pueblo High School, leaning about what's in water seemed like a good fit, since she wants to be a firefighter.
Once all five students have weighed their samples, an equation was entered into an Excel spreadsheet to show the range in numbers.
The lower the numbers are, the cleaner the effluent is, Russell says.
The students in the academy graduate Friday.