The University of Arizona's head coaches have agreed to the largest pandemic-related pay cuts among Pac-12 schools, if not the entire nation, with the highest-paid coaches and administrators losing 20% of their 2020-21 base salaries.
For football coach Kevin Sumlin ($2.6 million in base salary), men's basketball coach Sean Miller ($1.8 million) and athletic director Dave Heeke ($760,000) alone, the cuts represent a savings of $1.03 million for the athletic department.
Five other Pac-12 schools have announced pay cuts so far, and four have announced that coaches are taking cuts of or donating back between 5-10% of their salaries. The Los Angeles Times reported that USC will receive a combined $1 million back from AD Mike Bohn, football coach Clay Helton and men's basketball coach Andy Enfield.
Of the 12 other schools that Forbes listed Monday as announcing defined athletic department pay cuts, none was bigger than the 13% that Kansas State football coach Chris Klieman and basketball coach Bruce Weber have agreed to.
Overall, Arizona will save $1.32 million in head coaching salaries, plus nearly $800,000 from salaries for assistant coaches of UA's football and men's basketball teams, and the $152,000 cut from Heeke's salary. However, university-provided compensation for peripheral duties such as radio shows performed by Sumlin ($900,000 per year) and Miller ($700,000 per year) will not be reduced, making their overall pay cuts about 15%.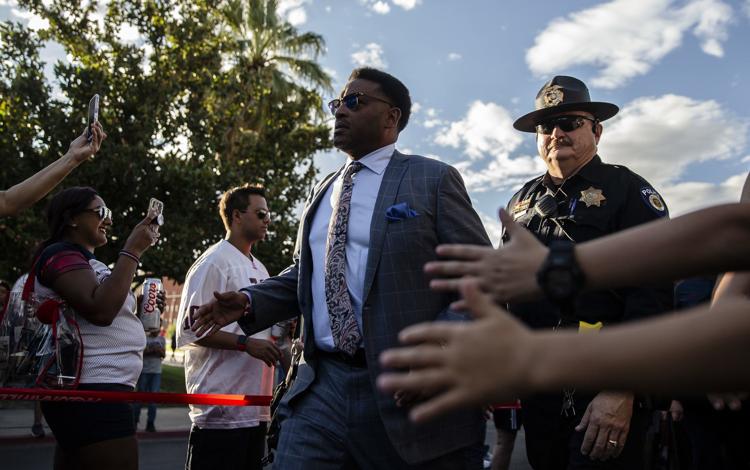 The athletic department cuts parallel that of a university furlough and pay reduction program that will go into effect this month, even though the contracts of Arizona's head coaches do not have language allowing pay cuts for pandemics or other forces of nature.
The reductions will range between 14.6% for the department's lowest-paid head coaches to 20% for the head coaches, administrators and assistants who make over $203,500.
"Arizona Athletics is a proud member of the University of Arizona community, and we are committed to continuing our work to address the economic hardships of this unprecedented crisis," the UA's athletic department said in a statement released Wednesday morning. "We will overcome these immense challenges together with compassion and determination because that is the Wildcat Way."
UA's statement said Sumlin, Miller, Heeke, baseball coach Jay Johnson (who had a $530,000 salary for 2020-21), women's basketball coach Adia Barnes ($407,500) and softball coach Mike Candrea ($345,000) had all voluntarily agreed to the 20% cuts.
Three of those six were set to receive raises in 2020-21: Sumlin from $2 million to $3.5 million including peripheral duties, Miller from $2.4 million to $2.5 million including peripheral duties, and Johnson from $520,000 to $530,000.
Under a revised contract approved before last season, Barnes is also expected to receive a $25,000 retention bonus if she is still Arizona's women's basketball coach on July 1.
The announcements Wednesday did not include any cuts or revisions to 2020-21 bonuses for any coaches, though Heeke said all performance bonuses that were not already earned in 2019-20 will not be paid.
The athletic department's other 10 coaches are contracted to earn between $86,000 and $170,000 in 2020-21; they will receive cuts between 14.6% and 17.0% as specified in the tiers of the university-wide pay reduction plan.
Under its revised plan for pay cuts and furloughs, UA announced Monday that those making $44,500 to $75,000 will take up to an effective 10% pay cut in furlough days while those earning between $75,001 and $150,000 will take bracketed cuts between 10-15% in furlough days.
UA employees with salaries between $150,001 and $199,000 will receive flat pay cuts between 15.4% and 17% while those between $200,000 and $203,500 will receive cuts between 17.3 and 20%.
In UA's initial announcement, president Robert Robbins said the school projected losses of $250 million through the 2020-21 fiscal year, with the salary reductions projected to save the school between $90 million and $95 million.
UA's athletic department is largely self-funded except for receiving paid utilities, student fees and tuition fee waivers. In 2018-19, according to U.S. Department of Education figures, it reported expenses of $85.7 million and revenues of $102 million — figures Heeke said do not include about $11 million in debt service payments.
Counting the debt service, Arizona had about an overall surplus of $4.8 million in 2018-19 and Heeke said UA was on a similar financial pace this year before the coronavirus shut down sports in mid-March.
As a result of the crisis, Heeke estimated last month UA faced a revenue shortfall of about $7.5 million that would lead to an overall deficit of about $1.5 million in fiscal year 2019-20.
However, the athletic department will face much steeper losses in fiscal 2020-21 if football is canceled or delayed.
"We're always shooting to balance the budget," Heeke said last month. "This budget has just been ravaged with lack of revenue."