For many Tucson students going "back to school" this year means heading to their kitchen table, living rooms or whatever space will be their new classroom. At least for now, until it's deemed safe for normal in-person instruction to resume.
Getting ready for school is much different than any other year and brings with it new challenges and things to stress over and think about. 
"One of the calls that I'm dealing with a lot are having to do with childcare and they have to do with working from home and 'how is this going to work when I'm at work and they're with a caregiver or I'm trying to work from home at the same time?'" says Pam Betten, chief academic officer for Sunnyside Unified School District.
As much as possible it's important to involve your kids in the process and help them develop agency and ownership over their learning, she says. 
It's something that can be done with kids, even young ones, so that parents don't feel like they have to manage everything for them and is an opportunity for kids to develop new skill sets, Betten says.
This means involving your child in thinking through what things they might need for learning, where they are going to set up, having them practice following a schedule and logging themselves onto their computer and their meetings. 
Parents can tend to micromanage these things for kids because it's faster to do it themselves, Betten says. But she said kids can do much more independently than we realize, even if it takes more time in the beginning until they get the hang of things.
Betten and other Tucson educators, including two who received Teacher Excellence Awards from Tucson Values Teachers for the month of May for their exceptional handling of remote learning, shared a few other simple ways parents can get ready for what's ahead. 
Get back into a routine
Routines are just as important when school is happening at home as it is when it's in a classroom.
With most districts starting in just a matter of days, now is the time to start getting kids back on a sleep schedule and getting back into some of the habits that are part of winding down from summer and transitioning to school mode. 
This means less late night Netflix, waking up earlier, getting dressed and eating breakfast.  
"As the fall is approaching... it's sending them a signal that school is getting ready to start, just like last year when you had to start going to bed earlier or you had to get up and dressed," Betten says. "Some of those routines that we would normally put in place for school matter here... and they're signals that this is important work that's coming."
Getting kids to think about how they use their devices is another part of preparing for learning, Betten says. 
"I think parents need to have conversations with kids about their devices that for the most part of the summer become that of entertainment," she says. "There's a lot of YouTube going on, there's a lot of Netflix. And it's really thinking about (how) we're moving these devices now to a different purpose, now you're going to use that as your tool for learning." 
Heidi Aranda the senior director of curriculum and professional development and Flori Huitt the assistant superintendent for curriculum and instruction at Tucson Unified School District shared via email that setting up a simple schedule before school starts can help with the transition.
This could include times for meals and breaks and for different activities like reading, watching an educational video, creating an art project and doing some physical activity. 
Set up a space for learning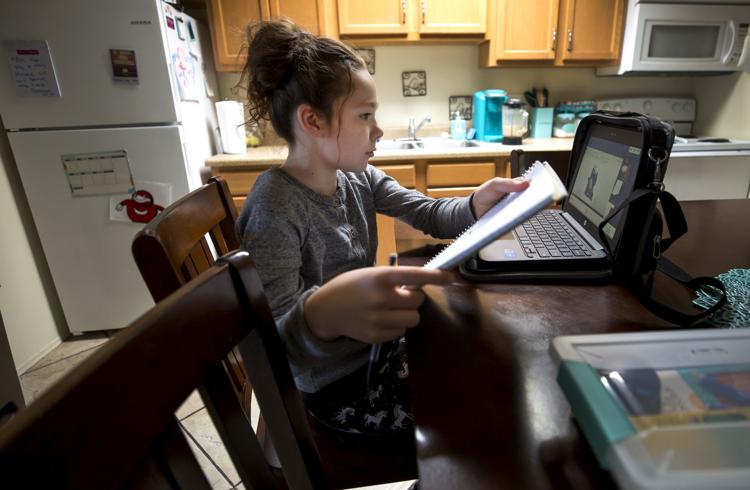 Designate a specific area of your home where learning will happen before the first day of school. 
"I would try to keep the kids as involved in that decision-making as possible so they have some buy-in," says Amanda Campbell, a second grade teacher at Canyon View Elementary School.
Learning styles and preferences vary among kids, some might prefer being around other people and some might need a quiet space and kids will definitely have thoughts about what works best for them, she says. 
If you have multiple children you'll have to take into consideration whether they'll all be learning in the same area or if they'll be setup in different parts of the house, says Monica Baden, a fifth grade teacher at Twin Peaks K-8 School.
You might also consider getting a computer mouse which makes it easier for kids to use their devices and headsets to help block out noise during lessons, if you don't have them or if the district isn't providing them, Baden says. 
While students will likely be completing most of their assignments online it's still a good idea to have some basic supplies on hand like pencils, paper, sticky notes, highlighters, crayons and colored pencils for special projects and off-line assignments, she says.
For students who will be learning from somewhere other than home — like a grandparents' or other relative's home — consider setting up their device to connect to the Wi-Fi at that location and make sure the caregiver knows the password for it in case they have issues connecting.
"My parents have no clue what their Wi-Fi password is and this drives my own kids nuts," Betten says. "...That is a really simple basic key piece that I think could be easily missed because you've got it set up at your house, you don't even think twice about it."  
Communicate, communicate, communicate
Clear and streamlined communication in all areas of virtual instruction is a really important part of creating a positive experience.
"I had a pretty good experience with remote teaching despite all the challenges and I think that really came down to communication between myself and the parents," Campbell says. 
After using different communication methods with her parents last year, Campbell says that identifying a single source for parent/teacher communication makes things easier for everyone so they know where to find information and where to ask questions. 
"If the teacher doesn't let parents know, they should ask what is the teacher's communication source and if they stick with one," she says. 
She also encourages parents to share with teachers any changes happening at home that might be affecting their child.
In the spring she had students who lost family members to COVID-19 and was able to meet with the kids individually online to help support them. 
In school it's easy for teachers to pick up on changes in a student's mood and behavior and have conversations about what might be going on. 
"It's impossible to gauge what's up with kids just looking through the screen," she says.
Aranda and Huitt from TUSD said it's also important for parents to communicate with each other.
"Ask for ways to communicate with your child's classmates' families to begin to form a community of support and virtual social opportunities for your child," they wrote in an email. 
Stay healthy
Dr. Erica Laber, a pediatrician at TMCOne Pediatrics, says its important to keep up-to-date with your child's vaccine schedule to prevent the spread of other diseases like measles and whooping cough. Flu vaccines should be available in September or October. 
During well-visits pediatricians can help identify speech delays, vision impairments and other conditions that may affect your child's learning, Laber says.
If you have concerns about visiting a doctor's office when your child is not sick during this time, Laber advises calling your pediatrician to inquire about the safety measures they have put in place to prevent the spread of coronavirus. 
"We do our very best to make sure parents feel comfortable and we work with them any way we can because ultimately we care about the health of children in our community," she says. 
Get connected 
Check with your school or district to learn what options they are providing to help cover costs for internet service.
These two local internet service providers offer low-cost packages for families who qualify. 
• Cox Communications is providing two months of free internet for new, qualifying customers who sign up between July 21 and Sept. 30 through its Connect2Compete program. After the two months are up the monthly fee is $9.95. The program also includes a free Wi-Fi modem rental, access to more than 900 hotspots in Tucson and Southern Arizona, desktop and phone support and referrals for discounted, refurbished equipment through PCs for People. Find the criteria to qualify for the program and registration information at cox.com/c2c.
• Comcast is also offering free internet service for 60 days to new customers for its Internet Essentials program, which is available through the end of the year. The service costs $9.95 per month after the 60 days and is available to families who qualify for public assistance programs, according to a press release. Visit internetessentials.com for more information.
Be gentle with yourself
Despite how it seems, remember that your job is to parent and your teacher's job is to teach.
So it's totally fine if you don't remember how to structure an argumentative essay or how to use the quadratic formula. 
"The expectation is not that the parents know the curriculum or the content, it's the parent's job to help support the agency and the confidence in kids that they can in fact do this and we're gonna figure this out as we go," Betten says. 
Campbell says if your child is struggling with an assignment or topic, teachers can help with ideas and ways to help their students work through it, so don't shy away from asking for help.
"Be kind to yourselves and patient with our children," Campbell says. "There is so much out of our control, the kids have to get their work done but it shouldn't be a battle," she says. 
And the one thing that everyone shared: remember you're not alone and we're all in this together. 
"So many parents are worried about their kids falling behind and I'm like behind who? The entire world is in this," Campbell says. "We have to take a step back and remember this isn't just you and your child this is the whole world going through it and community health has to take precedence at this time."