Trying to stay afloat in a pool while you also march your legs like a tin soldier will really get your heart rate up. 
But, hey, look at those views. 
We tried water pilates at the Oro Valley Aquatic Center, and it was so much harder than anticipated. Maybe you think gray hair when you think water aerobics, but don't knock it. This was a legitimate workout without the impact. Plus, you're getting to swim while taking in a spectacular view of Pusch Ridge. 
If you're already in northwest Tucson, this is worth checking out. If you're not, road trip? 
Some background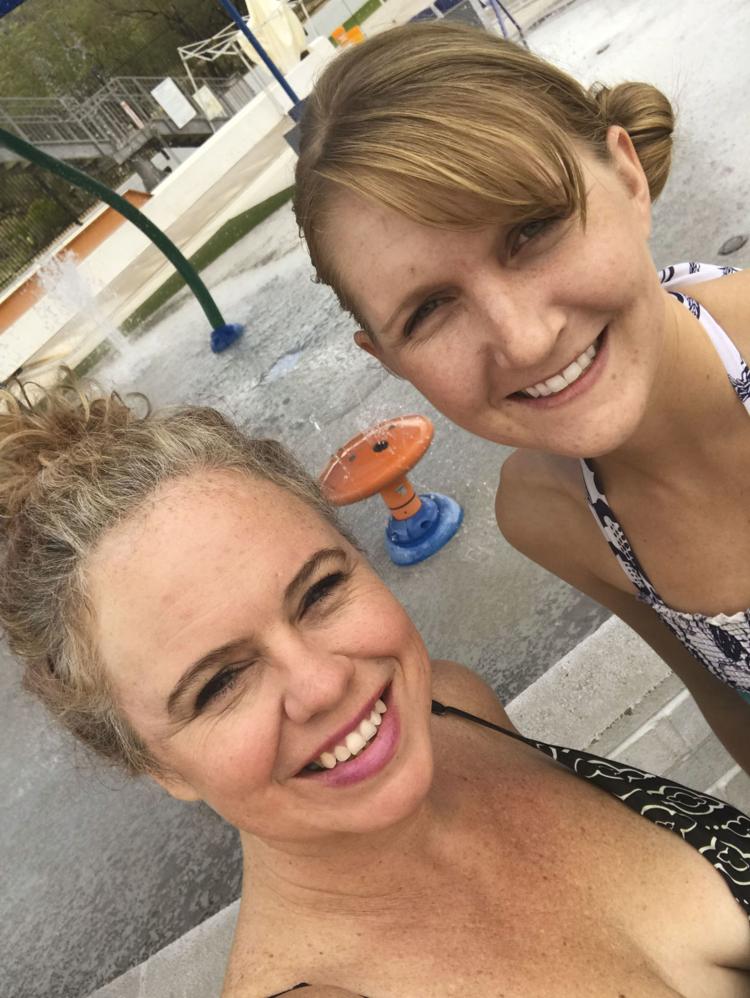 • Angela is a fairly active mama in her early 40s. She tries to hit the gym at least three times a week (ok, ok, it's usually like once or twice) where she runs on the treadmill, lifts weights and takes classes. She loves the post-workout zen she feels after a good sweat session.
• Johanna is in her late 20s and gets by with 20-minute workouts every morning. Don't be too impressed. She keeps her pajamas on and lunges and crunches to YouTube videos while binge-watching Netflix. Every now and then she goes for a run and remembers she hates running.
On the studio
Johanna: The Oro Valley Aquatic center is pretty amazing. The view of Pusch Ridge looming over the pool plus the waterslide and splash pad made Angela and I pause for a moment to take it all in. Those mountain views!
The pool was a bit cold, especially since we had to stand waist deep and do some side stretches at the beginning, but once we got going it was refreshing. 
Bonus: The center played classics like "Sweet Home Alabama" and "Hotel California" during the whole class, so it added an extra challenge to keep your head above the water so you could sing along. 
Angela: Being an east-sider I had never been to the Oro Valley Aquatic Center. I now realize I have been missing out. The place is awesome. It's huge, clean and like Johanna said, the views are amazing. 
The water was a little colder than I expected it to be, but once I ripped off the band-aid and dipped all the way in, it was refreshing. 
Side note: If you have little kids, you need to go here to use the splash pad. It's shaded, has places for parents to sit and is surrounded by grass. 
On the class
Johanna: From the moment we were instructed to fasten a floaty belt around our waists, I felt out of my element. I gave Angela — whose inner mermaid shone through during this class — multiple scared looks.
Despite our instructor's very kind warnings, I didn't fasten my floaty belt tight enough, which I think made it harder for me to stay afloat.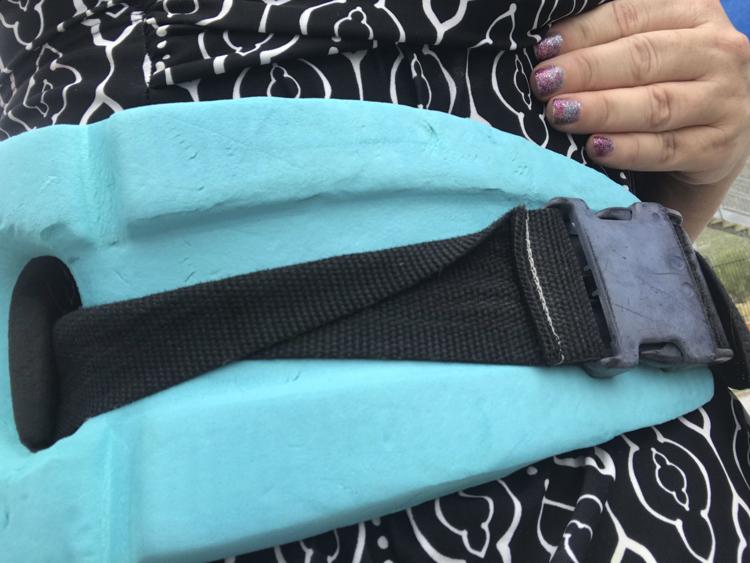 My continual sinking situation aside, this challenged me more than I expected. We did some leg exercises similar to those you'd find in a barre class, hanging on to the side of the pool for support, and squeezed a pilates power circle (a dinner-plate sized hoop) between our legs, our arms and our feet to create resistance for our muscles. By the end of it, my muscles felt gently worked and I was starving. 
Everyone knew we were newbies, so we got a lot of extra attention, which really is not my favorite thing. I like to flop around like a fish out of water without everyone watching. We not only had the instructor paying special attention to us but our classmates consistently and kindly offered pointers — which really helped during the many times that I couldn't figure out what I was supposed to be doing. Everyone obviously wanted us to enjoy something that they had come to love. And thanks to them, we did. 
Angela: From the moment we walked in and met the instructor, I felt welcomed. That didn't take away the awkward new girl feeling I had at first, but, that quickly subsided once class started.
Everybody there was SO nice, helpful and welcoming. You can tell the group loves the workout and enjoys helping the newbies.
I had done one water aerobics class before and it was good. But, this was great. I especially loved the barre inspired moves along the wall and definitely felt my muscles working. 
After some stretches at the end, we all joined hands and yelled "we are strong." It was a lovely affirmation to keep with us the rest of the day. 
Would you go again?
Johanna: I think so. I loved the views of Pusch Ridge and the fact that I could work my muscles without any impact. The camaraderie of the class was lovely, though I was also thankful to have a familiar face splashing around with me, so I might take a friend if I went again. 
Angela: It's kind of a drive for me. It took about 40 minutes to get there from where I live, so I don't think I'd go regularly, but if somebody wanted to go with me and make a day of it I'd definitely go again. I really enjoyed the class, the lovely instructor and the people we worked out with. 
Class details
When: 9:30 a.m. Monday, Wednesday and Friday
Cost: Free to try the class; $45 for 10 classes