---
It's finally fall-ish, and cooler temps mean its time to get out of the house and into nature's AC.
You could hit any number of Tucson trails with the family, but if you're not up for a full-on hike, there are several spots around town to enjoy the outdoors with your children and observe plants and wildlife on peaceful nature walks that are easy for little legs.
Here are a few to get you started:
Sweetwater Wetlands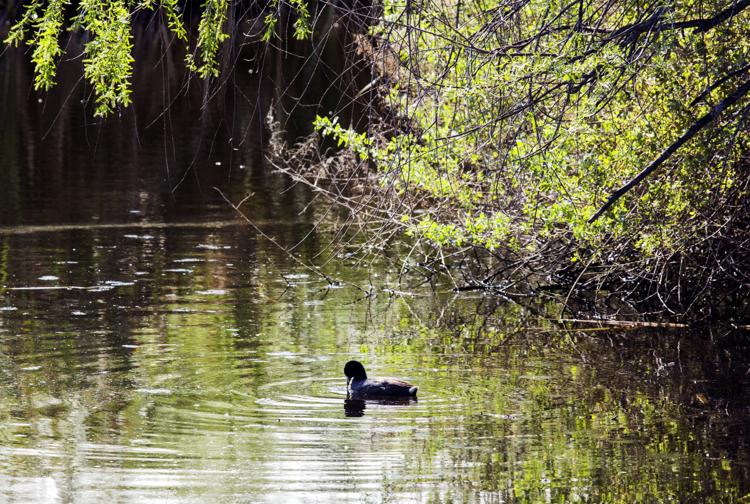 Kids can learn about the local flora and fauna, and the water cycle at this serene spot that's also a water treatment facility. 
There are two loops (both about a half mile each) that will take you around ponds lined with tall cattail and home to various ducks and birds. Along the paths, signage describes the different plants and animals you might encounter in this urban oasis.
Visitors keep track of what they've seen in a log book at the start of one of the loops, and recent sightings include a Cooper's Hawk, raccoons, and a bobcat! On a recent visit we saw bright blue dragonflies, a quail family, and different types of ducks in the vibrant green duckweed-filled ponds.
Hours: Monday from 9:00 a.m. to one hour after sunset; Tuesday-Sunday, dawn to one hour after sunset.
Picture Rocks Petroglyphs
Ancient rock carvings are a stone's throw away from the parking lot of the Redemptorist Renewal Center on the northwest side. 
A towering rock mound, down a super short trail features more than 140 Hohokam petroglyphs of animals, people, and symbols. Spend some time walking around the site and seeing how many you and your littles can find. 
If you're looking to get more steps in, you can also explore the sandy Picture Walks Wash ringed by mesquite, saguaros and other desert plants and look for the rusty car.
Where: To get to the Redemptorist Renewal Center, 7101 W. Picture Rocks Road, take Ina Road west across Interstate 10 and turn left on Wade Road and follow it south to Picture Rocks Road. Check in at the visitor's center for a pamphlet with info about the petroglyphs, and instructions for finding them.
Hours: Monday through Saturday 8 a.m. to 4:30 p.m. and Sunday from 8 a.m. to 3 p.m.
Rio Vista Natural Resource Park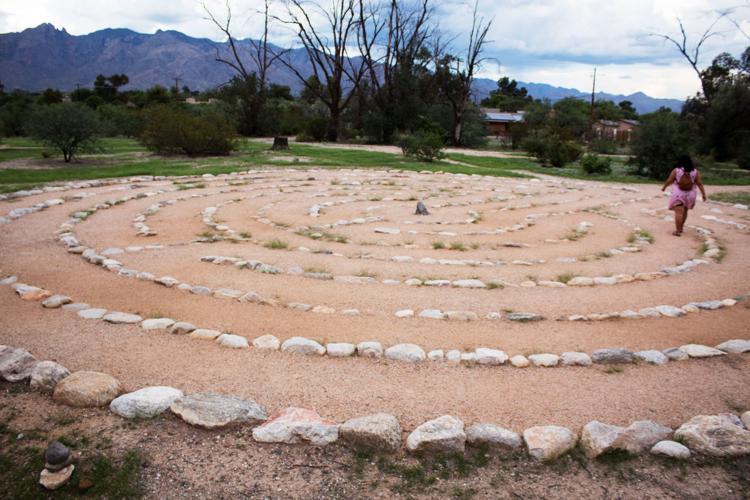 Head as far north on Tucson Boulevard as you possibly can, and you'll end up at this 40-acre natural resource park. Highlights include picturesque views of the Catalina Mountains, walking paths (your choice of paved or dirt), and a labyrinth.
On your walk you'll likely encounter rabbits, various birds and lizards, and possibly a bobcat or coyote. Bonus: after looping around the park you can hit the shaded play area, or venture a bit more onto the nearby Rillito River path. 
Hours: Open daily, 6 a.m. to 10 p.m.
---
Find water in the desert to win prizes from Tucson Water
To play, grab your smartphone, fill up your water bottle (pro tip — Tucson Tap Water is one of the categories so snap a quick pic for your first entry!) and head out to explore. When you find the items in the hunt (Tucson Tap Water, Pete the Beak, Rainwater Harvesting Demonstration Sites, Kino Environmental Restoration Project, Santa Cruz River Heritage Project, Splash Pads, Sweetwater Wetlands, and surprise bonus rounds) take a picture and post it on Facebook, Instagram, or Twitter with the hashtag #520H2O before Oct. 31, 2019. You can also email your images to PICO@tucsonaz.gov — use the hashtag #520H2O as the subject line. Find more information about the items in the hunt, rules, and guidelines here.