When you think of Tucson, mermaids are probably not the first thing that comes to mind. 
But, that's the beauty of Return of the Mermaids, a full day event that celebrates life under the sea, right here in Tucson.
It's "Tucson quirky and it's beautiful," says Lizzie Mead, owner of Silver Sea Jewelry and co-organizer of the event. 
Inspired by the Coney Island Mermaid Parade, Mead and cohort, David Aguirre, put ideas together three years ago to start a Tucson version, including mythology to go with the event: Every year when the clouds open up, the mermaids return.
The concept taps that longing for the ocean that we all have — a time when the desert was once an ocean, Aguirre says.
Each year the event has gotten bigger.
"The 2016 Return of the Mermaids parade will be more vibrant and colorful than ever," Aguirre says. "There will be more costumes depicting life under the sea including a giant squid with six puppeteers managing it, more mermaid photo booths, more decorations and wave lighting that will turn the beach into an underwater playground. And there will be more free entertainment on both stages. This year we've added the Bella del Mar Pageant which invites all costumed participants to be on stage in front of a jury. Prizes include a $100 gift certificate, $50 gift certificate and other assorted prizes."
People are encouraged to dress up as mermaids, mermen, octopi, jellyfish, pirates or whatever, ahem, floats their boat, and swim over to North Fourth Avenue for in-store activities and to the Beach for an arts marketplace, starting at noon on August 13. 
In-store activities include a "Dinglehopper Workshop" at 2 p.m. at Silver Sea Jewelry, which is at 330 N. Fourth Ave. and "Mermaid Stories Told by a Mermaid" at 4 p.m. at Antigone Books, 411 N. Fourth Ave. 
This year's event has at least 20 arts vendors scheduled to sell their wares at the beach, compared to eight last year, Aguirre says.
Live music starts at 5 p.m. at the beach and you'll get to meet real-life Mermaid Odette starting at 6 p.m. at Haggerty Plaza on Fourth Ave. Who doesn't want to meet a mermaid? 
There's also a kids' costume contest at the plaza, with lots of fun prizes. 
After the festivities on Fourth Ave., all sea creatures will line up and walk in a parade to the Beach for live entertainment and the Bella del Mar Pageant, which promotes body positivity. 
"The mermaid pageant is for mermaids of all sizes and not focused on the loveliness of the mermaid, but o the creativity and craftiness of the costuming and the intelligence of their response to the judges' complex cultural questions," says Allison Dumka, who will be running the adult's pageant. 
The event happens, rain or shine, Mead says. In fact, she's teaching the volunteers a squid dance to encourage people to dance in the rain, if it's safe of course. 
"If it rains, you are a fish, mermaid pirate or sailor," Mead says. "So, you shouldn't care if you get wet."
If there are dangerous weather conditions, participants can take cover in one of the many businesses along Fourth Ave. until the storm passes.
Costumes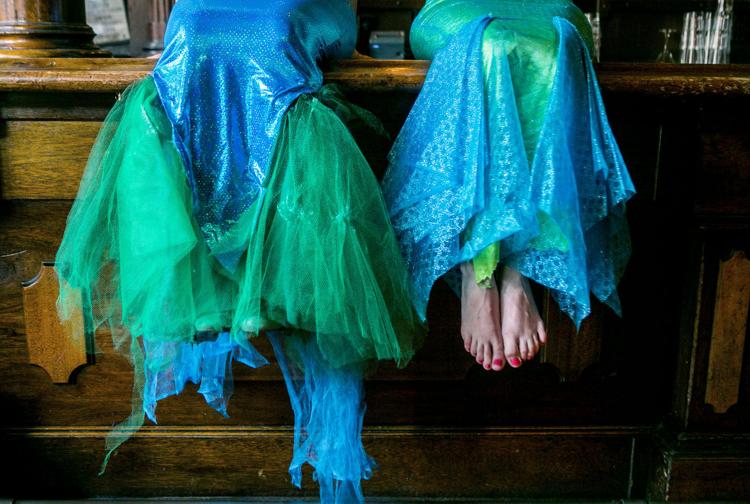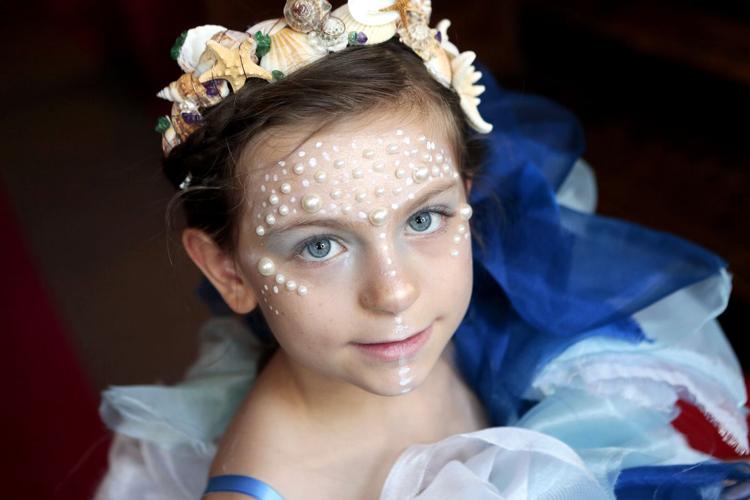 Dressing up is part of the fun. And, the more creative, the better. Here are a few ideas:
You can line the under side of a white umbrella with LED lights and hang strips of fabric or streamers from it to be a jellyfish.
Get an old bra or bathing suit top and stick sea shells, pearls, moss and anything sparkly to it with hot glue. Dollar Tree and Michaels sells bags of seashells. 
If you're self-conscious, you can get a net at a dollar store and attach starfish and shells to it to drape over your seashell top. 
You can get a pencil skirt or leggings and attach fabric to flare out at the end to create a tail. 
Use glitter markers or fabric markers to draw scales onto plain leggings. 
Buy a tiara at the dollar store and blue shells, pearls and fake gems to it to make a mermaid crown.
Tucson Thrift, which is located at 319 N. Fourth Ave., has a variety of leis, wigs and other costume pieces you could buy for the event. 
Here's a video tutorial on how to turn leggings into fins:
Here's one on how to make a wraparound bustle to go over your tail or skirt:
And, here's one on how to create gorgeous mermaid scales on your face:
Event details
What: Return of the Mermaids
When: Noon to 11 p.m. August 13
Fourth Ave. and Haggerty Plaza, 316 N. Fourth Ave.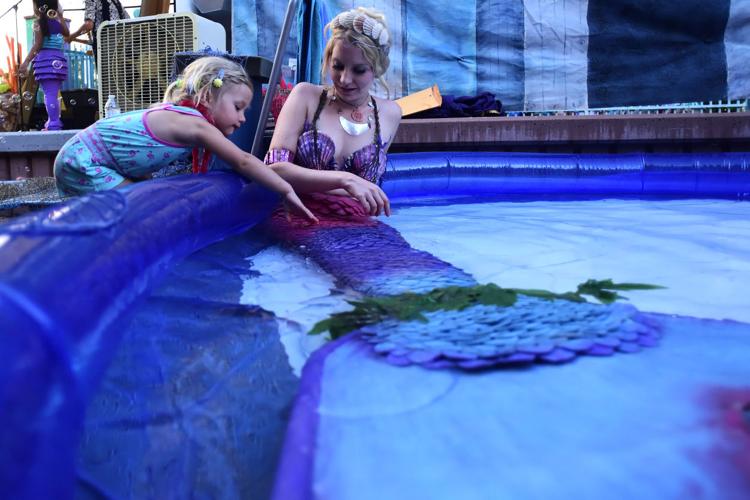 Noon to 6 p.m.: Merchant in-store activities
5 p.m.: Check out the window at Tucson Thrift. It will be a live window featuring Mermaid Michelina. While you're there, pick up info on drowning prevention. There are fun goody bags for the kids. 
6 p.m.: Meet real-life Mermaid Odette, Mini-Mer Market Crafts, photo booth and art
6:15 p.m.: Live music by Surfboards
7 p.m.: Kids Under the Sea costume contest
7:30 p.m.: Lykiska Dancing Mermaids
8 p.m.: Mermaid Hoop Troupe
8:30 p.m.: Flam Chen performs as merfolk line up for the parade
8:45 p.m.: Costume parade walks through Fourth Ave. underpass to Mermaid Falls Park and arriving at The Beach.
The Beach, 50 N. Fifth Ave.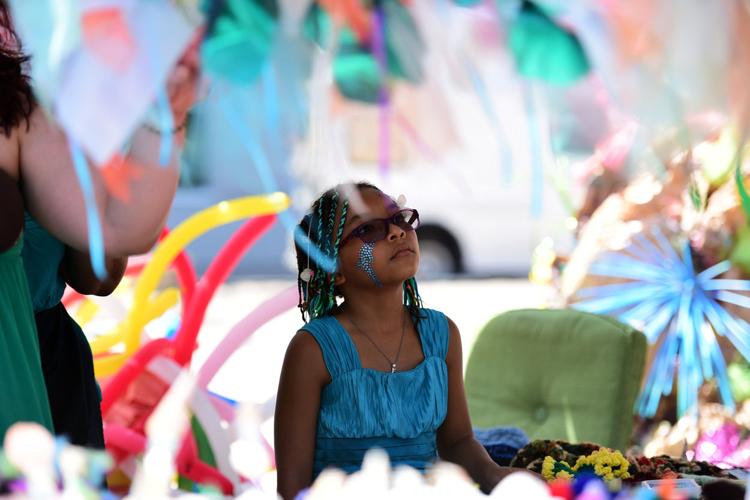 Noon to 11 p.m.: Arts market place with food trucks starting at 4 p.m.
5 p.m.: Live music by Gaza Strip
6 to 11 p.m.: DJ Clint Pittenger, Poi Zen, Lauren Malanga
9:30 p.m.: Bella del Mar Pageant
Mr. Heads Art Gallery and Bar, 513 N. Fourth Ave.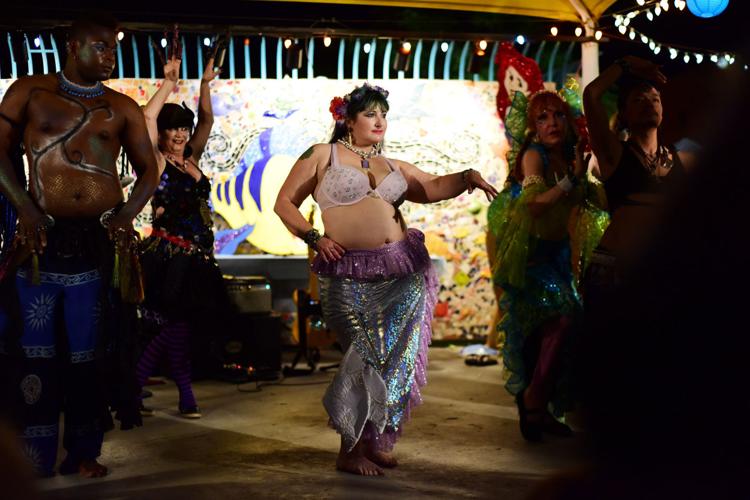 10:30 p.m.: Mermaid Ball
11 p.m.: Lykiska Dancing Mermaids
11:30 p.m.: DJ Saer Uno
12:30 a.m.: Live music by Shrimp Chaperone
Click the link below to add the event to your calendar.