For the last seven years, Desiree Cook has been on a mission to transform the lives of Tucson's most vulnerable youth — those who are in foster care or experiencing homelessness.
It's something she's been doing through I Am You 360, the non-profit she started in 2014 that serves vulnerable youth by providing access to personal hygiene products, internships and mentoring experience, and through workshops designed to teach teens life skills and self-esteem.
For Cook, the work is deeply personal.
"I was homeless and had kids in foster care, I was heavily addicted to drugs, I went to prison and I turned my life around," Cook says. "If I can reinvent myself and transform, these kids can too, so that's why I have a really great relationship with them because I have lived that life." 
Now, she's hoping to create long-term change for at-risk youth one tiny home community at a time.
"The overall vision of I Am You 360 is to empower the whole person with customization and personalization inside and out and giving them the tools to develop self-worth, self-esteem and to know that they're somebody," Cook says. "The end goal is for them to not only see themselves as somebody but to create generational change."
I Am You 360's latest initiative, the Small Home Experience, will give youth ages 18-22, who have either aged out of foster care or are experiencing homelessness, a safe place to live while they receive education, skills and training to set them on a path to success and, ultimately, home ownership.
"Our goal is to sew them back into the fabric of the community and the only way we can do that is by treating them with dignity so they can feel dignified," Cook says.
I Am You 360 is set to break ground soon on a tiny home community which will be built in a vacant lot next to its office and hygiene dispensary on Tucson's east side. The community will feature nine eco-friendly 400-square-foot tiny homes. A tenth unit will be used for youth to participate in meetings and workshops as part of a 42-week Life Skills Curriculum program designed by I Am You 360 and led by Cook and several other community partners. They will also be able to access mental health services on-site. 
"Life skill development is huge; if you don't have a parent or school is not teaching you how to cook, how to clean, laundry, banking, safe sex, credit, all these things that are missing to be a well-rounded adult, we must pick up those pieces and invest in our youth," Cook says.
She was inspired to start the project a few years ago after visiting a tiny home community in Detroit and thought about how she could help fill a gap in services for youth in Tucson.
Cook says there are around 3,000 children and teens in foster care in Pima County and about 7,000 youth experiencing homelessness. 
"I knew the numbers were high and I wasn't seeing a lot of activity and life skill development being poured into the kiddos that age out of foster care or experiencing homelessness... to be honest, many of them fall through the cracks," Cook says. "They're still experiencing homelessness, violence, sex trafficking, incarceration."
Participants in the Small House Experience are required to be employed, receive education in entrepreneurship or a trade and participate in community service. A portion of the rent they will pay at $1 per square foot will be placed into a savings account that they can use toward a down payment for their own home when they are ready to move out of the tiny home community, which Cook says will take two to three years.
"That's how we feel we break that generational cycle and create generational change, taking them from living in a park or couch surfing or being victimized because they have to live with someone else, and that experience of homelessness, to go from living to thriving," Cook says. 
While Cook is awaiting the final permits for the tiny home build, she jumped at the opportunity to secure housing for youth in urgent need of a safe place to live and to be part of the first Small Home Experience cohort.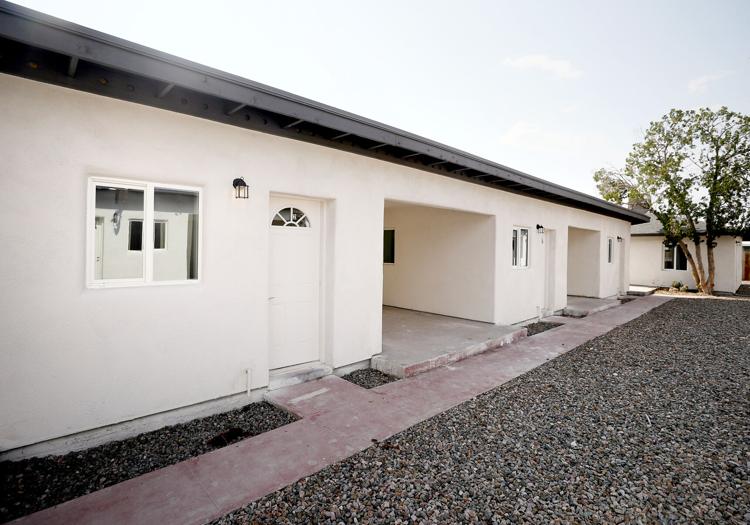 Through a connection with a local real estate developer, I Am You 360 was recently able to lease 10, 350-square-foot units in a gated, newly renovated small apartment complex near Grant Road and Stone Avenue. 
Cook says about 30 youth applied for the opportunity and a committee is in the process of interviewing applicants with the goal of moving youth into the apartments by early August.
In the meantime, she's working to make the apartments feel like home by securing donations for furniture, and "starter kits" such as a first set of groceries and other household supplies, via an Amazon wish list that anyone in the community can donate to and she's reaching out to local businesses for large items like futons and washers and dryers. She's also looking for experts in different areas to help lead different life skills sessions.
"It's really, really necessary for the community to rise up to the occasion and want to do their part and acknowledge these kiddos and not write them off or (treat) them as if they're the forgotten ones, because they're not," Cook says. "These kiddos are at some point going to be responsible for taking over the world or even taking care of us, so it is necessary for a seed of life to be planted and so we together watch it bear good fruits."
Just like with the tiny homes, youth will pay $1 per square foot for rent in the apartments, which will cover 50 percent of the total cost of the rent. Cook is looking for sponsors to help I Am You 360 cover the remaining 50 percent for up to six months until the youth can move into the tiny home community.
So far, the rent balance for four of the apartments has been sponsored by Why I Love Where I Live, Intuit, Waba Hair and Beauty Supply, and a community member, Kim Khoury.
"It's the community rallying together to be their cheerleader and supporting this effort to get them off the street and make sure they're in safe and sustainable living conditions," Cook says. 
To learn more about I Am You 360 and the Small Home Experience visit Iamyou360.org.