Every school year, the center's annual Brave Books program showcases stories, bookstores and libraries from around the world, emphasizing community spaces that have survived challenges. But they do it on a kid level, with picture books, activity booklets and playhouses. This year, a book drive is part of the program. 
Donated books will be distributed to local migrant centers including Casa Alitas and Hotel San Marcos. Families usually spend a short time at these shelters on their way to family and friends after they have been processed and released by federal immigration agencies. 
The theme for Brave Books this year is the Casa Camino Real Bookstore and the literature of the U.S.-Mexico borderlands.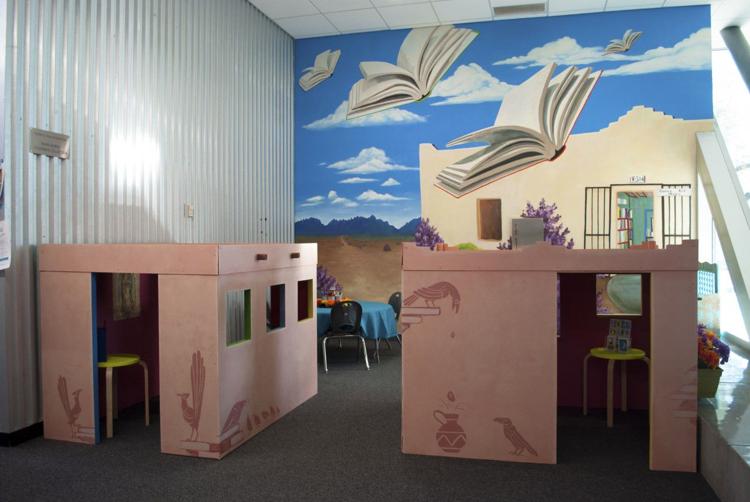 "We've focused on bookstores and libraries in Harlem, Paris and the Arabic-speaking world," says Wren Awry, the education programs coordinator for the UA Poetry Center. "It seemed like a good time to root in place and talk about what's here in the borderlands and the Southwest and what's special." 
While crafting this year's Brave Books theme, the poetry center reached out to Denise Chávez at Casa Camino Real Bookstore in Las Cruces. Chávez had been organizing a similar book drive in her own community since 2018. Other bookstores, libraries and organizations have since adopted the concept, she says. 
"Some of them are directly related to us, and some have their own impetus," Chávez says. "We're all connected and have the same goal, which is basically to bring culture, healing and empowerment to families and children." 
You can donate Spanish, Portuguese and bilingual books for kids and adults that have hopeful and uplifting themes through April. Bring anything from board books to grown-up fiction.
"Although the primary interest is getting books to children and adults in hospitality centers, one of our secondary interest is giving K-12 students a chance to get involved in hard things happening along the border," Awry says, adding that the poetry center has plans to work with several Tucson schools. 
"It's so empowering to see the power of a book and what a book means to people." Chávez says. "Plenty of people are looking for books that give them hope, whether that's a Bible, a Spanish-English dictionary or 'The Little Prince.'" 
For more information, go here.