If there's one thing the faculty of the University of Arizona English department has a lot of, it's books. 
To honor the department's graduating seniors when the normal pomp and circumstance is impossible, English and creative writing professors have picked books from their personal libraries to gift to graduates. 
Indeed, parting is such sweet sorrow. 
"I cherish my collection of books, but I know they're going to wonderful readers, so it was not at all difficult," says Kate Bernheimer, an associate professor who teaches fairy tales and creative writing. 
The idea surfaced early in the pandemic, as a team of faculty, staff and students brainstormed how to celebrate graduation with all the in-person festivities canceled. 
"We were talking about what the English department could do," says Nataly Gruender, a student member of that team and a graduating senior who double majored in creative writing and honors English. "I was talking about how most of us just wanted some form of recognition that we did it and it's done and we finished it." 
Members of the faculty signed up to gift books to graduating students they knew best — more than 70 students, says Paul Hurh, an associate professor and director of undergraduate studies in English. 
Normally, those students would celebrate at graduation parties and an in-person commencement with their families and friends. The department would put on its literary trivia night and an awards ceremony. Instead, the in-person school year ended abruptly during spring break. Gruender, who is now in the Phoenix area, says she briefly saw her roommate when they moved out of their apartment, but hasn't seen any other friends in real life. Graduation does not look the way she thought it would. 
"We feel for our students, because this is a strange time to graduate and there are lots of pressures about finding jobs and the world right now, and we really just wanted to celebrate that they read a lot of books and wrote a lot of papers and have succeeded," Hurh says. "We see them and all of their hard work." 
And while students still had the option to tune into an online commencement ceremony, Gruender emphasized the importance of something personal, something beyond a plaque or a video. 
"We were thinking about how we build our personal libraries over time, and I still have books in my library from when I was an undergraduate," Hurh says. "We thought it might be a nice gesture to donate something out of our libraries to their libraries." 
In addition to hand-selecting books for their students, instructors wrote notes of congratulations and encouragement. 
"It was just something we could do," Hurh says. "It's not something we have ever done in the past, and it felt like something special for students who weren't going to have the traditional experience. Rather than try to recreate the traditional experience, we thought this would be a new experience and something special that they could remember." 
Susan Briante, a professor of creative writing and English, has given books to graduate students in the past.
"What's lovely about giving a student a book is it also suggests a continued conversation beyond this group of study," she says. 
As a professor of creative writing, she says she gets to know students through what they share on the page. 
She signed up to give a book to a student whose honors thesis she advised and who she had in classes for three years. She knew within minutes which book to gift. 
"It's 'The Life of Poetry' by poet Muriel Rukeyser about poetry but also about making a life as an artist and an activist," Briante says.
She knew it would be perfect for this student. 
Briante was able to drop the book off — her student lives in Tucson — and Hurh says books have been mailed and delivered personally.
Bernheimer signed up to send books to four of her students. And when it came time to decide on the books to send, she couldn't do it. 
"I quickly chose one for each student, and then quickly chose a second..." she says. "At one point, the piles were so high my daughter intervened." 
So she settled on four books per student — a mix of fairy tale and mythology books, a few contemporary novels and other titles she thought they would enjoy. Someone is getting a Harry Potter cookbook. 
Gruender is one of those students. Bernheimer advised her honors thesis — a novel about Medusa. When the university transitioned to online classes due to COVID-19, they continued their weekly meetings on Zoom. 
"One of the books I sent Nataly is a collection of classic fairy tales that actually has my notes in the margins, and I thought she might like seeing them, to continue the conversation between us," Bernheimer says. 
During the department conversation about how to honor graduates, Bernheimer proposed outfitting students with laurel wreaths, awarded by ancient Greeks to victors. Although the department chose to give books instead, Bernheimer says she and Gruender both loved the idea. 
"We chatted about it almost as a lark," Bernheimer says. "Something we couldn't do but wanted to do."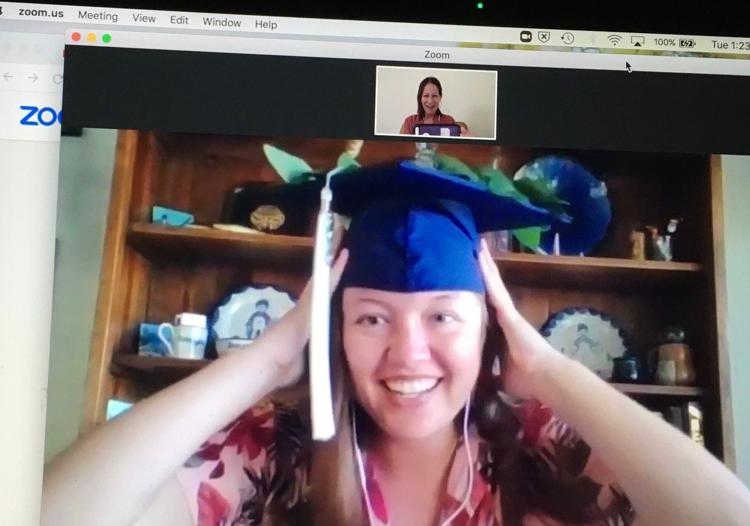 So Gruender, who was studying Greek mythology and loves it, made a wreath for her graduation cap out of fake leaves and surprised her professor on their last thesis Zoom meeting together. 
Delighted, Bernheimer decided to return the surprise, adding another item to her delivery to Gruender: A real laurel wreath that she ordered online from Greece. 
Because in-person graduation or not, these students are still victors. 
"I think the thing that is just missing is the sense of closure," Gruender says. "We're not getting that, because you imagine walking across the stage thinking, 'Now I am done with undergrad. That's it.' But not getting that has felt like a hole, basically, in my education career. But at least getting the recognition and confirmation that I have accomplished something from professors I worked with, that feels like something I can be proud of."