This coming school year, students at Homer Davis Elementary will have a novel reason to be on their best behavior. 
When Tucson mom Jenine Dalrymple saw a Facebook post about book vending machines over Christmas, she knew her school district had to have one. 
"I'm totally stealing somebody else's idea for good," Dalrymple says with a laugh. 
Dalrymple started the foundation to continue her daughter's vision to "save the world," giving free heart screenings, donating defibrillators to all Flowing Wells district schools and interested Catholic schools in Southern Arizona, installing hydration stations and handing out water bottles around the district, and donating money to other meaningful causes. 
Like a book vending machine.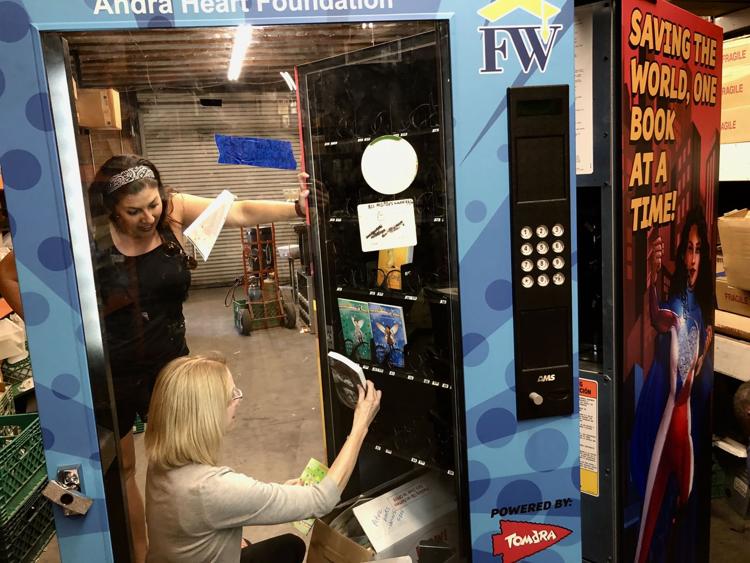 "When my daughter was in fourth of fifth grade, she just fell in love with (the chapter book) 'How to Steal a Dog'..." Dalrymple says. "It's about a little girl on the edge of being homeless ... and (Andra) was just so moved by this idea that there was a kid so worried about having a place to live." 
That book, along with dozens of other chapter books and picture books, will be available to Homer Davis students in the Book-O-Matic. 
"That was a book that really moved Andra to care about her community," Dalrymple says. The Book-O-Matic will also have books about pandas — another of Andra's passions — and otters, beloved by Dalrymple and her other daughter Grace. 
The Andra Heart Foundation partnered with Tomdra, a local vending machine company, to create the Book-O-Matic for Flowing Wells Unified School District. Basically, the foundation is providing the books — 2,000 of them so far — and Tomdra is donating the vending machine. 
"It's good to give back," says Todd Elliott, the vice president of Tomdra.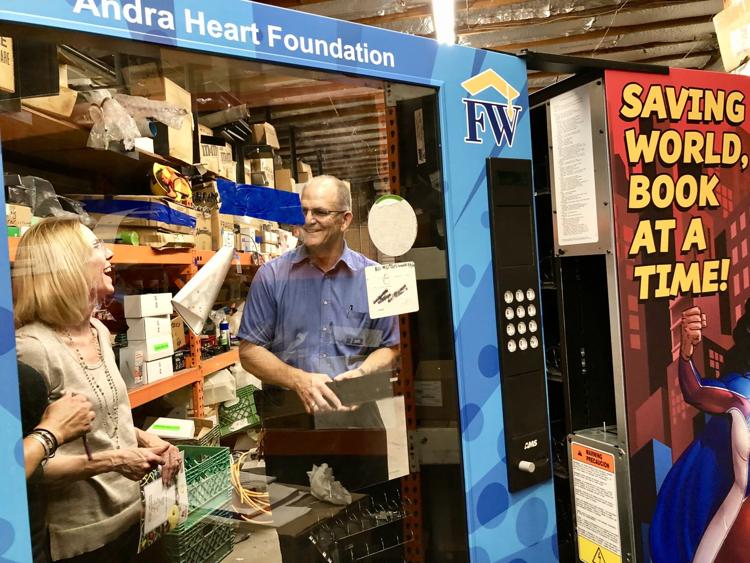 The details are still being worked out, but essentially, picking a book from the Book-O-Matic will work as an incentive program, rewarding students for positive characteristics such as persistence or cooperation, says David Baker, the superintendent of Flowing Wells Unified School District.  
"My hope is that every kid will get two books during the year," Dalrymple says. 
"The kids will love it," says Toni Adelstone, a sixth grade teacher at Homer Davis. "For them to get a free, brand-new book and not have to pay for it will be very exciting for them."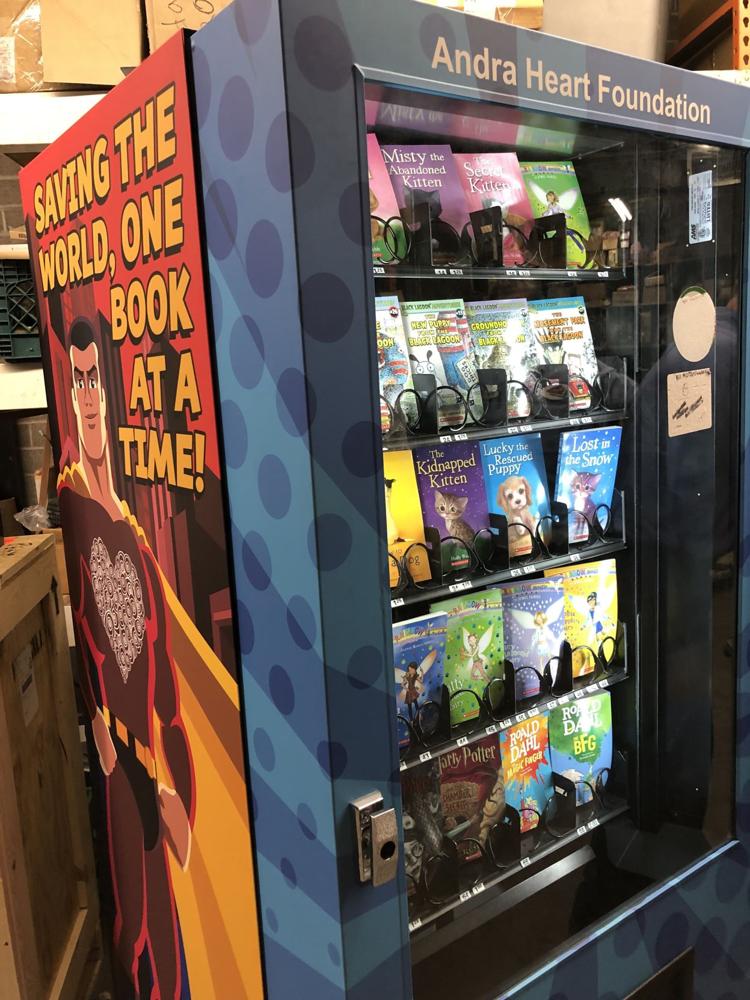 Adelstone worked with Dalrymple to pick books and, with Tomdra designers, to design the look of the vending machine, which sports two superheroes declaring, "Saving the world, one book at a time!" 
Dalrymple hopes if all goes well with the Book-O-Matic at Homer Davis, the foundation could install book vending machines in all six Flowing Wells elementary schools.
"One of the resources we're always trying to support is giving kids access to books they can take home," Baker says. "Families don't have home libraries or resources, so we have some groups that work hard at this, particularly at Homer Davis." 
Dalrymple's relationship with the district has grown since Andra's death. At the time, the Flowing Wells community rallied around the family, Dalrymple says. 
"Andra had two things when it came to saving the world," Dalrymple says. "She started with the pandas, and the second thing was helping people who didn't have a good community to live in ... After she died, this community picked us up and was so great at support us, so it makes this so easy.  ... Supporting people and improving the community is the end goal of the Book-O-Matic." 
---
If you go
What: A movie night and fundraiser for the Andra Heart Foundation will double as the debut of the Book-O-Matic. The foundation will show "Breakfast at Tiffany's" — Andra was always a fan of Audrey Hepburn movies, her mom says. 
When: Saturday, July 20, 7:30 p.m. 
Cost: $25 general admission includes movie, snacks and ice cream; $75 VIP ticket includes cocktail reception plus movie, snacks and ice cream; $10 student ticket includes movie, snacks and ice cream. 
More info: To buy tickets, go here