There's a Dave & Buster's in Tucson. Finally!
Like an oasis rising out of the desert floor right next to the new Century Theaters at Tucson Marketplace, this D&B is a 30,000-square-foot palace with more than 135 arcade games to choose from.
It's set to open its doors Monday, April 3rd and we (Sam and Alicia) went and checked it out so you'll know what you're getting into when you go.
Some background
• Samantha has been to a Dave & Buster's in her day because her family in California lived close to one. She remembers it being a giant building with multiple restaurants and having arcade games that were a little less grubby than the ones you'll find Peter Piper Pizza. Also the prizes are A++.
• Alicia has never been to a Dave & Buster's but she ain't no newb to games and token fun. She's been to Chuck E. Cheese. Same thing right?
First impressions
Sam: This place is loud, like really LOUD! The second you step in you're greeted with the sounds of fifty arcade games going off at once and pop tunes from the last 15 years blaring all around you. I feel like I should be dancing or something.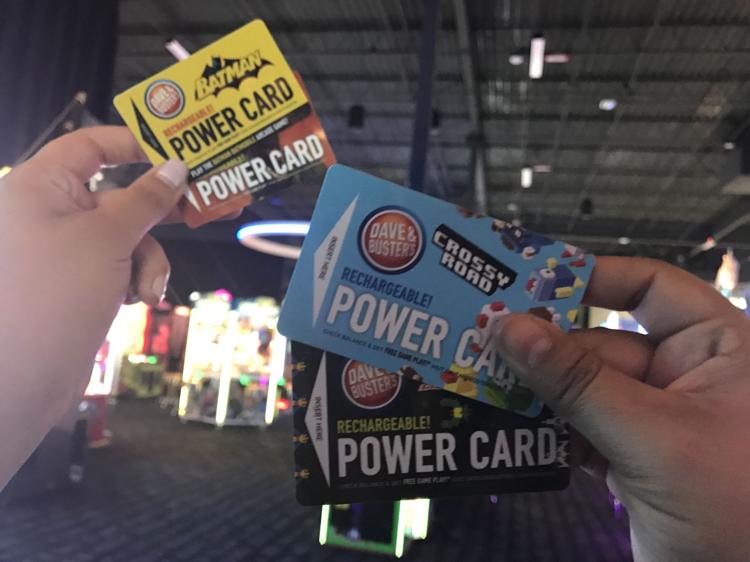 The layout for the place seemed pretty easy to follow. There is a customer service table right at the entrance where you can purchase a Power Card, which is basically like your golden ticket for the place. You use it to play games and it also keeps track of the arcade tickets you've earned. I like that I don't have to hold on to tickets anymore. It's too much responsibility, especially if you're drinking and playing Fruit Ninja at the same time.
There is a casual dining area with glittery booths and a photo wall collage of Tucson imagery (I see what you're doing here, corporate ... and it worked! Bear Down and Tucson sunsets for life!) as well as a sports bar that had the most televisions I had ever seen hanging from a ceiling.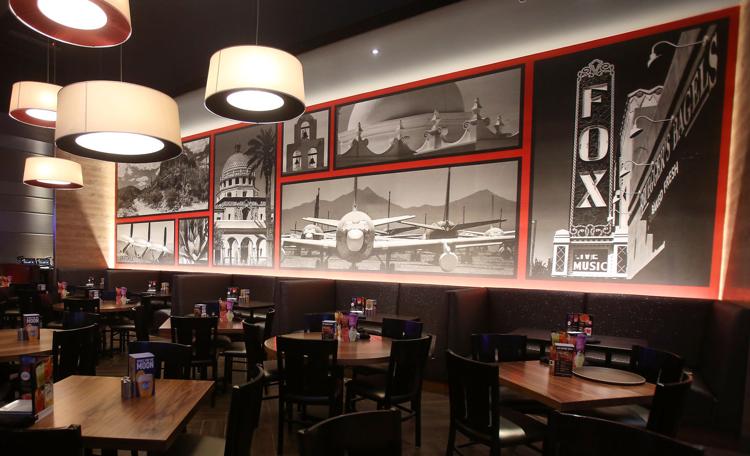 Alicia: It's overwhelming. 
There are huge television screens in one corner, a restaurant on the other and 100 colors coming at me from the game room. Lots going on. 
It's also dark in there in the middle of the day. Why?
Food and drink
Sam: They have typical sports bar eats; wings, burgers and fun appetizers. You can also get entrees like salad, steak and pasta dishes. Prices range from inexpensive to it's-my-birthday money, so be careful. The true gem is the drink menu because all the options are very over the top. Alcoholic snow cones?! A prosecco cocktail you drink like a Corona-rita?! Also, half-price happy hour. If you're not a fan of the booze try a Grape Candy Chill, it's garnished with gummy worms. That's cool, right?  But enough about food, let's play games!
Alicia: I don't think I'll ever go there to eat but I'm glad I can get cocktails. Wait! I can get a prosecco cocktail? Heck yes!
Overall impression of the game floor
Sam: So many games! In fact, half the Dave and Buster floor is nothing but arcade space. And it's all so shiny and new. I even got to put my name on a high score list. That never happens.
You have your classic games; skee ball, half court hoops and and air hockey, but you can also enjoy Connect 4 on a electronic board the size of a U-Haul or defend yourself against Walking Dead zombies.
When you had your fill of arcade time, there is a little shop where you can exchange your tickets for prizes. Good stuff, too. None of that Chinese finger trap for 10,000 tickets nonsense. I'm keeping my eye one that BB-8 bluetooth speaker.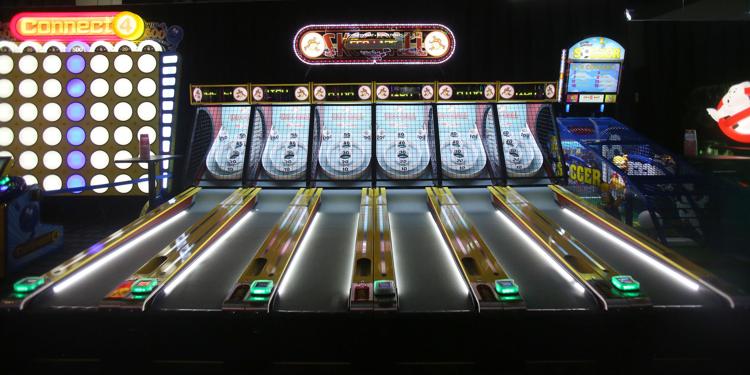 Alicia: Sam basically said it all, but I was especially worried about how much was going on. I thought I lost her at one point. Took me back to when I would lose my mom in grocery stores and cried until she found me. Some tears were shed while at Dave & Buster's and it was just because I couldn't find Sam. 
Don't lose drunk friends in there. 
Best game
Sam: Alicia and I played it cool and did a lot of the old school stuff. Call it the the nostalgia of our days at Peter Piper, but you can't go to an arcade and not play skee ball or a racing game. I also liked this one game called Luigi Mansion Arcade where you sucked up ghosts with a weird vacuum, idk, but it was fun!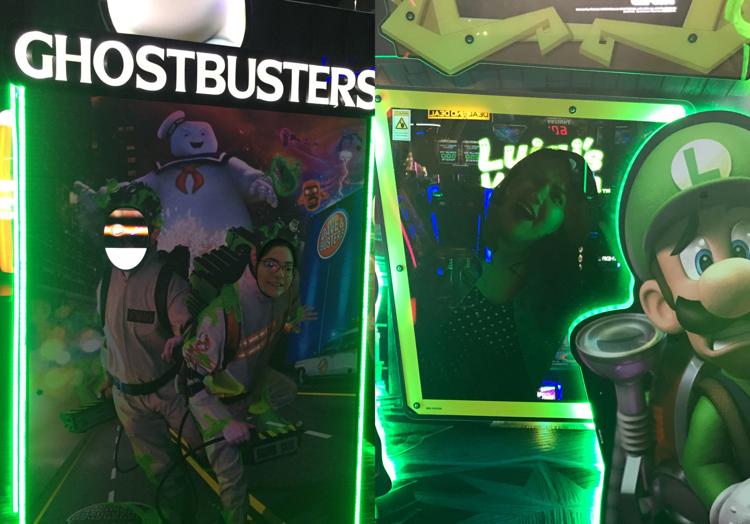 Alicia: I also really liked the Luigi game because of the exact same reason. It felt like I was hunting ghosts in real time. 
I would probably play air hockey again. That feels safe and I kick ass at air hockey.
Other things to note
Sam: I took me forever to find the bathroom. It's tucked in the arcade space in the way back of the building, I almost thought it was a game when I spotted it. 😅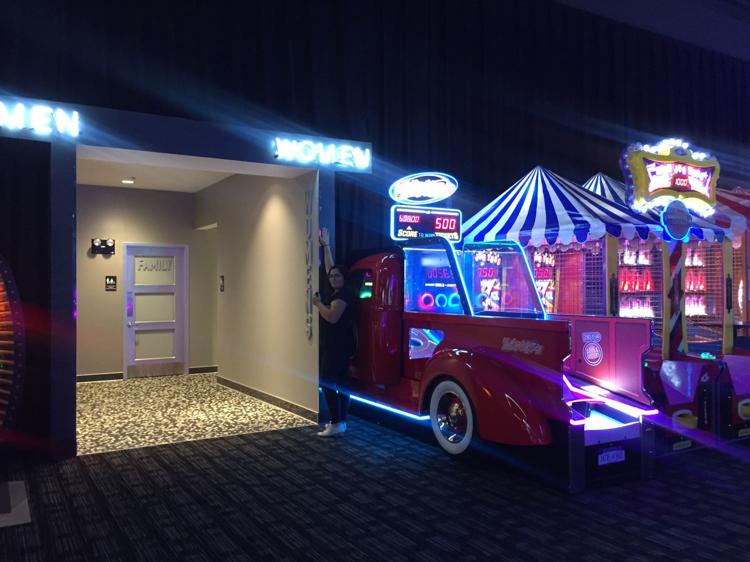 Alicia: Why do I look like I'm trying to lure you into the bathroom?
Would you go again?
Sam: Yeah! I like arcades and I can totally see myself dominating the air hockey table a few months from now (just kidding, I lose every time). I think it's a good spot to bring the family and friends for a fun experience. I do however understand that it's not for everyone, with the bright lights and sounds it can get a little disorienting. At some point I felt a little drunk, but I swear there was nothing in that Grape Candy Chill. If you can't handle functioning at a high level for a few hours, I would suggest a fun game night at home.
Alicia: Yeah, sure! Why not? I'll probably wait a few weeks after the grand opening because I know it's going to be hella packed for a little. I'm really looking forward to drinking a lot and playing that Luigi game over and over again though. 
The grand opening is Monday, April 3 from 11 a.m. to close. Looks like we know what we're doing after work on Monday. 
If you go
Hours: Open 11 a.m. to midnight Sunday through Thursday and 11 a.m. to 1 a.m. on Friday and Saturday.