Santiago is not your typical ladies' man.
He's got beady eyes, tons of body hair and no teeth.
Also — and there's really no way to sugarcoat this — Santiago has a really big nose.
But in the world of the tamandua, otherwise known as the lesser anteater, this guy is a real player.
"He has been an excellent breeding male," said Katie Hutchinson, lead keeper for the Reid Park Zoo's animal ambassador program. "I think he's the most well represented male nationwide."
Though its elephants get most of the publicity, the 54-year-old animal attraction has made a name for itself in zoological circles for its successful anteater care and breeding program.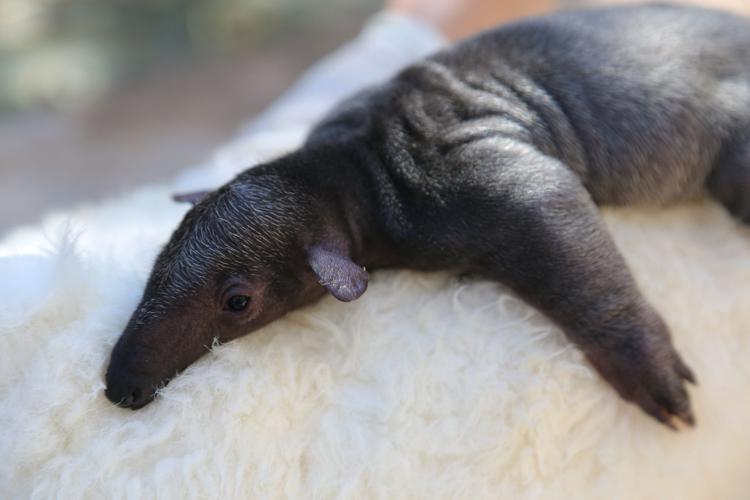 And none of the zoo's current crop of anteaters has been as — ahem — successful as Santiago.
He has fathered eight tamandua pups since 2012, and now has grandchildren at zoos in Minnesota and Ohio. His first great-great-grandpup was recently born at the Cincinnati Zoo.
Lety, one of Santiago's mates, has been almost as productive. Since 2008, she has given birth to seven pups that have gone on to produce two additional generations of lesser anteaters.
"We've been wildly successful with tamandua babies," said Sue Tygielski, Reid Park's director of zoological operations.
"We are not a baby factory"
As an accredited member of the Association of Zoos & Aquariums, Reid Park Zoo participates in what are known as species survival plans designed to maintain healthy, genetically diverse populations at more than 200 animal attractions across the U.S.
The zoo is home to 47 varieties of animals whose breeding schedules and genetic mixing are carefully controlled through the association's collaborative planning process.
In other words, Tygielski said, "We are not a baby factory. We really look at what species need attention."
Later this year, for example, zoo officials are hoping to breed more Baird's tapirs and giant anteaters, among other animals.
And as you may have heard, Semba the African elephant is expecting another baby in March or April, a little brother or sister for the famous Nandi.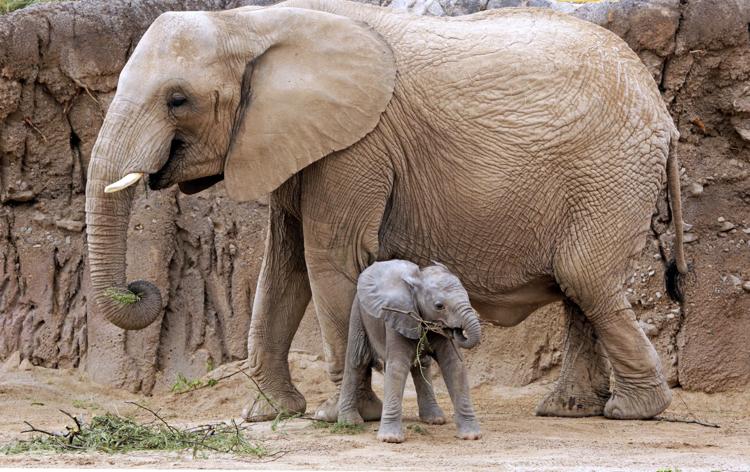 Then there are Reid Park's Andean bears.
Worf is an old man who has spent most of his 26 years in Tucson, where he has been a calm, well-behaved bear with few health issues.
Oja is a youngster, brought in from a zoo in Zurich, Switzerland, in January to give Worf one last chance to father another cub.
As Tygielski put it, when you have a zoo animal like Worf with so many good traits, you don't want to "lose that genetic opportunity."
"He definitely would be very interested. She has not decided yet," Tygielski said. "She's still a little bit wary of him."
Writing the manual on tamanduas
It's no accident that the logo for the Reid Park Zoo features a picture of an anteater. There have been giant anteaters living there since 1968, and the facility is now well known among zookeepers for its work with the burrowing, bug-eating mammals.
Until recently, the zoo was the keeper of the studbook for all giant anteaters at AZA facilities across the country.
"Their reputation is well deserved. They really know what they're doing," said Harrison Edell, executive vice president for animal care and conservation at the Dallas Zoo in Texas.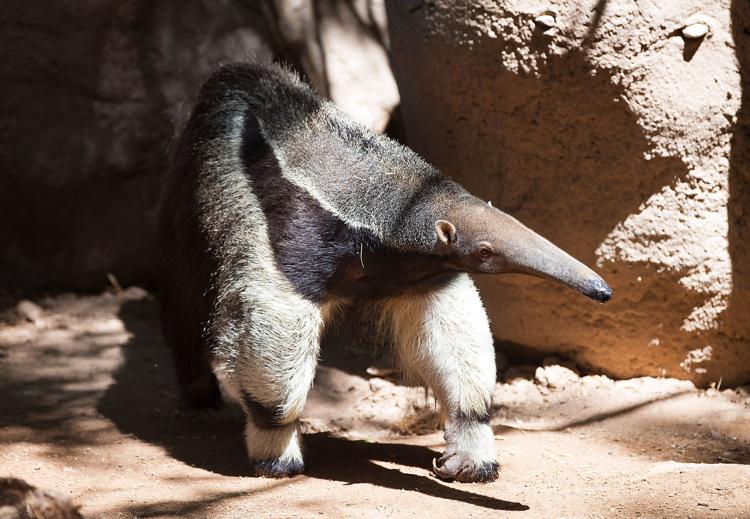 Edell is the species plan coordinator and keeper of the studbook for the roughly 70 tamanduas at AZA zoos nationwide, including the ones at Reid Park.
He said about three-quarters of his job as tamandua coordinator is connecting animal caregivers so they can solve problems and exchange best practices.
When a zookeeper needs expert advice about anteater care, Edell said, Tucson is at the top of the list of places to call.
Through its work, the zoo has helped expand what is known about anteaters, developing through hands-on experience the sort of highly specialized information you can't easily find on the internet.
"We had to milk a tamandua a little while ago," Hutchinson said by way of an example. "And we wrote the guide on how to do an ultrasound on a tamandua, so that's pretty cool."
Hutchinson and company aren't just looking after their own anteaters, either. The zoo has also thrown its support behind research and conservation efforts in South America, where biologists are studying the impacts of new roads and farms on the giant anteater and its habitat.
In some areas, anteater advocates have put up road signs and fitted the vulnerable animals with reflective harnesses to keep them from becoming roadkill, Tygielski said.
Reid Park is also helping with efforts in South America — through children's books and other methods — to educate the public and to dispel negative stereotypes about these unusual but generally harmless creatures of the night.
Not ready for retirement just yet
Tamanduas grow to the size of a small dog and sport four claws on each front foot for climbing and digging. They mainly eat ants and termites with sticky tongues that can extend up to 16 inches, so Santiago has that going for him.
Edell said they are not endangered in their native Central and South America, so there are almost no regulations to protect them from the exotic pet trade. You can buy one from a dealer and have it shipped to the U.S. without much trouble, he said, but they don't fare well as pets because of their unique dietary and behavioral needs.
According to Edell's records, Santiago was born in the wild in Guyana and imported into the United States, where he lived at the Fresno Zoo before coming to Tucson in 2011 to serve as one of Reid Park's animal ambassadors.
Lety's backstory is a bit more murky. Edell said she came from a dealer who claimed she was born in captivity, but he suspects she too may have been taken from the wild. He said her exact origin is unknown.
Reid Park Zoo currently has three tamanduas, but it does not keep any of them on display in a traditional exhibit.
Instead, the animals live in enclosures behind the scenes and occasionally interact with the public during education programs, special events or daily "keeper chats" at the zoo.
Everyone, that is, except Santiago.
He was relieved of his ambassador duties recently due to his failing eyesight, advancing arthritis and other effects of old age.
But the zoo's biggest stud hasn't retired completely. Sometime in the next month or two, zookeepers plan to pair him up one last time with Xochi, another mate with whom he's had pups before.
Tygielski doubts he will require much convincing.
"Santiago is very elderly," she said, "but he's still very interested in breeding."
Note: This article was published by the Arizona Daily Star on Aug. 11, 2019.