We both went into this class with no idea of what was about to happen. But, unlike with other workouts, neither of us felt nervous before the class. 
Ahhh. If only we had known. 
TRX, aka Total Resistance Exercises, is a form of training that uses body weight and suspension equipment. It develops strength, balance, flexibility and core stability. 
And it's TOUGH. This workout has no pretense. Designed by a former Navy Seal, TRX does not disguise itself as fun like some of the dancier workouts we've tried. 
But, if you're looking for a no-nonsense class that will kick your butt and make you stronger, this class is definitely for you. Just go in prepared.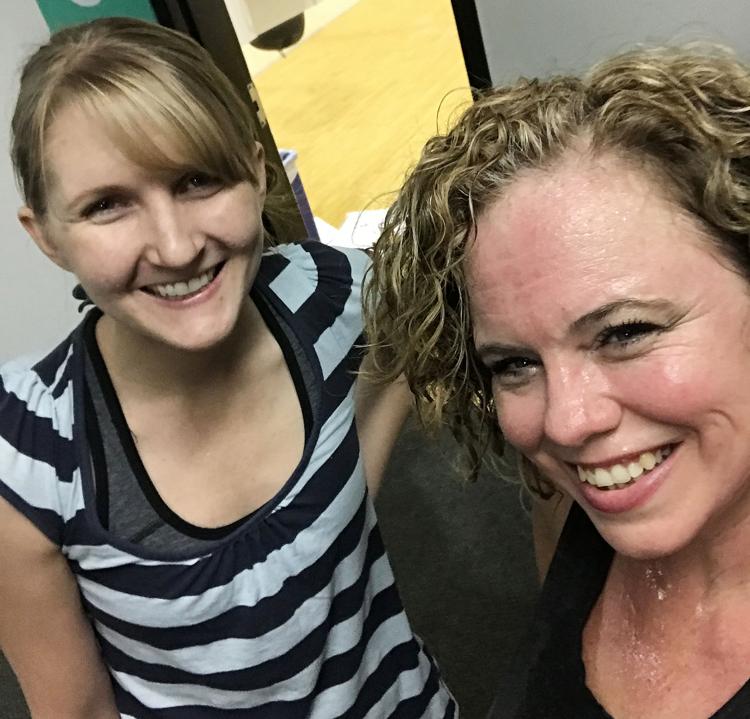 Some background
• Angela is a fairly active mama in her early 40s. She tries to hit the gym at least three times a week (ok, ok, it's usually like once or twice) where she runs on the treadmill, lifts weights and takes classes. She loves the post-workout zen she feels after a good sweat session.
• Johanna is in her late 20s and gets by with 20-minute workouts every morning. Don't be too impressed. She keeps her pajamas on and lunges and crunches to YouTube videos while binge-watching Netflix. Every now and then she goes for a run and remembers she hates running.
On the studio
Angela: We went to the Lohse Family YMCA so we could walk there from the office. The TRX Circuit class is held in the boxing studio and is a pretty straightforward space. The perimeter of the room is lined with TRX bands and punching bags. 
Johanna: Like Angela said, the studio is pretty basic. You've got your walls, your floors and then some TRX bands dangling from the ceiling. Bring water. You'll want to sneak sips between circuits. 
On the class
Angela: This is a circuit class, so we rotated to different stations to do a different exercise every 30 seconds. Some of those 30 second time blocks felt like the longest in my life. 
I felt really uncoordinated at first, especially when trying to do lunges with my foot suspended in a strap. The instructor was awesome, though, and let me hold onto her finger to find my balance. 
She was great about teaching us the proper movements and form. She also didn't let us slack. (I haven't decided if that's good or bad. J/K)
A few of the exercises were kinda fun. I enjoyed the squat jumps and kicks. Burpees, not so much. 
I am not looking forward to tomorrow. I can already see myself hobbling.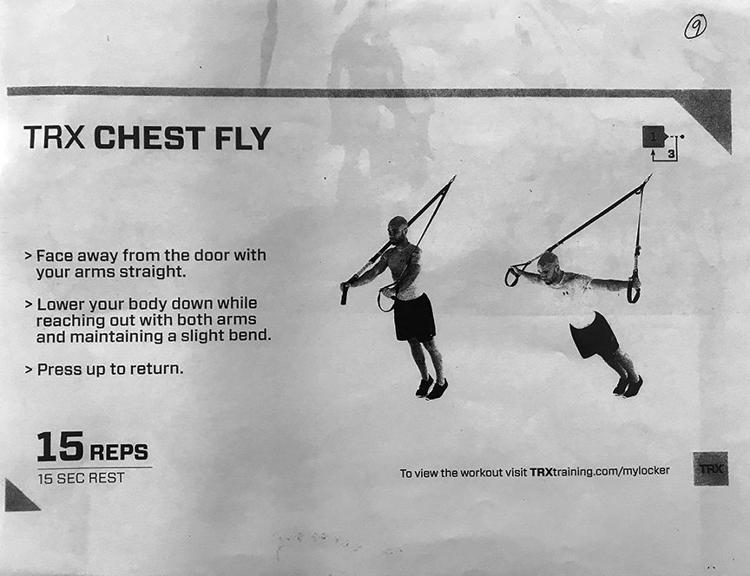 Johanna: This was not my favorite. It reminded me of P.E. — like when you have your final and rotate to different stations and count how many crunches you can do. 
We rotated between nine stations over the course of two circuits. Our amazing instructor demonstrated and explained each of the movements before the circuit started. The whole time, I was watching thinking, "Nope. Nope. Nope. Nope." Coordination is a big part of this. 
At the station where I started, you had to sit on the ground and then basically do a pull up with the TRX straps. I did one and then kind of flopped around for the remainder of the 30 seconds. 
Did we mention this was hard? 
Because we were new to TRX, our instructor gave us a lot of specialized attention to make sure we were getting it. She also showed us modifications in case we didn't want to do burpees with one foot suspended by a TRX strap. If you're wondering, we opted for the modification on that one.
I did enjoy some of the exercises — particularly planking with my feet suspended. Not sure why. Maybe because my airborne feet kept me distracted from the pain in my abs?
Would you go again? 
Angela: I might if I had someone to go with. This was a great workout and super challenging. But, it's not the type of class I'd be excited about every week.
That could change, though. I used to hate running and ended up running a couple marathons. 
Johanna: Maybe. This class did what it was supposed to do. It gave me a killer workout in a little less than an hour. And I appreciate that. But I prefer workouts that trick me into exercising (see our Jazzercise story). I was so glad to go with a friend and highly recommend that, especially if you're new to TRX. 
Class details
When: 12:15 p.m. Wednesday and 9:15 a.m. Saturday
Cost: $10 for a day pass or you can download a free pass here. Keep in mind you can only download a free pass six times a year.