Saying yes to a dress at Amor Bridal will get you a serenade from Bruno Mars. 
The new bridal boutique at the Tucson Spectrum shopping center is all about giving brides a special experience. 
That's why brides and their guests are treated to small treats like cakes or brownies, and those who purchase a gown from the shop receive a bracelet as a thank-you. Photos are taken of friends, family and the bride along the way.
Oh, and that serenade. If a bride finds her dream dress at Amor Bridal, the shop cranks up Bruno Mars' "Marry You" just for fun.
Owner Reyna Rodriguez opened the store with her daughter Athena Clarke and best friend Terri James in March. Clarke is the general manager and James oversees marketing. All three work as bridal stylists. 
They want to give brides the experience they may have imagined as little girls, Clarke says. 
Rodriguez says she was partly inspired to open a bridal boutique after dress shopping with her own daughter left her disappointed. 
"I just wanted to do something different, because when I went with my daughter, there wasn't an experience..." Rodriguez says. "I had these expectations, but then it was like, 'Oh. That's it.'" 
Rodriguez also felt that most of the bridal boutique options in Tucson are midtown or further north.
"I just felt there was this void," she says, adding that they're also bilingual.
Like the Knot but for Tucson and for free. This is where you'll find everything you need to plan your Tucson wedding. Get tips, share ideas an…
Although the 1,400-square-foot shop opened in March, the boutique is celebrating its grand opening this week with discounted gowns and a vendor meet-and-greet on Saturday. That event will also give brides a chance to meet other wedding vendors such as a photographer, florist, baker and others. Since the boutique is small, you'll need to make reservations for the Saturday event if you're interested. Spots may fill up.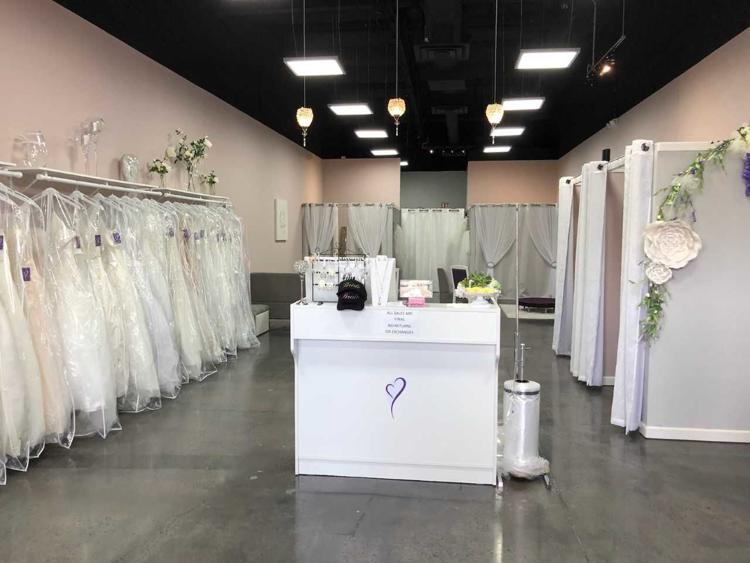 The boutique sells a selection of bridesmaid and mother-of-the-bride dresses in addition to wedding gowns, shapewear and accessories. They also have plus-size wedding dresses. Wedding dress prices range between $599 and $2,500.
There are four fitting rooms at the boutique, with two bigger spaces for parties to gather. Although the shop takes walk-ins, appointments are recommended. 
"I just want happy customers and to give them an experience," Rodriguez says. "Hopefully, they're able to find their dress here." 
---
If you go
Hours: Tuesday through Saturday, 11 a.m. to  6 p.m.; Sunday, noon to 5 p.m.
Grand opening details: Saturday, June 15, 2-5 p.m. at Amor Bridal. Make reservations and get more info at the Facebook event.