The way Carla Perez describes her yoga class in Reid Park makes it sound dreamy and not at all like a modification triggered by the global pandemic. 
She describes birds chirping, the sun shining and people connecting — and all from a safe distance, too. 
Perez started teaching the weekly Sunday morning class in September, after Yoga Vida, the yoga studio where she taught and practiced, closed permanently. Pre-pandemic, she had collaborated with a local DJ to teach larger, pop-up classes in the park, so when the studio closed, Reid Park seemed like a natural place to teach. 
"We are all feeling the stress of everything that has been going on this year," she says. "And I think with so much upheaval, there is something so centering and peaceful about gathering in a park for an hour."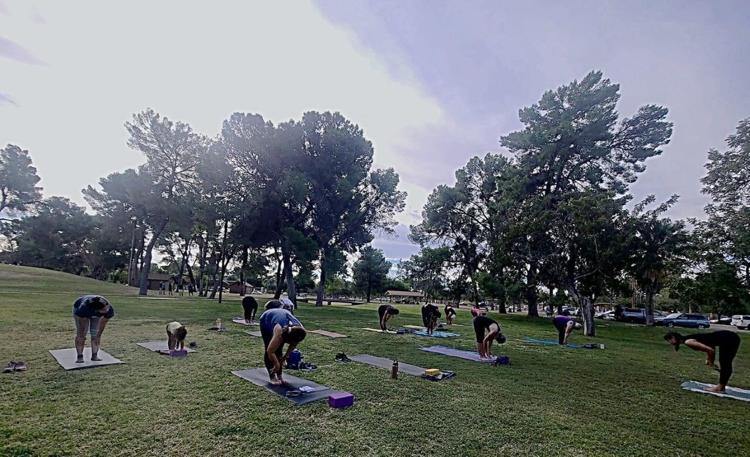 Perez is one of many fitness professionals who has taken classes and workouts outside as the COVID-19 pandemic continues. 
"It's crazy to me how many classes — and not just Parks and Rec classes — are going on in the parks," says Bettina Boisclair, a city of Tucson program coordinator. "Udall Park, if you go out there, that park is packed with classes for all ages and fitness levels."
"We opened June 1 (after the first shutdown), and had to close less than a month later," writes Barre3 Tucson owner Kate Ares in an email. "It was hard. And still is hard. With the second closure, I was able to pivot quickly and add more livestream options and add the outdoor option." 
For now, anyway, outdoor workouts aren't going anywhere.
The shade brigade
Soleil Chiquette, the owner of the spin studio Let's Sweat, moved her stationary bikes onto the patio outside her studio over the summer. 
"Even in August when it was 105, people were still there and pedaling and happy to be here," she says. 
They made it through Tucson's brutal summer months. They're not going inside now.
"It's just starting to get nice," she says. 
Even though it's hard on her equipment — her team moves 15 to 18 bikes every day — she knows a lot of people probably wouldn't show up if they moved the classes inside.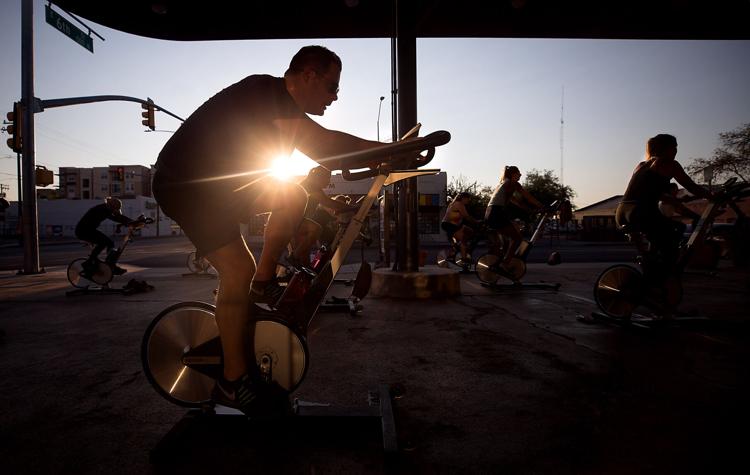 On the east-side, CrossFit Cure also does the daily setup of equipment in the gym's parking lot. During the summer, they were setting up tents so workouts could take place in as much shade as possible. 
"We had one of our members call it the Shade Brigade," says Levi Bridges, a coach at CrossFit Cure.
Earlier in the year, CrossFit Cure was hosting informal classes and training sessions at Udall Park, hauling dumbbells and kettlebells between the gym and the park.  
Tucson Parks and Recreation is also offering outdoor fitness classes such as hatha yoga and aerobics in its parks, says Boisclair. And there has been a learning curve. 
Indoor classes come with comforts such as air conditioning and heat, lights and nearby restrooms. Quickly, they realized that watering the grass didn't work so well with early morning classes, she says. 
Perez has encountered her own share of inconveniences. Lumpy ground can make tree pose tricky. Sometimes, goatheads prick you when you extend your arms beyond your mat. And then there are the ants. If you encounter ants, it's best to just move, she advises. But mostly, those are small inconveniences easily remedied in exchange for a way to continue teaching others in person. 
"Just preparing for the weather, some days it's positive and some days it's negative," Bridges says. "Now you bundle up in the morning. But I just got back from a noon class and everyone was loving the weather. It's a motivation for people to come work out because we live where we live. It has provided an added experience."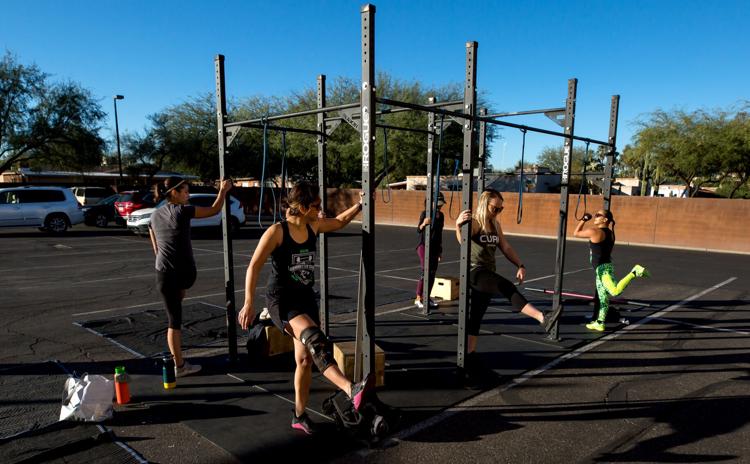 Room to spread out
While many gyms and studios are continuing to offer virtual classes for their members, outdoor options allow for at least some connection. 
"The benefit of outdoor classes is that you are there in person, able to connect (from a distance) and be there with an instructor," writes Ares of Barre3. "From what we know of COVID and how it transmits (I'm a nurse, so I read a lot), being outdoors and socially distanced is ideal." 
Like Barre3, Jabz Boxing Tucson is now offering classes indoors with limited capacity, outdoors and online. The Saturday Jabz class in Himmel Park does without punching bags and other equipment, but manager Megan Landavaso says she has at least a dozen members who prefer the outdoor workout, even if it means going back to basics and shadow boxing. She has outdoor classes scheduled for a year. 
Debbie Nolen has been a Jabz member for a few years, and while she has returned for some indoor classes, she appreciates the outdoor option. 
"Right now, with the (coronavirus) numbers going up, I prefer staying at the park or my home," she says.  
Suzette Jimenez agrees. She recently discovered the Reid Park yoga class after attending some of Perez's pre-pandemic pop-up classes. 
"I feel much safer right now in that (outside) environment," she says.
Because outdoor space allows for a distance of 6 feet or more between participants, some classes allow attendees to remove their masks. Pima County's mask ordinance requires masks to be worn in public when physical distancing is not possible. 
"When they go inside, they must have a mask on or if they can't social distance," says Kai Rainey, the owner of CrossFit Cure. "But they can spread out enough (outside) that when they're doing the hardest part of their workout, they don't have to use one." 
One "normal" hour
Boisclair with Tucson Parks and Recreation says at the onset of the pandemic, her department received a flood of inquiries about activities. 
"The big thing is, there's a need," she says. "People want to be active and fit and it helps with stress. And our instructors need to work." 
The handful of classes the department now organizes doesn't compare to its usual schedule of 200-plus classes. But it's something.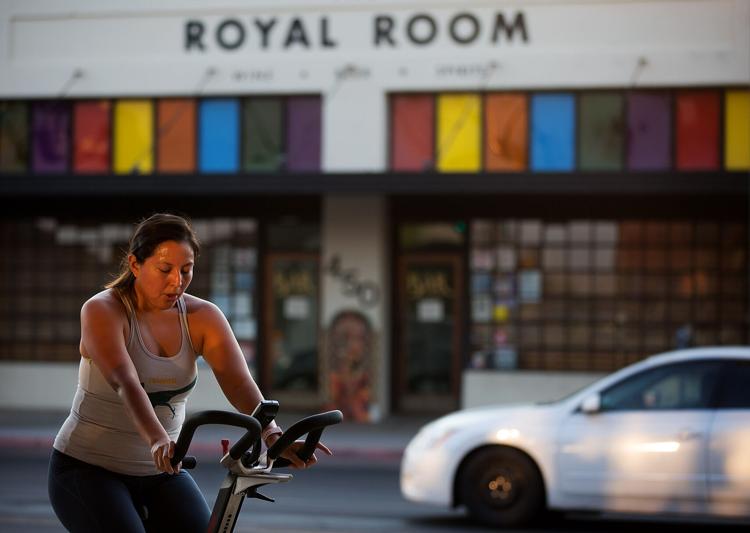 Recognizing the loss of many holiday traditions this year, Chiquette at Let's Sweat has tried to imbue her spin classes with festivity. On Fridays in October, she hosted classes with Halloween playlists, fun lighting and candy. December brings a ride along with the Polar Express. 
"The continued classes and the continued community, when everything was falling apart, we tried to stay together as much as possible," she says. 
In the coming months, Perez hopes to add other class types and locations in addition to her Reid Park class. 
"The worst thing we can do for ourselves is feel isolated, but we also have to feel safe," she says. 
For Jimenez, yoga at Reid Park is a block of time to temporarily forget about all things coronavirus. 
"During this time of COVID and the pandemic and the stress, it's really nice to get away from that," she says. "For that one hour, to just be free from all of that. It's rejuvenating."