The year Deutsches Eck won Best German Food in Sierra Vista, my Oma had been living in Hereford for almost a decade. She and my Opa had bought a big piece of land off a dirt road, where he slowly built a two-story Sante Fe ranch house with his own hands. She woke up at dawn to feed the quails and get Brötchen in the oven for breakfast. Then she'd sit on the patio, watching the hummingbirds amid the valley brush, in the company of God and the Huachucha mountains.
I was born a few years later and was raised on the cold cuts my Oma secured from Undine Faubel, Deutsches Eck's proprietor and, at the time, one of many centers for Sierra Vista's German community. Undine led a Stammtisch (regulars' table) where she and other German speakers would meet, in addition to programming like dances and festivals like Oktoberfest led by Sierra Vista's German-American Club.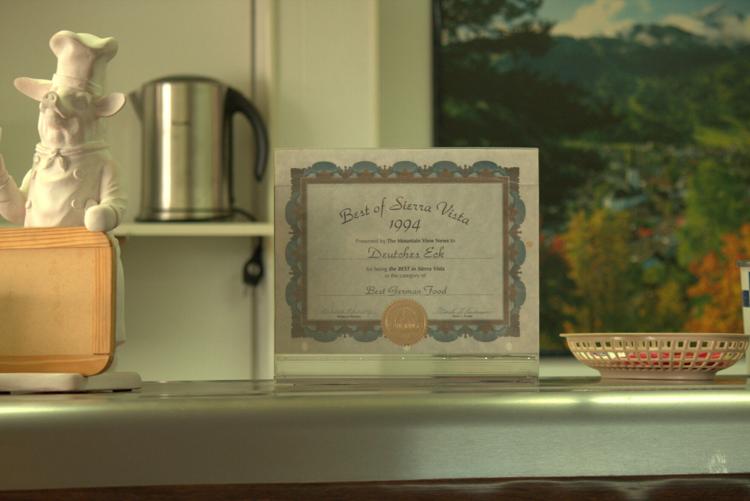 Oma stocked her fridge and pantry with imports from Deutsches Eck, 268 W. Fry Boulevard, in Sierra Vista. Weisswurst, a mild and succulent white sausage of veal and fatty pork; Knackwurst, an upgraded hot dog named after the snap of its natural casing; as well as more common fare like Bratwurst and Leberwurst all stocked her fridge. If she wasn't in the mood to make her own, she'd get Undine's potato salad, red cabbage or sauerkraut (anyone who has maligned sauerkraut has never had an Oma's, lovingly prepared on the stovetop with apple juice and bacon).
I looked forward to Oma's Sauerbraten (pot roast) all year, with a rich sauce made with ingredients my Oma bought from Undine. I was too young to appreciate the complex spices in Christmas delicacies, like Lebkuchen (honey-sweetened gingerbread) and Dominosteine (petit-fours with Lebkuchen, marzipan, sour cherry jelly and dark chocolate). These precious artifacts of home once filled Undine's shelves.
Much has changed at Deutsches Eck since 1994. "The old days are never coming back," said Undine, when we visited her this Wednesday. Undine is a wry woman of 78, who knots her apron like the best of Omas and heavily lines both her eyes and lips. She would repeat this phrase several times before we left.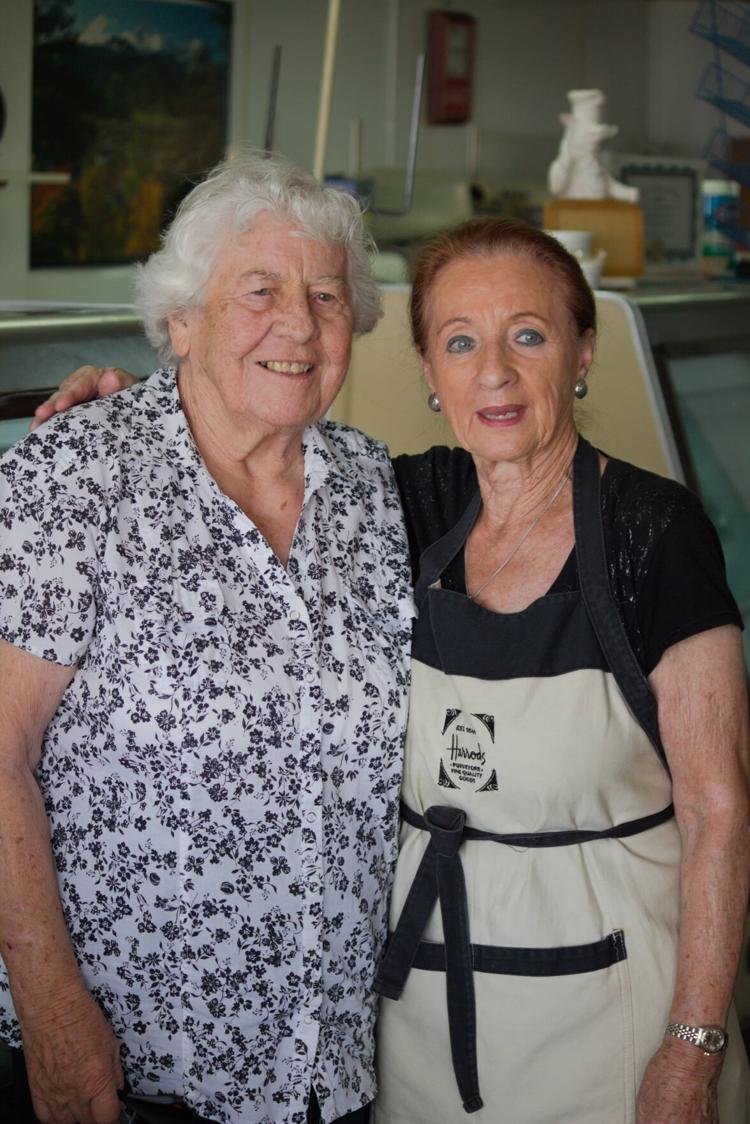 Today, the shelves are mostly empty. Lingerers include stable ingredients like sauce thickener, jars of pickled cabbage, and vials of rum and lemon extracts. Undine is holding on for them to sell or, more likely, expire.
"Since the pandemic, business has been shot," she said. Her customers, mostly elders from the German community, have gotten in the habit of staying at home. They have also steadily passed away. The customers who persist must navigate the construction site the town has erected outside of her store — a street-narrowing project intended to encourage a walkable downtown strip. "What planet are you living on?" said Undine. "Forget Sierra Vista," she said.
The attrition of the community is reflected in her business choices. When her deli cases went on the fritz, she wasn't going to pay to get them fixed. "I am not about to throw away money," she said, in a voice accented as much by her husband's New Jersey dialect as her own native tongue.
The only visitor she entertained in the five hours we were there was her next door neighbor, the woman who owns and runs Sunna's Korean Restaurant. Sunna was dressed regally, in a holographic black tunic with a black skirt that wrapped tightly around her fit legs. She hugged her stomach closely — she had recently fallen and broken a rib.
The women have leaned on each other to get through the pandemic. Sunna delivered a box of plastic bags and a single tomato that afternoon. Undine is going to take Sunna to get her vaccine, as soon as they share a day off. "I call her mama," Sunna said, of Undine. "My parents are gone. She knows everything about me."
These women have more in common than their address. "We're war brides," said Undine. Undine was 17 when she met her husband in K-town (Kaiserslautern, Germany), which was once the largest American military garrison outside of the United States. Her husband would go on to train for Vietnam at the same time as my uncle Rick, a naturalized American citizen who had volunteered to preempt the draft. Her husband is now 80. My uncle is dead, buried in the Fort Huachuca military cemetery a few miles down the road.
"One of my customers just died," Undine said. "She was 87. She came in one day and told me how she didn't want to get vaccinated. When she was in the hospital, her daughter wasn't even allowed in the room." Undine has been vaccinated since March. "Stupid," she said, voice full of grief and scorn.
My Oma did not mind the presence of these ghosts. She was happy to speak with Undine, and revisit her home of 14 years. On special occasions, my grandparents would go to town together to eat lunch at one of Undine's modest tables, covered with red cloth beneath a glass plate. The lace curtains hanging in the window looked exactly like their own. Both hard-of-hearing, they'd speak loudly in heavily accented English — their adopted language since the end of the war.
Today we're standing in an empty store. My Oma and Tante Ute (my aunt, Ute) drove from Tubac, cooler bags in tow, with the intention to buy Undine out of the sausage she had picked up in Tucson the past weekend. Her daughter brings orders down from Phoenix, where the last holdout of her suppliers lives. "German Sausage Co., out on Indian School Road?" Undine said. "He's from Heidelberg. We can't import sausages from Germany, but he knows what they're supposed to taste like."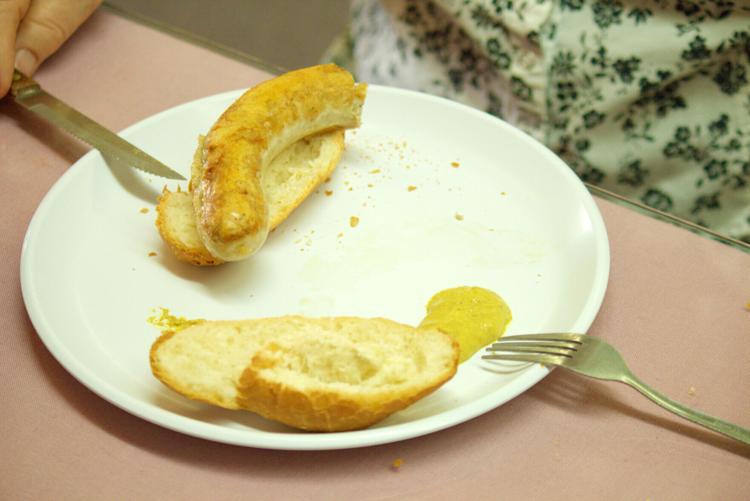 While German Sausage Co. knows how to make the sausages, Undine knows how to cook them. She took the sausages out of the freezer to thaw, and we kept chatting. She would return to the back of the deli to check on the pan (die Pfanne), where she cooked the sausages until their casing became properly browned.
She served the sausage with some American mustard and Brötchen she gets at La Baguette. It tasted like something you could get from a lunch counter in Köln, her hometown. The trick that makes both the sausage and roll distinctive in Germany is that each has a perfectly crispy, thin crust that gently snaps to give way to a soft, yet substantial, interior.
This was my first meal in Deutsches Eck, despite the hundreds I've eaten from ingredients my grandmother assembled from the deli. It could have been our last.
"I've been in business 34 years," Undine said. "Many people don't make it this long." Both she and Sunna are debating how long their businesses can last.
"I'm negotiating my lease next month," said Sunna. "If the landlord doesn't lower the price, I can't re-sign."
"I'm taking things day by day," said Undine. "The old days are gone, and they're not coming back."
Undine's Stammtisch is down to five members, including herself, all born before the end of the war. Behind the counter, she keeps pictures of customers who have since passed away.
Undine will soon be taking her yearly vacation to a timeshare in Oahu with her husband. "Yes, it's expensive," she said. "But that last shirt doesn't have any pockets."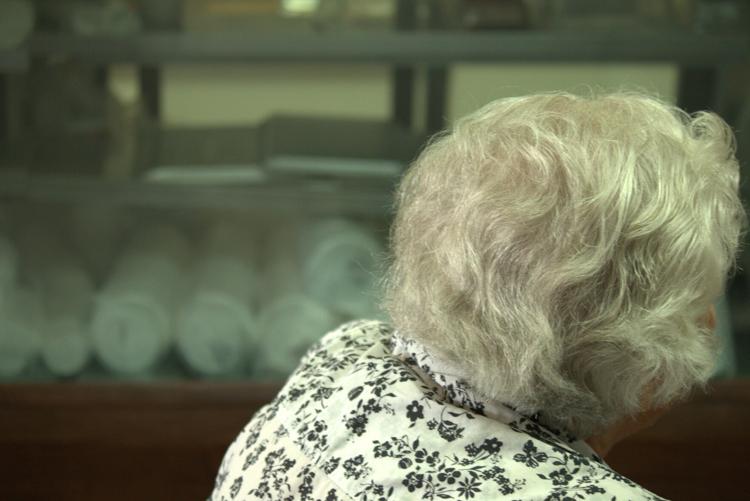 When Deutsches Eck is gone, you can still get German food in Sierra Vista — the military connection runs too deep to disappear completely. After lunch with Undine, we picked up a birthday cake and had Kaffeeklatsch at The German Cafe. I had spoken to Jessica, the server, over the phone while ordering the cake.
Jessica is a young, considerate woman, who never lets the phone ring unattended. Her tongue also trips over words that are like gospel to my family: "Spätzle," the noodles I mix with the Sauerbraten sauce and red cabbage; "Bienenstich," the cream cake with yeast dough topped with honey-glazed almonds that translates to "bee sting."
On our way home from our visit, we made a detour to stop at the Fort Huachuca cemetery. No one wrote down Rick's number, so we spent most of our time wandering between the rows of identical headstones looking for his name. My Oma, who is 94, focused on keeping her footing on the uneven grass that covers the graves.
My aunt is the one who found him. "It's always farther away from the trees than I expect," she said. Oma walked as fast as she could toward her daughter. I offered my arm, but she made her own way, using gravestones as support.
I hadn't been to his grave since the funeral. Before I could place myself, in the middle of an anonymous row, beneath the most beautiful mountains in southern Arizona, the emotion had passed like a monsoon through my relatives. My Oma covered her face with one hand and leaned on a memorial with the other.
"I'm ready to go now," she said.
If you'd like to try Undine's Bratwurst while you still can, call ahead at 520-458-8228. Undine rarely checks her messages, so keep calling until you get through. She usually has her homemade potato salad for sale. On Fridays, she bakes a cake.