Allona Mulkey dons a sparkly crown, a glimmering smile and a white satin sash embroidered with a simple but meaningful title for the 36-year-old Tucsonan — "Ms. Arizona 2022."
But Mulkey is more than her lavish crown and sash.
She's a local full-time registered dental hygienist and single mother to her 5-year-old daughter, Avery.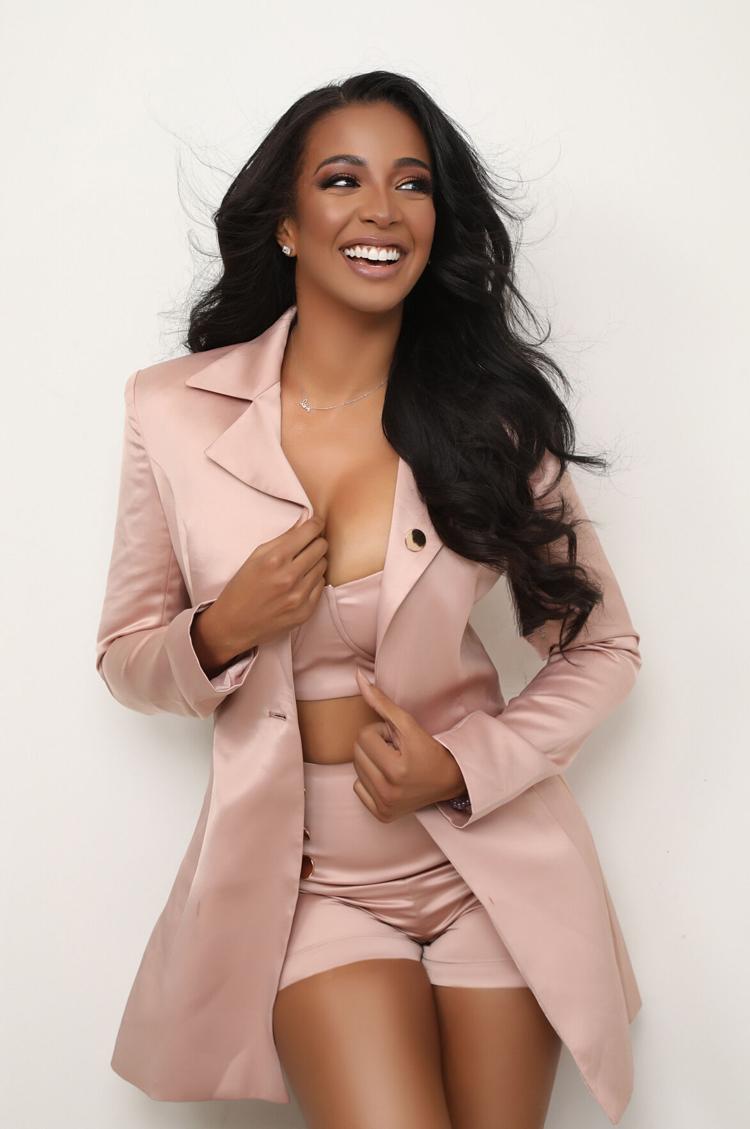 Mulkey began her pageant journey a couple of years ago when the stress of being a single mother was taking a toll on her, financially and mentally.
"I was losing hours at work, I couldn't afford to pay for my rent, we almost had to live in my car," she said. "It was a balance between, 'Do I pay for groceries? Or do I pay for the electric to keep us warm?'"
The stress, she said, initially made her lose sight of her true self but later motivated her to find an outlet to help relieve her stress and find herself again. 
That outlet was pageantry.
Mulkey began to dabble into beauty pageants when she was just 22 years old, but fully took the plunge into traditional beauty pageants about two years ago when she stumbled upon a Facebook ad for a pageant seeking local titleholders.
"I was like, 'You know what, let me just give this a shot.' Let me see if I can pull myself out of where I am and just find that confidence again," Mulkey said.
She went on to compete for the state title of the Arizona America Pageant and was crowned Miss Arizona for America.
"I won and I was not expecting that. I really just did it to set some goals and get into a good mindset again," she said.
To 'inspire, empower and uplift'
Soon after, Mulkey was approached to compete in the United States of America pageant system. This particular pageant system uses its platform to "inspire, empower and uplift people from all walks of life," according to Mulkey. 
Mulkey's goal when competing in the Ms. division of the pageant was to place in the top five of competitors, so when she won the title of "Ms. Arizona 2022," she was in complete awe.
Now, the Tucsonan is using her title to promote her platform called "Finding Your Light."
"It's about getting out into the community," she said. "I work with the local women shelters here in Tucson and speak with mothers and just help them find hope through their adversities as I did, you know, whatever that may be in their lives, or just being there for them to talk about their struggles and find out what their goals are and how they can attain those goals and what their passions may be."
She also works with the Ronald McDonald House Charities of Southern Arizona, where she plans to do more volunteer work this year. As Ms. Arizona 2022, she aspires to bring hope and light on a local and national scale by promoting kindness in her community and beyond.
"I feel we all need to be brought together in kindness because with everything that has gone on within the last couple of years, everyone has felt it, you know, young, old and middle age," Mulkey said. "We all just need to show each other a little bit more kindness to become unified again." 
As she prepares for the biggest pageant of her career, she has her sights set on finding local sponsors to help fund her journey to the national stage. 
To help support her journey, AR Workshop Tucson is hosting a fundraising event for Mulkey on Jan. 15 at 5 p.m., located at its workshop near Oracle and Ina roads, so you're able to meet and get crafty with Ms. Arizona 2022 yourself.
She also has a GoFundMe campaign set up for anybody who wants to make a contribution.
The national USOA pageant in February will be Mulkey's last whirl in the world of beauty pageants as she plans to hang up her crown and sash after she completes her duties as Ms. Arizona (and possibly, United States of America's Ms.) after this year. The reason behind her pageant retirement is simple: she wants to fully dedicate her time to supporting her daughter as she begins kindergarten.
At times balancing work, personal and pageant life can be challenging, but when it comes to something you love, you manage to make time for it, according to Mulkey.
"My daughter is the No. 1 priority for me and I love her with all of my heart so I make sure that I make time for her," she said. "And when I go out on my appearances, she's right there with me."
Although hanging up her sash and crown is "bittersweet," Mulkey said she would be open to returning to pageantry in the future.
"I truly do love this and I truly do love inspiring other women to go into this because it is a great community of powerhouses. The opportunities that it can open for you and being able to give (back) is where the real sash and crown goes," Mulkey said.