Perhaps you were one of the few people who wasn't in line at Amy's Donuts Monday morning. Congrats! You are strong, and you are healthy ...
You also avoided a mad scene. When we arrived around 11:30 a.m., the line had stretched around the building, with people waiting in 100+ degree heat for sugary pastries. The store opened its doors for the first time at 4 a.m., and employees arrived at midnight to begin baking the hoards of donuts we saw come out of the back. 
[Update: After the overwhelming first day, Amy's Donuts has decided to shut its doors until it reopens on June 24.]
Employee Raeanne Green said she said the store had already gone through eight to 10 massive bags of flour. Behind the counter we saw gallons upon gallons of chocolate, fruit and cream toppings inside clear plastic containers. At any time, Amy's puts out more than 100 different flavors, including Fruity Pebbles, Peanut M&M's, S'mores, Snickers and more.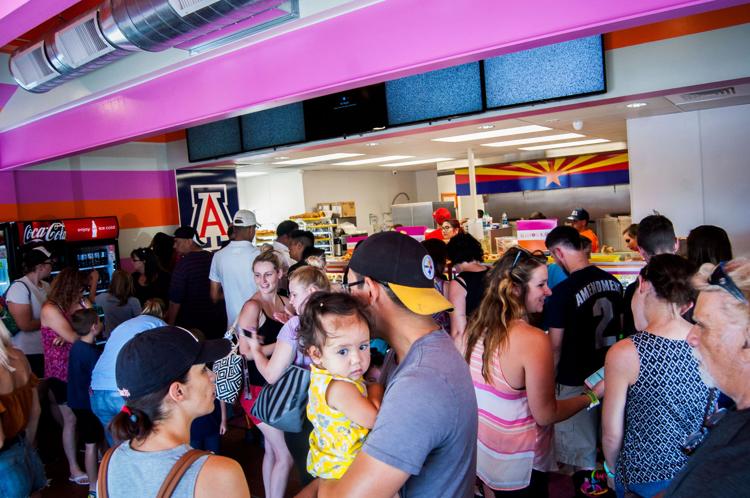 The store at 101 E. Fort Lowell Road will be open 24 hours a day, seven days a week. And the team plans to open a drive-thru in the future, Green said. She estimated that the store had already served hundreds of people. We can see why ... the doughnuts were definitely sugary, but they were actually pretty darn good. (I was surprised, honestly.) They were fluffy but not too fluffy, with a nice bready chew that countered the sweetness.
Don't trust us? Go see for yourself!