---
The traditional Mexican tamale is basically a mini-folded time machine that most of us border dwellers know too well. Maybe you treasure your great-aunts carefully filling corn husks with masa and green chile around the holidays, or flagging down the tamale lady in a parking lot because you heard she had the best in town. Having those memories of eating a warm tamal on a chilly day is really special to anyone who has called Tucson home. 
As much as we want to keep those nostalgic thoughts of the tamal we know in our hearts, people all around town are doing creative takes on the comfort food of the Southwest. 
We visited four places in town, all with their own unique outlook on the tamal — Some didn't even have wrappers! Let the tamale adventure begin ...
Huevos entamalados at The Little One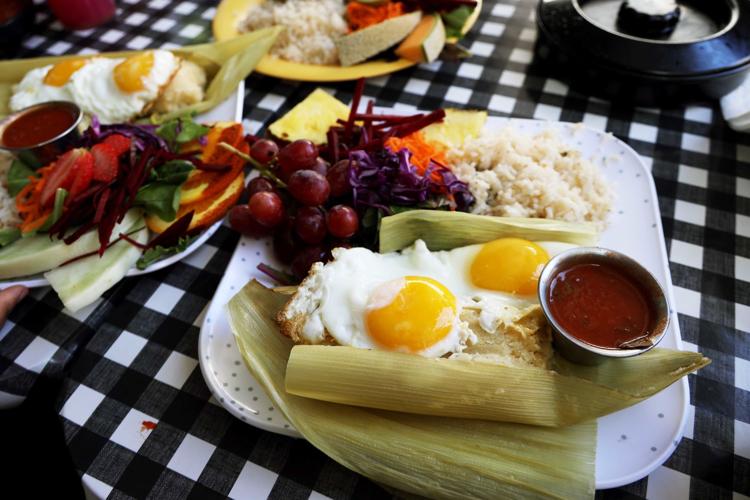 We couldn't make a tamale guide without putting a green corn on the list, because that sweet cheesy simplicity is everything in our masa world. We're not going to go into who has the best (I know I know, it's your nana) but I will say that The Little One downtown makes a mean breakfast version with runny eggs on top.
The best thing about this meal is the variety: Every plate comes with tortillas, a beautiful array of fruits and a big old bowl of juicy beans. If you haven't been, be prepared for an experience that may include hugs, very loud music and the occasional reprimand if they catch you on your phone. But that's what makes this place special. Also, The Little One goes that extra mile to cut down on waste, so purchase a refillable mason jar or bring your own reusable cup and take your drink to-go! 
Roasted chicken and tamal sandwich at Time Market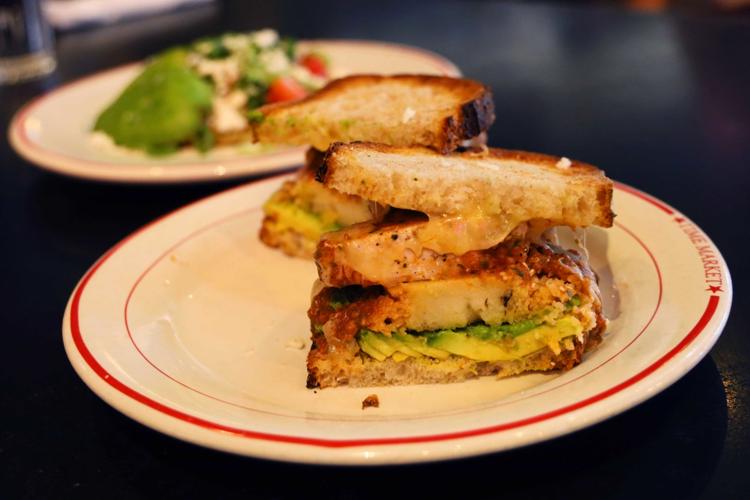 You wouldn't expect to find a tamal dish at Time Market, but they actually have not one, but two. We were really impressed by their breakfast tamal plate, which featured a perfectly-poached egg and a colorful spread with tomatoes, chiles, avocados and more. But we were here for the roasted chicken and tamal sandwich, because what???
The concept of a tamal sandwich is actually a thing in Mexico City, where you can get a guajolota as a street snack. Time Market's version is in a different realm than the simple tamal in crusty bolillo bun: It's got housemade pain levain bread and a delicate fan of avocado that screams CHEF CITY! It works out incredibly well though, with all the elements playing together to make a well-constructed sandwich. Also, that salsa is much spicier than you'd think. 
Tamales at Selena's Salvadorian Restaurant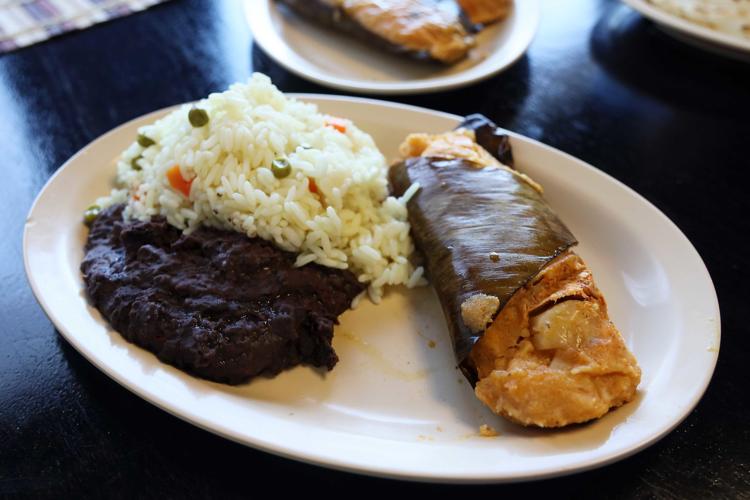 With their naturally-preserving layer of corn masa, tamales are basically the world's best food delivery system. That's why you can find them in countries all over Latin America. El Salvador has its own unique version of the corn masa tamal, with shredded chicken and vegetables wrapped in a banana leaf rather than a corn husk. The masa is also tinged with achiote which gives it a red color, and mixed with chicken broth for extra smoothness and a savory boost. 
We chowed down on some of these tamales at the new Selena's Salvadorian Restaurant in midtown. The place is known for its pupusas (we see you there Leo!) but they also make both a chicken and a vegan tamal with spinach and other delights. My favorite thing about these tamales is that you can top them with some of that curtido, the pickled cabbage slaw of El Salvador that's flecked with herby bits of oregano. It really makes the tamales pop!    
Tamale pie at El Corral steakhouse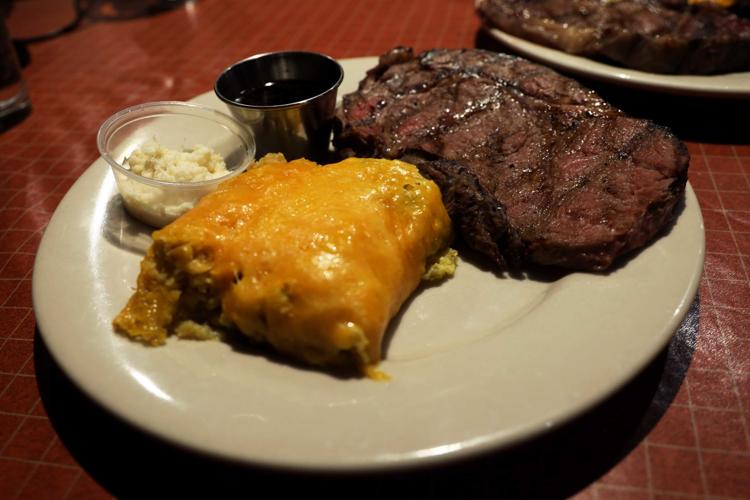 Not gonna lie, half of the reason I wanted to cover this restaurant was because I just LOVE PRIME RIB. But the other half was because the tamale pie is essentially an American tamale. (The only other purely American tamale I can think of is the abomination known as the Chicago tamale, which you can try if you drive up to Portillo's in Tempe. Note: I am not actually recommending this.)  
The tamale pie on the other hand is a delicious patty of cornmeal and melted cheese, baked in the oven rather than being steamed in a husk. El Corral's version has green chile in it, actually less spicy than you think. The dish has been on the menu since 1975, which is actually not that long in El Corral time. The restaurant just celebrated its 80th anniversary. The tamale pie is a recommended side dish for the "legendary" prime rib, which just happens to be their main seller. Dip that beefy baby in some horseradish and then cool yourself down with the soft cheesy corn masa. It's a perfect combo!   
---

Before you head down the road, take your car to Jack Furrier Tire & Auto Care to get it Road Trip Ready with 50 percent off services that will get you where you need to go. Click here for more info or call 520-547-5005. With 14 locations around Tucson, you'll find one near you.