I can't say that Tucson doesn't have any bagels. We have very few, and I have tried them all: canvassing supermarkets for hidden gems; driving 30 minutes north to The Bagel Joint in Oro Valley; putting cream cheese on an Everything Cubano from Barrio Bread, closing my eyes and pretending that I'm eating a bagel.
I remember the first time I went to Beyond Bread as a kid, I asked for a bagel. When they said they didn't have any, I vented in the car to my mom: "What else is beyond bread if not a bagel? A bagel IS bread." I couldn't be consoled, and 20 years later ― despite their beloved Back Dough pies and other fine specialties like babka ― they still do not make bagels.
Then, last week, my long-held prayers were answered by Kyle Leuer and Becca Groff, when they soft-opened Bubbe's Fine Bagels. I had been lurking the new bagel joint, at 1101 N. Wilmot Road near Speedway, on social media for months. They officially opened today, with hours Tuesday through Sunday, from 7 a.m. to 2 p.m. ― or when they sell out.
While the most crucial part of a bagel spot is the bread itself ― which we will get to shortly ― I'd be remiss to neglect Bubbe's command of flavors. The schmears are small in number but large in quality: they're cultivating a precious roster. You're going to get addicted to their chive and green onion cream cheese.
You get the sense they're showing off with their open-faced lox sandwich. I'm not sure what they're going to do when heirloom tomatoes go out of season, because the fresh, tangy bite of the green tomato reaches decadence in play with delightfully pungent capers, lox and red onion.
They had run out of avocado by the time I was ordering my sandwich (during the soft open ― they've since made adjustments, including making three times the number of bagels), but I imagine the added fattiness on TOP of the cream cheese, extra virgin olive oil and lox might be indulgent to the point of moral decay.
The bagels themselves are toothsome and substantial, dense and chewy without being weighed down. There's no trace of the gruesome foaminess or uniformity present in mass-produced bagels. Each bite offers a new cross-section, replete with air bubbles of every size, from a pinprick to an irregular marble. Their three-day fermentation process might have something to do with it.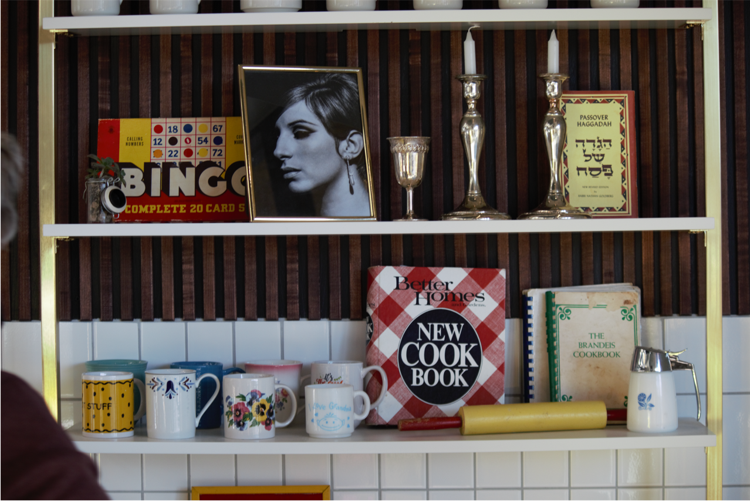 While the decor of a bagel shop does not implicate the quality of its content, now that we've established that you need to try their open-faced lox sandwich, we can gush about the shop itself.
Becca and Kyle's attention to detail is complete. Becca works the counter and treats each customer like a friend she hasn't met yet, despite surely being inundated managing a bustling store and staff. They offer half and half and oat milk as coffee creamers because they're her favorite (and mine too). Some days, their staff wear shirts that say "Nosh nosh nosh nosh" and other days, their shirts explain their name: Bubbe means Abuela means Grandma.
Their logo might be polished to a fault (a friend assumed Bubbe's was a chain based on its svelte design), but while the interior is clearly newly renovated, it's charming without being twee. The sunny yellow accent is impossible to resist. The homage to the eponymous Jewish grandmother on the rightmost wall feels like a gift.
Silver candlesticks, a worn Brandeis cookbook, a trove of vintage china, and a framed portrait of a young Barbra Streisand: the shrine evokes a Bubbe's blessing, and one that we're lucky to share.