Taped to the door of House of Egg Roll in Chandler, there's a paper sign with the apology, "Notice: We sold out orange chicken, General Tso's chicken, sweet and sour chicken, sesame chicken."  
I remember that sign from a few weeks ago ... And when I drove back up from Tucson to relive one of the most epic and tantalizing Chinese feasts of my life, it was still there. It could be that the spot's owner — Changhai Huang from the Shaanxi province of China — is simply a very polite person.
But just a few months ago, this mind-blowing restaurant was an average Chinese takeout place with the same name. (I actually grew up in Chandler a couple miles from the restaurant at 961 W. Ray Road, and don't have the foggiest memory of it.)
When Huang and chef Lin Zhao took it over, they ditched the General Tso's and revamped the whole menu with obscure recipes you'd be hard-pressed to find in even America's biggest cities ... dishes like a sweet fermented soup of glutinous rice balls, and cumin lamb stuffed into mini Shaanxi sandwiches that look like English muffins. 
Despite the name on the sign, House of Egg Roll is actually no House of Egg Roll at all. (Although they do still serve egg rolls.) The restaurant's real name is a Mandarin expression that translates into Home in Shaanxi, but Zhao said they kept the previous owner's name House of Egg Roll out of convenience. 
It seems to have worked out. House of Egg Roll was just listed as one of the best Chinese restaurants in America by the national publication Time Out Magazine. Among the 17 "stand-out" picks there's one clear theme: terroir. 
The United States is just beginning to freak out over the wild wonders of regional Chinese restaurants. Thanks in part to hipster ambassadors like Danny Bowien of Mission Chinese Food in San Francisco, we're starting to see the world's most populous country for what it really is ... not just the land of fried rice and sesame chicken. 
Phoenix's suburban East Valley is now home to Beijing dumpling places, ballroom-style dim sum restaurants, tongue tingling Szechwan soups and even a restaurant across the street from House of Egg Roll that specializes in the fried meat pies of Northeastern China. (While Tucson hasn't gotten this far, we do have a hot pot restaurant and two awesome Szechwan places Jun Dynasty and China Szechwan.) But even to Chinese food trailblazers, the Shaanxi is new territory ...
Well in fact, it's very old. This northwestern Chinese province sits at the beginning of the ancient Silk Road trade route and is home to a dizzying array of dishes that draw from all parts of the world. Its capital Xi'an (home of the Terra Cotta Warriors) has been under 13 separate feudal dynasties in the past thousand years, and also draws a huge influence from its Muslim population. 
You see this in the restaurant's Shaanxi barbecue, skewered kebabs of cumin-laced meats typically eaten as street snacks in Xi'an's Muslim Quarter. There's also the Shaanxi sandwiches, spicy meats stuffed into disks of puffy pita-like bread that House of Egg Roll bakes fresh every morning. Looking around the room at House of Egg Roll, every table seemed to have one.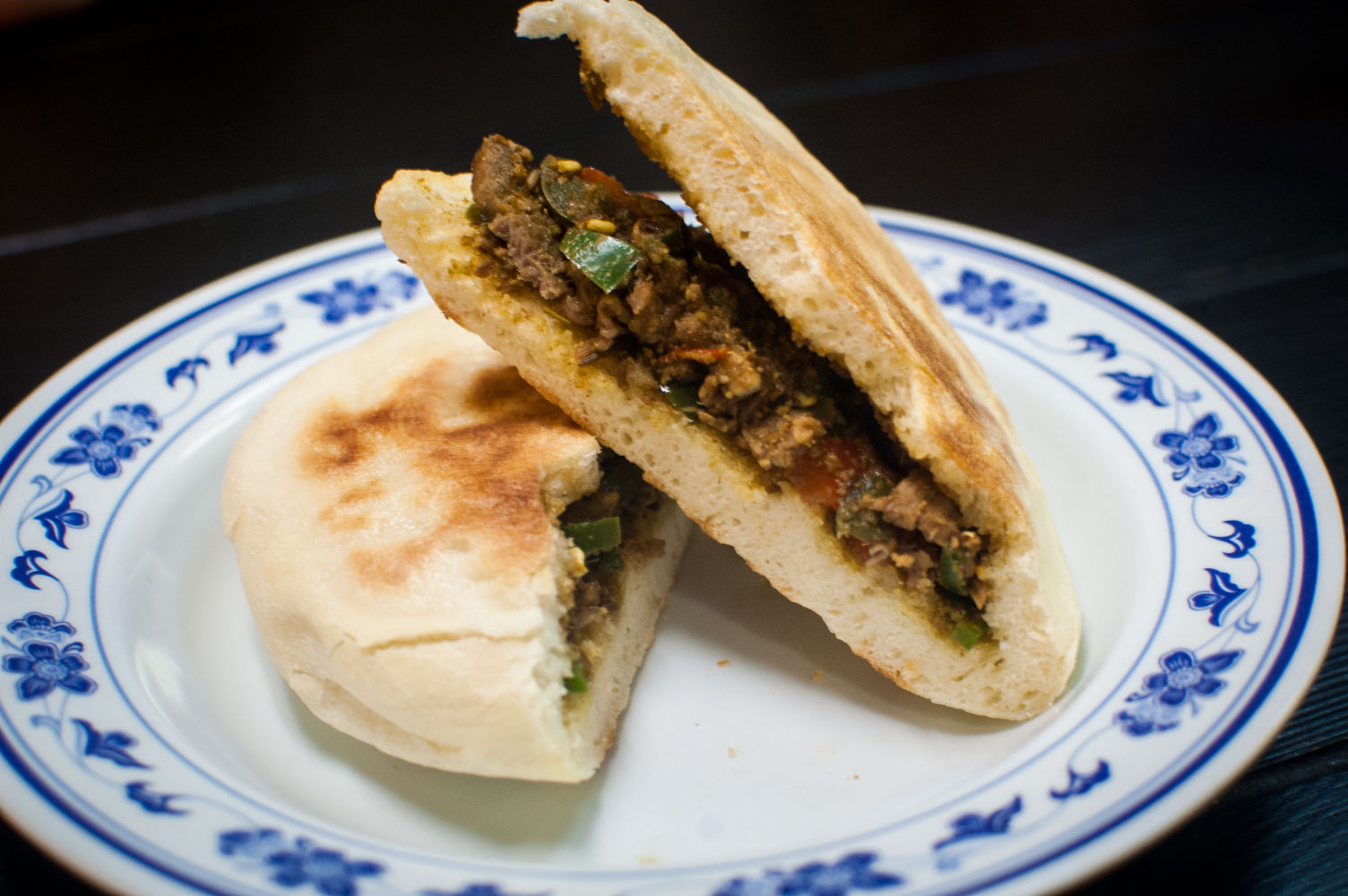 #63: Shaanxi sandwich with cumin lamb, $4.95
But the true iconic dish from this wheat producing area is actually a noodle, just one, to be exact. It goes by the name "Shaanxi noodle" on the menu, and it looks like chow fun on steroids. The puffy wheat noodle is so fat and long that it fills up the entire bowl. They bring it out to the table curled up like belt in a drawer, with just a smidgen of bean sprouts, dried chiles and Chinese greens that you're supposed to mix all together, if you can. The noodle is actually pretty hard to eat without a knife, but it's so freakin' good ... 
There's a Chinese expression out there that says one noodle can make a bowlful of soup. People eat these noodles on their birthdays, because they symbolize long life. At House of Egg Roll they prepare them fresh every morning using ingredients imported from Los Angeles. The process involves a good deal of intricate knife cuts, and can only be done by a true master. 
But alas ... One cannot live on noodles alone. So here are four other dishes we recommend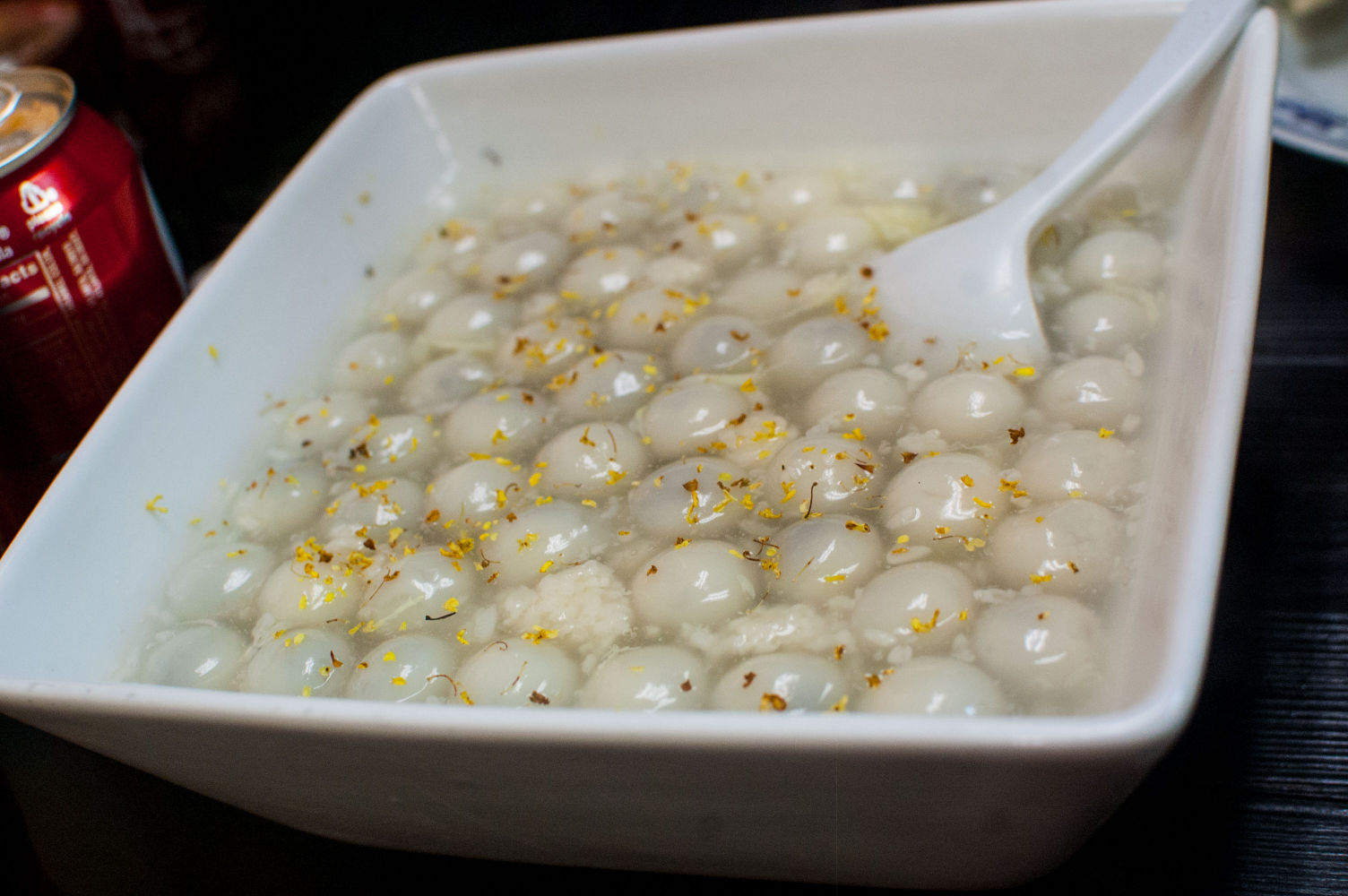 #12: Sweet Fermented Glutinous Rice Ball Soup, $7.75
The clear favorite of my dining partner, this otherdimensional soup is a synthesis of sweetness and funk. The broth is fermented, for the one thing, and tastes like sugary warmed sake with dried flowers floating on top. Then there's the spheres of glutinous rice that pop in your mouth like giant boba balls. Freaktastic.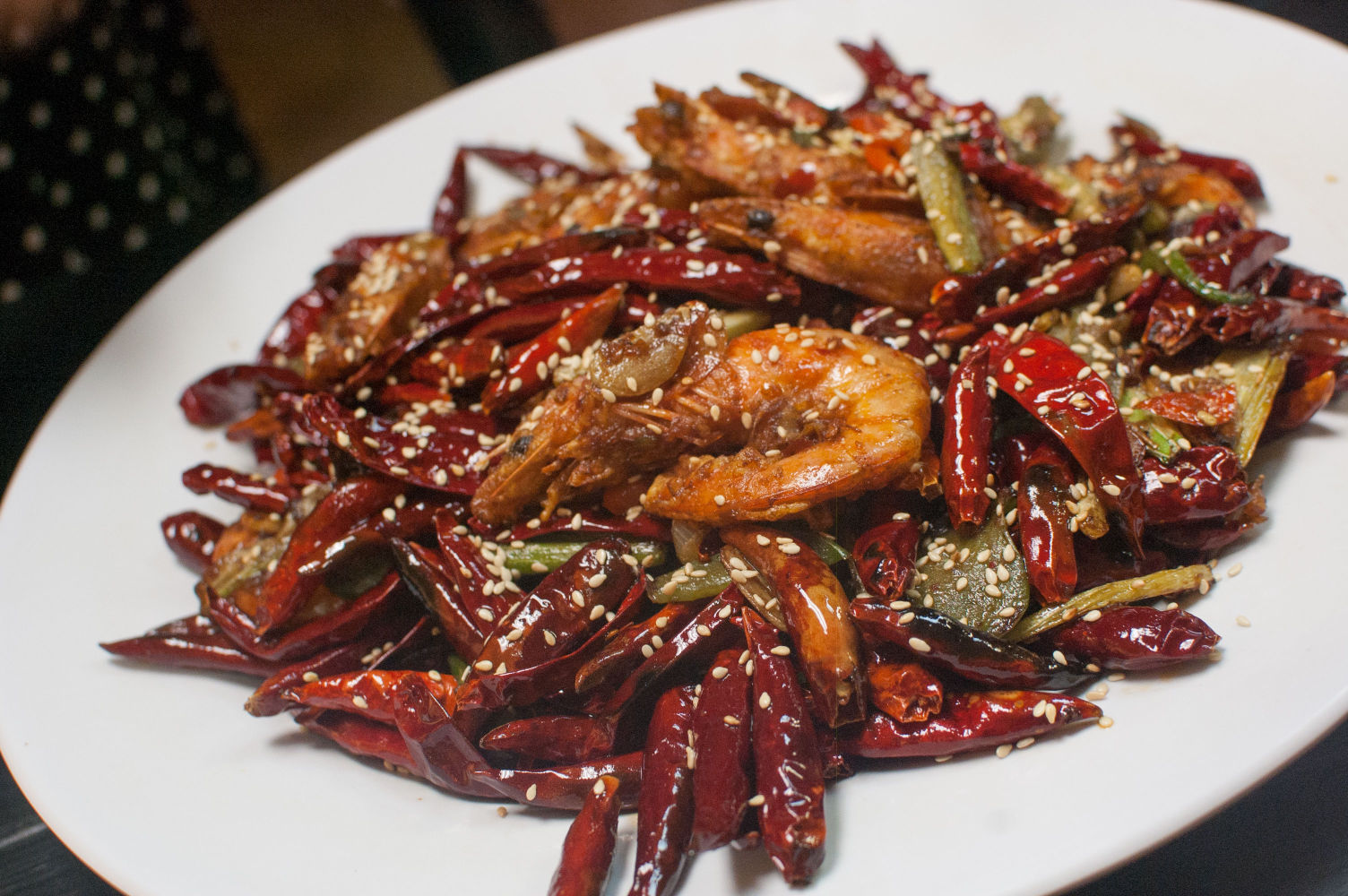 #18: Shrimp with spicy hot chili sauce, $16.95
This one's for fans of exoskeletons. As far as I know you're supposed to eat the shrimps whole, shell and all. (God help me if I'm wrong, 'cause I ate a lot of them!) The creaminess of the shrimp flesh offsets the fragrant chile spice for a well-balanced snack. Best for sharing.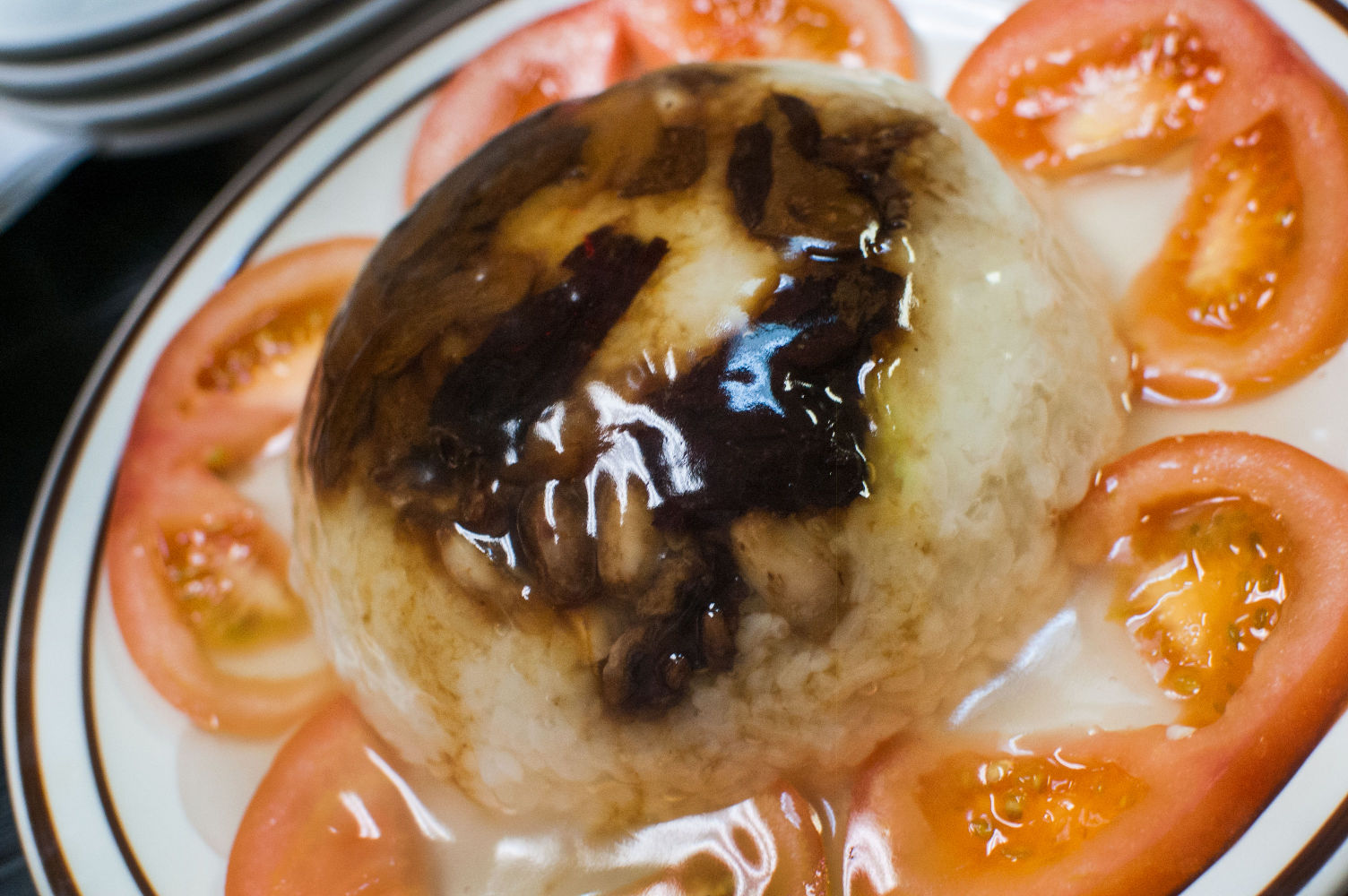 #16: Eight Precious Rice Pudding, $9.95
According to our host PingPing Xiao, China does "dessert" in a really different way than America. Basically they can eat the sweets at the same time as the savories, and not feel bad about it. This strange vessel is a great example: It's a stately dome of sticky rice pudding, with rich plum fruits laced on the top. On the sides, you've got fresh sliced tomatoes, which work in a way I never thought they would.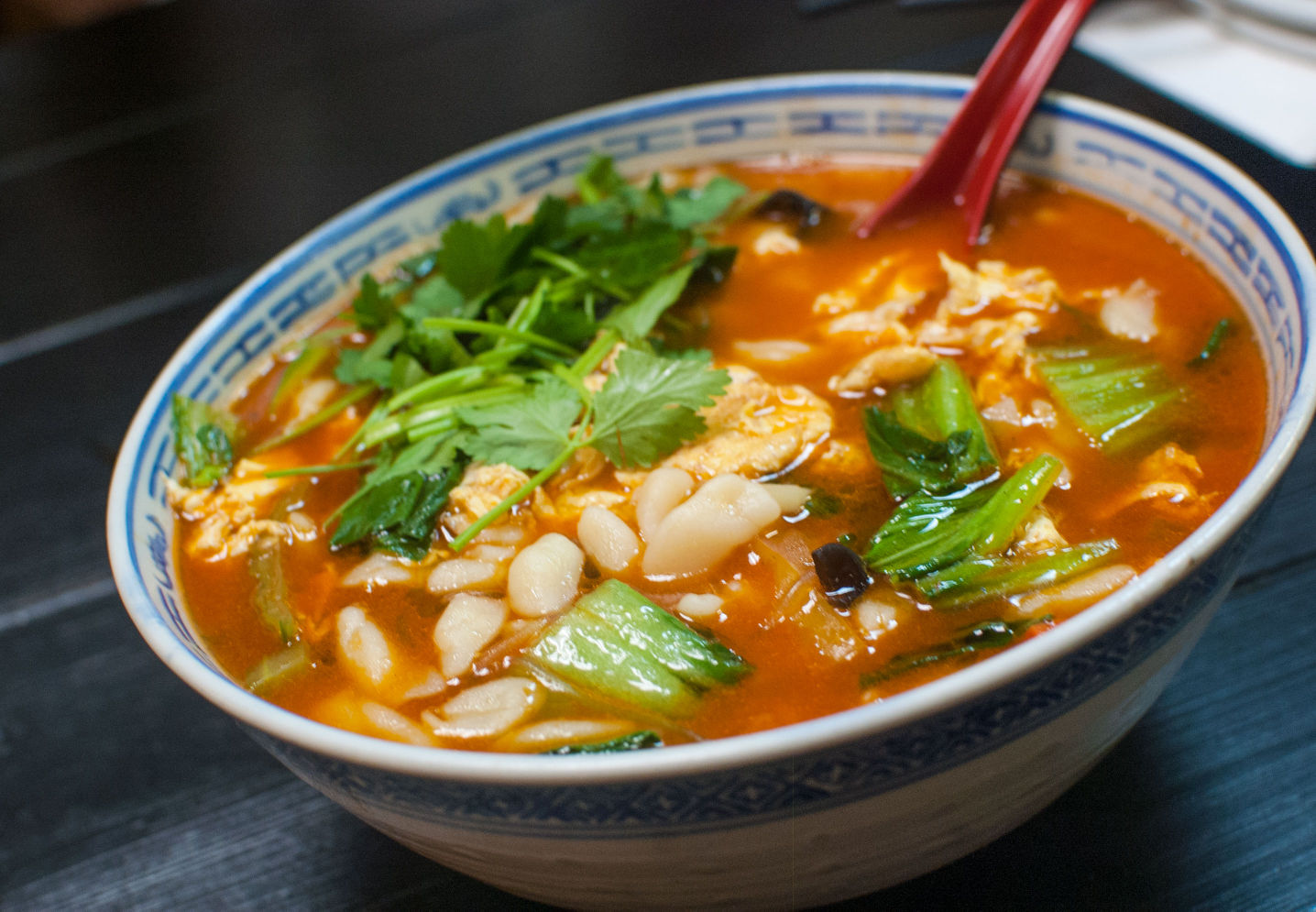 #59: Small handmade noodles nuggets, $8.25
Our entire table took a vote and this came out on top. This soup has everything in a silken tomato broth: egg scrambles, fresh cilantro and greens, little noodle nuggets that were chewy like gnocchi, and even some of those slurpy glass noodles underneath. In a dinner that took us to the limit, this soup was both intriguing and approachable. Amazing!