The ocotillo is one of the tallest and weirdest plants in the desert. It doesn't even know it's a shrub.
What looks like a bunch of sticks standing straight toward the sky is actually a collection long spiny stems that leaf during times of rain and flower spectacularly in the springtime.
Here are some interesting things about the ocotillo.   
Their name in Spanish means "little torch"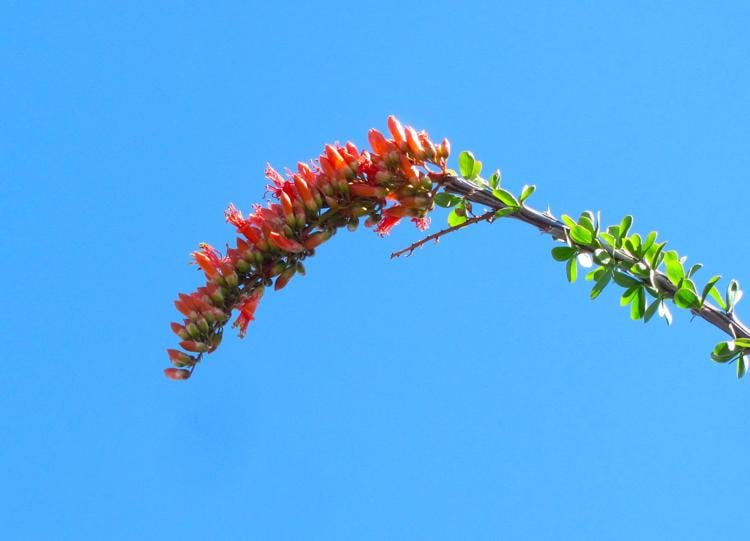 Ocotillos are named after the cluster of fiery red flowers you can find at the end of their stems from about March to June.
It has a bunch of weird nicknames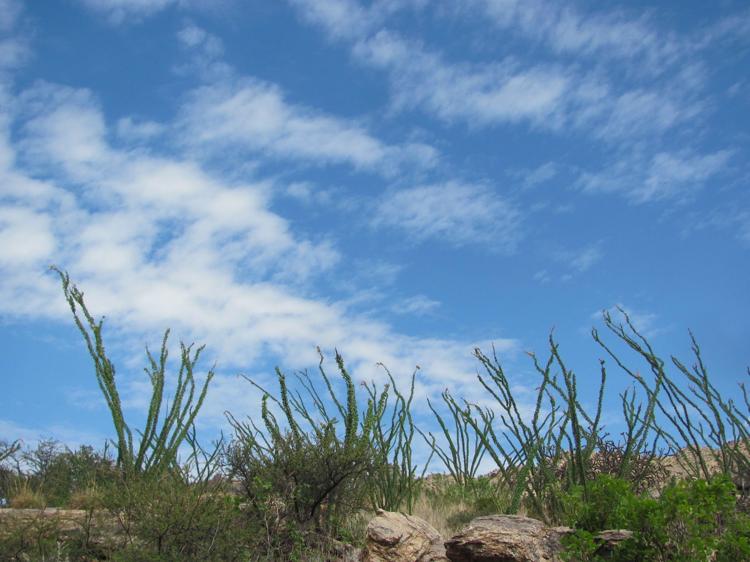 Some favorites include Flaming Sword, Jacob's Staff, Desert Coral, Candlewood, Vine Cactus, and Coachwhip.
Hummingbirds are their BFFs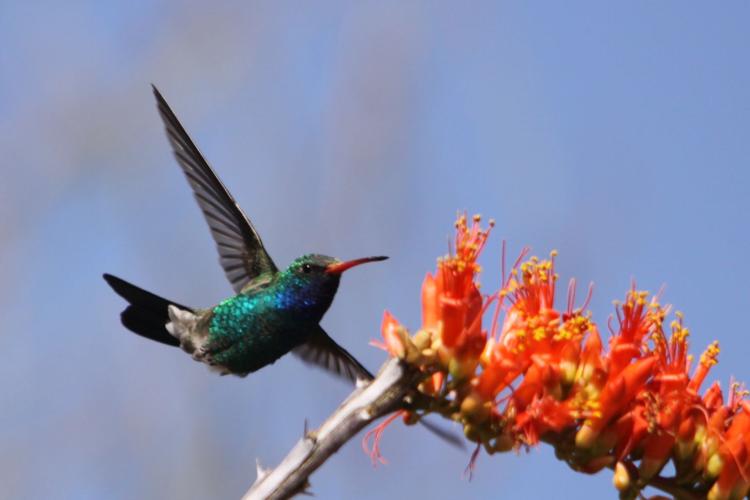 The tube-like shape of the ocotillo flowers makes it easier for the hummingbird to get nectar with its beak, and in turn, the hummingbird helps pollinate the flower. It's a win-win!
The ocotillo also provides a dependable food source for hummingbirds when other spring plants are unable to bloom. 
Speaking of food, you can eat the flowers too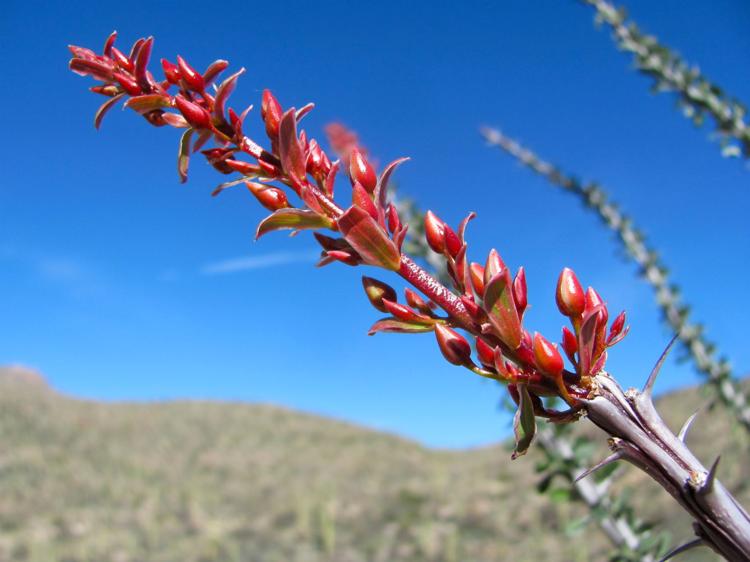 Just be sure to get written permission before harvesting these red flowers on private, state or federal land. Ocotillos are protected under the Arizona Native Plant Law.
Ocotillos put on a show every spring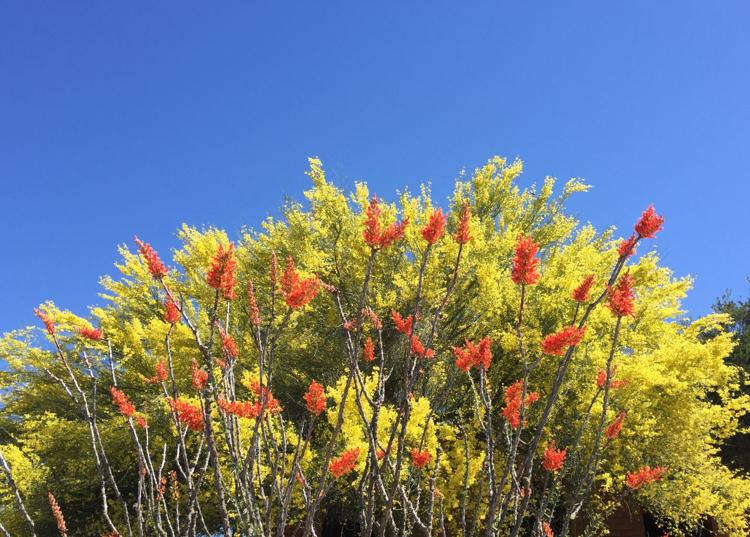 Blooming season for the ocotillo happens between mid-February to mid-April.
Because they are more drought-hearty compared to your average wildflower, ocotillos bloom consistently every year, according to this Arizona Daily Star article. 
Ocotillos are pros at conserving water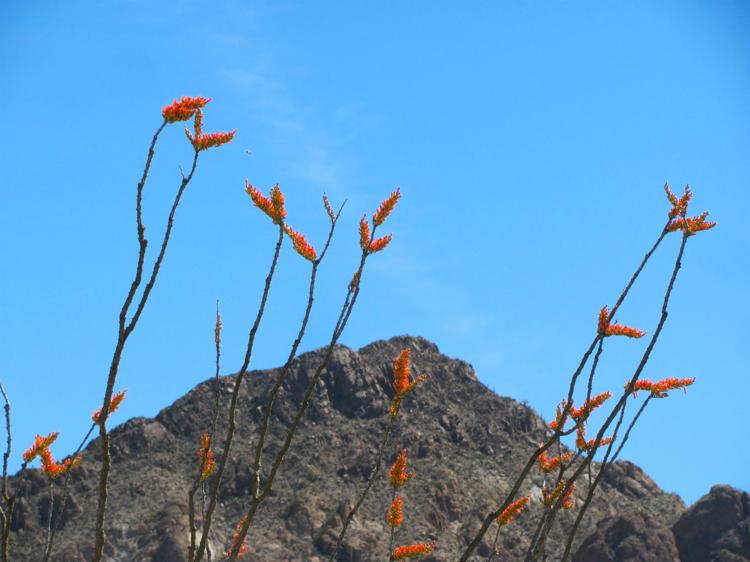 Native to the Sonoran and the Chihuahuan deserts, the ocotillo is no stranger to hot and dry climates.
When there's enough moisture in the soil, small oval leaves about two-inches in diameter will sprout from its brown stems. When the water dries up, the leaves will fall and the the plant will rely on the chlorophyll inside its stems to photosynthesize. This process can happen four or five times a year depending on the amount of rainfall.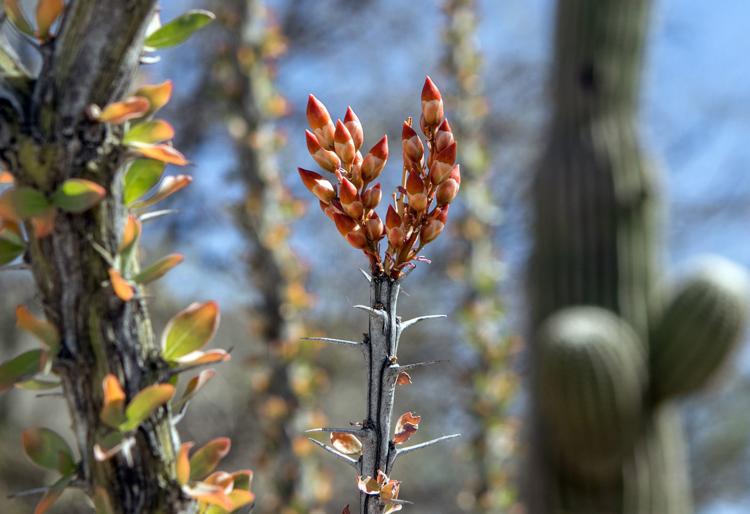 They may have thorns and have the ability to live in the desert, but the ocotillo is part of the Fourquieria family, which consists of 11 species of desert plants.
And they've got some fun family members.
One closely-related plant is the boojum tree and it's basically like a succulent Dr. Suess version of the ocotillo.
An expert conserving water as well, the boojum grows natively in the Sonoran Desert and Baja, California.
Ocotillos can grow up to 20-feet tall and live almost as long as a human!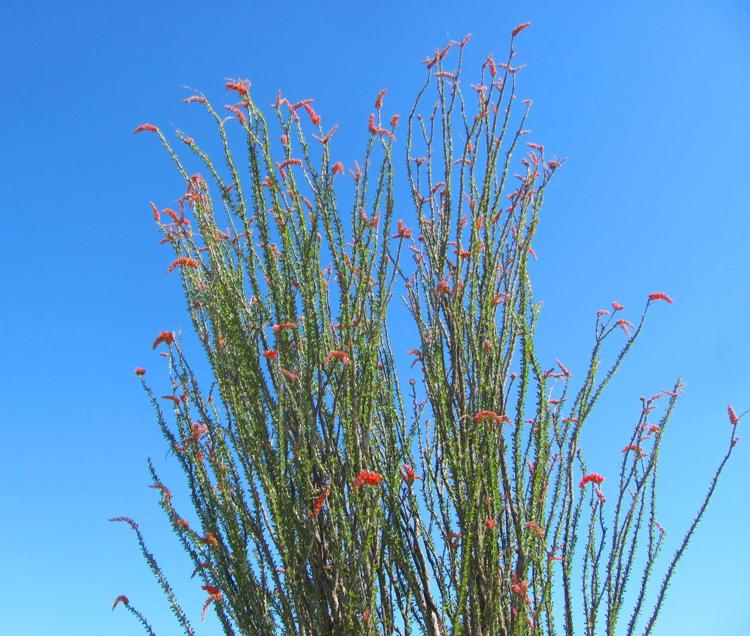 It's true! Ocotillo branches can reach heights up to 20-feet — that's one tall plant! It's estimated ocotillos can live up to 60 years, studies also indicate some could possibly be over 100 years in age.
You can build a living fence with ocotillo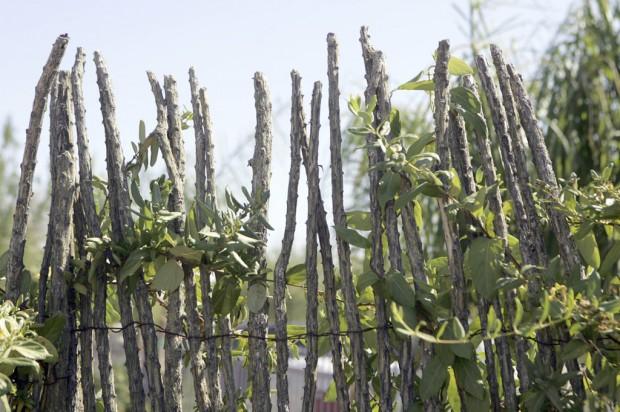 Just plant some ocotillo stems around your house and you're good to go! Well, it might take more work than that. Find out how to build this strong and prickly fence here. 
A Tucson florist made a life-size replica plane out of ocotillo in 1927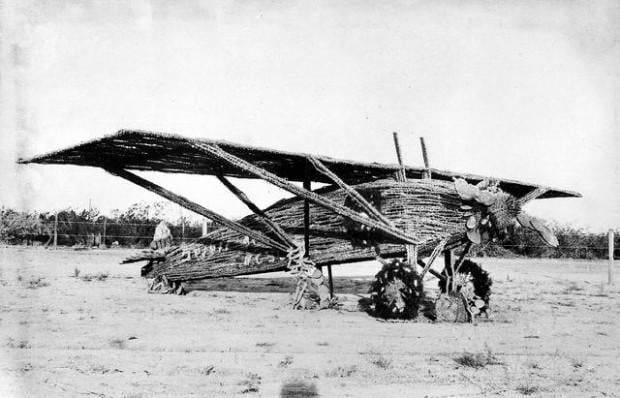 It was made by Hal Burns to resemble Charles A. Linderbergh's plane, the Spirit of St. Louis, as a way to welcome the pilot to Tucson. Lindbergh was in town to help dedicate Davis-Monthan Field.