This year's wildflower bloom has ranged from marginal to a flat-out fizzle depending on location — but another desert plant is coming to the chromatic rescue with brilliant red blooms busting out all over the Tucson valley.
The ocotillo, a woody shrub with long spiny stems, puts on a dependable bloom every spring regardless of drought or other problems, botanists say.
"Our 34 years of records on wild ocotillos here have not shown a single year without flowering," said John Wiens of the botany department at the Arizona-Sonora Desert Museum west of Tucson. "Some years the bloom period is shorter than others, though.
"Here, records show the populations began flowering anytime from the second week in February to mid-April," Wiens said. "There are even two years where there were scattered plants blooming in January. Most of the years, flowering began between the first week of March and the first week of April."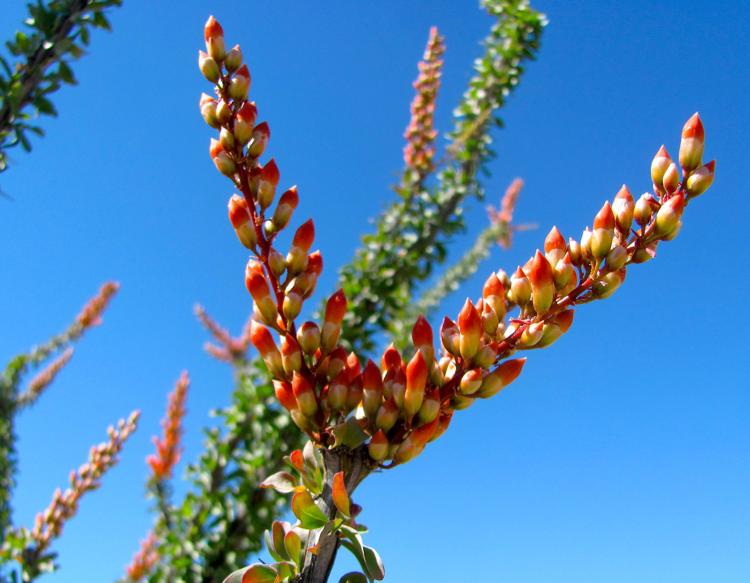 WHY THEY'RE SO RELIABLE
"We see much more reliable spring flowering with perennial plants than annuals," Wiens said. "Ocotillos are perennial — living more than one year — and have extensive woody roots that allow survival during drought and quick take-up of rainfall."
He said ocotillos are considered woody shrubs, but they also have qualities of succulent plants, such as drought tolerance and the ability to spring into growth quickly with a little rain.
"However, they have neither succulent tissue nor a cactus form of water-saving photosynthesis," Wiens said. "Instead, they have what we call 'idling metabolism' which allows them to leaf out and begin photosynthesizing quickly after rains."
Many other plants, by comparison, go into deep dormancy during dry seasons and take a couple of weeks to green up after a rain.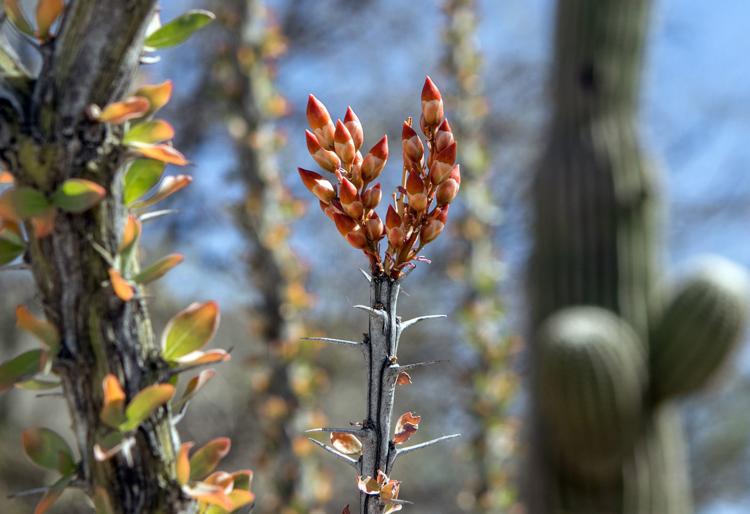 A HUMMINGBIRD CONNECTION
"Ocotillo has co-evolved with hummingbirds as its pollinator," Wiens noted. "The flowers have a bit of nectar and are tubular-shaped to fit the hummers' bills.
"The bird gets nectar while pollinating the flower."
WHERE TO SEE OCOTILLOS
The tall plants, with blooms at the tips of their long gangly stems, are abundant in deserts, canyons and foothills around Tucson. They can grow up to 20 feet high.
Watch for them on drives, walks or hikes and you're likely to see some — or many — in bloom.
Saguaro National Park, with units east and west of Tucson, and Tucson Mountain Park west of the city are places with lots of ocotillos.
Contact reporter Doug Kreutz at dkreutz@tucson.com or at 573-4192. On Twitter: @DouglasKreutz