"It's contagious. With more positive activity at the park, it shows people care about where they live and it brings us all together," says neighborhood association president Mike Southworth. "Just seeing some positivity throughout your day — just having a space that's sort of a beacon of positivity — is really nice."
The kindness tree sits at Palo Verde Park, on Tucson's east side, between the pool and dog park. It's labeled with a giant red heart and is surrounded by little trinkets of positivity for the community to share and take — pocket angels, painted kindness rocks, sometimes even fresh fruit and other items that neighbors no longer need for themselves but want to share with someone else.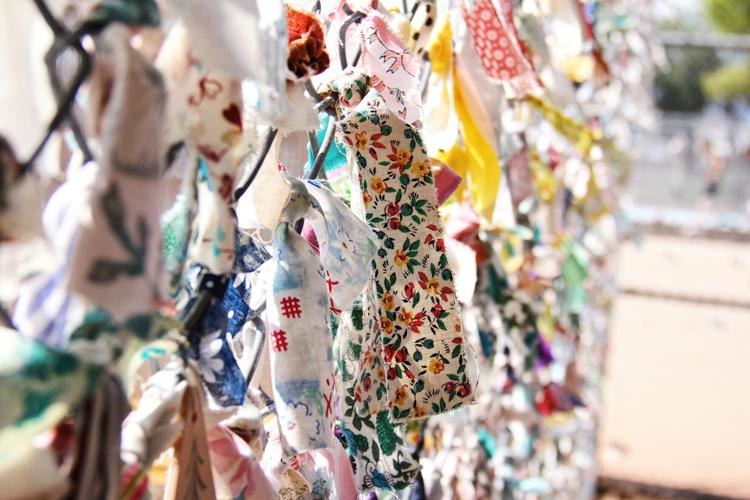 There's also a seed exchange, plus a chain link fence covered in fabric bows under a sign that reads, "Tie a bow, make a wish."
Dianne Bustamante, who has lived in the neighborhood for more than three decades, helped put together the kindness tree around Valentine's Day in 2020 — having no idea that her neighbors would appreciate the tree even more the following month when the COVID-19 pandemic shook the nation.
"It's kinda brought the neighborhood together and then people want to get involved," Bustamante says.
The idea of adding pocket angels — tokens shaped as angels that are small enough to fit in your pocket — to the kindness tree was a way to honor Bustamante's late coworker.
"I thought, 'What better way to keep her light going than to have her as an angel?'" Bustamante says.
"I've heard stories where people will say, 'I gave (a pocket angel) to my aunt who has cancer to make her feel comfortable and put her at ease,'" says neighbor Fred Araiza.
Palo Verde neighbors also set up a labyrinth as a way for community members to reflect and meditate — something another nearby neighborhood has also done.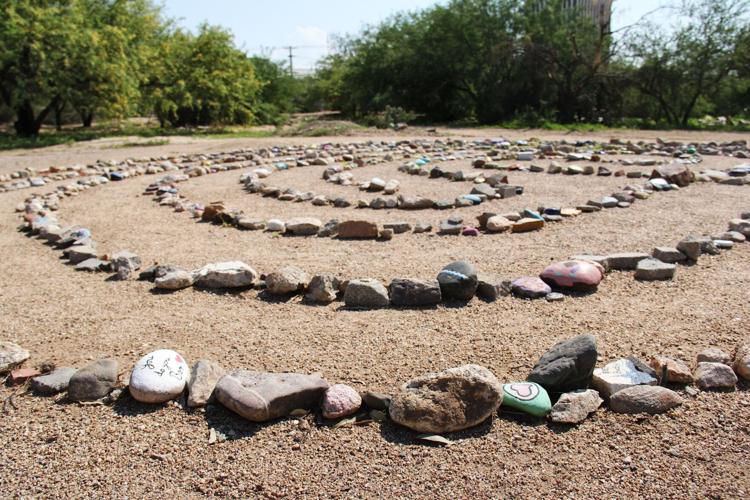 Reflect and reconnect
Now living in Los Angeles, Eduardo Atjian II grew up in the Highland Vista Neighborhood in central Tucson where he lived for 22 years. He came back to Tucson for about a year during the pandemic.
Inspired by a labyrinth at a park in Pasadena, Atjian set off to create one for his childhood neighborhood. It's something he had wanted to do in Tucson for a while, but the pandemic gave him time to finally do it.
"It was just serendipitous how it happened," he says.
"It was really, really successful. Little by little, people were bringing their own rocks and painting them and little by little, you started seeing people be more talkative," he says.
"It's kinda like a catalyst to just have conversation and connect."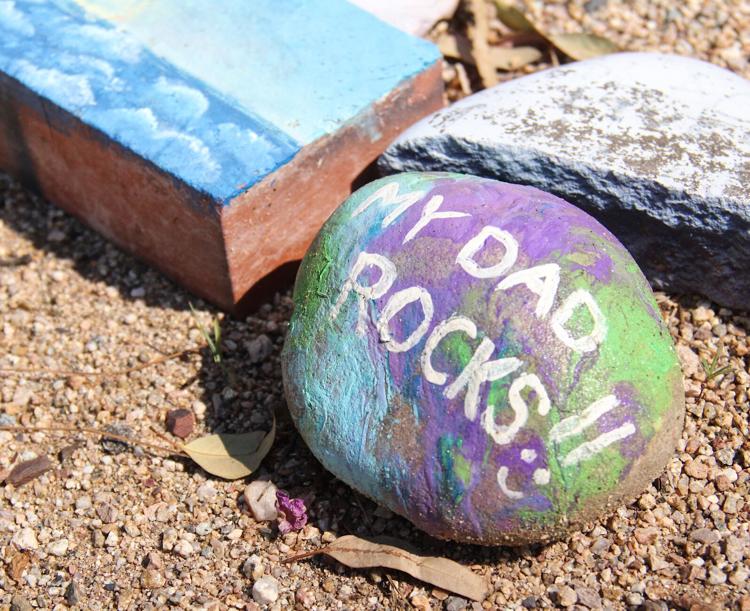 For Atjian, labyrinths have helped him reflect, destress and reconnect with himself.
And now more than a year after the labyrinth made its debut on the south side of Highland Vista Park, neighbors are still using it.
"I had a neighbor I hadn't talked to in months text me two days ago," Atjian says. "She told me she was going through a hard time with anxiety and she just opened up and she told me the labyrinth has helped her so much."
"It's like a platform for people to reflect on their own life in their own way. It's not me dictating what I want you to feel. It's a platform for you to feel what you need to feel," he says. "Sometimes we all just need a little spark or a little influence in order to get us moving in a direction."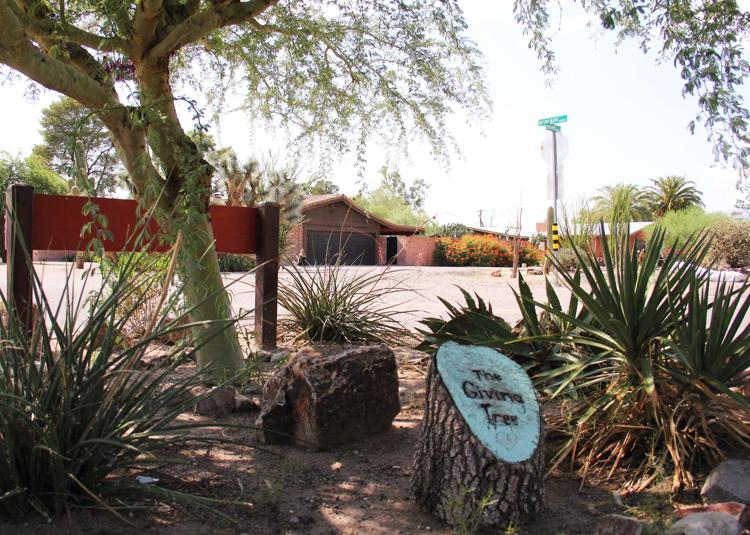 The giving tree
Yet another east-side neighborhood also worked to make connections during the pandemic — this time aimed at providing resources to the community.
"What happened is — I assume it was the city — they put some circular islands to slow traffic down in our neighborhood and in one of these islands, they grew a very pretty tree," says neighbor Madeline Friedman, who lives in the Harold Bell Wright Estates. "Some of the neighbors were starting to decorate it for Christmas."
But then the pandemic hit.
As Friedman and her fellow neighbors started taking walks around the neighborhood, she thought it'd be nice to create a hub where people could connect with the Community Food Bank of Southern Arizona.
From there, neighbors began decorating the tree with paper plates decorated as different foods, and then posted flyers with information about the food bank. They did a similar initiative with paper plates decorated as animals and flyers with information about the Pima Animal Care Center.
"It just seemed like a logical thing to do after the holidays because the tree had looked so festive after Christmas and I thought, 'Let's keep it going,'" Friedman says, adding: "In these days, it's good to be connected to your neighbors."