Two words that don't mean much to an outsider but mean everything to University of Arizona students, alums, faculty, staff and Tucsonans.
It ignites something in us, we become more than fans of the sports team, we become a family. 
Cheesy, I know, but if you've ever been to a UA football or basketball game or walked by someone wearing that "A" on their chest, you know what I'm talking about. 
The story behind "Bear Down" is just as inspiring.
Rewind to 1926
Everyone knew John Byrd "Button" Salmon. He was the quarterback of the football team, the newly-appointed student body president, member of many honor societies and "the guy every girl wanted," according to an Arizona Ambassador. 
And why not? Look at him, he's dreamy. 
But back in early October 1926, he suffered life-threatening injuries from a roll-over accident on his way back from Phoenix. He was being treated at St. Mary's Hospital for a few days but not much could be done for him.
The doctors knew this, so then-UA football coach James F. "Pop" McKale was at his side the whole time. 
"Tell them … tell the team to bear down," he told McKale in his final moments.
The words motivated the football team and they beat New Mexico. 
Salmon died the morning of Oct. 18 and it hit the community hard. His memorial services drew thousands of mourners.
Fast forward to 2017
Salmon's final words are still relevant today, they are woven through Tucson's history. 
Tucsonans grow up saying those two words, freshmen hear them on their first campus tour, and alumni proclaim it whenever they see someone sporting the University of Arizona insignia. 
A statue of his head even stands proudly outside of the Lowell-Stevens Football Facility. Before each game, football players pass and touch the bust to pay tribute to Salmon as part of their "wildcat walk." The bust stood in front McKale Center before being moved in 2013.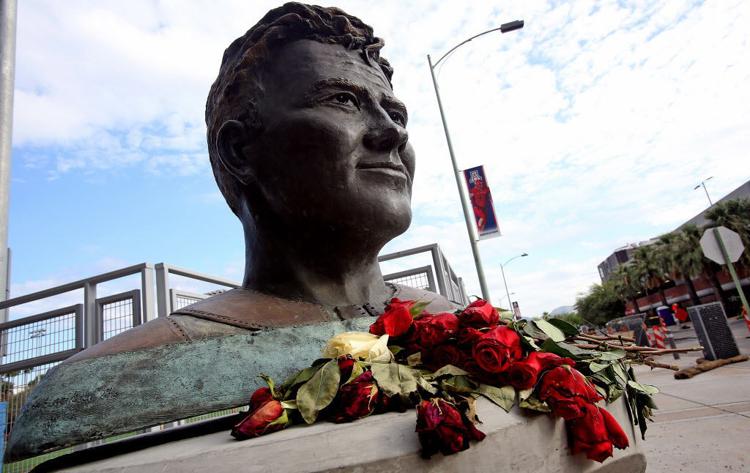 You can read about him on a plaque on the large wooden bear outside Gentle Ben's on University Boulevard before you get a beer. Ha, beer down!
Arizona Ambassadors tell his story outside of Bear Down Gym. You know, the gym with BEAR DOWN printed across the top. It's only appropriate.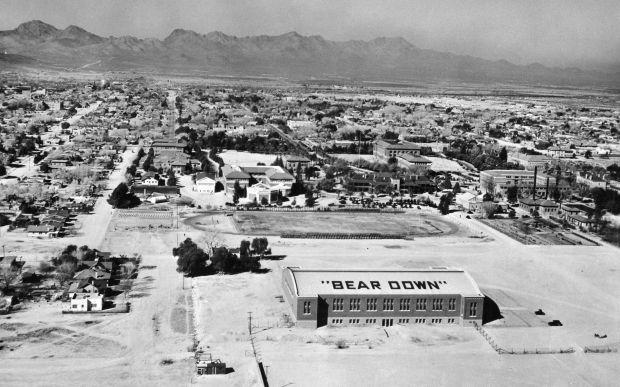 And at noon every day, you can hear "Fight, Wildcats, Fight" play on campus or at sporting events. 
Or maybe you've heard someone shout "Bear Down" as you're walking down a street outside of Arizona. Maybe it has happened to you while you were waiting to get on the Little Mermaid ride at Walt Disney World. It happened to me. Someone shouted it because they recognized the bold "A" on my chest and all I could do was scream it back. 
This afternoon's men's basketball game against Oregon will be roaring with our battle cry and the only way they're going to win is if Sean Miller tells the team to bear down.