You don't go to Rosie's Barkét for jumbo bags of dog food or wire crates. 
This is where you bring Fido when you plan to spoil him big time. 
Nicole and Johnny Carrillo, owners of the kitchen boutique Mabel's on 4th, opened the dog shop just off of Fourth Avenue about a month ago. 
Stroll into the roughly 1,500-square-foot shop at 327 E. Seventh St. and take it all in. It's a puppy play land. 
Nicole stocks the store with toys, treats, leashes, fancy shampoos, crocheted collar flowers and just about anything else you might want to pamper your pooch or decorate its domain. 
She sources many of her products from American small businesses, and you'll find some Tucson-made items, too. 
Further back, a glass display case spotlights puppy pastries shaped like tacos and donuts.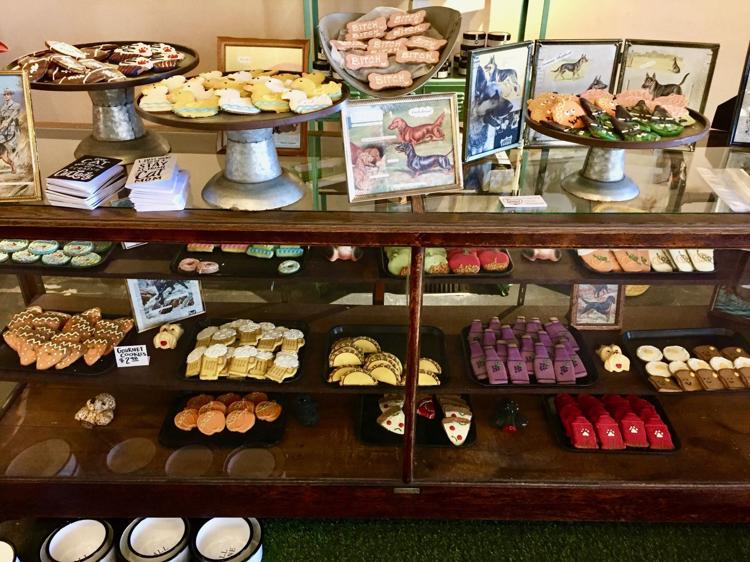 A table overflows with doggy delicacies such as duck, turkey and chicken feet. Behind it sits the store's hidden gem — a self-serve dog washing station and hand dryer. Fifteen dollars gets your pup a bath and bandanna.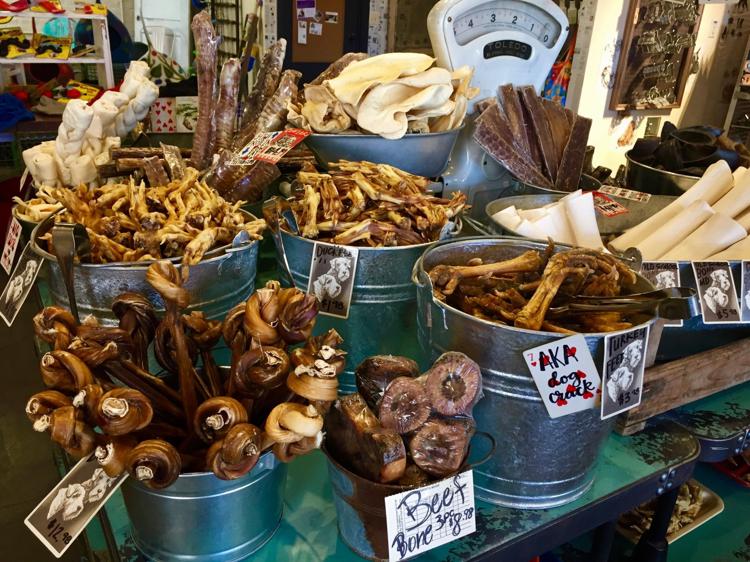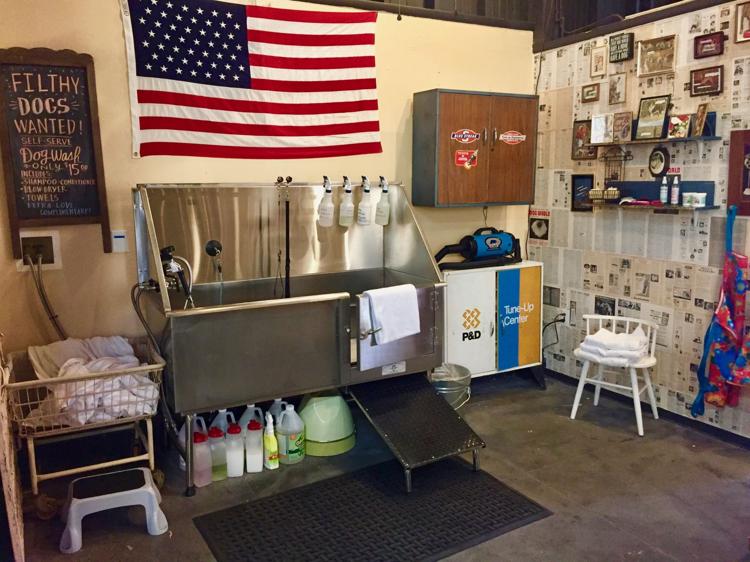 In the back of the store, your dog can roll away all of your hard work in an artificial turf play area. We know how that goes.
You can also test out samples of toys sold in store to see if your dog has any interest before you make a purchase. A TV/VCR setup shows canines on camera — "Lady and the Tramp" "Snow Dogs" and "Air Bud" to name a few. 
Customers have already arranged puppy play dates back there, and Nicole plans to use it as a small gathering space for animal lovers. 
And, for the record, this store does not smell like dog. Nicole keeps the big doors open to make sure of that. 
The Carrillos moved to Tucson from Savannah, Georgia just one year ago, and opened Mabel's, 419 N. Fourth Ave. Not long after, Nicole had the inspiration for a "barket" on Fourth Avenue. 
In January, she started buying props and furniture for the store — almost everything showcasing the merchandise comes from thrift stores, estate sales and yard sales — and on Mother's Day, her husband gave her a card. 
"Okay," it said. "You can open the barket." 
Before moving to Tucson, the Carrillos were in the kitchen retail business for about a decade. The dog shop is named for their "bossy" 2-year-old poodle Rosie. They have two other poodles — 2-year-old Babe and 5-month-old Willie Nelson.
"When we got Willie Nelson, we went to PetSmart and spent $300, but it was underwhelming," Nicole says. She wants her customers to enjoy browsing her stores. 
She also wants to dig deep with the community. 
"I love the area around Fourth Avenue," she says. "Why shouldn't this whole area thrive? Tucson could use more small retailers." 
As part of her desire to connect locally, Rosie's Barkét supports a different nonprofit animal organization each month. Customers can purchase a tag for $10 with the full amount going toward the month's nonprofit. Then, as long as the customer brings the tag with them, they get 10 percent off their entire purchase. Forever, Nicole adds. 
This first month open, the store has raised about $1,030 for Gabriel's Angels, an nonprofit that brings pet therapy to at-risk children in Phoenix and Tucson.  
On weekends, Nicole says the shop fills up with dogs and their owners.  So far, so good. 
"These dog people are cuckoo for their dogs," she says.