(That flew by, right? Just kidding.) The second annual Sonoran Restaurant Week starts today, Oct. 2. The celebration features ten straight days of restaurant deals across town. More than 30 local restaurants will offer three-course meals for a discounted price of $25 or $35. Check out all the deals at the event's website. 
This year, the celebration has added a takeout component in addition to dine-in service at select restaurants. (You should contact the specific restaurant to see how they're doing things.) Also new: Organizers are working with the Tucson City of Gastronomy nonprofit to highlight its new list of certified restaurants. That means you'll see many of these certified restaurants offering deals, with proceeds going to the Community Food Bank of Southern Arizona.   
Like last year, I'm also collaborating with Sonoran Restaurant Week to bring you this specially-curated taco extravaganza! (Well, as much of an extravaganza as we can pull off these days.) Last year, I developed a taco tour of five different neighborhoods across Tucson. But for 2020, I thought it would be easier on us all to pick a spot or two from this list, and get some awesome takeout. 
As Tucsonans, you're probably familiar with most or all of the Mexican restaurants I've highlighted. But you may be surprised to know that all of them are City of Gastronomy certified, meaning they go above and beyond in sourcing local ingredients, paying their staff well, and highlighting the vibrant flavors that put Tucson on the map. These are the standard bearers, people. And by supporting them, you are keeping our world-famous restaurant scene alive. Plus they're tasty. 😋
Aqui con El Nene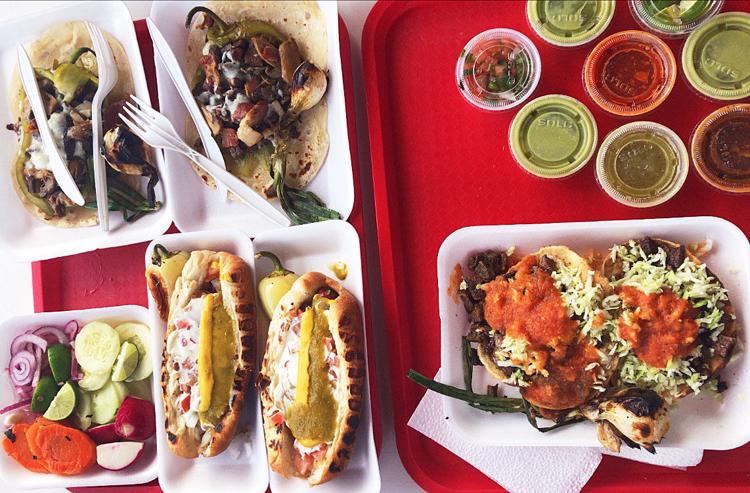 It may not get as much press as Tucson's historic south and west side neighborhoods, but the Flowing Wells area just west of the Tucson Mall is a hub for delicious under-the-radar Mexican food. The main game over here is a Sonoran food truck called Aqui con el Nene, which has gained a devoted following and grown its operation to two locations across town. People come for the carne asada, grilled on mesquite charcoal and served on tacos; Mexican baked potatoes; and the truck's specialty, the Taco Yaqui. The sprawled out chile taco is a reference to the southern Sonoran city of Ciudad Obregon, a Pascua Yaqui stronghold where owner Salvador Gastelum is from.
El Güero Canelo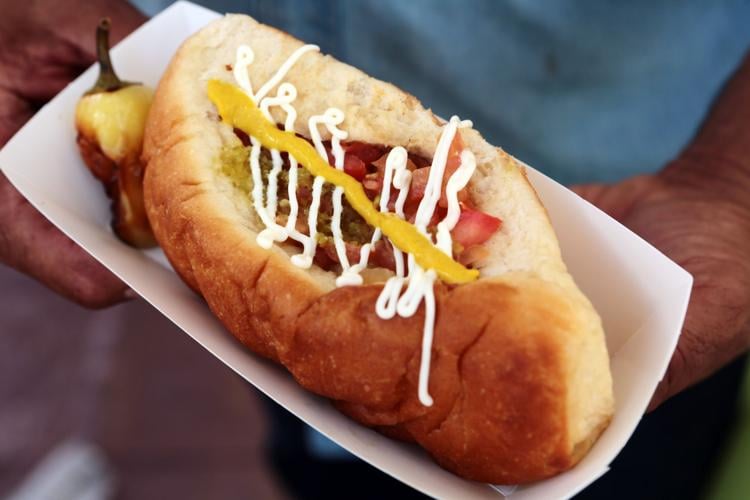 By now you've probably heard of this Mexican food icon, which claims a James Beard Award and is such an integral part of Tucson that it's been immortalized in song. But what you might not know, is that El Güero Canelo actually grows its own chiles, green onions, cucumbers and more at the restaurant's farm in Magdalena, Sonora. It also has a tortilla factory and bakery there, which pumps out buns for the restaurant's acclaimed Sonoran dog. Since COVID-19 struck, the Sonoran taqueria has also rolled out a number of new features like a drive-thru at its 22nd Street location and a walkup window on Oracle Road. If this is your first time, congrats! Get the taco lorenza and some of those award-winning carne asada tacos. 
Rollies Mexican Patio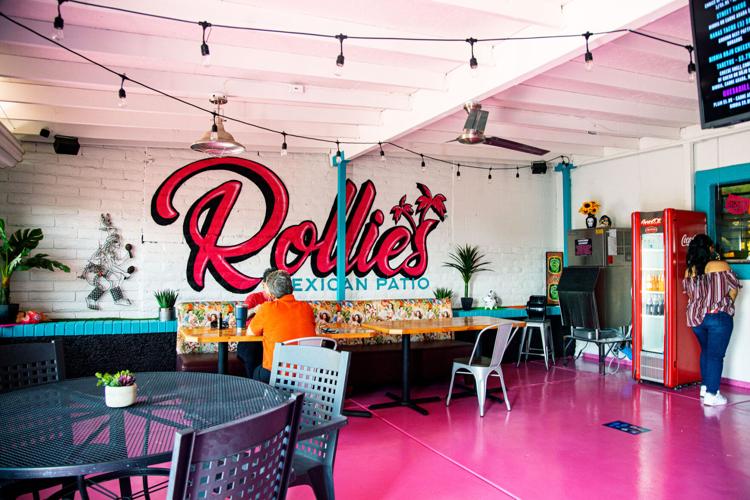 This stylish South Twelfth Avenue restaurant does gourmet versions of the Chicano staples that Chef Mateo Otero grew up eating. That means rolled tacos dorados of chicken or potato, bathed in melted cheese and a brothy enchilada sauce. The Nana's Tacos are the traditional ground beef patty taco of Southern Arizona, with a round of hamburger nestled inside the crunchy shell. Over the past year though, the Rollies menu has evolved to include some of those irresistible birria trends coming out of Southern California. Everyone in town is making cheesy birria tacos right now, but Rollies are some of the best, with a hit of spicy mayo that gives them Big Mac special sauce vibes. They're also doing birria ramen, in case you were interested.  
Tacos Apson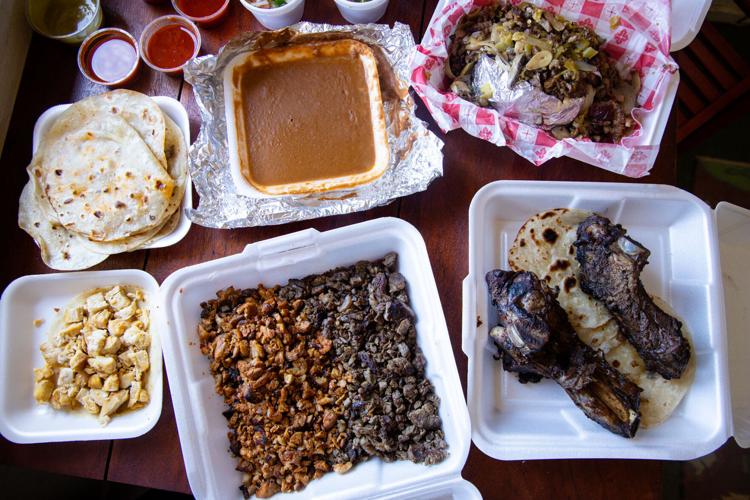 This staple of South Twelfth Avenue has been hitting the takeout game hard with its to-go parrilladas of mesquite-grilled meats. The half order, which you see here, includes a boxload of carne asada and al pastor meat, as well as two dozen tortillas, salsa and all the fixins for $28. Tacos Apson makes some of the best meats in town, and they travel best in these to-go platters. It's also good to note that the team recently opened a second location of its Agua Prieta-style taqueria up in Marana, by the Costco on Thornydale. So northsiders can get their takeout fix too! 
Taqueria Pico de Gallo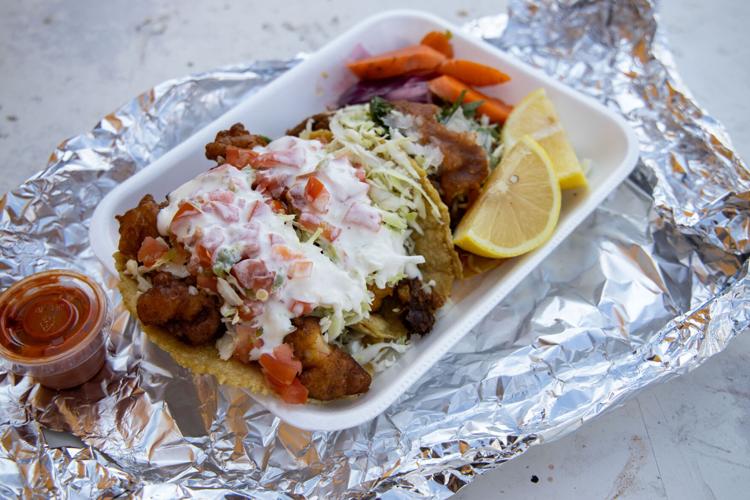 Freshly-made corn tortillas are the name of the game at this South Sixth Avenue restaurant Taqueria Pico de Gallo. It almost doesn't matter what you put inside them, everything is good. (And of course I've eaten them all. Pico de Gallo is one of those Tucson staples that's been on the rotation for years.) Since 1991, the funky yellow building has introduced many a University of Arizona student to south of the border Mexican food. It's the charm that keeps them coming back, and that irresistible orange salsa that they keep in the squirt bottles, so you don't accidentally put on too much. And those chile dusted fruit cups. So nice after your fiery meal.