Have you ever read a Mexican seafood menu and felt like you were being dropped into a hellish labyrinth of traps and blood-sucking octopus demons, waiting for you to get so overwhelmed you order them by accident?  
It doesn't help that all the shrimp cocktails are named "diabla" and "maleficio," and are red like blood. But even without the hellish undertones, the fish section alone has like 20 different things on it. What are they? Where do they come from? And do they taste happy?
This article is an attempt to guide you through your local mariscos menu, which tends to be rather large and comprehensive. You'll find plenty of Sonoran specialties, but also dishes from neighboring coasts like the Baja and Sinaloa to the south. (Jesus Parades of the Sonoran-style JPS Seafood told me that's because his restaurant gets lots of requests, and tries to accommodate customers from different states in Mexico.) 
Yeah we're landlocked, but Tucson benefits from its proximity to the Sea of Cortez, which provides tasty shrimp, clams and scallops as well as "mantaraya" or stingray, for more adventurous epicures. JPS for example sources the majority of its product from along the Sonoran coastline, and they even have that shrimp you loved back in Rocky Point! 
So put down that poké bowl and grab a Pacifico! We're about to set sail ... 
🍅 Cocteles / cocktails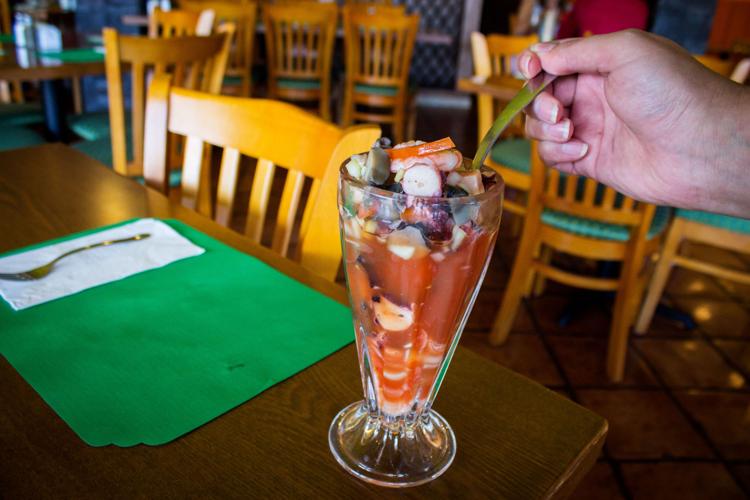 Shrimp cocktails disappeared from American restaurants around the time that jello molds stopped being food. But their Mexican cousins are still going strong and are a main facet of any mariscos menu. The difference is in the punch: while American versions use horseradish for a kick, the brothy Mexican cocteles are tangy with fresh lime and chunky chopped onions.
Sonoran cocktails come in half a dozen varieties like oyster, octopus, sea snail and more. But they're similar because they're all cold, whereas a Sinaloan cocktail could be served hot, co-owner Karina Parades told me. If you can't choose, go for the Campechana at La Bocanita, which has got a little bit of everything.   
🦀 Botanas and aguachiles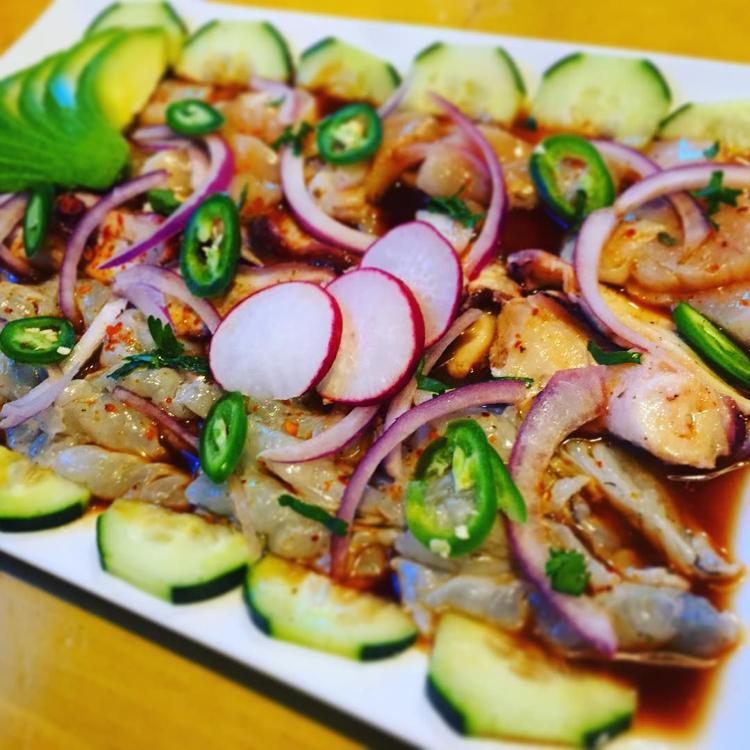 This isn't exactly a menu category, but a loose group of items that include sprawling plates of artfully-composed raw seafoods, often bathed in soy and/or blended chiles. A "botana" can be a large platter of anything — oysters, raw slices of octopus, or even fried foods — just as long as it's meant for sharing.
But my personal favorite is the Aguachile, a Sinaloan ceviche dish that's characterized by its bright green sauce that tastes like spicy pesto. (Lots of serrano chiles, not just herbs.) El Berraco's version is lighter, with a simple soy marinade and slices of cucumber, jalapeño and peppy chiltepin. Ask for some tostadas on the side and hit each one with a bit of mayo. A perfect bite! 
🥑 Tostadas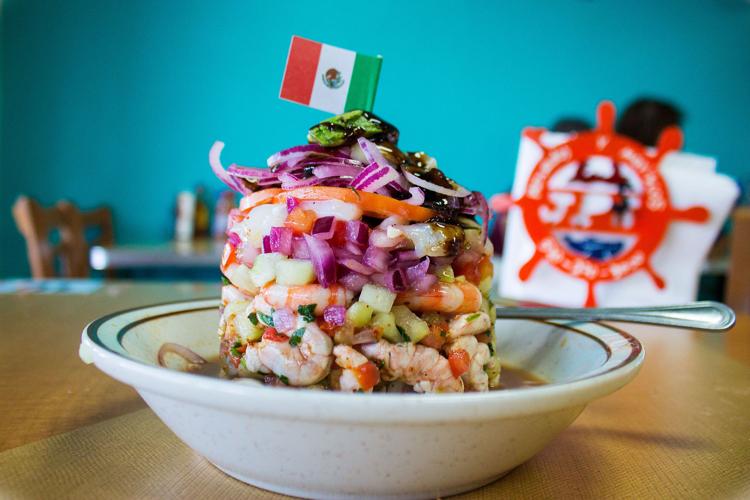 Yes, this is a tostada. It is just piled really high. This section of the mariscos menu is usually more fantastical and wild than it is utilitarian. One can never really eat the tostada as it is meant to be eaten. The tortilla crisp always gets soaked and/or cracked before the third bite, spilling runny chunks of seafood all over the plate (or bowl). But I guess that's part of the fun.  
If you're feeling simple go for a one-ingredient variety like the popular shrimp "Camaron" or the "Jaiba" with shredded crab meat. But every mariscos place seems to have a different type of "Mixto" or mixed tostada. Sometimes they're medium-sized, sometimes they're jumbo like the "Mitotera" at JPS Seafood (roughly translated to gossiper). It's got fish ceviche, two types of shrimp, scallops, octopus and red onions for a crunch. 
🌮 Tacos / tacos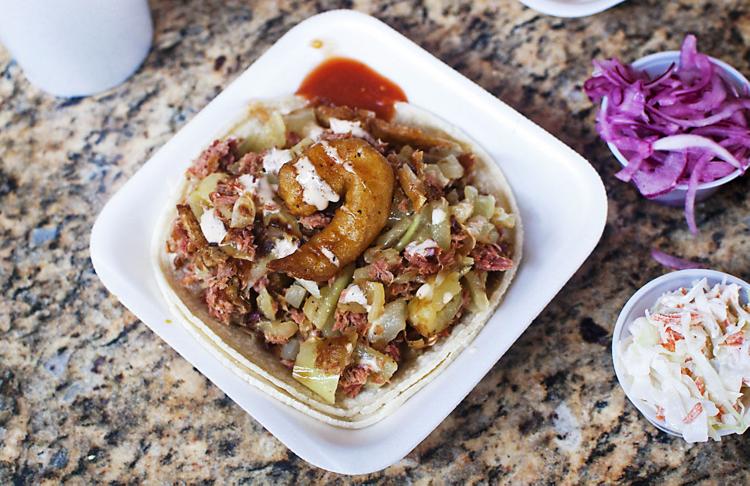 Tacos aren't usually a focal-point of the mariscos restaurant. For the best fish and shrimp tacos you'll probably wanna go to a specialty place like Cocteleria La Palma or Taco Fish on South Twelfth Ave. Of course, I prefer the fried variety from Ensenada and Baja California. The owners of Taco Fish are from Hermosillo, but they get it. 
Also, an underrepresented taco ingredient: marlin, which swims off the coast of Sonora and tastes like a more savory tuna fish. Beware, marlin's salty flavor and stringy texture can be little intense for the seafood novice. So I prefer getting it mixed with battered fish and shrimp in the Taco Gordo, above. The restaurant also has tacos de cahuamanta, or stringray. 
🍲 Caldos / soups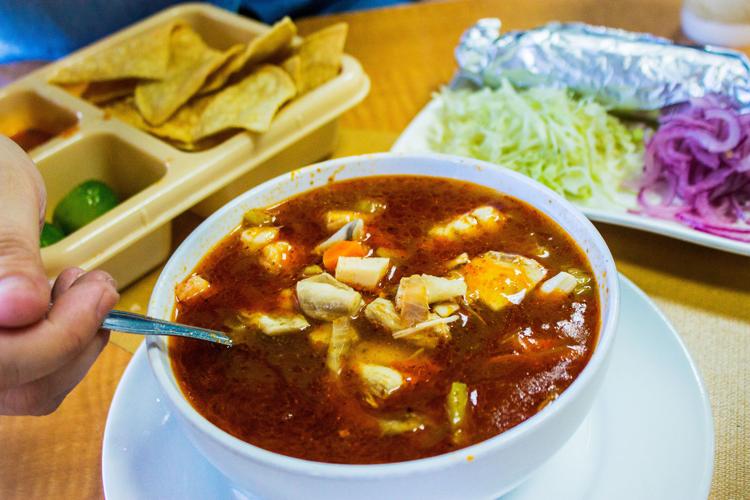 Stingray soup is actually the specialty at JPS Seafood on South Twelfth, whose owners hail from Caborca, Sonora. (FYI: If you want an "authentic" Sonoran mariscos experience, this is the place to go.) Jesus told me that "Cahuamanta" or stingray soup is from Ciudad Obregon in southern end of the state. It used to have turtle meat too, but no mas.  
JPS does theirs in a heady shrimp broth with an array of other meats like shrimp, octopus, and another Sonoran specialty "aleta" or tuna fin, which has a mushy texture like a Chinese thousand-year egg. It goes by "Caldo Marinero" on the menu, or sailor's soup. Throw on some cabbage and mop up the spicy brew with corn tortillas. If you can't find the stingray, try another option like the 7 Mares with seven types of seafood. 
🦐 Camarones / shrimp dishes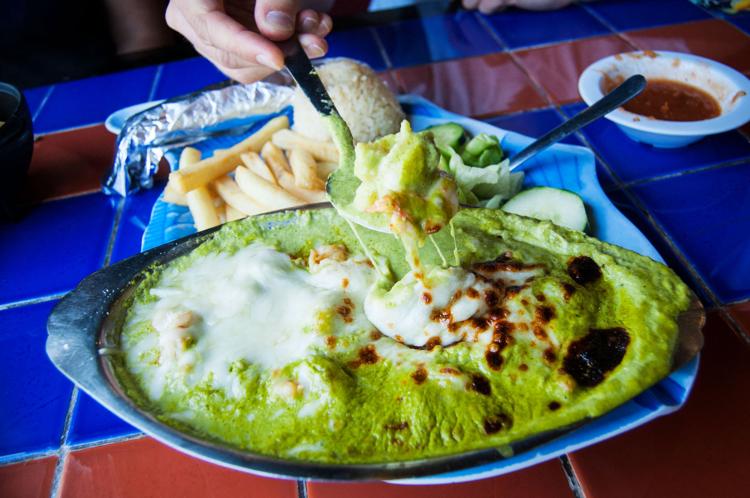 Now we've come to the hot section of the menu, where you can get your shrimp covered in cheeses, chile sauce or wrapped in bacon and fried to a fatty crisp. You'll find some of these same prep methods like the spicy tomato "a la diabla" and the garlicky "mojo de ajo" in the fish category, so choose wisely. 
My favorite shrimp dish has got to be the "Camarones Culichis," which if you've never tried I feel sorry for you 😊 ... Please go out and eat this asap. Culichi is a cream sauce from Sinaloa that gets its lovely green hue from toasted poblano peppers. Most mariscos places have the culichi, but my favorite still happens to be at a Mariscos Chihuahua near you. 
🐟 Filletes / fish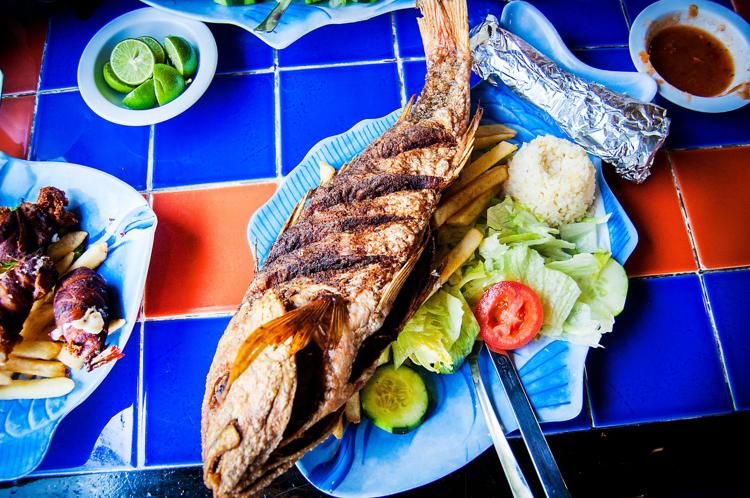 Fish heads, fish heads roly-poly fish heads. The mariscos joint encourages you to eat them up, yum. That's where the best meat is, of course. Especially when it's battered in flour and flash fried as a pescado frito entero. Mariscos Chihuahua does theirs with "mojarra" or tilapia, which is pretty common around here. 
If ripping off slivers of crunchy fish flesh isn't your thing, try one of the saucier dishes like the "Filete Sarandeado" with a chile-glazed mayo that coats the charred fish with a red sheen. It's also fun to get your fish wrapped in foil, as an empapelado. Rip it open and dig in, just as the steam rises into the air. 
If you go ...
JPS Seafood, 5550 S. 12th Ave. #100, 520-270-3600
La Bocanita, Tucson location is at 1730 E. Prince Road, 520-207-0901
El Berraco, 2960 N. First Ave., 520-620-9828
Cocteleria La Palma, 1137 S. Sixth Ave., 520-270-4067
Taco Fish, 4841 S. 12th Ave., 520-777-6235
Mariscos Chihuahua, several Tucson locations but we go to the one at 435 W. Irvington Road, 520-294-3194