So first things first, this is not actually a food story — unless you count the moment I had to try to pee in a pickle at the hospital.  It's a story about how I spent the first few days of 2021 with a wicked case of coronavirus. But since I'm a food writer down to the bone, I've decided to add an edible theme to this cautionary tale about the deadly disease I contracted ... so you may know what foods to eat, in case you too, get coronavirus. (And are asked to pee in a pickle.)
In case you were wondering, I did not contract COVID-19 at any of the hundreds of restaurants I visited last year while writing about Tucson's food scene for #ThisIsTucson. Because of my weight and elevated blood pressure, I've been pretty cautious throughout this whole thing, sticking to takeout and later, patio dining. But life happens, and the day after Christmas while on a walk, I noticed a strange sickly feeling coming over me. At first I thought it was just a cold, but my symptoms gradually got worse and worse throughout the eight days I spent at home by myself, trying to fight it off. 
At first it was a wet cough, and then a fever, and then my energy levels dipped so low that I could barely get off the couch, much less stand up long enough to make any kind of food. At night I would shiver uncontrollably, and my legs would have muscle spasms, perhaps from all the shaking. After a few days I began to get intense buildups of fluid in my chest. I would try to cough it out, but this could start a coughing fit that would leave me incapacitated, coughing into a sheet for half an hour, wondering if I'd hack myself into a coma. 
During that week I survived on grapes. I still had my sense of taste and smell (hallelujah!) but I had absolutely no appetite or will to make anything. I would talk to friends on the phone and they would bring me medicines and leave them at my door. I should take Vitamin D for energy, zinc, Emergen-C tablets, ibuprofen, various flowers that I don't really remember ... none of them worked. The grapes on the other hand tasted fresh and sweet in my mouth, and required minimal effort. They made me feel like I was eating, even though I clearly wasn't. 
I did have one real meal during this week of hellish purgatory. One day I got a Facebook message from James Beard-winning radio personality Jennifer English, asking if she could drop off a Christmas card from Carlotta Flores, the matriarch of Tucson's famous El Charro Café Mexican restaurants. I told Jennifer that I was sick and she should probably stay away, but a couple minutes later she responded that Carlotta wanted to bring me some soup. Usually I don't accept these kinds of gifts from restaurants, but me actually being sick, it felt more like a gesture of goodwill, and in any case, I wasn't really in a position to say no. 
Within an hour, Jennifer had dropped off a carton of the Sonoran potato and cheese soup Caldo de Queso from El Charro's historic downtown location, which is approaching its 100th anniversary next year. I wasn't able to eat much of it that night, but the next evening I felt well enough to reheat it and pour the creamy yellow broth into a fancy bowl and sip some. At that moment I felt like total crap, but I couldn't have imagined a more perfect flavor, with the melted cheese and the soft burn of green chile that cut through the garbage in my throat. The soup reminded me of life's perfections, and made me feel warm and taken care of. 
It was only a matter of time until I started panting. Not from the soup, but a couple days later, after I rang in the new year on the couch listening to fireworks and not having enough energy to get up and look at them. I would pant like I had just been working out, but I wasn't doing anything except watching "Cobra Kai" on Netflix. It was then that I realized I probably had to go to the hospital, but stubbornly, I waited until about midnight that night before I realized it was an emergency. My neighbor Rachel Beaty most likely saved my life that night. She picked up the phone and agreed to rush me to Banner University Medical Center, wearing an N95 mask while I sat in the backseat over a layer of plastic wrap.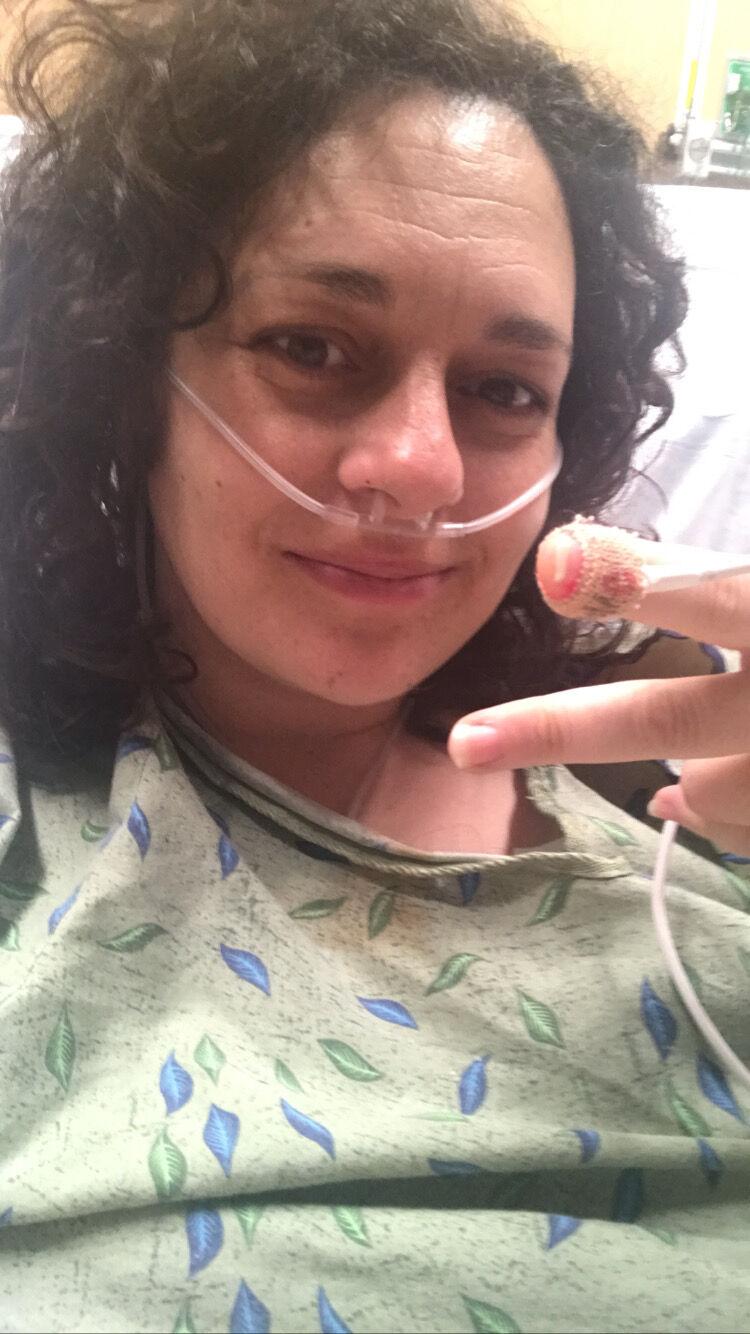 When I arrived at the emergency room at about 1:30 in the morning wearing my pajamas, I sat in an empty room for about 45 minutes struggling for air. Eventually a nurse wheeled over a large green oxygen tank with a plastic tube that he stuffed into my nose, and suddenly, I could breathe! I was wheeled into the emergency room and placed on a bed in a little room. Nurses and doctors descended upon me, hooking up wires onto my chest and arms, giving me shots, asking me about my symptoms. There was energy in this place, and despite the fact that I was horrified, I felt like I was watching a grand performance. 
A doctor explained that he didn't want to send me home that night, but there were so few beds in the hospital, he might have no other choice. Unfortunately for everyone involved, I was just too sick for him to do that. I needed more oxygen than the portable home machine could provide, and a CAT scan revealed that my lungs were "ratty" and that my condition had become COVID pneumonia. I had to pee. Like really, really bad, because I had been drinking Vitamin Waters for hours that day.
The emergency room didn't have a designated bathroom for COVID patients, so this is where the "pickle" came in. It was basically a little tube that you placed in front of your vagina and pee into while you were still laying in the bed. But when my nurse set it up for me, I just couldn't do it, no matter how hard I tried and pushed.
Still in the emergency room the next morning, I realized that I had still not told my mother that I had coronavirus. (I was waiting until I got better so that I wouldn't scare her, but it was too late now.) When she called, two separate machines were beeping into the phone as I told her where I was. Totally helpless and crying, she demanded to speak to a nurse. I gave her the pickle lady, who told her over speakerphone that I "had a good chance of surviving." And that she would do everything she could to help me.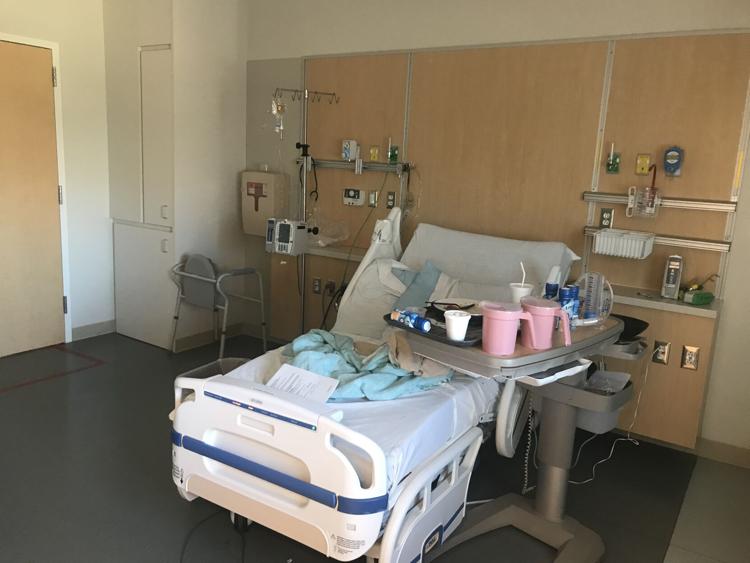 Little did I realize at the time how much this statement meant. Over the course of four days and nights at the hospital I saw dozens of nurses, doctors, assistants and hospital staff, who gave me medicines, checked on me when my oxygen levels were too low, swept my room, helped me use an inhaler, and most importantly, talked to me when I was scared or lonely and needed a friend.
I cannot imagine how hard it must be to work in this environment every day, caring for sick and dying people who can't wear a mask in their presence, putting their own lives on the line for people who are suffering. But after this experience, I will never again take our healthcare workers for granted. They keep our society running, and save us from ourselves. And they deserve every thanks and recognition they've been getting. 
But back to the food. Since that's presumably what you came for. After that first rough night in the emergency room, I was eventually wheeled up to a spacious hospital room on the seventh floor of the building, where I gradually regained my strength. (I wasn't given many drugs besides antibiotics and a steroid, and eventually my lungs cleared up on their own and I was able to breathe by myself.) I did not see any other patients while I was in the hospital, but I could hear their coughs, and sometimes our oxygen machines would beep at the same time, reminding me that other people might not be as fortunate as I was. I am so lucky to be young and healthy. 
On the last night, my friend Nick Murray called me from Mexico. He had taken his girlfriend on a weekend trip to Puerto Peñasco, and after a sunset booze cruise, they had wandered down to the Old Port to get some dinner at a restaurant called Flavio's on the water. They were eating platefuls of aguachile: raw shrimp tossed with a potent green chile sauce and red onions, a dish Nick and I had eaten together a couple years back while filming a road trip video for work.
I was sitting there in my hospital bed with tubes coming out of my arms and nose, and I could see the water glimmering on the ocean. Mexico has always been my escape and my passion, but it's been nearly a year now since I've gotten to go, and I miss it dearly. At that moment it felt so far away, but it felt so close at the same time. A mariachi troupe wandered over and started playing a song, and Nick kept the phone on for me so I could hear them singing and strumming their guitar.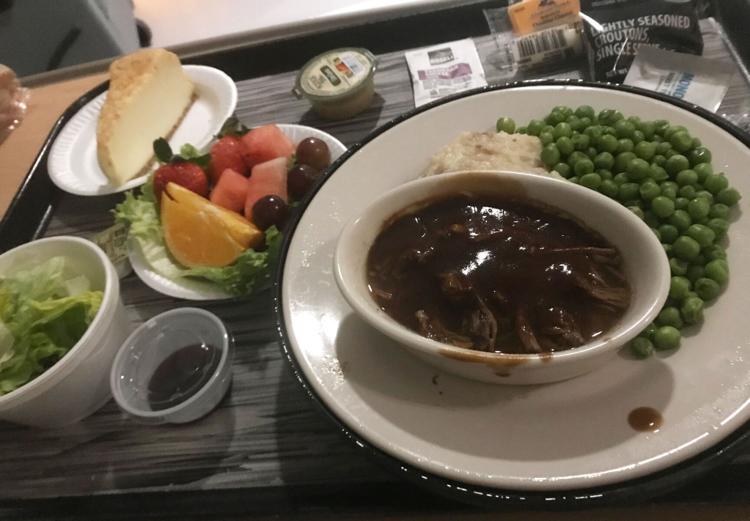 Afterward I felt like I could eat for the first time in almost two weeks. I scoured the hospital cafeteria menu, and ordered a pot roast with gravy, mashed potatoes and peas, a fruit plate, a side salad and a cheesecake for dessert. I ate it with gusto, scooping up the last of the gravy with my fingers ... I put mustard on the mashed potatoes, and this is the strange thing: It all tasted every bit as good as that aguachile on the beach in Mexico.
Because at that moment, I finally knew that I would have that aguachile on the water with the mariachi again someday, if I played my cards right. And that's what I intend to do. But I couldn't have done it without the pot roast, and the Caldo de Queso and the grapes and the people who gave them to me. So thank you again. Thank you.