Beaut Burger is breaking a whole lotta boundaries from its little kitchen inside a repurposed shipping container. This new westside concept specializes in vegan burgers, making everything in-house, from the patty to the slow-fermented English muffin bun. (Gluten free options available!)
The plant-based restaurant is the culinary anchor at the Mercado San Agustin's new hyper-local upscale shopping center, the MSA Annex. The spacious lot west of the freeway has a minimalist vibe to it, embracing rustic browns and desert aesthetics you wouldn't think of when you hear the words "shipping container."
The whole ecosystem feels like a bit of a gamble right now in the summer heat, where the searing sun gives the empty walkways a tinge of "Mad Max." But judging by the construction projects all around this place, lots of Tucsonans are going to be looking toward this area for style cues and posh downtown living in the future. 
That's what makes Beaut Burger a perfect fit for the shopping center. Its menu of burgers and fries feels highly-curated and more than a little creative.  Owner Kerry Lane has been on the record about the concept since early 2016, and you can tell she's put a lot of work into the menu.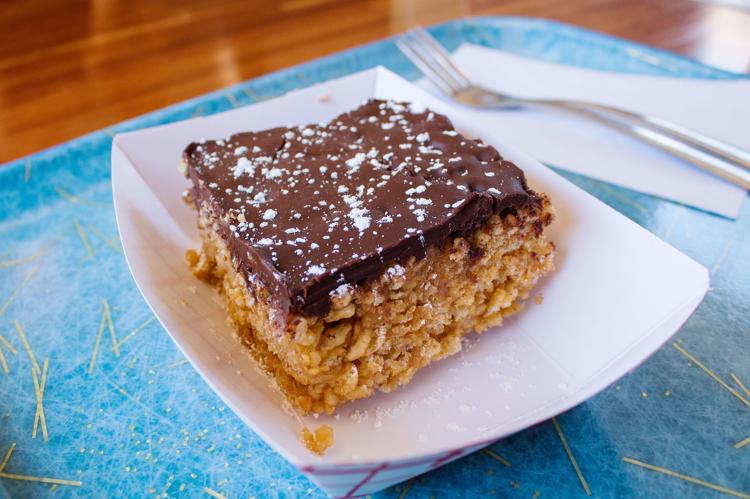 The minimalist names on here - B1, B2, B3, etc. - bely the whimsical nature of her concoctions. She's got "burgers" with peanut butter and tamarind chutney. She's got an herbaceous Middle Eastern condiment called zhoug, which goes on an otherwise normal combination of ranch, lettuce, tomato and cucumber. But then there are also the crowd pleasers; those classic American burgers with a plant-based twist. (We get our nostalgia in the strangest places these days.) 
We gave the spot a first-look last week, and were pleasantly surprised by how delicious everything was. While standing over a mixing bowl, Kerry told us a little about the menu: The patties in all the burgers are made with a combination of millet (an ancient grain much like quinoa), pinto beans and assorted vegetables. 
They were hearty for sure, but didn't necessarily taste like hamburger. The closest thing would be a black bean burger, but with a lighter flavor from the pinto beans. The patty was soft and malleable, with not too much crunch around the edges.
I say this as an unapologetic omnivore: This burger was not necessarily lesser than a real hamburger. Of course you don't get that fatty decadence with a real hunk of beef, but this burger gave you a lot of those familiar flavors without being so heavy and salty. You can eat one for lunch, tucked into your air-conditioned outdoor booth, and not feel terrible by the end of the meal.
... Especially when you get the B9 ($8) with soft slabs of roasted eggplant, pumpkin seed pesto and housemade mozzarella cheese, which melted around the bun and gave it that addicting grilled cheese vibe. This easy-eatin' burger is one of the most popular on the list, and came recommended to us by the counter guy. The B8 was also tasty, with frizzy onion strings and an expertly-pickled poblano pepper. 
Of course you gotta get fries too ... The sweet potato fries aren't hand-cut like the russet potato ones that we got sprinkled with fresh herbs, but both come highly-recommended by me, the fry snob. The longer fries had the perfect ratio of soft potato and crunch, and were extremely satisfying with all this healthy stuff! 
Beaut Burger is inside the MSA Annex at 267 South Avenida del Convento. Phone: 520-461-1107. It's open from 11:30 a.m. to 8:30 p.m. every day.