Tucson sure is cookin'! Our restaurant scene may be slowly opening back up, but many T-locs are still using this quarantine time to explore their home kitchens. That's where this recipe guide comes in, folks. We're here to help! 
Below you'll see a collection of recipes submitted by friends and famous Tucson chefs alike, for vegan tacos, Spanish pork loin and those beautiful doughnuts you see up top. (Man, I want some of those right now. I'm hungry!) Some of our favorite restaurants got into the mix. Obon shares their magic guide to the unstoppable Spam buns, and Cup Cafe gives away the secret to their iconic baked eggs. I've made both of them at home, and they're easier than you think.
For Part One of our Quarantine Cooking Guide with 19 more dishes, follow this link. And as always, feel free to send me your own recipes at aberlin@tucson.com. And then copy your name in the bottom slot and forward the email to 50 of your high school boyfriends, crushes and weird dudes you kinda liked but didn't say anything about. JK, just send it to me. 🤣
Appetizers:
🍣 Spam buns from Obon sushi 
Nick Creamer, Obon Sushi + Bar + Ramen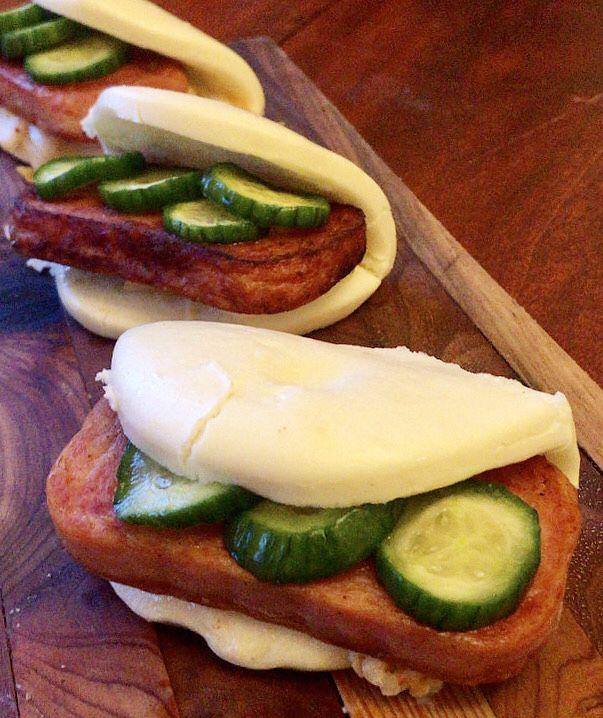 You can't start a meal at Obon without these "sinfully delicious" buns, packed with crunchy fried Spam and a hit of spicy mayo. Since Obon is closed right now, Chef Creamer agreed to share the recipe for this taco-like treat, which is actually pretty simple to make at home. "Most of these ingredients can be found at your local Asian supermarket or in the Asian section of your grocery store," he says. "To save time I recommend buying your kimchi and bao buns from the store."
Ingredients:
Sunomono pickles
1 English cucumber
1 heaping tablespoon salt
1 heaping tablespoon sugar
1 ounce Mirin cooking wine 
1/2 ounce rice vinegar
Spicy mayo
1 cup Kewpie Japanese mayo (regular mayo works in a pinch)
1 tablespoon Mirin 
1 tablespoon sesame oil
1/2 tablespoon Togarashi Japnese chile powder 
1/4 tablespoon soy sauce
Buns
1 cup green onions, thinly sliced
1 cup kimchi, gently chopped
1 can Spam 
tablespoon butter
1 package frozen bao buns (available at most Asian supermarkets)  
Directions: 
For the sunomono pickles
Slice cucumber about 1/8 of an inch thick. Add salt and sugar to cucumbers and toss gently. Set aside and cure for 10 minutes.
Remove cucumbers and give a slight squeeze to drain out excess liquid. Place them in a separate container and discard excess liquid. Add mirin and rice vinegar and toss gently. Let them rest for at least an hour.
For the spicy mayo
Combine all ingredients in a bowl and set aside. 
To assemble the buns 
Prepare your garnishes. Thinly slice green onions, gently chop your kimchi to small pieces, slice Spam to desired shape. (I like a 3/4 inch stick the length of the spam tin.)
Set up your steamer and start steaming your buns.
Pan fry Spam in butter till it's crispy on the outside.
When everything is ready to assemble: Pull open each bun so the inside is facing up. Add ingredients starting with kimchi on the bottom, then the Spam, then two or three sunomono pickles onto the Spam. Then the spicy mayo and green onions on top. Scarf that bad bun down!
🍠 Korean-ish fried cauliflower 
Jackie Tran, Tucson Foodie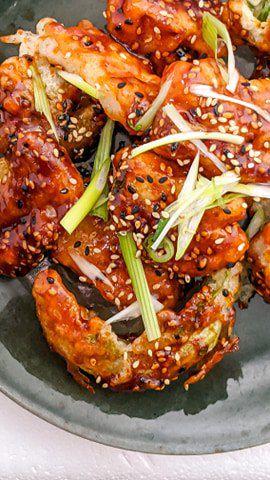 The local food writer and talented home chef just whipped these up on the fly last week, and was kind enough to drop some off at my house. I've never had anything like them before; almost a cross between those buffalo cauliflower bites you might find at at a pizza joint, and the best vegetable tempura. And then of course there's the sticky sweet Korean sauce on top. So creative! 
Ingredients: 
The cauliflower
1/2 gallon of canola or peanut oil
1 head of cauliflower, cut into bite-sized pieces
Sesame seeds and green onion for garnish
Sauce
3 tablespoons of gochujang (fermented Korean chili paste, easily available at most markets in the ethnic aisle)
3 tablespoons soy sauce
3 tablespoons honey, agave nectar, sugar, or orange marmalade
1 tablespoon apple cider vinegar or rice vinegar
1 teaspoon sesame oil
1 teaspoon garlic powder or grated fresh garlic
1 teaspoon grated fresh ginger
Optional: 1 dash of fish sauce
Batter
1/2 teaspoon of baking powder
1/2 cup flour
1/2 cup of cornstarch, potato starch, or tapioca starch
1/2 cup of water
1/2 cup of the cheapest vodka
Directions:
To make the sauce 
Combine all ingredients in a saucepan over medium heat, stir until all ingredients are dissolved.
To make the cauliflower
Heat oil to 350 degrees in a pan. 
Prepare the batter: In a large mixing bowl, whisk together all dry ingredients, then whisk in water and vodka. Texture should be about as thin as movie theater nacho cheese sauce. Add water if needed to achieve this thinness.
Batter 'em up, the cauliflower that is. Then place in the oil and fry. When they're done, the batter won't be golden brown, but you'll see the cauliflower underneath beginning to develop brown spots. Drain them on a wire rack so they don't get soggy from steam.
Toss the cauliflower in the sauce, add the garnish, and enjoy.
🍉 Asha's feta watermelon salad 
Andi Berlin, food writer
Lately I've been daydreaming about wonderful meals I've had with other people. This feta watermelon salad brings me back to those light summers in the Bay Area, hanging in backyards with my friends and coworkers from the cheese shop. Asha Loupy was our resident chef, and she had a way of highlighting her creative dishes with fresh, colorful ingredients. I still remember the first bite I had of this watermelon salad, so crisp and fruity with big slices of salty feta. I reached out to her for the recipe last month, and wowie, is it delicious. Don't sleep on this one.   
Ingredients: 
Pickled red onions
half a red onion, sliced
1 cup white wine vinegar
teaspoon salt
pinch of sugar
Watermelon salad
a quarter to a half of a watermelon, cut into triangular slices 
1 tub of fresh feta cheese, from the brine (It's important not to use dried feta for this one. You can find fresh feta at Trader Joe's or any Middle Eastern market)
handful of mint leaves, ripped and slapped to release their flavors
1 fresh lime 
extra virgin olive oil to taste
salt to taste
Directions: 
For the pickled red onions
Cook ingredients together on medium-low heat in a pot for several minutes, until the onions become soft and translucent. Remove and cool for half an hour. 
For the watermelon salad
Combine watermelon slices with feta on a plate. (You can slice the feta and layer it over the watermelon as I originally remember it, or chunk the feta into large crumbles, also delicious.) Then add rips of fresh mint, and pickled red onions. Top with juice of the lime, and a bit of lime zest. Then add olive oil and salt to taste. 
Main dishes: 
🍗 Chicken tikka masala 
Ryan Clark, Casino del Sol 
Casino Del Sol will remain closed until May 28, but the property's head chef Ryan Clark has been cooking up a storm on Facebook and Instagram in his Nourish Your Sol video series. Here, he recreates the classic dish chicken tikka masala using whole chicken quarters rather than cut up pieces. "I first had tikka masala on a backpacking trip that went through London. ... You can find the jarred sauces in almost every supermarket, but when we're all spending more time at home, we can find the time to use fresh spices and make the real deal recipe," he says. 
Ingredients: 
2 chicken thighs with the legs attached (you can also just substitute legs or thighs) 
2 tablespoons Greek yogurt
4 garlic cloves
1 tablespoon fresh turmeric
1 tablespoon fresh ginger
1 teaspoon coriander seeds
4 tablespoons garam masala powder
2 tablespoon oil
2 tablespoons butter
1/2 onion, chopped
3 serrano chiles, thinly sliced
1 cup chicken stock
1/2 cup tomato paste
1 cup heavy cream
2 tablespoons brown sugar
2 tablespoons lime juice
To Serve
Cooked jasmine rice
Cilantro and lime for garnish
Directions: 
Rub the chicken pieces with the yogurt and let marinate for one hour or overnight in the refrigerator.
Smash together garlic, tumeric, ginger, coriander and garam masala in a mortar and pestle. Alternatively, you can blend this together in a blender using a touch of oil.
Sear the chicken on both sides in oil over medium heat. Remove and add the butter. Toss in the spice paste and toast until fragrant. Add the onion and serrano and saute for three minutes.
Add the chicken stock, tomato paste, heavy cream and chicken thighs. Bring to a boil and put on low heat and simmer for 45 minutes.
Finish the sauce with brown sugar and lime and season with salt and pepper.
Serve with jasmine rice, fresh lime and cilantro.
🐖 Spanish Lomo Adobado
Alex La Pierre, Border Community Alliance 
This fragrant pork dish originates from Leon, Spain, where Alex visits each summer during his annual Border Community Alliance fundraising tours. It's prepared by the mother of Alex's best friend and co-tour guide Luis Valle Cordero. "Usually we arrive early to adjust for jet lag and finish last minute prep for the arrival of the tour guests. Doña Merche (Mercedes) is an amazing cook and this is just one of the recipes she has made for us," he says. 
Ingredients: 
2-3 tablespoons Spanish pimenton dulce or paprika, to taste
1 tablespoon oregano, to taste
1 tablespoon cumin, to taste
light handful of garlic cloves
salt 
olive oil
pork loin or pork chops 
Optional: two tablespoons dry white wine 
Directions: 
Crush and mix spices in a mortar and pestle. Add garlic and salt, and then crush into spices until you have a paste. Add olive oil (and if needed a couple of tablespoons of dry white wine or water. Spread the adobo paste evenly over the pork loin or chops, and let marinate in refrigerator at least 24 hours or up to 3 days.
If you're using pork loin, slice it into half inch slices the width of pork chops.  Heat olive oil in a pan and fry on each side until done. Serve with saffron rice or fresh French bread and a salad. 
🌶️ Pock-marked Mother Chen's Bean Curd (Ma Po Tofu) 
Devon Sanner, The Carriage House 
This strangely-named recipe is actually an iconic dish from the Sichuan region of China; The spicy glazed tofu is so popular, you can find it on the menus of Chinese restaurants across the United States. The Sichuan capital of Chengdu is also one of Tucson's UNESCO sister cities of gastronomy, and that's why Devon wanted to share his take on it. He uses firm tofu rather than silken, giving the dish a heartier texture. "Sometimes I'll add crawfish to this base for an extra umami pop, and sometimes I'll fold in niangao (rice slice noodles) into the stir fry rather than serving over rice," he says. 
Ingredients: 
1 pound fresh firm tofu, cut into 1 inch cubes
Salt 
1 tablespoon canola oil
3/4 pound ground pork
1/4 cup chicken stock
2 tablespoons Shaoxing rice wine (or Michiu or sake)
1/4 cup chili oil
1 tablespoon garlic-black bean sauce, Lee Kum Kee Brand
1 teaspoon coarsely ground Sichuan pepper
1 tablespoon spicy chili crisp, Laoganma (Sad Lady) brand
3 garlic cloves, smashed and peeled
2 tablespoons Doubanjiang paste (Sichuan chile bean paste)
2 tablespoons jalapeño chiles, seeded and minced
1/2 teaspoons fish sauce
2 tablespoons granulated sugar
1 tablespoons soy sauce
3 tablespoons cornstarch
2 tablespoons chopped Chinese chives, for garnish
2 tablespoons chopped scallion greens, for garnish
White rice for serving
Directions: 
Put a large pot of water on to boil and salt it well. Blanch the tofu cubes for 3 minutes, just to warm them through and firm them up a bit. Drain and set aside.
Heat a wide saucepan over medium heat, and turn the heat up to high. Add canola oil. Season the ground pork with salt and pepper. Press the pork into the pan; you're trying to create a crust (fond) on the bottom. After 4 or 5 minutes, once the meat is a light blond, break up the pork and continue to cook until fully cooked but still juicy. Remove to a bowl and set aside.
Turn the heat down to medium. Add about 1 tablespoon chicken stock and 1 tablespoon white wine to deglaze the pan, scraping up all the brown bits. Dump the liquid into the bowl with the pork.
Heat two tablespoons chili oil in the same pan over medium heat. Add the garlic-black bean sauce, Sichuan pepper, chili crisp, garlic, and doubanjiang. Cook for 3–5 minutes, adding the remaining chicken stock and wine in splashes to deglaze the pan as needed.
Add the pork and juices to the pan, along with the jalapeño chiles and fish sauce. Turn up the heat to high. Add the reserved tofu to the pan and gently fold it into the mixture, trying to keep the cubes as intact as possible. Once the mixture is bubbling, turn the heat down to a simmer and add the sugar and soy sauce. Taste it; you want the sugar to balance out the heat and savoriness. Add more if needed.
While the mixture is still bubbling, make a cornstarch slurry: Whisk together the cornstarch with 3 tablespoons cold water in a small bowl. Add the slurry to the pan and stir to combine. Take off the heat, and add the remaining chili oil. Garnish with Chinese chives and scallion greens. Serve with rice.
🌮 Really Northern Tacos (from Seattle)
Marcy Landes, home cook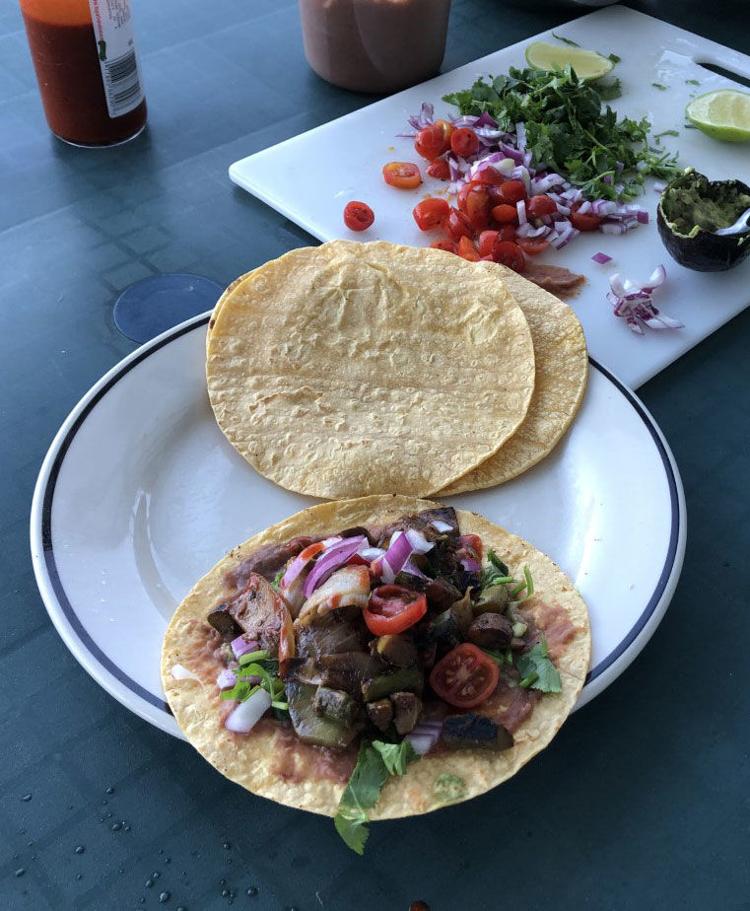 My cousin Marcy Landes is a budding nutritionist up in Seattle, and she developed this recipe after a few taco tours with me down in Tucson. "These are my trusty plant-based, gluten free tacos that turn out AMAZING no matter how you decide to put it all together!" she says. "Have fun trying this recipe with different veggies as well — super easy and versatile with whatever you have in the house :)"
Ingredients:
1/2 tablespoon olive oil
1 pound asparagus, cut in 1/2 inch slices
6-10 baby portabella mushrooms, thinly sliced
1/2 tablespoon crushed garlic (or garlic powder)
1/2-1 tablespoon ground cumin
1/4-1/2 tablespoon ground coriander
1 teaspoon cinnamon
1/2 tablespoon salt (or until you taste other spices)
1 teaspoon pepper
1/2 can (8 oz) refried beans (Find one with less than five ingredients — I go for a two ingredient can.)
4 medium corn tortillas
Add-ins to your liking:
Avocado
Tomatoes
Red onion
Cilantro
Lime
Salsas of your choice
Directions:
Add olive oil and slices of asparagus to a medium hot pan and stir occasionally until asparagus begins to get color on one side. Add sliced mushroom and crushed garlic, cumin, coriander, and cinnamon, salt and pepper and mix well. Once all browned, add salt and pepper and leave on medium low stirring occasionally. TASTE AND ADJUST TO YOUR LIKING!
Heat up refried beans and add a little salt, pepper, and garlic powder to give it some flavor! Heat up corn tortillas on low heat until they soften and have little brown spots. Cut up add ins into bite size slices or cubes
Making the tacos
On your toasted corn tortilla, add half a cup of refried beans and a little mashed avocado, sprinkle some add-ins (tomatoes, cilantro, red onion), a healthy scoop of asparagus mushroom mix, and finish with more add-ins and your favorite salsas! Eat with your extra refried beans (which you can also top with add-ins). ENJOY!
Cocktails: 
🍸 Southside cocktail, with basil 
Andrés Ortiz, Sidecar
This local bartender plays with a recipe for the classic Southside cocktail, using fresh basil instead of mint. (Sidecar is still open by the way, doing cocktails to-go.) "This is a great refreshing cocktail for the summer," he says. "I love recommending it to guests that like mojitos. Because it's just that, but with lemon instead of lime, gin in place of rum, and basil in place of mint."
Ingredients: 
3/4 ounce simple syrup (1:1 ratio of water and sugar)
6 basil leaves
2 ounces gin
3/4 ounce lemon juice
ice
Soda water
Directions:
For the simple syrup 
Measure out equal parts water and sugar. Add water to a pot and bring to a simmer. Add sugar, reduce the heat to low and stir until dissolved. Let cool.
To make the cocktail
Add basil to shaker (or a mason jar if you prefer) and lightly muddle. Add remaining ingredients, excluding the soda water, and shake rapidly for about 5 seconds. Strain into a collins glass filled with ice, or any glass that can hold 12 ounces of volume. Top with soda water. Garnish with a lemon wedge and basil. Be sure not to shake the soda water!
Breakfast:
🍳 Baked eggs 
The Cup Cafe at Hotel Congress
This legendary brunch dish at the historic Hotel Congress is a rite of passage for any Tucsonan. And since Cup Cafe is takeout-only for the time being, their marketing director Dalice Shepard agreed to share the beloved recipe with us. (They also put it on their website back in March.) Quick thinking is key here, and it's easy to overcook the eggs. So make sure you have the directions memorized before you start.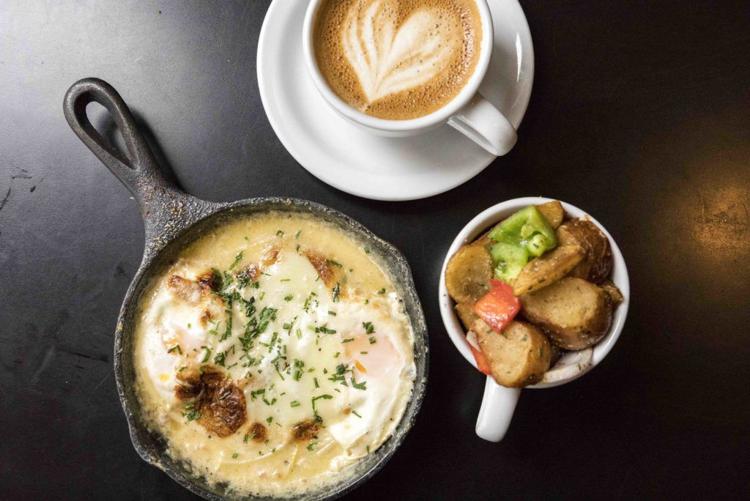 Ingredients:
2 ounces diced ham
1 ounce chopped leeks
1 tablespoon chopped garlic
1 tablespoon oil
1 tablespoon white wine
3 ounces heavy cream
Salt and pepper to taste
2 eggs, whole cracked
2 slices of Gruyere cheese
Pinch of chopped fresh herbs (tarragon,parsley, chives, chervil)
Directions: 
In a small (4-inch) cast iron skillet, sauté the ham, leeks, and garlic in a touch of oil for one minute, then reduce with wine. Add cream, salt and pepper, and bring to a boil.
Taste and adjust seasoning. Drop in eggs. Continue to boil for 45 seconds. Top with Gruyere and bake in a 500-degree oven until the eggs are set (two minutes). Top with fresh herbs. 
🥔 Red Flannel Hash
Adam Siebert, home cook
This beet and corned beef hash got rave reviews during his time as a chef in the Bay Area. The dish can also be made vegan by substituting boiled and peeled turnips or parsnips, and soy sauce instead of Worcestershire sauce. 
Ingredients
3 beets, peeled, boiled and cooled
1.5 pounds cooked corned beef
2 pounds boiled medium red potatoes (boil until skin splits), cooled
1 medium onion, coarse chop
1/4 cup heavy cream
4 tablespoons butter softened, separated in halves
2 tablespoon Italian flat leaf parsley, coarsely chopped (about half a bunch)
1 teaspoon Worcestershire sauce
Salt and Pepper to flavor
3 tablespoons vegetable oil
Directions: 
Cut beets into matchsticks, like a julienne. In a mixing bowl combine beets, corned beef, potatoes, onion, cream, two tablespoons of butter, half your parsley, Worcestershire and salt and pepper. Mix, crushing potatoes and breaking up the corned beef.
In heavy bottom skillet, heat oil and the rest of the butter over medium heat. When the butter is melted, lay down a "patty" of your hash, covering the bowl, up to half an inch in thickness.
Let cook for seven minutes. Flip! It should have a nice browning crust. Cook the other side for five to six minutes, checking for crispness. Serve with poached eggs, the remainder of the parsley as garnish, and a raspberry mimosa.
🥯 Les Bagels de Jo Goldenberg (AKA Les Bagels de McKisson)
Irene McKisson, editor of #ThisIsTucson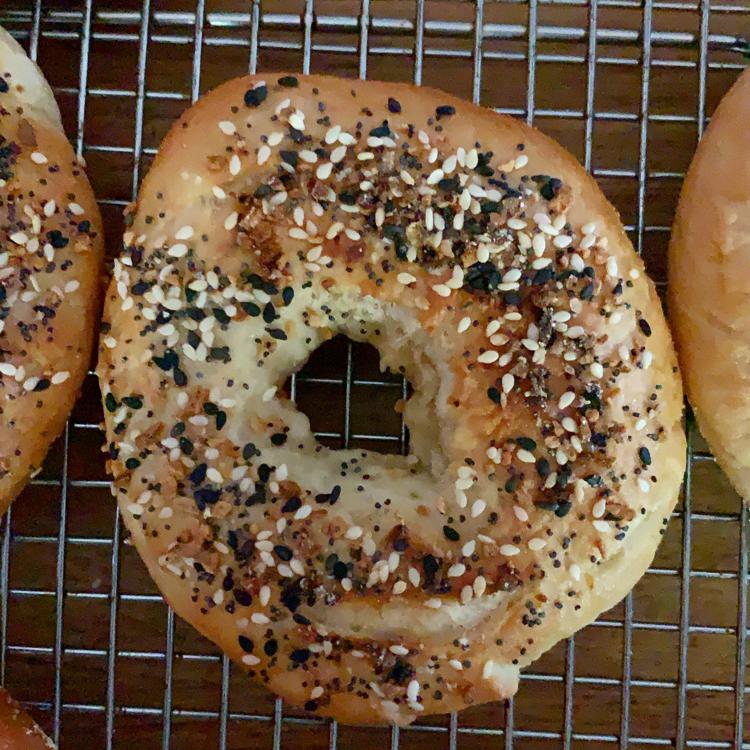 Irene has a very special bagel moment indeed: "I had my first New York City bagel at age 8 and nothing since has ever approximated it. Honestly, I can still taste that bagel with thick waves of cream cheese. Despite many attempts, I've never been able to find the same experience outside New York. I know they say it's the water but even these homemade bagels with desert tap water are about 9 million times better than the ones from the chain stores. And they don't take as long as you'd think." Her recipe was adapted from Bernard Clayton's "New Complete Book of Breads," which she's been using for so long that it's literally falling apart. 
Makes 10 large bagels
Ingredients:
3 1/2 cups all-purpose flour (to start, you might need more)
2 packages of dry yeast (that's 4½ teaspoons)
3 tablespoons of sugar
1 tablespoon salt
1 1/2 cups hot water (120-130 degrees)
3 quarts of water (to boil the bagels in)
1 1/2 tablespoons malt syrup or sugar (I use sugar because who has malt syrup)
1 egg white, beaten, mixed with 1 teaspoon water
Topping of choice: Get that shaker of Everything But The Bagel seasoning from Trader Joe's because NOW IS YOUR CHANCE TO ADD THE BAGEL.
Equipment:
Baking sheet sprinkled with cornmeal
A 4 ½ quart saucepan or pot
I have a big ol beautiful dark blue KitchenAid mixer, it makes this easier but you can do it by hand too if you want very defined forearms.
A digital scale is very helpful but not required.
Directions: 
Measure three cups of the flour into your mixing bowl and stir in the other dry ingredients (yeast, three tablespoons of sugar, salt). Pour in the hot water and stir with the flat beater attachment on low for two minutes. Add the rest of the flour a small portion at a time, stirring slowly. When the batter gets thick and heavy, attach the mixer dough hook. Knead at medium-low speed for 10 minutes. Add flour if the dough sticks to the sides of the bowl. I did this recently and had to add almost two more cups of flour, don't be afraid. Bagel dough should be firm and solid when pinched. Like your forearms.
Place the dough in a greased bowl, cover tightly with plastic wrap and set aside at room temperature until doubled in volume, about one hour. Toward the end of the hour, bring your water to a boil in the large pot. Add the 1 ½ tablespoons of sugar. Reduce heat and leave at a simmer — water barely moving.
Turn the dough onto a flour-dusted work surface and punch down with your fingers. Divide the dough into 10 equal pieces, 3-4 ounces each. Shape each into a ball. Allow to relax for a few minutes before flattening with the palm of your hand. Shape the bagels: Press your thumb deep into the center of the ball of dough and tear the depression open with your fingers. Pull the hole open and smooth the rough edges with your fingers. It will look like a bagel!
Place the bagels together on your work surface, cover them and leave them at room temperature until the dough is slightly raised, about 10 minutes. If they sit too long they might not sink in the water like they're supposed to. I should note that I've never gotten my bagels to sink and they're still delicious. Goals.
Preheat your oven to 425 degrees.
Gently lift one bagel at a time with a large skimmer and lower into the hot, barely simmering water. Don't do more than two or three at a time. They're supposed to sink and then rise again after a few seconds but if they don't, no matter. Simmer for one minute, turning over once. Lift out with the skimmer, drain briefly on a towel, then place on the prepared baking sheet. Repeat with all the bagels. The sugar in the water makes them shiny.
Now is the time to top those suckers with salt, sesame seeds, etc. but tbh everything bagels are the only right kind of bagel. Sorry.
Brush lightly with the egg white/water and sprinkle on the topping.
Place the bagels on the baking sheet and bake on the middle oven shelf for 25-30 minutes. When the bagel tops are a light brown, turn them over to complete the baking. This will kept them from having a flat side like a dumb grocery store bagel. Remove from the oven when they're brown and shiny and put them on a rack to cool.
Eat them all right now.
Dessert: 
🍩 Mini Churro Toffee Donuts
Alyssa Gallion, Scrappy Gourmet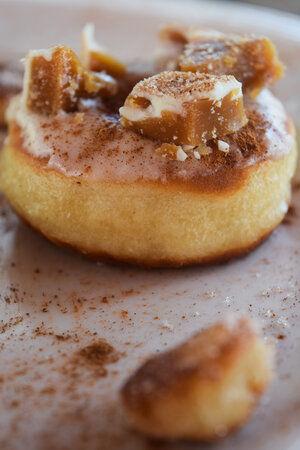 This local food blogger developed this recipe as a way to brighten Mother's Day after her mother passed away five years ago from breast cancer. This year she made gift boxes with the doughnuts, and passed them out to all her mama friends "to honor their power, resilience and kindness." She also uses Barrio Bread yeast and Tucson Toffee for an extra local kick!  
Ingredients:
Donuts
2 1/4 teaspoons Barrio Bread active dry yeast (more info here)
1/2 cup warm water
1/4 cup granulated sugar
1/4 cup evaporated milk
1/2 teaspoon salt
1/4 cup butter
1 large egg
1 egg yolk
1 teaspoon vanilla extract
2 1/2 cups all-purpose flour (scooped and leveled)
1 cup vegetable oil, for frying
Icing
2 tablespoons sweet cream salted butter, melted
1 1/3 cups powdered sugar
1 pinch salt
2 teaspoons milk
1 teaspoon vanilla extract
3 - 4 teaspoon hot water
Topping
Cinnamon sugar for doughnut holes
Cinnamon for mini doughnuts
Toffee, available locally from Tucson Toffee Co. 
Instructions:
In the bowl, using a hand mixer, mix together yeast, warm water and a 1/2 teaspoon of the sugar. Let rest five to 10 minutes. Add in milk, remaining granulated sugar (3 tablespoons + 2 1/2 teaspoons), salt, 1/4 cup butter, egg, egg yolk and vanilla.
Add 1 1/2 cups of flour to the mixture and mix. As dough thickens remove dough and put it on a surface coated with flour. Knead remaining flour into the mixture.
Transfer dough to a lightly oiled bowl, cover with plastic wrap and let rise at room temperature until double in size for one hour. Roll into an even layer onto a floured surface to slightly less than 1/2-inch thickness. Cut into doughnut shapes using a doughnut cutter or two round circle cutters (one small and one for holes). Cover and let rise about one hour.
Prepare the icing by mixing together all of the ingredients in a shallow dish; thickness should be enough to dip donuts in but frosting thick. Heat vegetable oil in a saucepan at medium heat. Carefully transfer doughnuts to oil and fry until golden on the bottom, then using a wooden chopstick, flip to the opposite side and fry until golden brown.
Transfer to a plate with a paper towel to soak up the additional oil and let cool for five minutes. Dip the top half in glaze while still warm and return to a wire rack or oven tray and allow the glaze to set at room temperature.
Chop toffee to desired size. Add the cinnamon dust to the top of the frosted doughnuts and add toffee to your liking. Eat!