This story was created by #ThisIsTucson and underwritten by Cyclovia presented by Arizona Complete Health, closing the streets to play and showcase the food and music of South 12th Avenue Oct. 27. Thank you for supporting the local organizations that support us!
---
You can have a thousand different adventures on the streets of La Doce, but today we found ourselves at a food truck sharing a $70 seafood tower.
The chef ⁠— a recent immigrant from Nacozari, Sonora ⁠— whipped the thing up in a matter of minutes from inside his truck, intricately laying fresh scallops, octopus and shrimp filets into a shape that vaguely resembled the Roman Colosseum. The seafood masterpiece was topped with a mound of avocado and a toothpick that displayed the Mexican flag. 
The last time I'd been to this spot, it was an open-air food truck that served Nogales-style tacos de canasta. (I didn't even know the mariscos place existed, to be honest.) But Mateo had a thing for Mariscos El Bochas, and Mateo was in charge today ...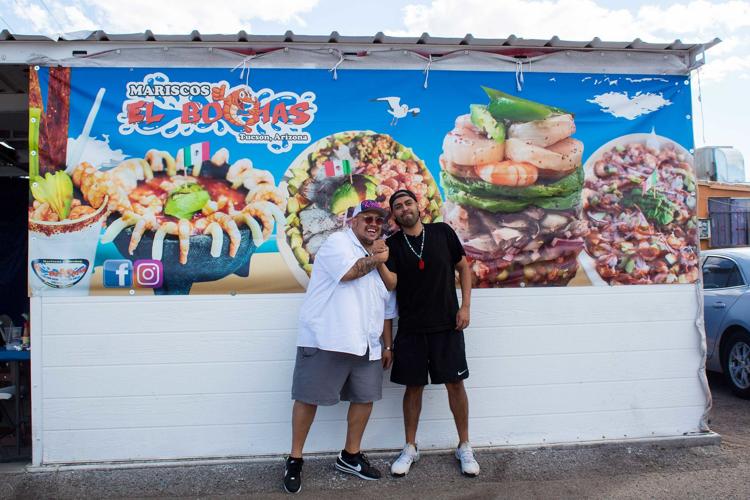 Mateo Otero is a lifelong Tucsonan and the chef and owner at Rollies Mexican Patio, a trendy South 12th Avenue spot that serves playful takes on the Chicano food he grew up on. He also went to school on the Avenue and has seen it change over the years as a wave of Sonoran immigrants moved in and opened their own businesses.
Today, South 12th Avenue has the highest concentration of Sonoran-Mexican food in the city of Tucson, if not the entire country. Driving past the rows of carne asada trucks, raspados stands and produce vendors selling corn and squash, it genuinely feels like you're on the other side of the border.
While I've never had a bad meal on South 12th Avenue, the options can be overwhelming. So I asked Mateo to choose three spots he'd recommend. You might be surprised by the answers. 
For our tour, we invited Mateo's friend and fellow chef Pops Yucupicio, who owns the successful Pops Hot Chicken food truck. Like Mateo, Pops is also a native Tucsonan and a member of the Pascua Yaqui community. We spent the day riding bikes (and cars) and walking through the neighborhood eating all of the foods. Here's where we went. 
PS: Mateo also recommended the pastries at La Estrella Bakery at 5266 S. 12th Ave., and the ribeye tacos at the food truck Tacos El Cuate De Obregon, 4817 S. 12th Ave. But we could only eat so much in one day! 
Mariscos Baja Mar
3541 S. 12th Ave., 520-274-7225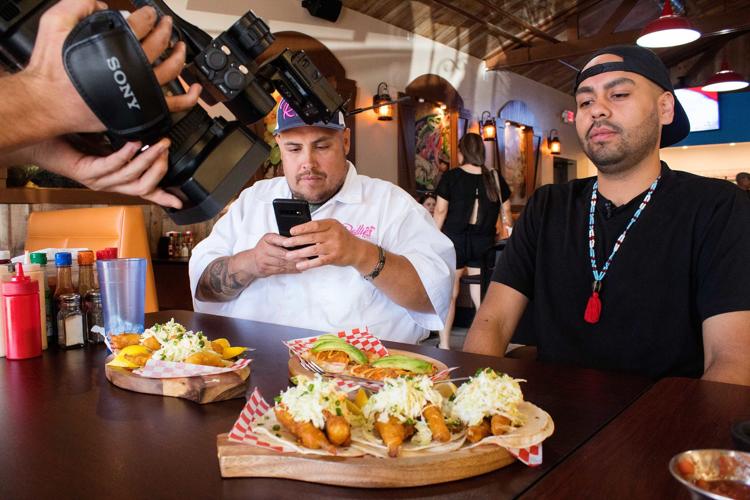 Mateo has been on a seafood kick for the past year, so two of the spots he took us serve mariscos. Baja Mar is a local Sonoran-style chain that has food trucks and full-service restaurants in many of Tucson's Latinx neighborhoods.
Mateo told us that this building, located across the street from Pueblo High School, has a long history in the seafood business. "This used to be La Costa Brava, it used to be the old restaurant here," he said. "The Rodriguez Seafood Distributors, they were like one of the first seafood distributors in Tucson. But now it's Baja Mar. He bought the building and he's doing his delicious seafood over here, carrying it on."
The restaurant serves several varieties of cahuamanta, or cooked stingray mixed with various other seafoods, a specialty in Sonora. But Mateo was all about the 99 cent fish tacos, which are on special all day Monday through Thursday. Instead of eating the salsa, he has his own system where he adds spicy chiltepin sauce to the mayonnaise to make a poor-man's cocktail sauce. 
Mariscos el Bochas
5142 S. 12th Ave., 520-235-8966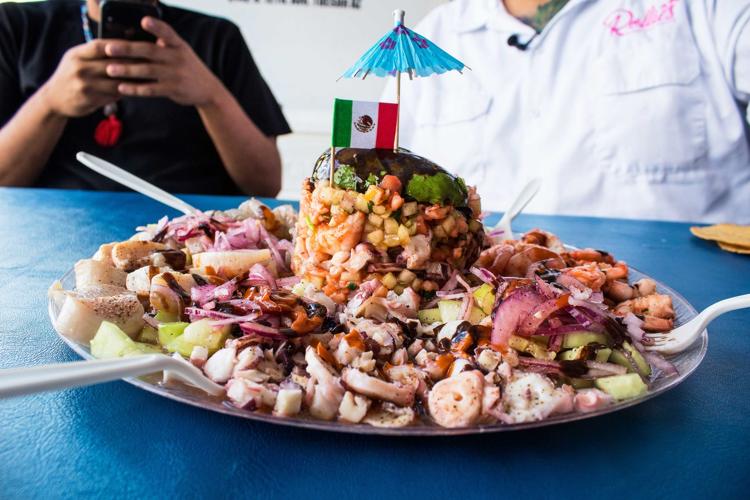 Next, Mateo took us to newish food truck that specializes in intricate platters of raw seafood brought in from Guaymas, Sonora. Denisse and Raúl "Bochas" Leyva set up a nice tarp that's printed with colorful photos of every seafood creation. You could tell they brought an artist's creativity to their little spot. 
"So this guy Bochas plays in a banda band, he's the singer. And he opened up his mariscos food truck, and he obviously takes pride in his food, the way his presentation looks," Mateo said. "I love it. He's been on his Instagram and his Facebook shooting pics every single day he's doing something cool. I just think he's dope, and I love it."
We went all-out and shared the mariscada fria, $70, with intricate layers of scallops, raw and cooked shrimp and octopus woven together with tomatoes, red onions and cucumber. Mateo went hog-wild with the slices of lime, and also asked for some jalapeños to kick it up even more. Good thing they gave us tostadas and crackers to soak it up!  
Mr. Lokko
5550 S. 12th Ave., 520-207-5111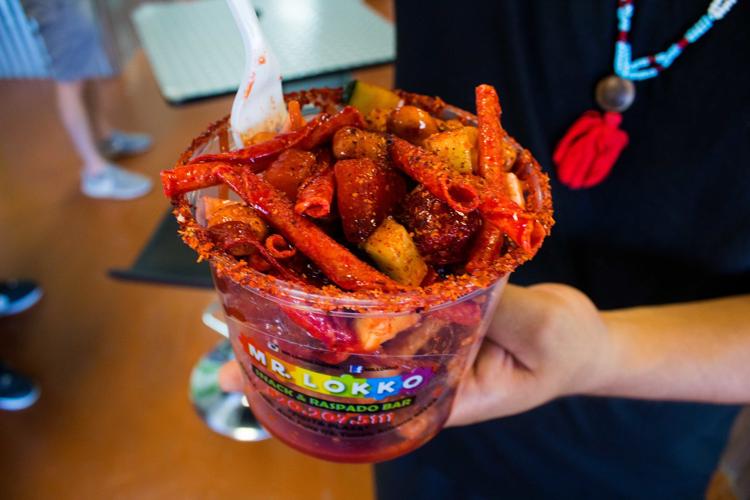 Mateo had heard good things about a new Mexican snack spot called Mr. Lokko, located next to the Tufesa bus station on 12th and Drexel. None of us had been there before, but we were all intrigued by the online picture of what looked to be a cup of elote with nacho cheese spewing out the top.
This trendy new shop is actually the first of its kind in Tucson: They provide dozens of chips, candies, fruits and even seafood options like shrimp. You go down the line, filling your cup with the items. And then if you want, they take the whole thing and shake it up with Clamato and sweet chamoy sauce. We let Pops take the lead on this one, and he filled his cup with Takis, Mexican spaghetti gummies, tamarindo and more. 
We also got the insane elote cup, which was called the coctel chorreado, $7. It was basically a cup of stewed corn mixed with butter, mayo and cotija cheese. And then they poured nacho cheese all over the top and let it spew out the sides. Mateo was intrigued by the presence of blue Takis, so we got some of those on the side. I figured they would be even spicier than the Takis Fuego, but alas they were rather mild. 
I also ordered a cone of Thrifty ice cream for Nick our video guy. I got vanilla to tease him, but it actually ended up being really good! 
Rollies Mexican Patio 
4573 S. 12th Ave., 520-300-6289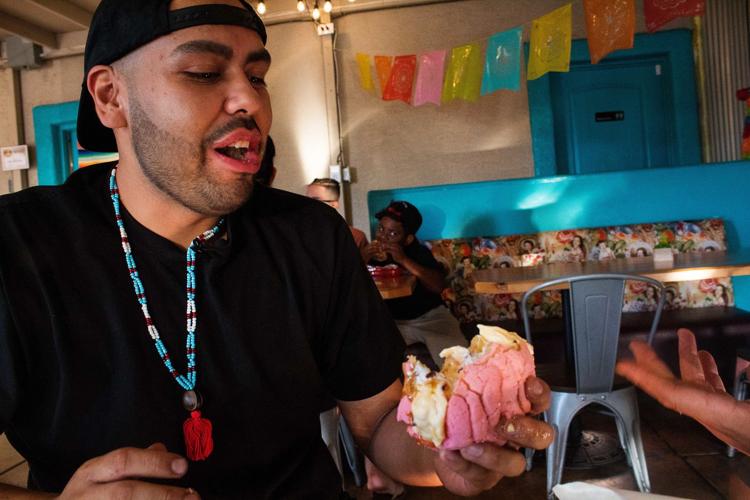 Bonus! To finish up the day, Mateo took us back to his restaurant for a second dessert of rolled tacos and concha ice cream sandwiches. (Made with more Thrifty ice cream.) Mateo explained how he came up with the ice cream sandwich concept: 
"Being a Chicano household, that's what we had every Sunday was menudo with a box of conchas and cochitos. I always thought it would be cool to do a concha ice cream sandwich," he said. "When we first opened we used to do a cochito ice cream sandwich, but everyone was cutting their hands with the cochi (gingerbread pig cookie). I was like, no we can't do this. It's easier to cut a concha than a cochito." 
At this point, Mateo decided to bow out and let the rest of us devour everything. Pops took the lead on this one. Man, can he eat! 
---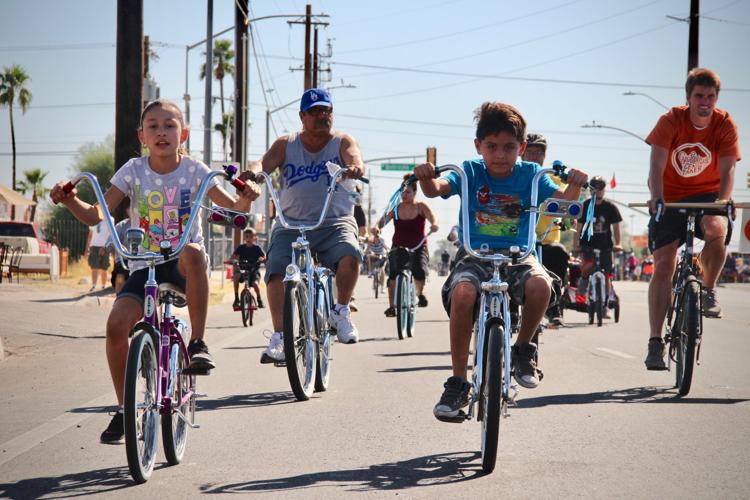 Eat along South 12th at Cyclovia en La Doce 
Cyclovia Tucson presented by Arizona Complete Health — car-free streets for walking, biking, playing and all out fun. 
Eat all the amazing food and listen to music by Las Trillizas y Dulce — a local all-girl teenage norteño band; Pedro y Los Líricos; Diluvio, a female-fronted rock band en espanol, Impacto Teens doing Selena covers and a huge mariachi stage.
Find all the activities and performance info here.
Where: Cyclovia en La Doce: 12th Avenue from Julian Wash to Mission Manor
When: Oct. 27, 9 a.m. to 3 p.m.
Cost: Free