I've had a lot of dates, but they're usually the same: mushy and brown, with a sticky sweet aftertaste. But yellow dates, on the other hand, are in a different league. They look like almost like giant grapes, strung together on long sticks that hang from desert palm trees high up in the air. 
Khalifa Solieman snapped one off to give me my first taste. It had a crunch when I bit down on it, like a piece of fresh apple. And the flavor was mild and sweet, almost coconutty. Promising! Solieman said that people from all over town come to his store Caravan Mideastern Foods to purchase these dates, also called Barhi dates, and late summer is prime date season.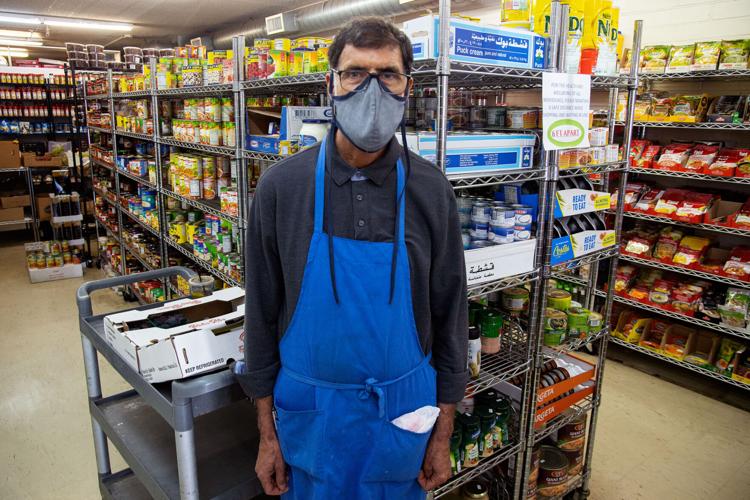 I assumed he shipped the dates in from the Middle East, like many of the products that Caravan offers. But Solieman corrected me. They're from Indio, California, home of the Coachella Valley Music Festival, and also the biggest date producing region in the US. But you never think about that when you're scarfing down garlic French fries on the lawn, listening to Arcade Fire. This made me think: What other food stories are we missing? 
Caravan has been serving Tucson since 1987, from a quiet midtown corner that now houses the Aqua Vita Natural Foods Market, 2817 N. Country Club Road. At the time Solieman had come to Tucson to pursue a masters degree in architecture, but found the political situation between the United States and his home country of Libya was preventing him from getting work.
So he decided to switch course and open a shop selling Middle Eastern goods for the local student population here, many of whom lived nearby in a university family housing building on Columbus and Fort Lowell. Solieman even did some of the architectural flourishes himself, like the Islamic arches you'll see at the front of Caravan and its sister business Caravan Grill.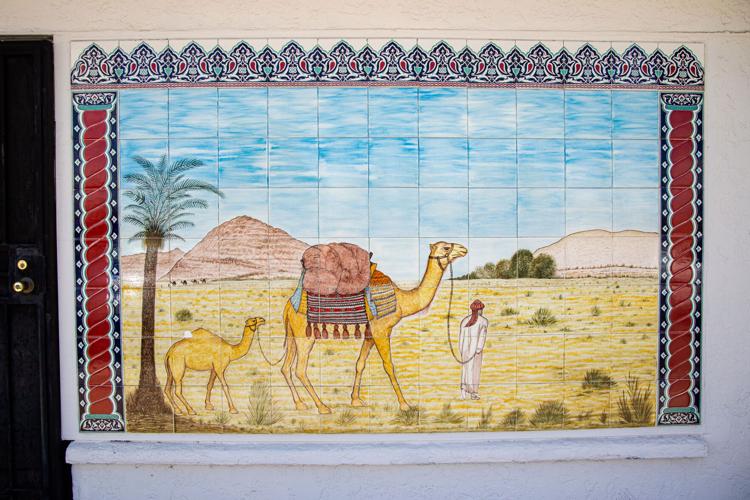 "At the time it was very difficult for students from Libya to go back to their country, because of the conflict between Gadhafi and Reagan," he said. "Mostly we were catering for students, and then the students became residents ... and after that they were a family." 
Today, the market serves a wide population of Syrian, Iraqi and Eastern European refugees, the larger Middle Eastern community and a growing segment of foodie people, who were streaming in and out during my two afternoons at the market. The grocery selection has evolved to reflect all of those cultures, with a hefty inventory of Russian and Turkish goods alongside Mediterranean flavors and specialty items like Lebanese olive oils and cans of high-end "desert truffles." 
Hands down, Caravan has the best selection of olives in town. Solieman brings them in from all over the world — olives from Greece and Italy, from Turkey and Morocco and Chile, black and wrinkly to hot and spicy — the olive bins are like Baskin-Robbins for adults. You want to taste olive-it! (Like my joke?)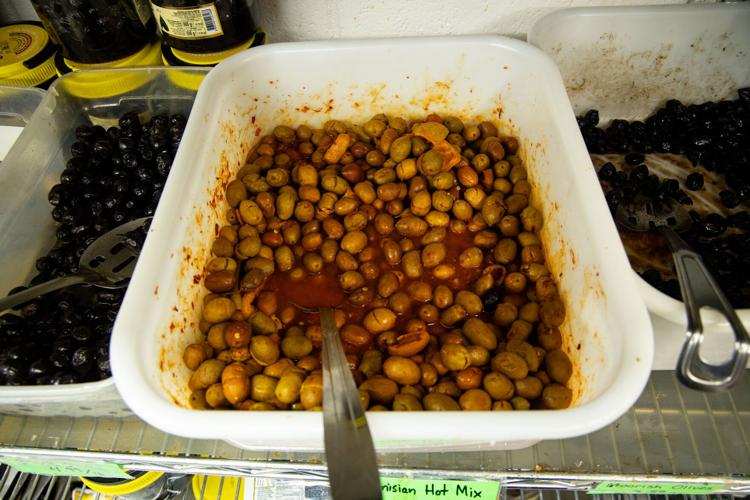 I have some of the Tunisian hot mix in my fridge right now: firm little green olives that are immersed in this fiery red vinegar sauce, which sizzles the front of your tongue. A note about olives, from a former cheesemonger: Unless you're cooking with them it's best to stick with unpitted olives, because they tend to get mushy and less flavorful after sitting in brine all exposed like that. And Caravan carries mostly the unpitted kind, olives in their pure and beautiful state. Little salty gifts for the soul. (I love olives so much, I want to cry just writing about them.) 
I know it's not party time quite yet, but you can make the most impressive spread for your family using ingredients from Caravan Market. Grab some of those olives and put them in a plastic baggie, and then head over to the fridge area and grab some of that fresh Greek feta. It's packaged in big blocks, the way real feta is supposed to be stored. (None of that dried stuff. This is the real deal.)
Then up front, make sure to snag a packet of that golden brown samoon bread, shaped like a football, a symbol of the rich cooking of Iraq. It's miles above your packaged pita, believe me! Because it's baked here every morning. Throw some olive oil on top of that feta when you get home, and maybe a tomato or two, and bam! Amazing stuff.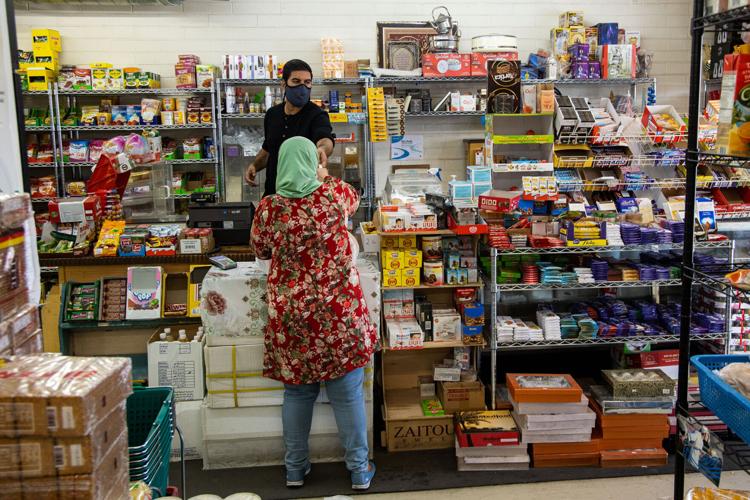 I actually got that recommendation from Solieman's son Anes, who works the front counter most days and helps customers navigate the store. I wanted to get some Arabic coffee to make in my French press, but wasn't sure if the grinds would be right for something that wasn't an Arabic coffee pot. So Anes ground some himself for me behind the counter, adjusting the texture to a medium.
He also told me that Thursdays are the best day to come to Caravan, because that's when the freshly butchered meat arrives. His dad sources lamb, goat and cow meat from local farms, and butchers it himself at a slaughterhouse in Willcox. Solieman brings in so much that it fills up the back of the store, and you'll see lots of regulars coming to stock up.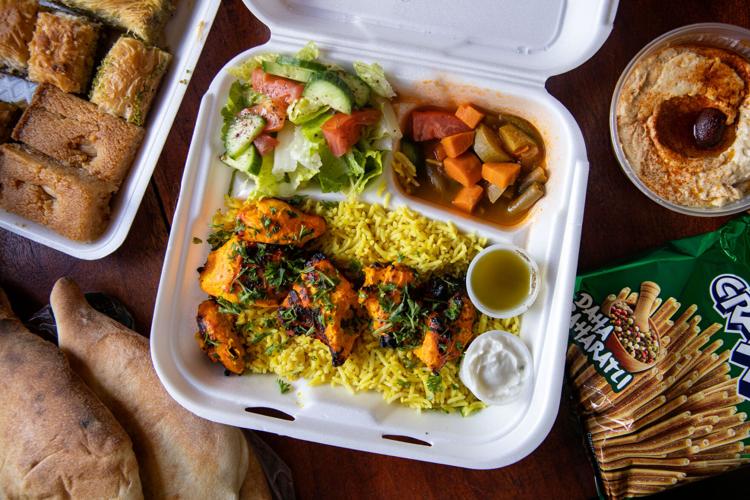 Last thing he told me: Go next door to Caravan grill and get the Kufta Kabob, a platter with juicy chunks of fragrant chicken on a bed of saffron rice. I had to take this one home to eat, unlike the falafel pita wrap I had gotten through the newly-created drive-thru a few days before. But both were equally delicious. 
Before you leave the market though: Ask Anes if he has any more pints of Persian ice cream. If you've never had this before, I heartily suggest seeking it out. Rich and custardy with whole milk, the ice cream is infused with saffron and just a touch of rose water, which leaves your mouth feeling fresh and fragrant. Give yourself a rose, and eat it on the couch in your pajamas. It's the loveliest way to finish your day.