An empty shopping center on Thornydale and Overton may not be the most likely choice for a Persian palace. But there it is, blending into the suburban landscape of street saguaros and a Walgreens drug store. 
Persian Room looks like the other buildings from the outside, but walk in the doors and you'll be greeted with a ceiling-length waterfall etched with an ancient figure of Persepolis. The expansive restaurant is spattered with suggestions of antiquity; patterns on the furniture resembling fine textiles, chandeliers that hang from a ceiling painted with epic clouds, straight Las Vegas style.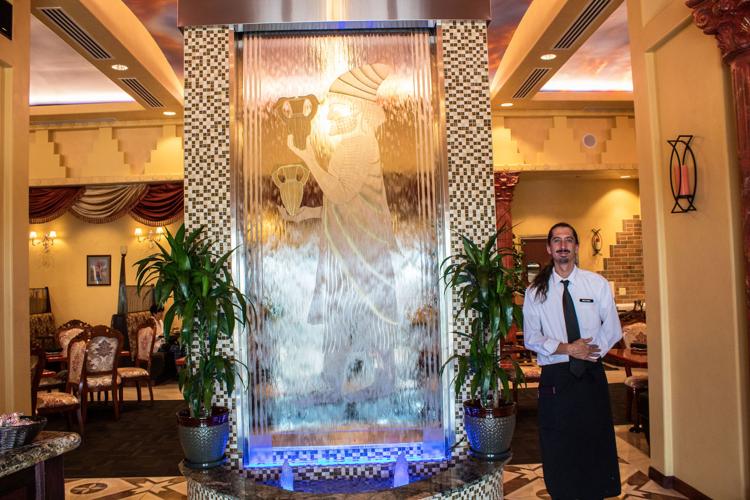 The restaurant is from Scottsdale, but opened its second location on the northwest side last month. Unlike other Middle Eastern restaurants that go for quick and casual eats, Persian Room offers a gourmet experience with dinner entrees between $15 and $31. 
The menu here is almost entirely made up meat kebabs, which arrive on massive platters with salad and saffron basmati rice. Modern-day Iranian cuisine boasts a stunning array of meats, from the basic chicken "joojeh" all the way to lamb liver. (Not here, just read about it!) The word "koobideh" signifies a ground meat kebab, while "barg" is a meat fillet. Persian Room has more than two dozen varieties of these chicken, beef, seafood, lamb and veggie kebabs. 
This can get pretty pricey during the dinner menu, so a coworker and I decided to hit up the place during weekday lunch 11 a.m. to 3 p.m. where the plates are more in the $12 to $17 range. Note: They're big enough to share. The menu says there's a $2.50 charge to split, but we avoided this by ordering an appetizer. With all of the sides and fresh-baked pita bread, we had more than enough food. 
We ordered the Sultani lunch platter for $16.95, which comes with both the "barg" filet mignon steak and the "koobideh" ground beef log. The meats were laid out in a long line, with the basmati rice, a fresh Greek salad and a grilled tomato. (pictured up top)
The server also dropped off another plate with some butter cubes, half a raw onion on it, as well as a mound of fresh basil and cilantro. He instructed us to rub a piece of pita bread with butter, add our meats and top it with the herbs and onion. Each bite had a little bit of everything, and the broiled filet mignon was so tender, it was beautiful.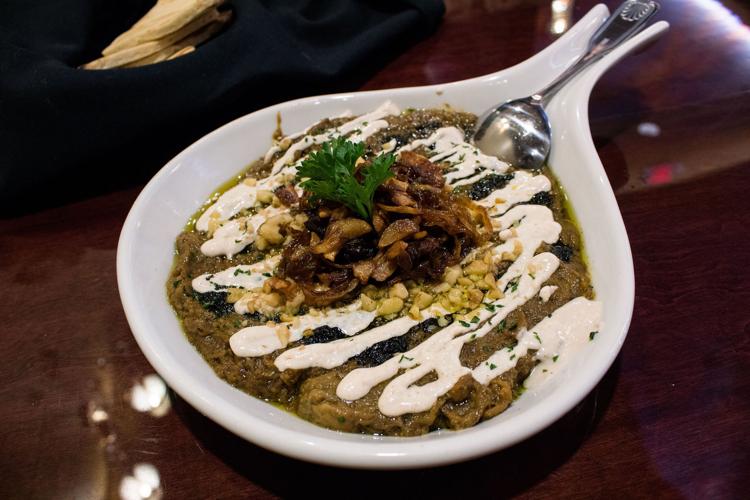 To start off, we also tried an Iranian dip called Kashk O'Bademjan, which is made from roasted eggplants and a fermented whey product called kashk, which tasted similar to Greek yogurt. It was nutty and had crispy roasted garlic and mint on top; definitely a fun alternative to your regular hummus dip. 
The Persian Room also has a selection of Iranian rice dishes called Polo, which are topped with everything from sour cherries, barberries and raisins to lentils, fava beans, beef and more. You can sub out these rice dishes in your combo plate for an extra charge. There's also a selection of Iranian stews, which I plan to return for during the winter months. 
The restaurant is a bit off the beaten path, but then again, all the best things are. If you like meat, I suggest you check it out! It should be right up your alley ...
The Persian Room is at 9290 N. Thornydale Road. Phone: 520-744-1414. Hours: 11 a.m. to 9:30 p.m. Sundays through Thursdays, 11 a.m. to 10:30 p.m. Fridays and Saturdays.