The toppkki brought me here.
Wonho Jung is driving south on Craycroft, and the sun has yet to rise. He turns left onto Fifth Street and arrives at his store, Kimpo Oriental Market, in the dark. He's 67, and wears a camo baseball cap and latticed jelly shoes, the toeline on his socks showing through. He flips on the lights, and walks past the register and through the aisles of imported snacks, prepared foods and ingredients to a small hallway in the back of his store. Alone, he turns the corner into a room with hulking machines and gets to work. This is how he starts every Wednesday.
He drains the rice, which has been soaking overnight, into a huge plastic colander. He pours the grains into a funnel atop a mill, which churns out sheets of feathery flour. He uses gloved hands to stir in more water and salt, then mills the mixture again. The second time, he puts the flour into a huge square sheet pan that hooks up to a steamer. Over time, the steam transforms the flour into a viciously hot cake, which Wonho scoops into another machine that will transform the rice into piles of flawless, angel-white intestines. He bundles the ropes on the top of the machine and sends them through once more. This time, they emerge into a cold bath that will keep them from sticking together. He slices them into short cylinders with scissors. Toppkki is born.
When Wonho took over Kimpo Market at 5595 E. Fifth St. #101 in the late 90s, he was making custom orders of ddeok — rice cake specialties like toppkki — on a regular basis. Tucson's Korean community ordered them for weddings, first birthdays, holidays, and a host of other special occasions. He still makes songpyeon dumplings for Chuseok (Korean Thanksgiving), thinly sliced rice cakes for Lunar New Year, rainbow rice cakes for celebrations, and other snacks like yaksik (a sweet rice bar with dried fruit) or injeolmi (rice cake coated in flavorful powders), but customers don't ask him to as much anymore.
Wonho and his wife, Misook, met in Korea decades ago. Wonho drove ambulances for the hospital where Misook was an ER nurse. He eventually wanted to be his own boss, and moved to Tucson, where Misook had family (they have since left for Phoenix). The couple bought the store in the heart of Tucson — Craycroft and Fifth Street — and have barely taken a vacation since. "We took the kids places when they were young — a weekend to Disneyland, or to see family in other towns — but now they're older. We don't need to take time off anymore," Wonho said.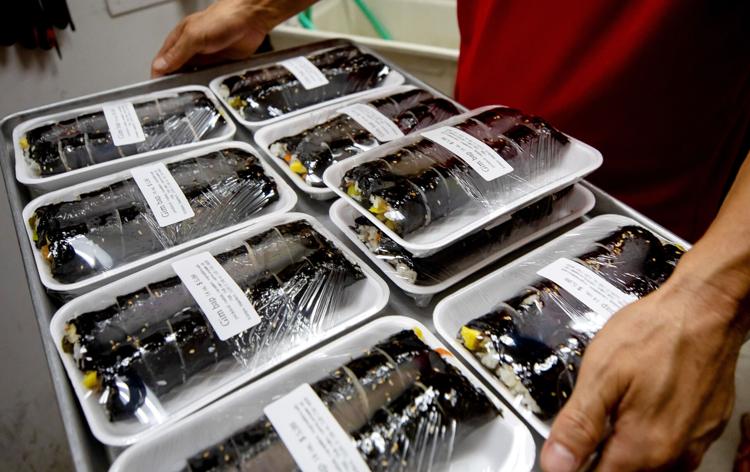 Over the decades, those orders for custom ddeok have dwindled, while business has remained strong for Misook's kimbap (Korean sushi), which she makes every Friday; pork and beef bulgogi; kimchi; and other homemade foods. He attributes this to a shift in Tucson's demographics: while the Korean community has receded, perhaps moving away to bigger cities like Phoenix or LA, non-Korean Americans have started buying Korean foods. "On Fridays, we sell out of kimbap within a few hours," he said. He pointed out frozen meals imported from Korea, like ginseng chicken soup, as top-sellers. "Koreans prefer to make this at home," he said.
Over a quarter century, Wonho has become close with many regular customers. "I live at the store. If I see your face on a regular, weekly, basis, I recognize you. I get to know you," he said. "We go over to dinner at each other's houses. We become friends."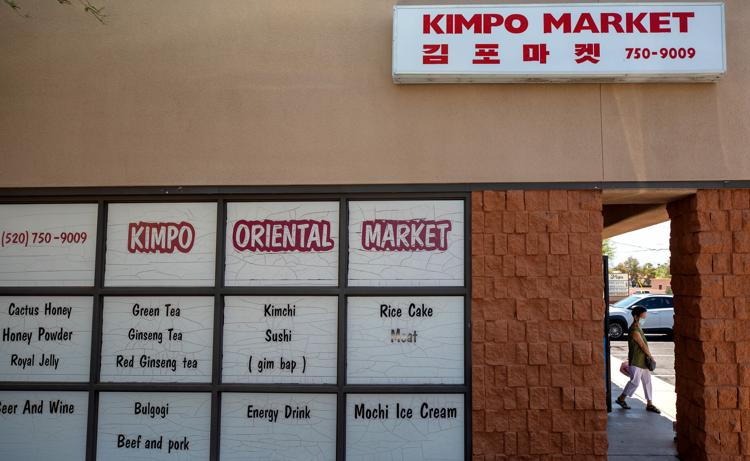 In our interview, DJ translated his father's words into English for me. DJ grew up at Kimpo, trying all the new foods his parents imported and bringing his friends to sample Korean snacks after school. "I guess it was pretty special, a long time ago. Especially when I was a little kid. There was a sense of security. I used to love the snacks section. Here, [we have] things you can't get anywhere else, so I was delighted every time something new arrived."
Now an adult, he has borne intimate witness to his parents' success and challenges. "I do my fair share helping them out, so I know what they have to do, their struggles and stuff. Especially when I have to help them translate their bills and get their licenses. I see all the invoices. I have to see everything. "
DJ also knows exactly how hard his parents work. "Kimpo is all them," he said. "My dad is an honest, hardworking guy. [Customers] say that out loud almost every day. If he's not there, they ask about him." When our interview came to a close, Wonho spontaneously went over to a fridge with hand-sized bottles of energy drinks and cracked one open to share before I could even open my mouth in protest. He works every day but Sundays, from at least the store's opening at 9 a.m. to its close at 7.
"I used to want to expand," Wonho said. "I knew friends were selling a big retail space, and for a while I thought about taking it over. But I've put in so much work here. I'm comfortable in my routine and I don't want more. I want to retire."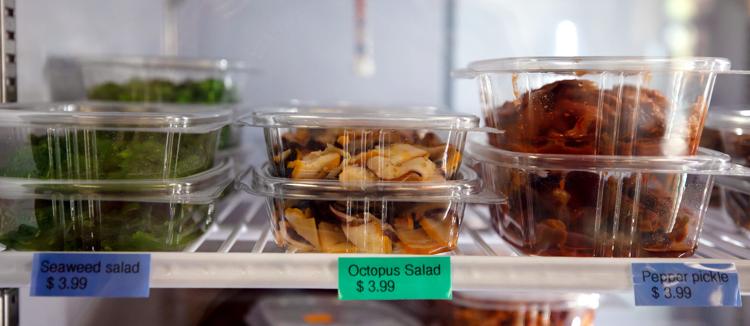 Wonho's retirement only featured in the interview when I was connecting the dots: the possibility that DJ might not want to continue the family business, though he cares deeply about his parents' success; Misook's marinated cephalopod salad DJ recommended because it's mild enough to be eaten without rice; 67-year-old Wonho showing up early every Wednesday to make ddeok.
When I asked Wonho what inspired his foray into small business, he said that he wanted to be his own boss. Everything else was just getting by. Yet, when he retires — sooner or later — Tucson will lose the specialties he and Misook created out of necessity. Get them while you can.
Kimpo Oriental Market
Level up your kitchen with homemade Korean ingredients and ready-made meals.
Prices: Cold salads $3.99; toppkki, $2.99; bulgogi, $8.99 - 9.99/lb
Details: Open Monday-Saturday, 9 a.m. to 7 p.m.; Sunday, 1 p.m. to 6 p.m. Card minimum of $10. Imported beer selection. 
Must try: Toppkki and other ddeok, made on Wednesdays or custom-ordered; pork bulgogi; marinated squid salad (eaten straight from the container); marinated fish cake (eaten with rice); and kimbap, available on Fridays.